Nancy Pelosi Finds Time for War Hawks—But Not Yemeni-American Peace Advocates
While declining to meet with the Yemeni Alliance Committee, Pelosi has been palling around with the Israeli-American Council and the Saudi ambassador.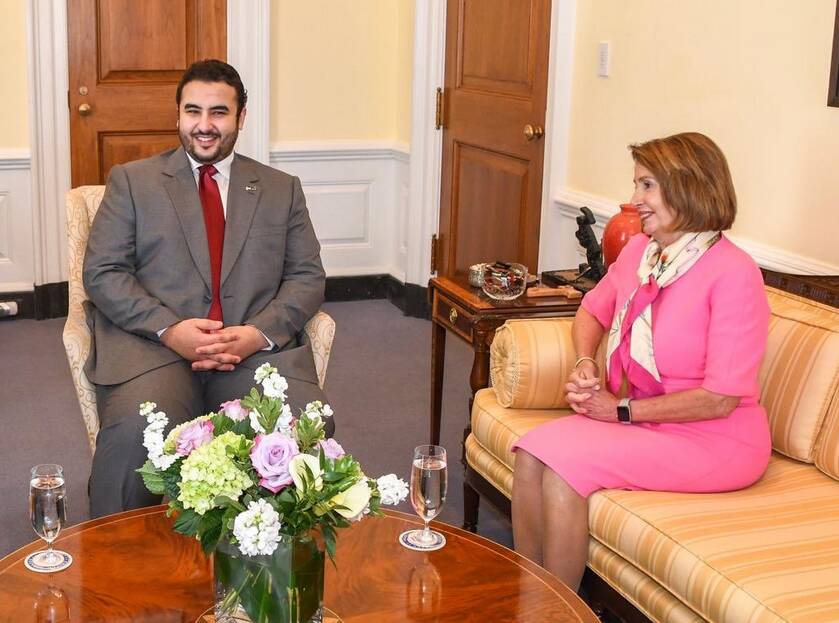 Con­gress­woman Nan­cy Pelosi (D‑Calif.) is refus­ing to meet with — or respond to — a group of her Yemeni-Amer­i­can con­stituents who are call­ing for an imme­di­ate end to the U.S.-Saudi War on Yemen. In recent months, how­ev­er, Pelosi has found the time to speak at the con­fer­ence of the right-wing Israeli-Amer­i­can Coun­cil and meet with the Sau­di ambas­sador (one day after jour­nal­ist Jamal Khashog­gi went missing).
Pelosi's scheduling commitments reflect her role in advocating for disastrous U.S. military interventions, from Afghanistan to Libya.
The con­trast rais­es con­cerns about the pri­or­i­ties of Pelosi, his­tor­i­cal­ly hawk­ish on for­eign pol­i­cy, in a polit­i­cal cli­mate where an end to the U.S.-Saudi war in Yemen is final­ly with­in reach. The Sen­ate over­whelm­ing­ly vot­ed in late Novem­ber to advance a War Pow­ers Res­o­lu­tion designed to force a vote on the U.S.-Saudi war and ulti­mate­ly shut down U.S. par­tic­i­pa­tion. The res­o­lu­tion, due to a carve-out, would not pre­vent the bru­tal­i­ties of the ongo­ing U.S. drone war in Yemen alleged­ly tar­get­ing Al Qae­da, but nonethe­less con­sti­tutes the most promis­ing effort yet to end the large-scale atroc­i­ties of the U.S.-Saudi War.
A sim­i­lar effort is play­ing out in the House, with the most recent iter­a­tion, HConRes142, intro­duced by Rep. Ro Khan­na (D‑Calif.) on Novem­ber 29. Now that it is polit­i­cal­ly safe to do so, Pelosi — who will like­ly be the next speak­er of the House — has vocal­ized her sup­port for the House res­o­lu­tion. She has not, how­ev­er, trans­formed her words into action by pub­licly com­mit­ting to whip­ping the cau­cus on the new mea­sure, mak­ing sure the House moves urgent­ly to end the U.S.-Saudi war.
On Novem­ber 15, the Yemeni Alliance Com­mit­tee, a group of Yemeni-Amer­i­can orga­niz­ers that ini­tial­ly formed to oppose Trump's Mus­lim ban, many of whom live in Pelosi's dis­trict, request­ed a sit-down meet­ing with Pelosi to dis­cuss the War Pow­ers Res­o­lu­tion. Yet Jehan Hakim, the group's direc­tor, said Pelosi — who, at that point, had not yet endorsed the War Pow­ers Res­o­lu­tion — did not respond to the group's emails or phone calls. ​"I'm her con­stituent, and she has an oblig­a­tion and duty to sit down with me and our mem­bers," Hakim tells In These Times.
When the Con­gress­woman didn't get back, the group decid­ed to stage a protest out­side of her San Fran­cis­co office on Novem­ber 20, with one sign declar­ing, ​"14m Yeme­nis face famine while Con­gress feasts" — a ref­er­ence to the Thanks­giv­ing hol­i­day. In the midst of the demon­stra­tion, the group was informed by Pelosi's staff that, after years of inac­tion, the minor­i­ty leader will sup­port the War Pow­ers Res­o­lu­tion. ​"This was peo­ple pow­er," Hakim says, a sign of ​"Pelosi and oth­ers real­iz­ing how much sup­port end­ing the war on Yemen was gaining."
Yet Hakim says that Pelosi still has not agreed to meet with the Yemeni Alliance Com­mit­tee, a par­tic­u­lar con­cern for the orga­ni­za­tion giv­en that any future House effort to end the war will like­ly require urgent action to not just endorse the res­o­lu­tion but fight for it. HConRes138 — a sim­i­lar ver­sion of the res­o­lu­tion — was blocked in the House on Novem­ber 14 after it was fold­ed into a rules mea­sure relat­ed to the debate over whether grey wolves should be removed from the list of endan­gered species. At least two of the Democ­rats who vot­ed to stymie the res­o­lu­tion lat­er said they did not real­ize they were doing so, rais­ing ques­tions about whether Pelosi, or Demo­c­ra­t­ic whip Stony Hoy­er, were putting mus­cle behind turn­ing out votes to has­ten the end of the war. (Pelosi's office did not respond to mul­ti­ple requests for com­ment from In These Times.)
Pelosi has not respond­ed to the Yemeni Alliance Committee's mul­ti­ple queries. In con­trast, the staff of Rep. Bar­bara Lee (D‑Calif.) met with the orga­ni­za­tion Decem­ber 4.
Yet, one day after Lee met with the Yemeni-Amer­i­can group, Pelosi was a fea­tured pre­sen­ter at the con­fer­ence of the Israeli-Amer­i­can Coun­cil (IAC), a fierce­ly pro-Israel lob­by shop that is intend­ed as the right-wing alter­na­tive to the already right-wing AIPAC. Fund­ed in part by Trump patron Shel­don Adel­son, the IAC fea­tured numer­ous speak­ers who fear-mon­gered about ​"Iran­ian prox­ies," a key — and mis­lead­ing — talk­ing point used to build sup­port for the U.S.-Saudi War on Yemen.
Pelosi showed her def­er­ence to anoth­er mil­i­taris­tic U.S. ally Octo­ber 3, when she met with Sau­di Ambas­sador Khalid bin Salman, one day after Khashog­gi was last seen on secu­ri­ty footage enter­ing the Sau­di con­sulate in Turkey, where he was almost cer­tain­ly mur­dered and dis­mem­bered. Just before the Khashog­gi scan­dal broke, the Sau­di embassy cham­pi­oned the meet­ing on Twit­ter, declar­ing, ​"HRH Ambas­sador Prince @kbsalsaud had an excel­lent dis­cus­sion with Demo­c­ra­t­ic leader @NancyPelosi about the his­tor­i­cal Sau­di-US ties and region­al and glob­al devel­op­ments." There was no men­tion, of course, of the 50,000 Yeme­nis killed by the U.S.-Saudi war over the past three-and-a-half years.
She has also repeat­ed­ly vocal­ized her sup­port for the Mojahedin‑e Khalq (MEK), along­side John Bolton, Rudy Giu­liani and Newt Gin­grich. With vir­tu­al­ly no legit­i­ma­cy with­in Iran, the MEK is a favorite among neo­cons because it aggres­sive­ly lob­bies for U.S. mil­i­tary con­fronta­tion with Iran, and argu­ing that its head, Maryam Rajavi, is the right­ful leader of Iran. The orga­ni­za­tion, which sup­ports the U.S.-Saudi war in Yemen, has been described as a cult. Accord­ing to a Human Rights Watch inves­ti­ga­tion from 2005, mem­bers report­ed ​"abus­es rang­ing from deten­tion and per­se­cu­tion of ordi­nary mem­bers wish­ing to leave the orga­ni­za­tion, to lengthy soli­tary con­fine­ments, severe beat­ings and tor­ture of dis­si­dent mem­bers." As recent­ly as July, when the MEK held a con­fer­ence in Paris, Pelosi sent a video mes­sage con­vey­ing her ​"warm regards."
Pelosi's sched­ul­ing com­mit­ments reflect her role in advo­cat­ing for dis­as­trous U.S. mil­i­tary inter­ven­tions, from Afghanistan to Libya. But her con­stituents, nonethe­less, are hold­ing out hope that, with pub­lic pres­sure, she will active­ly sup­port efforts to end the ongo­ing U.S.-Saudi War. While the Trump admin­is­tra­tion claimed Novem­ber 9 that the Unit­ed States has stopped assist­ing with mid-air refu­el­ing of bomber air­crafts used in the war, there has been insuf­fi­cient evi­dence to prove this is the case, and the deci­sion can be reversed at any time. Mean­while, the Sau­di-led war con­tin­ues to take civil­ian lives, as the Trump admin­is­tra­tion pledges feal­ty to the Sau­di monarchy.
"This March 2019, the war will go into its fourth year," says Hakim. ​"Yemen was declared by the UN as the world's worst human­i­tar­i­an cri­sis in decades. Yemen is on the brink of star­va­tion and famine, and over 14 mil­lion Yeme­nis are at risk of star­va­tion. These num­bers are stag­ger­ing and will only con­tin­ue to grow unless the U.S. puts a stop to this aggression."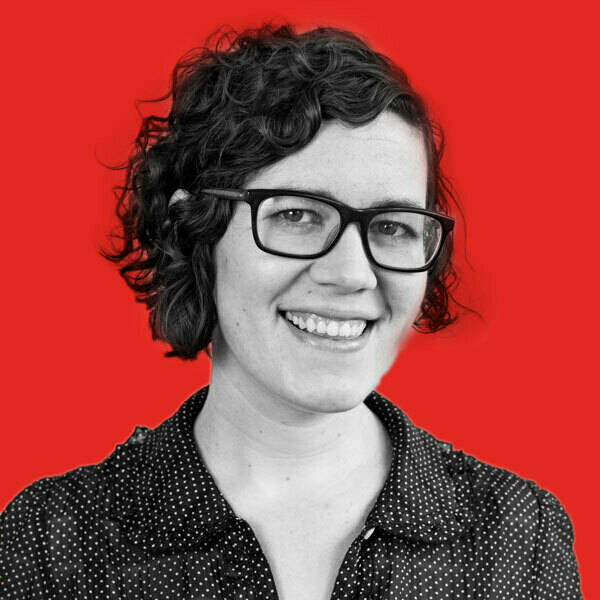 Sarah Lazare is web edi­tor at In These Times. She comes from a back­ground in inde­pen­dent jour­nal­ism for pub­li­ca­tions includ­ing The Inter­cept, The Nation, and Tom Dis­patch. She tweets at @sarahlazare.