Naomi Klein: Why the Revolution Must Be Led By Ordinary People, Not Celebrities
When they go low, we rise up.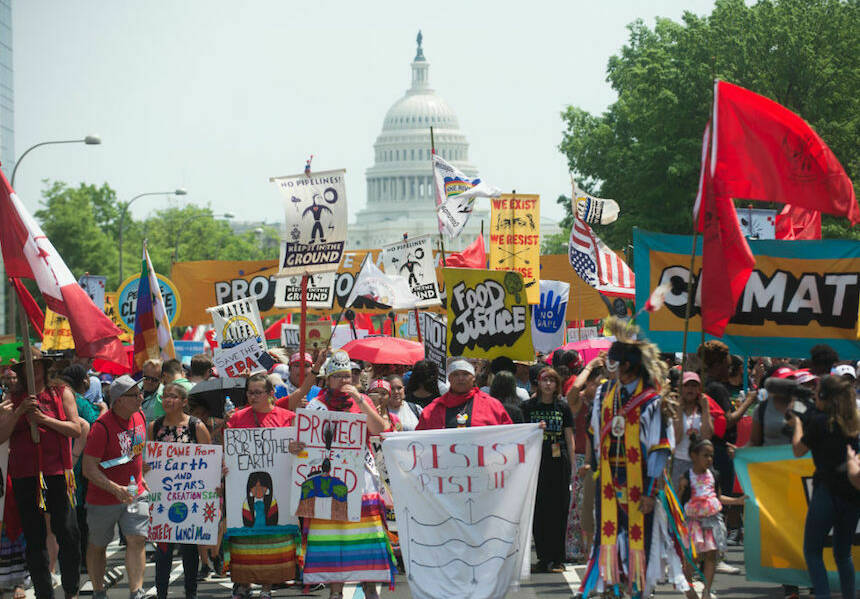 Since elec­tion night 2016, the streets of the Unit­ed States have rung with resis­tance. Peo­ple all over the coun­try have wok­en up with the con­vic­tion that they must do some­thing to fight inequal­i­ty in all its forms. But many are won­der­ing what it is they can do. In this series, we'll be talk­ing with expe­ri­enced orga­niz­ers, trou­ble­mak­ers and thinkers who have been doing the hard work of fight­ing for a long time. They'll be shar­ing their insights on what works, what does­n't, what has changed and what is still the same.
As they go low, rogue, and abandon the world, we all have to do more. We have to step up. We have to be more ambitious.
Nao­mi Klein: I am Nao­mi Klein. I am a writer and a lit­tle bit of an orga­niz­er, too.
Sarah Jaffe: You have a new book that, once again, has man­aged to both scare the shit out of me and also leave me with hope. This book is a syn­the­sis of all of your pri­or work fil­tered through the lens of Trump. It is kind of scary how well Trump con­sol­i­dates all your ear­li­er work.
Nao­mi: I didn't set out to do that. I was hav­ing a lot of peo­ple ask me to update The Shock Doc­trine and add a chap­ter about Trump. I was like, ​"Well, I am not going to do that, but maybe there is a way that I can write some­thing to pre­pare peo­ple for what hap­pens if there is a major crisis."
These shocks are just the shocks that Trump is gen­er­at­ing him­self, whether by design or incom­pe­tence and cor­rup­tion. But what real­ly scares me is this: What hap­pens when there is a major exter­nal shock to exploit? I wor­ry when I look at who he has sur­round­ed him­self with, from Mike Pence, who played a cen­tral role in the loot­ing of New Orleans, to vul­ture bankers like Steven Mnuchin to Bet­sy DeVos and her dreams of pri­va­tiz­ing the school sys­tem. I want­ed to do that, but then once I start­ed writ­ing about Trump I was like, ​"Well, it does have some rel­e­vant stuff from No Logo, too." He is first and fore­most a brand who has spawned brands. He breeds brands, in his family.
Regard­ing his rela­tion­ship to his vot­ers and how he gets away with what he gets away with, I don't think you can under­stand it with­out under­stand­ing the pact between a lifestyle brand and its con­sumer base and how that real­ly trans­formed the glob­al econ­o­my in the 1990s.
Then, there is cli­mate change. I had to get that in. So, it turned into being a bit of a mixtape.
Sarah: It is inter­est­ing, because that shows us how shock­ing Trump isn't. In the book, you point out that the term ​"hor­ror" might actu­al­ly be more appro­pri­ate to apply to Trump because he is not that shocking.
Nao­mi: I think by nam­ing him ​"shock­ing" there is a way in which peo­ple absolve them­selves. Shock­ing is like a bolt from the blue. It is some­thing exter­nal that rup­tures your world. That is why I think the most help­ful way of under­stand­ing Trump as liv­ing dystopi­an fic­tion, in the sense that what dystopi­an art tries to do is just fol­low exist­ing trends to their log­i­cal con­clu­sions, in exag­ger­at­ed form, and then reflect that back to peo­ple and say, ​"Well, this is where all roads are lead­ing. Do you want to get off this dan­ger­ous road?"
A lot of the emo­tion is being mis­named. It is not shock. It is the hor­ror of recog­ni­tion. It is actu­al­ly real­ly bad dystopi­an fic­tion because it is so pre­dictable. Like, ​"Of course Amer­i­ca would elect Don­ald Trump as the cor­po­rate pres­i­dent." I real­ly do think we need to inter­ro­gate this idea of shock. Of course, there were many peo­ple in the Unit­ed States who were not shocked by Trump's elec­tion because they were very in touch with the racism and misog­y­ny and xeno­pho­bia that ele­vat­ed him and saw him as a ful­fil­ment. There is this way of cast­ing our­selves as inno­cents by say­ing, ​"I am shocked! How could that hap­pen?" It is almost like, ​"How could this not have hap­pened? Every­thing has been put into place for this to happen."
Sarah: It is inter­est­ing to think back to the anti-glob­al­iza­tion move­ment of the 1990s. It seems very far away, but you are talk­ing about these ques­tions of hol­low brands, the way you described Trump, and then the fact that it would be impos­si­ble for Trump to divest from his brand because his brand is his name. But, that move­ment and that time actu­al­ly sort of gives some oppor­tu­ni­ties for ways to chal­lenge Trump and his family.
Nao­mi: My point in writ­ing about that move­ment was not to say, ​"We told you so," but there is no doubt that the far right is enter­ing into a vac­u­um left by neolib­er­al cen­trism and lib­er­al­ism. It is worth remem­ber­ing that, not so long ago, there was a very large, pro­gres­sive, com­mit­ted­ly inter­na­tion­al­ist move­ment that was tak­ing on the whole log­ic of what was called ​"free trade" or ​"glob­al­iza­tion" or ​"cor­po­rate glob­al­iza­tion." We called it ​"cor­po­rate rule" for the most part, because the prob­lem was not trade, it was the writ­ing of rules for the glob­al econ­o­my in the inter­ests of a small group of pow­er­ful cor­po­ra­tions. For­get hol­low brands. The cen­ter of that fight was about the hol­low­ing out of democ­ra­cy. Yes, sure, you can still vote, but the most impor­tant deci­sions about your life are being out­sourced to insti­tu­tions over which you have no control.
The fact that neolib­er­al cen­trist par­ties pushed those deals, signed those deals, nego­ti­at­ed those deals, and nev­er aligned them­selves with that grass­roots pro­gres­sive move­ment, left the space open for the Don­ald Trumps and the Nigel Farages and the Marine Le Pens of the world to come in and say, ​"We know how out of con­trol you are. We believe you should be authors of your own fate, of your own des­tiny." We left these ideas unat­tend­ed, let's just say. There are lots of great groups that nev­er stopped focus­ing on trade, like Pub­lic Cit­i­zen and Food and Water Watch and lots of groups in Europe. But it stopped being a mass move­ment in the glob­al north after Sep­tem­ber 11. It is worth inter­ro­gat­ing why that happened.
Sarah: As you men­tioned, this is not just a U.S. phe­nom­e­non, which is anoth­er way that we could talk about Trump not being shock­ing. Can you talk about how that move­ment fad­ed from the atten­tion of peo­ple in the Unit­ed States and oth­er places and where we saw the rise of these nativist move­ments? It is also inter­est­ing to think about where we didn't see those.
Nao­mi: It played out dif­fer­ent­ly in dif­fer­ent con­texts. The turn­ing point for us in North Amer­i­ca, and also for Euro­peans, was Sep­tem­ber 11. I remem­ber very, very vivid­ly, because imme­di­ate­ly we start­ed to see lead­ers try to asso­ciate our move­ment with terrorism.
The July before the Sep­tem­ber 11 attack, there had been a huge demon­stra­tion in Genoa. I think there were 300,000 peo­ple on the streets. It was real­ly all walks of Ital­ian life. It was against the G8 Sum­mit, but it was real­ly a con­tin­u­a­tion of these mobi­liza­tions that had been hap­pen­ing out­side sum­mits such as the IMF and the World Bank. This was a move­ment against neolib­er­al­ism more than any­thing. Some peo­ple called them­selves anti-cap­i­tal­ist. Not every­body did — there was diver­si­ty with­in the move­ment ideologically.
Imme­di­ate­ly after Sep­tem­ber 11, Sil­vio Berlus­coni said, ​"These are the same forces that we were up against in Genoa." And already the repres­sion, the vio­lence that demon­stra­tors were fac­ing was get­ting more intense. In Genoa, there was a young man who was killed by police. We start­ed to see more live ammu­ni­tion used against protestors.
But even the sym­bol­ism of it. We were tak­ing on the World Trade Orga­ni­za­tion, which sounds a lit­tle bit like the World Trade Cen­ter. Obvi­ous­ly, it was very dif­fer­ent, but there was such a desire to bury that move­ment. In the book, I quote a head­line that appeared in a Cana­di­an news­pa­per, a right-wing nation­al news­pa­per that appeared just a few days after the Sep­tem­ber 11 attacks: ​"Glob­al­iza­tion Is So Yesterday."
So, part of it was smear­ing the move­ment as being qua­si-ter­ror­ist because peo­ple were fight­ing with police, they were break­ing win­dows and it was not a neat, pure­ly paci­fist move­ment. There was prop­er­ty destruc­tion. It was not vio­lence against peo­ple, but there was prop­er­ty destruction.
There had been very broad coali­tions bring­ing togeth­er peo­ple across polit­i­cal spec­trums. You had coali­tions that brought togeth­er big NGOs that were focused on trade, as well as big trade unions, as well as anti-cap­i­tal­ist anar­chist groups and No One is Ille­gal and indige­nous groups. It was dif­fi­cult nav­i­gat­ing that diver­si­ty, but it was hap­pen­ing. What hap­pened overnight after Sep­tem­ber 11, to be per­fect­ly hon­est, is that the anchors of that coali­tion [weak­ened]. These coali­tions need anchor insti­tu­tions, par­tic­u­lar­ly insti­tu­tions that have resources. Par­tic­u­lar­ly because the kind of orga­niz­ing that has hap­pened in the neolib­er­al age has most­ly not been attached to some stur­dy insti­tu­tions. So, we need­ed the trade unions to stay with us, and pret­ty notably large trade unions basi­cal­ly just decid­ed that they couldn't be asso­ci­at­ed with peo­ple who were being cast as qua­si-ter­ror­ists. That broke apart the coalition.
Peo­ple still con­tin­ued to do the work, but it was the broad­ness of it that was where the pow­er lied. I think there are impor­tant lessons to be learned from that. This is hard, but you can't spook in the midst of cri­sis. That move­ment was impor­tant, and I think if we had man­aged to stay togeth­er, if it had become more diverse, because it was always too white in North Amer­i­ca. It was a diverse move­ment, it was a deeply inter­na­tion­al move­ment, it was around the world, it was largest in coun­tries like India. But, if it had become more diverse and not less, that space would nev­er had been avail­able to Don­ald Trump to exploit.
Sarah: In that space, you saw the ter­ror­ist-bait­ing of that move­ment and then these right-wing, nativist move­ments. The Trumps and the Marine Le Pens put togeth­er that fear of ter­ror­ism with the ​"Also, trade is bad for you" and real­ly weaponized that in a way that was interesting.
Nao­mi: Latin Amer­i­ca wasn't spooked by Sep­tem­ber 11. The Glob­al South wasn't, in gen­er­al. Par­tic­u­lar­ly in Latin Amer­i­ca, what hap­pened was that, in sev­er­al coun­tries, the left took pow­er and was able to put poli­cies in place that start­ed to sig­nif­i­cant­ly take on some of the core insti­tu­tions of neolib­er­al­ism. I don't want to over­ly ide­al­ize it and say they had every­thing fig­ured out by any means. In This Changes Every­thing, I am quite crit­i­cal of the fact that a lot of these coun­tries con­tin­ued to be very extrac­tive in where their incomes were com­ing from, which also made them extreme­ly vul­ner­a­ble. Venezuela and Bolivia, which are essen­tial­ly petrol and gas states, awere doing very impor­tant income redis­tri­b­u­tion. But then, when the prices col­lapse, what have you got?
Sarah: Then the old-school, cor­po­rate right man­ages to slide back into pow­er in some of these places.
Nao­mi: Yes.
Sarah: Since you com­plet­ed this book, Trump is offi­cial­ly pulling out of the Paris Accord. He already had sig­naled that he wasn't going to do any­thing, he was going to get rid of the Clean Pow­er Plan. The imme­di­ate response to any sort of cli­mate thing, as you have writ­ten about, is peo­ple are just like, ​"We are doomed. We are all going to die. There is noth­ing you can do about it." I would love for you to con­tex­tu­al­ize Trump pulling out of the Paris Accord and then talk about how we can fight that doom, what can still be done while Trump is still president.
Nao­mi: This deci­sion was real­ly a deci­sion about the Trump brand, essen­tial­ly a pub­lic-rela­tions deci­sion. I say that because the Trump admin­is­tra­tion had already decid­ed that they were going to destroy the Paris Accord from their per­spec­tive, because the Paris Accord is just a tar­get of what we want to accom­plish. We want to keep warm­ing below two degrees Cel­sius, and prefer­ably 1.5. But, in terms of achiev­ing that goal, the Paris Accord is a kind of quilt where every coun­try brings its own plans.
The cen­ter­piece of the U.S. plan was Obama's Clean Pow­er Plan. Trump had already announced that [he was] aban­don­ing that plan. So, the debate was whether or not they were going to offi­cial­ly pull out of the Paris Accord, or whether they were going to stay in the Paris Accord, but com­plete­ly ignore it and break their com­mit­ments, defi­ant­ly. Both of those deci­sions have a huge moral haz­ard attached to them, because it means that oth­er coun­tries can respond by say­ing, ​"Well, we are going to do the same thing."
Arguably, stay­ing in the Paris Accord and treat­ing it like it is not worth the paper it is print­ed on, which was what Ivan­ka and Rex Tiller­son want­ed to do, would have been more dam­ag­ing for oth­er coun­tries in terms of what that sig­naled they could get away with. Where­as now, when he is open­ly rais­ing the mid­dle fin­ger and say­ing, ​"We are walk­ing away. I can get a bet­ter deal from this deal that was nego­ti­at­ed over a quar­ter of a cen­tu­ry by almost 200 coun­tries." I think it is forc­ing coun­tries to step up. If they are not going to walk away, then they kind of have to do more.
What has been real­ly inspir­ing is watch­ing may­ors step up, par­tic­u­lar­ly the may­or of Pitts­burgh who has stepped for­ward. That is the ulti­mate repu­di­a­tion, because Pitts­burgh was held up in Trump's speech. He said that he was elect­ed by the peo­ple of Pitts­burgh as opposed to the peo­ple of Paris, per­haps not know­ing that Pitts­burgh has a very pro­gres­sive may­or at the moment who cor­rect­ed the record that Penn­syl­va­nia may have vot­ed Trump, but Pitts­burgh did not. There was already a very live, very ener­getic cam­paign in Pitts­burgh to try to get the may­or to adopt this real­ly ambi­tious tar­get of get­ting to 100% renew­able ener­gy by 2035, which is bet­ter than any­thing else in the coun­try. The next day after Trump's Paris with­draw­al, the may­or adopt­ed that target.
Now we have hun­dreds of cities that have com­mit­ted them­selves to the Paris goals. I think we are see­ing more ambi­tion from states like Cal­i­for­nia and New York, because they are under pres­sure from the cli­mate jus­tice move­ment. It is sim­i­lar to what we are see­ing with health­care, where we see how much dam­age they are will­ing to do, just the com­plete dis­re­gard for life on every lev­el that this admin­is­tra­tion rep­re­sents. It is start­ing to build momen­tum for state lev­el deep change. We are see­ing some real­ly pos­i­tive signs towards sin­gle-pay­er healthcare.
What I say at the end of the book is that in Michelle Obama's famous line from the con­ven­tion last sum­mer when she said, ​"When they go low, we go high," she was talk­ing about tone, and I am real­ly not sure I agree with that. I am not so con­cerned about tone, but I do [embrace] that ethos of, as they go low, rogue, and aban­don the world and so many mil­lions of peo­ple, in every space where they are not in con­trol — whether it is uni­ver­si­ties, cities, states, oth­er coun­tries, tribes, what­ev­er it is — all of us as orga­niz­ers, activists and peo­ple who can be pow­er­ful when we get togeth­er in groups, we all have to do more. We have to step up. We have to be more ambi­tious. I see peo­ple ris­ing to that and that is so exciting.
Sarah: Your book is titled No Is Not Enough. A lot of the orga­niz­ers that I have talked to for this series have stressed over and over again that resis­tance is not enough now — we need to be push­ing for some­thing dif­fer­ent. Then, there is this oth­er ten­den­cy that basi­cal­ly is like, ​"We just need any­one but Trump. We just need to elect any Demo­c­rat." Amer­i­cans love the super­fi­cial­ly shiny Justin Trudeau, but also the British elec­tion is hap­pen­ing right now. We are see­ing Jere­my Cor­byn put for­ward a legit­i­mate­ly left-wing plat­form, and it turns out it is real­ly popular.
Nao­mi: Who knew? I mean, Jere­my Cor­byn is the anti-Trudeau. He couldn't be less slick. He has got some good social media folks work­ing for him, but it is not about him (when this airs, we will know what the results are). Regard­less of the results, he has done bet­ter than all pre­dic­tions of the sup­pos­ed­ly expert class who have got­ten it wrong again and again. The beau­ty of it has been that I have nev­er seen polit­i­cal mes­sag­ing that is so var­ied. He is not putting him­self front and cen­ter. You have whole ads where he is not even in them, and peo­ple are just hear­ing the mes­sage direct­ly from teach­ers and pedi­a­tri­cians. There is the amaz­ing video that Ken Loach made.
It is show­ing that maybe it is pos­si­ble to reject this celebri­ty mod­el for politi­cians, whether it is Don­ald Trump or Justin Trudeau or, frankly, Barack Oba­ma. I hope to hell they prove that it is pos­si­ble. What wor­ries me is not just what you are say­ing, that it is just about get­ting rid of Trump and elect­ing Democ­rats, but this talk of ​"We need to get Oprah" or ​"We need our own brand-based…" Or Mark Zucker­berg, god for­bid. Or Bloomberg.
What I am try­ing to do with this book is point out that Trump is not the cri­sis. He is a symp­tom of the cri­sis. If we don't get at the under­ly­ing trends that made his rise pos­si­ble, there are worse ver­sions of Trump out there. There are more racist ver­sions of Trump out there. There are even more vio­lent ver­sions of Trump out there. There is this idea of treat­ing him as this alien inter­ven­tion in the Amer­i­can polit­i­cal psy­che. Look, I want the Rus­sia con­nec­tions to be inves­ti­gat­ed, but there is a way in which it is rein­forc­ing this idea of him as a for­eign agent. I can tell you Don­ald Trump's prod­ucts may not be made in Amer­i­ca, but Don­ald Trump was made in Amer­i­ca. He is not an alien. He is the cul­mi­na­tion of a great many dan­ger­ous ideas that were fos­tered in this coun­try and there has to be some own­er­ship over that.
Sarah: To wrap up, you end the book talk­ing about the ​"Leap Man­i­festo," the plat­form that you worked on for Cana­di­an pol­i­tics, which imme­di­ate­ly made me think of the Right2Change plat­form that the Irish left put togeth­er before its last elec­tion. You talk about the Vision for Black Lives plat­form. Tell us about the Leap Man­i­festo and why these people's plat­forms, rather than per­son­al­i­ties, are impor­tant right now.
Nao­mi: I think there is some utopi­anism in the air. The tri­umph of neolib­er­al­ism has expressed itself so much in this atro­phy­ing of the polit­i­cal imag­i­na­tion. Even when the ide­o­log­i­cal project of neolib­er­al­ism is sort of in tat­ters on the floor, the idea that there is no alter­na­tive remains.
The process of writ­ing the Leap was so inter­est­ing in that way. It is hard. We had 60 peo­ple in a room togeth­er rep­re­sent­ing a very wide range of move­ments, all real anchors of social move­ments of the left were there. We real­ized that we had not done this before, or it had been gen­er­a­tions. We had come togeth­er to oppose free trade deals. We had come togeth­er to oppose aus­ter­i­ty agen­das. We had come togeth­er to oppose some par­tic­u­lar­ly vile politi­cian. But, we had not come togeth­er to say, ​"What is that we actu­al­ly want?"
Just rec­og­niz­ing that, yes, this is an atro­phied mus­cle. We need prac­tice. You can feel almost like a child in this moment when you are actu­al­ly doing some­thing you are not good at. But it was real­ly grat­i­fy­ing. We spent two days, and out of that came this brief doc­u­ment. It is only 1,400 words, and it has now been endorsed by hun­dreds of orga­ni­za­tions span­ning a very broad range. Groups that don't agree on every­thing, but were able to come togeth­er around a vision that was much bold­er than any­thing that was on offer in our last fed­er­al election.
It is con­tin­u­ing to be used to push politi­cians at the fed­er­al, provin­cial and munic­i­pal lev­els. We are see­ing slates of Leap can­di­dates emerge in munic­i­pal elec­tions and there has been a lot of inter­est in just shar­ing infor­ma­tion around the world. For us, this is not about, ​"We are try­ing to col­o­nize the world with the Leap." But we want to trade infor­ma­tion because this idea is in the air and there are many social move­ments. I think the Vision for Black Lives, the plat­form that emerged last sum­mer in the midst, once again, of a fed­er­al elec­tion cam­paign, com­ing from the Move­ment for Black Lives, is such a vision­ary doc­u­ment. This is new to see this from social move­ments. Think about Occu­py or even the crit­i­cism of the move­ment tak­ing on free trade that we were talk­ing about ear­li­er. The crit­i­cism we always had was ​"We know what you are against, but what are you for?" We weren't real­ly ready to step up and answer that ques­tion, but I think that is changing.
It is impor­tant on a lot of lev­els, but one of them is who­ev­er the can­di­dates turn out to be in the next elec­tion cycle, how great would it be for there to be a vision, or mul­ti­ple visions, that are artic­u­lat­ed? In the Unit­ed States, I think it is going to be a process where it bub­bles up from cities and states. There is some real­ly inter­est­ing work going on in Michi­gan. You have been cov­er­ing all kinds of exam­ples of this, includ­ing Jack­son. That could coa­lesce around a vision, where any can­di­date that want­ed the pro­gres­sive vote would have to fol­low this plat­form, as opposed to hav­ing this sort of celebri­ty sav­ior rela­tion­ship with a polit­i­cal figure.
Sarah: Where can peo­ple get the book and how can they fol­low up with your work?
Nao­mi: They can find out about the book at www​.NoIs​NotE​nough​.org. All my book tour dates are on there. It is avail­able in book­stores soon. They can fol­low me on Twit­ter @NaomiAKlein, and they can find out about the Leap at www​.The​Leap​.org where we have got lots of exam­ples of what we are call­ing the ​"liv­ing Leap," ways in which peo­ple are tak­ing this broad-strokes vision and chang­ing it and mak­ing it their own.
Inter­views for Resis­tance is a project of Sarah Jaffe, with assis­tance from Lau­ra Feuille­bois and sup­port from the Nation Insti­tute. It is also avail­able as a pod­cast on iTunes. Not to be reprint­ed with­out permission.
Sarah Jaffe
is a for­mer staff writer at
In These Times
and author of
Nec­es­sary Trou­ble: Amer­i­cans in Revolt
, which Robin D.G. Kel­ley called ​
"
The most com­pelling social and polit­i­cal por­trait of our age." You can fol­low her on Twit­ter
@sarahljaffe
.