Naomi Klein on How Climate Change Fuels the Rise of White Supremacy
The author and activist speaks on Greta Thunberg, climate barbarism and why she's not your lifestyle advisor.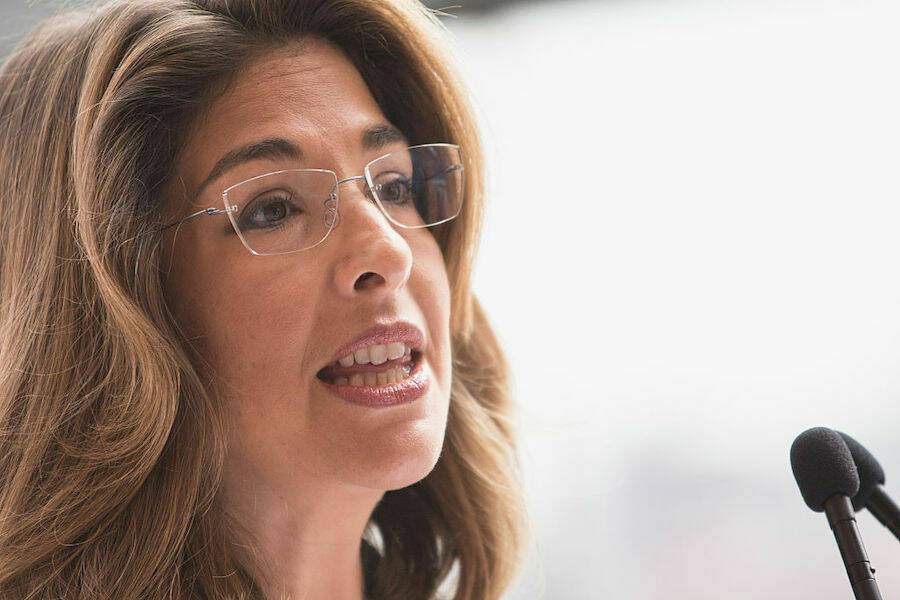 This sto­ry orig­i­nal­ly appeared in the Guardian. It is repub­lished here as part of In These Times' part­ner­ship with Cov­er­ing Cli­mate Now, a glob­al col­lab­o­ra­tion of more than 250 news out­lets to strength­en cov­er­age of the cli­mate sto­ry.
We'll have more livable cities, we'll have less polluted air, we'll spend less time stuck in traffic. But we are going to have to contract on the endless, disposable consumption side.
Read an extract from Nao­mi Klein's new book, On Fire: The (Burn­ing) Case for a Green New Deal, here.
Why are you pub­lish­ing this book now?
I still feel that the way that we talk about cli­mate change is too com­part­men­talised, too siloed from the oth­er crises we face. A real­ly strong theme run­ning through the book is the links between it and the cri­sis of ris­ing white suprema­cy, the var­i­ous forms of nation­al­ism and the fact that so many peo­ple are being forced from their home­lands, and the war that is waged on our atten­tion spans. These are inter­sect­ing and inter­con­nect­ing crises and so the solu­tions have to be as well.
The book col­lects essays from the last decade, have you changed your mind about anything?
When I look back, I don't think I placed enough empha­sis on the chal­lenge cli­mate change pos­es to the left. It's more obvi­ous the way the cli­mate cri­sis chal­lenges a rightwing dom­i­nant world­view, and the cult of seri­ous cen­trism that nev­er wants to do any­thing big, that's always look­ing to split the dif­fer­ence. But this is also a chal­lenge to a left world­view that is essen­tial­ly only inter­est­ed in redis­trib­ut­ing the spoils of extrac­tivism [the process of extract­ing nat­ur­al resources from the earth] and not reck­on­ing with the lim­its of end­less consumption.
What's stop­ping the left doing this?
In a North Amer­i­can con­text, it's the great­est taboo of all to actu­al­ly admit that there are going to be lim­its. You see that in the way Fox News has gone after the Green New Deal – they are com­ing after your ham­burg­ers! It cuts to the heart of the Amer­i­can dream – every gen­er­a­tion gets more than the last, there is always a new fron­tier to expand to, the whole idea of set­tler colo­nial nations like ours. When some­body comes along and says, actu­al­ly, there are lim­its, we've got some tough deci­sions, we need to fig­ure out how to man­age what's left, we've got to share equi­tably – it is a psy­chic attack. And so the response [on the left] has been to avoid, and say no, no, we're not com­ing to take away your stuff, there are going to be all kinds of ben­e­fits. And there are going to be ben­e­fits: we'll have more liv­able cities, we'll have less pol­lut­ed air, we'll spend less time stuck in traf­fic, we can design hap­pi­er, rich­er lives in so many ways. But we are going to have to con­tract on the end­less, dis­pos­able con­sump­tion side.
Do you feel encour­aged by talk of the Green New Deal?
I feel a tremen­dous excite­ment and a sense of relief, that we are final­ly talk­ing about solu­tions on the scale of the cri­sis we face. That we're not talk­ing about a lit­tle car­bon tax or a cap and trade scheme as a sil­ver bul­let. We're talk­ing about trans­form­ing our econ­o­my. This sys­tem is fail­ing the major­i­ty of peo­ple any­way, which is why we're in this peri­od of such pro­found polit­i­cal desta­bil­i­sa­tion – that is giv­ing us the Trumps and the Brex­its, and all of these strong­man lead­ers – so why don't we fig­ure out how to change every­thing from bot­tom to top, and do it in a way that address­es all of these oth­er crises at the same time? There is every chance we will miss the mark, but every frac­tion of a degree warm­ing that we are able to hold off is a vic­to­ry and every pol­i­cy that we are able to win that makes our soci­eties more humane, the more we will weath­er the inevitable shocks and storms to come with­out slip­ping into bar­barism. Because what real­ly ter­ri­fies me is what we are see­ing at our bor­ders in Europe and North Amer­i­ca and Aus­tralia – I don't think it's coin­ci­den­tal that the set­tler colo­nial states and the coun­tries that are the engines of that colo­nial­ism are at the fore­front of this. We are see­ing the begin­nings of the era of cli­mate bar­barism. We saw it in Christchurch, we saw it in El Paso, where you have this mar­ry­ing of white suprema­cist vio­lence with vicious anti-immi­grant racism.
That is one of the most chill­ing sec­tions of your book: I think that's a link a lot of peo­ple haven't made.
This pat­tern has been clear for a while. White suprema­cy emerged not just because peo­ple felt like think­ing up ideas that were going to get a lot of peo­ple killed but because it was use­ful to pro­tect bar­bar­ic but high­ly prof­itable actions. The age of sci­en­tif­ic racism begins along­side the transat­lantic slave trade, it is a ratio­nale for that bru­tal­i­ty. If we are going to respond to cli­mate change by fortress­ing our bor­ders, then of course the the­o­ries that would jus­ti­fy that, that cre­ate these hier­ar­chies of human­i­ty, will come surg­ing back. There have been signs of that for years, but it is get­ting hard­er to deny because you have killers who are scream­ing it from the rooftops.
One crit­i­cism you hear about the envi­ron­ment move­ment is that it is dom­i­nat­ed by white peo­ple. How do you address that?
When you have a move­ment that is over­whelm­ing­ly rep­re­sen­ta­tive of the most priv­i­leged sec­tor of soci­ety then the approach is going to be much more fear­ful of change, because peo­ple who have a lot to lose tend to be more fear­ful of change, where­as peo­ple who have a lot to gain will tend to fight hard­er for it. That's the big ben­e­fit of hav­ing an approach to cli­mate change that links it to those so called bread and but­ter issues: how are we going to get bet­ter paid jobs, afford­able hous­ing, a way for peo­ple to take care of their fam­i­lies? I have had many con­ver­sa­tions with envi­ron­men­tal­ists over the years where they seem real­ly to believe that by link­ing fight­ing cli­mate change with fight­ing pover­ty, or fight­ing for racial jus­tice, it's going to make the fight hard­er. We have to get out of this ​"my cri­sis is big­ger than your cri­sis: first we save the plan­et and then we fight pover­ty and racism, and vio­lence against women". That doesn't work. That alien­ates the peo­ple who would fight hard­est for change. This debate has shift­ed a huge amount in the US because of the lead­er­ship of the cli­mate jus­tice move­ment and because it is con­gress­women of colour who are cham­pi­oning the Green New Deal. Alexan­dria Oca­sio-Cortez, Ilhan Omar, Ayan­na Press­ley and Rashi­da Tlaibcome from com­mu­ni­ties that have got­ten such a raw deal under the years of neolib­er­al­ism and longer, and are deter­mined to rep­re­sent, tru­ly rep­re­sent, the inter­ests of those com­mu­ni­ties. They're not afraid of deep change because their com­mu­ni­ties des­per­ate­ly need it.
In the book, you write: ​"The hard truth is that the answer to the ques­tion ​'What can I, as an indi­vid­ual, do to stop cli­mate change?' is: noth­ing." Do you still believe that?
In terms of the car­bon, the indi­vid­ual deci­sions that we make are not going to add up to any­thing like the kind of scale of change that we need. And I do believe that the fact that for so many peo­ple it's so much more com­fort­able to talk about our own per­son­al con­sump­tion, than to talk about sys­temic change, is a prod­uct of neolib­er­al­ism, that we have been trained to see our­selves as con­sumers first. To me that's the ben­e­fit of bring­ing up these his­tor­i­cal analo­gies, like the New Deal or the Mar­shall Plan – it brings our minds back to a time when we were able to think of change on that scale. Because we've been trained to think very small. It is incred­i­bly sig­nif­i­cant that Gre­ta Thun­berg has turned her life into a liv­ing emergency.
Yes, she set sail for the UN cli­mate sum­mit in New York on a zero car­bon yacht …
Exact­ly. But this isn't about what Gre­ta is doing as an indi­vid­ual. It's about what Gre­ta is broad­cast­ing in the choic­es that she makes as an activist, and I absolute­ly respect that. I think it's mag­nif­i­cent. She is using the pow­er that she has to broad­cast that this is an emer­gency, and try­ing to inspire politi­cians to treat it as an emer­gency. I don't think any­body is exempt from scru­ti­n­is­ing their own deci­sions and behav­iours but I think it is pos­si­ble to overem­pha­sise the indi­vid­ual choic­es. I have made a choice – and this has been true since I wrote No Logo, and I start­ed get­ting these ​"what should I buy, where should I shop, what are the eth­i­cal clothes?" ques­tions. My answer con­tin­ues to be that I am not a lifestyle advis­er, I am not anyone's shop­ping guru, and I make these deci­sions in my own life but I'm under no illu­sion that these deci­sions are going to make the difference.
Some peo­ple are choos­ing to go on birth strikes. What do you think about that?
I'm hap­py these dis­cus­sions are com­ing into the pub­lic domain as opposed to being furtive issues we're afraid to talk about. It's been very iso­lat­ing for peo­ple. It cer­tain­ly was for me. One of the rea­sons I wait­ed as long as I did to try and get preg­nant, and I would say this to my part­ner all the time – what, you want to have a Mad Max water war­rior fight­ing with their friends for food and water? It wasn't until I was part of the cli­mate jus­tice move­ment and I could see a path for­ward that I could even imag­ine hav­ing a kid. But I would nev­er tell any­body how to answer this most inti­mate of ques­tions. As a fem­i­nist who knows the bru­tal his­to­ry of forced ster­il­i­sa­tion and the ways in which women's bod­ies become bat­tle zones when pol­i­cy­mak­ers decide that they are going to try and con­trol pop­u­la­tion, I think that the idea that there are reg­u­la­to­ry solu­tions when it comes to whether or not to have kids is cat­a­stroph­i­cal­ly ahis­tor­i­cal. We need to be strug­gling with our cli­mate grief togeth­er and our cli­mate fears togeth­er, through what­ev­er deci­sion we decide to make, but the dis­cus­sion we need to have is how do we build a world so that those kids can have thriv­ing, zero-car­bon lives?
Over the sum­mer, you encour­aged peo­ple to read Richard Powers's nov­el, The Over­sto­ry. Why?
It's been incred­i­bly impor­tant to me and I'm hap­py that so many peo­ple have writ­ten to me since. What Pow­ers is writ­ing about trees: that trees live in com­mu­ni­ties and are in com­mu­ni­ca­tion, and plan and react togeth­er, and we've been com­plete­ly wrong in the way we con­cep­tu­alise them. It's the same con­ver­sa­tion we're hav­ing about whether we are going to solve this as indi­vid­u­als or whether we are going to save the col­lec­tive organ­ism. It's also rare, in good fic­tion, to val­orise activism, to treat it with real respect, fail­ures and all, to acknowl­edge the hero­ism of the peo­ple who put their bod­ies on the line. I thought Pow­ers did that in a real­ly extra­or­di­nary way.
What are you views on what Extinc­tion Rebel­lion has achieved?
One thing they have done so well is break us out of this clas­sic cam­paign mod­el we have been in for a long time, where you tell some­one some­thing scary, you ask them to click on some­thing to do some­thing about it, you skip out the whole phase where we need to grieve togeth­er and feel togeth­er and process what it is that we just saw. Because what I hear a lot from peo­ple is, ok, maybe those peo­ple back in the 1930s or 40s could organ­ise neigh­bour­hood by neigh­bour­hood or work­place by work­place but we can't. We believe we've been so down­grad­ed as a species that we are inca­pable of that. The only thing that is going to change that belief is get­ting face to face, in com­mu­ni­ty, hav­ing expe­ri­ences, off our screens, with one anoth­er on the streets and in nature, and win­ning some things and feel­ing that power.
You talk about sta­mi­na in the book. How do you keep going? Do you feel hopeful?
I have com­pli­cat­ed feel­ings about the hope ques­tion. Not a day goes by that I don't have a moment of sheer pan­ic, raw ter­ror, com­plete con­vic­tion that we are doomed, and then I do pull myself out of it. I'm renewed by this new gen­er­a­tion that is so deter­mined, so force­ful. I'm inspired by the will­ing­ness to engage in elec­toral pol­i­tics, because my gen­er­a­tion, when we were in our 20s and 30s, there was so much sus­pi­cion around get­ting our hands dirty with elec­toral pol­i­tics that we lost a lot of oppor­tu­ni­ties. What gives me the most hope right now is that we've final­ly got the vision for what we want instead, or at least the first rough draft of it. This is the first time this has hap­pened in my life­time. And also, I did decide to have kids. I have a sev­en year old who is so com­plete­ly obsessed and in love with the nat­ur­al world. When I think about him, after we've spent an entire sum­mer talk­ing about the role of salmon in feed­ing the forests where he was born in British Colum­bia, and how they are linked to the health of the trees and the soil and the bears and the orcas and this entire mag­nif­i­cent ecosys­tem, and I think about what it would be like to have to tell him that there are no more salmon, it kills me. So that moti­vates me. And slays me.