Narcissists Rђ Us?
Three decades later, Christopher Lasch's analysis still neatly explains why self-love will tear us apart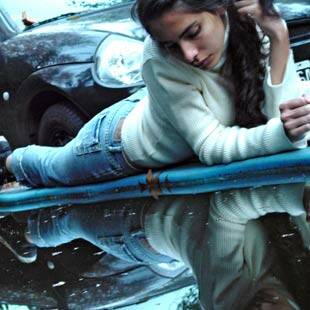 "It seems like just yes­ter­day I was at the White House stay­ing in the Lin­coln bed­room, and every­thing was wonderful."
These were the words of for­mer Con­necti­cut Gov. John Row­land to a group of teenagers in ear­ly July. Row­land was try­ing to explain his down­ward tra­jec­to­ry from one of the Repub­li­can Party's favored polit­i­cal ​"stars" to stand­ing in line for toi­let paper in a fed­er­al prison.
He described his ​"sense of enti­tle­ment" as a polit­i­cal per­sona. ​"Before you know it, you're doing things you nev­er thought you'd do in the past. … Then you send that mes­sage to others."
The for­mer gov­er­nor no doubt got the mes­sage from those who influ­enced him in his rise to pow­er, includ­ing the pres­i­dent him­self. ​"I can't tell you how impor­tant it is to have peo­ple who hold office who deliv­er," Pres­i­dent Bush glowed about Row­land dur­ing the Con­necti­cut Repub­li­can Com­mit­tee Lunch in April 2002. "[O]né of the jobs of a gov­er­nor is to help restore faith in the polit­i­cal process of a par­tic­u­lar state. And the best way to defeat cyn­i­cism is to accom­plish things on behalf of every­body … to rise above the tra­di­tion­al noise that tends to dom­i­nate the polit­i­cal scene and perform."
​"Per­form­ing" indeed. The gov­er­nor put on a great act as a pub­lic ser­vant – that is, until he had to resign from office in 2004 amid an embar­rass­ing inves­ti­ga­tion into ram­pant cor­rup­tion and influ­ence peddling.
Rowland's myopic per­cep­tion of end­less omnipo­tence could be described as whol­ly nar­cis­sis­tic. But he is not alone. Build­ing a pub­lic per­sona in Amer­i­ca often amounts to a nar­cis­sis­tic exer­cise on the grand­est of scales.
— —  —  —  —  — —
Nar­cis­sism is clin­i­cal­ly defined in the Diag­nos­tic and Sta­tis­ti­cal Man­u­al (DSM-IV) as a ​"per­va­sive pat­tern of grandios­i­ty, need for admi­ra­tion, and lack of empa­thy." Although just about any per­son can pos­sess cer­tain nar­cis­sis­tic ten­den­cies, the dis­or­der can't tech­ni­cal­ly be diag­nosed until five out of nine cri­te­ria are met:
A grandiose sense of self-impor­tance unsup­port­ed by reality;
A belief that s/​he is spe­cial and unique and can only be under­stood by oth­er ​

'

spe­cial' people;
A pre­oc­cu­pa­tion with fan­tasies of extra­or­di­nary suc­cess, wealth, pow­er, bril­liance, beau­ty or ide­al love;
An intense, exces­sive need for admiration;
A sense of entitlement;
A fre­quent ten­den­cy to exploit inter­per­son­al rela­tion­ships with­out guilt or remorse, includ­ing advan­ta­geous behav­ior to sat­is­fy his/​her own end goals;
A lack of empathy;
An envy of oth­ers, or the per­cep­tion that s/​he is the object of oth­ers' envy;
Reg­u­lar dis­plays of arro­gant behav­ior or attitude.
The likes of Don­ald Trump, George W. Bush, Arnold Schwarzeneg­ger, Rudy Giu­liani, Don­ald Rums­feld, Rush Lim­baugh, Paris Hilton and any num­ber of oth­er pub­lic fig­ures leap to mind. But nar­cis­sists come in all shapes and stripes – you may even be liv­ing or work­ing with a few or have one as a parent.
Address­ing an audi­ence of peo­ple des­per­ate to under­stand the nar­cis­sists in their midst, a sub­genre of self-help books have been writ­ten to help non-nar­cis­sists iden­ti­fy and extri­cate them­selves from this kind of inter­per­son­al ​"tox­i­c­i­ty."
Some of these authors are begin­ning to insist that the pre­pon­der­ance of nar­cis­sists in our soci­ety did not devel­op in a vac­u­um. In an April 2005 inter­view in the Seat­tle Post-Intel­li­gencer, Julia Sokol (co-author of Help! I'm in Love With a Nar­cis­sist) observed: ​"I think soci­ety places a val­ue on nar­cis­sism and nar­cis­sis­tic val­ues. We put an empha­sis on the super­fi­cial. We put an empha­sis on the peo­ple who sound as though they know what they're talk­ing about, even when they don't. … Nar­cis­sism for­gives an awful lot that in an ear­li­er time would have been con­sid­ered obnoxious."
Soci­ol­o­gist Christo­pher Lasch's The Cul­ture of Nar­cis­sism: Amer­i­can Life in An Age of Dimin­ish­ing Expec­ta­tions, first pub­lished in 1979, was the fur­thest thing from a self-help book. Writ­ten in a dense, unemo­tion­al style more suit­ed to the class­room than to arm­chair psy­chol­o­gy, the work was nonethe­less ground­break­ing. Lasch grasped an emer­gent sociopo­lit­i­cal trend: a soci­etal push toward self-sat­is­fac­tion and self-aggran­dize­ment, to the near exclu­sion of a sense of col­lec­tive respon­si­bil­i­ty and accountability.
One of Lasch's great­est feats was to pin­point the nar­cis­sis­tic by-prod­ucts of our Amer­i­can cul­ture of ​"com­pet­i­tive indi­vid­u­al­ism." Our soci­ety, he argued, had car­ried the ​"log­ic of indi­vid­u­al­ism to the extreme of war of all against all, the pur­suit of hap­pi­ness to the dead end of nar­cis­sis­tic pre­oc­cu­pa­tion with the self."
Lasch's book is both illu­mi­nat­ing and pre­scient, par­tic­u­lar­ly as the author pre­dict­ed what we would lat­er come to know as the ​"cult of celebri­ty." In The Cul­ture of Nar­cis­sism, Lasch alter­nat­ed between clin­i­cal and casu­al obser­va­tions of peo­ple who want­ed not to be esteemed for their real accom­plish­ments so much as they want­ed to be admired and adored for their for­tune, beau­ty, or social stand­ing – and politi­cians were not exempt from his scathing analy­sis. ​"Suc­cess in our soci­ety has to be rat­i­fied by pub­lic­i­ty," Lasch writes. "[A]ll pol­i­tics becomes a form of spectacle."
As a prime exam­ple of how nar­cis­sism had infil­trat­ed the Amer­i­can polit­i­cal realm, Lasch used the still-fresh mem­o­ry of the Viet­nam War to argue that politi­cians had so con­cerned them­selves with the image and the rep­u­ta­tion of Amer­i­can pow­er that they had, in essence, lost sight of real­i­ty – that is, until a tremen­dous amount of unnec­es­sary cost and casu­al­ty to human life had already been paid.
Com­par­isons to the wars in Iraq and Afghanistan are inescapable. But we need not look as far as U.S.-sponsored war­fare on for­eign soil to see the evi­dence of a dis­or­dered, sick­ened body politic. Increas­ing­ly, the nation's idea of col­lec­tive wel­fare is defined by mea­sures of indi­vid­ual attain­ment: house and con­do­mini­um pur­chas­es; salaries, perks and bonus­es; the avail­abil­i­ty of lux­u­ry goods and accom­mo­da­tions; and the pur­chase of gigan­tic, gas-guz­zling vehi­cles decked out with ​"extras" unimag­in­able to the Amer­i­can dri­vers in the not-too-dis­tant past.
— —  —  —  —  — —
Uni­ver­si­ty of Texas jour­nal­ism pro­fes­sor Robert Jensen exam­ined nar­cis­sism in an Alter­na­tive Press Review arti­cle, ​"Diag­nos­ing the U.S. ​'Nation­al Char­ac­ter.' " While polit­i­cal ten­den­cies to self-aggran­dize are hard­ly unique to the Unit­ed States, the extent to which our nation has con­cen­trat­ed wealth and pow­er should cause us to ​"wor­ry most about the con­se­quences of such nar­cis­sism here," Jensen wrote. Yet, Jensen cau­tions, we should be wary of con­ve­nient­ly ascrib­ing abus­es of pow­er to the right-wingers or the obscene­ly wealthy in our midst.
"Part of our task on the left is to both cri­tique the Bush admin­is­tra­tion, but also to remind peo­ple there's some­thing fun­da­men­tal­ly wrong with the struc­ture of empire," writes Jensen. ​"We are the most afflu­ent coun­try in the his­to­ry of the world, and that afflu­ence breeds a patho­log­i­cal dis­con­nect with the rest of the world."
At an August 2004 appear­ance in San Fran­cis­co, Indi­an writer and activist Arund­hati Roy spoke of that patho­log­i­cal dis­con­nect as an out­growth of America's rat­ings-dri­ven elec­tion process. ​"Unfor­tu­nate­ly, the impor­tance of the U.S. elec­tions has dete­ri­o­rat­ed into a sort of per­son­al­i­ty con­test," Roy said. "[The elec­tions have become a] squab­ble over who would do a bet­ter job of over­see­ing empire. … The U.S. polit­i­cal sys­tem has been care­ful­ly craft­ed to ensure that no one who ques­tions the nat­ur­al good­ness of the mil­i­tary-indus­tri­al-cor­po­rate pow­er struc­ture will be allowed through the por­tals of power."
As Jensen puts it today, the con­flu­ence of ​"cor­po­rate cap­i­tal­ism with the media-cen­tric nature of this world com­bined with the absence of the orga­nized resis­tant left" has made it more dif­fi­cult for those of us opposed to repres­sion and greed to tame the beast of nar­cis­sism in our midst – and in our own minds.
— —  —  —  —  — —
The path toward a more mean­ing­ful, col­lec­tive-ori­ent­ed future – has to begin with an intro­spec­tive re-eval­u­a­tion of how nar­cis­sism has skewed our per­son­al, social and polit­i­cal lives. Many of us have, con­scious­ly or sub­con­scious­ly, reject­ed a soci­ety that requires inces­sant self-pro­mo­tion for eco­nom­ic sur­vival by refus­ing to cen­ter our exis­tences around pub­lic­i­ty-seek­ing approach­es to our life and work. In that act of rejec­tion we can find a bit of shel­ter from the dan­gers of a hyper­in­flat­ed ego.
But in the absence of a cohe­sive frame­work that helps us under­stand exact­ly what we've reject­ed (and why), many of us sim­ply retreat from pub­lic engage­ment in what Com­mon­sense Rebel­lion author and psy­chol­o­gist Bruce Levine char­ac­ter­izes as a ​"pas­sive-aggres­sive rebel­lion against a soci­ety that demands we be inces­sant­ly self-pro­mot­ing nar­cis­sists in order to survive."
Per­haps the hope, then, lies in a fuller under­stand­ing of what we are react­ing to, and a health­i­er, more humane sense of what we'd rather embrace, includ­ing seem­ing­ly anti­quat­ed notions of hon­esty, humil­i­ty, col­lec­tivism, eth­i­cal con­duct and mod­er­a­tion in mate­r­i­al possessions.
Essen­tial to this process, as psy­chol­o­gists like Levine sug­gest, is also devel­op­ing a more fine­ly tuned aware­ness of the role nar­cis­sism plays in soci­ety. When com­plete extrac­tion is not pos­si­ble, then bound­ary set­ting is a nec­es­sary prac­tice for pre­serv­ing a healthy, social­ly and polit­i­cal­ly-engaged life.
Lasch, in a 1990 after­word to The Cul­ture of Nar­cis­sism, wrote, ​"The best hope of emo­tion­al matu­ri­ty, appears to lie in a recog­ni­tion of our need for and depen­dence on peo­ple who nev­er­the­less remain sep­a­rate from our­selves and refuse to sub­mit to our whims. It lies in a recog­ni­tion of oth­ers not as pro­jec­tions of our own desires but as inde­pen­dent beings with desires of their own."
Most impor­tant­ly, Lasch said, ​"The world does not exist mere­ly to sat­is­fy our own desires."
True words, indeed.
And now, to heed.
Sil­ja J.A. Talvi
, a senior edi­tor at In These Times, is an inves­tiga­tive jour­nal­ist and essay­ist with cred­its in many dozens of news­pa­pers and mag­a­zines nation­wide, includ­ing The Nation, Salon, San­ta Fe Reporter, Utne, and the Chris­t­ian Sci­ence Monitor.