When Your Boss Locks You Out for Nearly 6 Months and Cuts Off Your Healthcare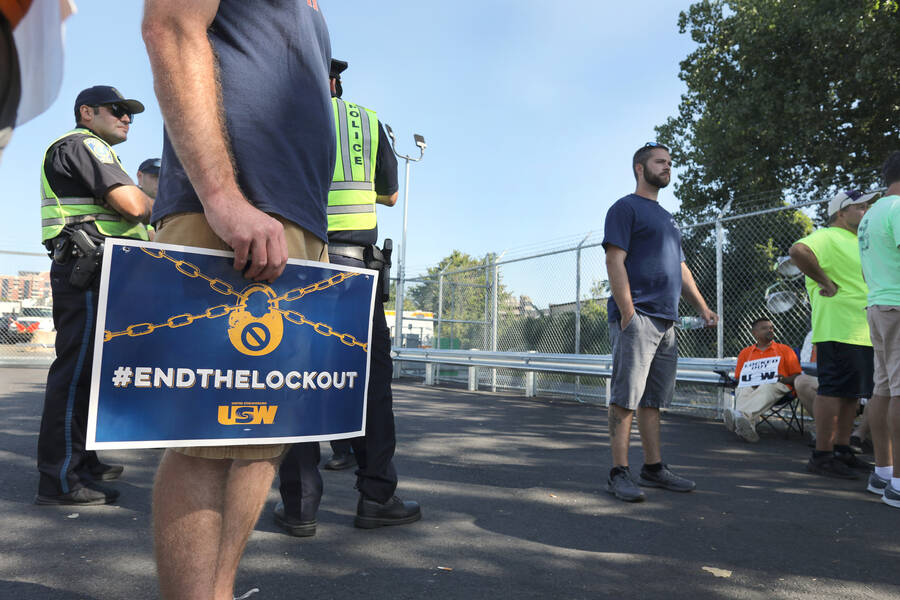 Short­ly before Nation­al Grid locked out 1,250 gas work­ers across Mass­a­chu­setts in June 2018, David Mon­a­han, a Nation­al Grid res­i­den­tial ser­vice tech­ni­cian for more than 9 years, was diag­nosed with a can­cer­ous blad­der tumor.
"They cut off my health insur­ance at the begin­ning and my unem­ploy­ment doesn't even begin to cov­er the cost to con­tin­ue our health insur­ance," Mon­a­han said of the lock­out, which the com­pa­ny imposed as a tac­tic dur­ing new-con­tract nego­ti­a­tions with the Unit­ed Steel­work­ers (USW). Mon­a­han, who is also car­ing for a tod­dler and a preg­nant wife, told In These Times his union has helped pay his bills. But it has still been a strug­gle to deal with health prob­lems and make ends meet on unem­ploy­ment ben­e­fits. For Mon­a­han, COBRA insur­ance, a health insur­ance plan offered to work­ers who lose their job-based insur­ance, costs more than $2400 a month.
"It didn't need to hap­pen," added Mon­a­han. ​"We have all offered to con­tin­ue work­ing under the same guide­lines and para­me­ters we all did before as we con­tin­ued nego­ti­at­ing because that's what hap­pened in pre­vi­ous con­tract nego­ti­a­tions. It was Nation­al Grid's choice and all of us work­ers are the ones suffering."
Nation­al Grid con­tin­ued the lock­out for near­ly six months, under­min­ing work­ers' abil­i­ties to live a nor­mal life and prop­er­ly take care of their fam­i­lies. Work­ers were left in lim­bo, with no sense of when they would be able to return to their jobs, with full pay and ben­e­fits restored. On Jan­u­ary 2, the USW and Nation­al Grid reached a ten­ta­tive agree­ment to end the lock­out that union mem­bers will vote on by Jan­u­ary 7. A rat­i­fied agree­ment would end the lockout.
John Doher­ty said he has worked for Nation­al Grid for 32 years. ​"Finan­cial­ly, it's a huge set­back for all of us," he told In These TImes. ​"Psy­cho­log­i­cal­ly, there's a lot of anger out on the pick­et lines and even a feel­ing of depres­sion. Myself and many of my cowork­ers have been work­ing here since the com­pa­ny was Boston Gas. For Nation­al Grid to lock us out is the ulti­mate betrayal."
Law­mak­ers in Mass­a­chu­setts intro­duced a bill in July 2018 to force Nation­al Grid to con­tin­ue offer­ing health insur­ance to employ­ees dur­ing the lock­out, but the bill has yet to be vot­ed on in the State Sen­ate after it passed in the House in ear­ly Decem­ber 2018. The State House also passed a bill to con­tin­ue unem­ploy­ment ben­e­fits to locked out Nation­al Grid work­ers, which will be paid by their employ­er and includes lan­guage to pre­vent the costs of the unem­ploy­ment pro­gram to be passed down to con­sumers. The State Sen­ate passed that bill on Christ­mas Eve and it was signed into law on New Year's Eve.
Though the unem­ploy­ment bill pro­vides work­ers with some tem­po­rary relief, they have been left to strug­gle with­out the health insur­ance and income they received before the lock­out began.
"The Nation­al Grid lock­out has placed every work­ing man and woman at risk of hav­ing their next bar­gain­ing ses­sion end in a lock­out, which pos­es a threat to our work­ers," said the author of the Nation­al Grid health­care bill, State Rep. James O'Day (D), in an email to In These Times. ​"This lock­out sets a prece­dent to future bar­gain­ing agree­ments and gives com­pa­nies lever­age by using health insur­ance and pay­checks as a bar­gain­ing tool in these negotiations."
The lock­out last­ed for near­ly six months as the Unit­ed King­dom-based mul­ti-bil­lion dol­lar util­i­ty com­pa­ny, Nation­al Grid, con­tin­ued con­tract nego­ti­a­tions with Locals 12003 and 12012 of USW. Nation­al Grid opt­ed to hire tem­po­rary replace­ment work­ers rather than accept an offer from the unions to extend the cur­rent con­tract until a new one is agreed upon.
Lock­outs are work stop­pages increas­ing­ly used by cor­po­ra­tions as lever­age against labor unions over con­tract nego­ti­a­tions. Lock­outs rep­re­sent­ed under 4 per­cent of all work stop­pages in 1990 but grad­u­al­ly grew to more than 10 per­cent by 2015, while labor strikes have expe­ri­enced declines. The Boston Globe report­ed that when a work stop­page occurs, it is now twice as like­ly to be a lock­out than a strike com­pared to just a decade ago.
The unions say Nation­al Grid was push­ing a new labor con­tract that removes sev­er­al ben­e­fits for new hires, includ­ing revok­ing med­ical for retirees and switch­ing to non-tra­di­tion­al, less sup­port­ive pen­sion plans. Accord­ing to the union, the com­pa­ny was also try­ing to cut employ­ee life insur­ance, sick time, dis­abil­i­ty pen­sion and bid­ding rights for dif­fer­ent posi­tions with­in Nation­al Grid.
"They basi­cal­ly want a two-tiered ben­e­fit sys­tem, one for cur­rent employ­ees and one for new employ­ees," said USW Local 12012 Pres­i­dent John Buonopane in an inter­view with In These Times. ​"They told us that night on June 25, the union com­mit­tee, that if we couldn't unan­i­mous­ly rec­om­mend their pro­posed con­tract they were lock­ing us out that night. They told us they weren't going to give us an oppor­tu­ni­ty for the mem­ber­ship to vote on it."
Buonopane said most employ­ees showed up to work the next morn­ing with the gates locked, and Nation­al Grid imple­ment­ed a con­tin­gency plan to replace union work­ers. The unions field­ed over 200 com­plaints with the Mass­a­chu­setts Depart­ment of Pub­lic Util­i­ties over unsafe activ­i­ty by replace­ment work­ers, accord­ing to Buonopane.
As an exam­ple, Buonopane cit­ed an inci­dent in Woburn, Mass­a­chu­setts this past Octo­ber when a replace­ment work­er acci­den­tal­ly over-pres­sur­ized a neigh­bor­hood with about 300 homes. State offi­cials issued a mora­to­ri­um on all non-emer­gency, non-com­pli­ance work in response to the inci­dent, as a sim­i­lar pipe over-pres­sur­iza­tion error caused gas explo­sions in Mer­ri­mack Val­ley, Mass­a­chu­setts in Sep­tem­ber 2018, though under a dif­fer­ent util­i­ty com­pa­ny. In that inci­dent, one per­son was killed, and 21 were injured in the explo­sions that dam­aged 131 buildings.
"They are using peo­ple who don't have the expe­ri­ence in the field like our peo­ple do. That's a prob­lem, and the poten­tial for anoth­er dis­as­ter is real," added Buonopane. He not­ed in cold weath­er, safe­ty risks increase due to frost caps and the increased use in home appli­ances that raise the poten­tial for more leaks and car­bon monox­ide issues.
State offi­cials and politi­cians in Mass­a­chu­setts increas­ing­ly sided with the union to end the Nation­al Grid lockout.
"We call on Nation­al Grid to end their lock­out imme­di­ate­ly and allow the work­ers to get back to work now. We believe the two par­ties can con­tin­ue nego­ti­a­tions – and they must con­tin­ue nego­ti­a­tions – while allow­ing these fam­i­lies to put food on their table, take care of their children's press­ing health needs, and enjoy their hol­i­days togeth­er," said Mass­a­chu­setts State Sen­ate Pres­i­dent Karen E. Spilka & Sen­ate Minor­i­ty Leader Bruce E. Tarr in a joint state­ment on Decem­ber 10. ​"This process has gone on long enough, and the Sen­ate is pre­pared to take action if need­ed. For the New Year, we hope that these work­ers get their one wish: to go back to work."
The unions offered to meet with Nation­al Grid on a dai­ly basis start­ing Decem­ber 17, until an agree­ment was reached.
In an email, a Nation­al Grid spokesper­son told In These Times, ​"Nation­al Grid always endeav­ors in bar­gain­ing fair con­tracts that bal­ance the needs of our employ­ees with the inter­ests of our cus­tomers. But, ulti­mate­ly, it is our ratepay­ers who pay the cost of our employ­ees' wages and ben­e­fits, and the Com­pa­ny must be mind­ful of the direct impact that employ­ee com­pen­sa­tion has on the rates charged to our customers."
For David Mon­a­han, the lock­out has had a pro­found impact on his life.
"We all thought we had careers at Nation­al Grid and they pulled the rug out from under us,"Monahan added. ​"It's total­ly tak­en my life and flipped it upside down. It hasn't been a good expe­ri­ence. Not know­ing when it's going to end or when life will get back to nor­mal has been stressful."
Michael Saina­to
is a jour­nal­ist based in Albany, NY. Fol­low him on Twit­ter @MSainat
1