When Your Boss Locks You Out for Nearly 6 Months and Cuts Off Your Healthcare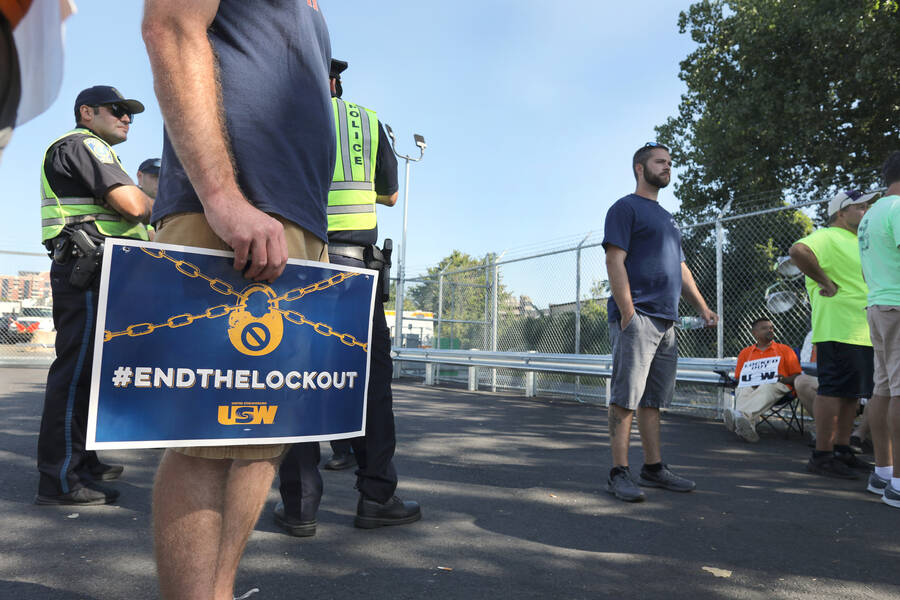 Shortly before National Grid locked out 1,250 gas workers across Massachusetts in June 2018, David Monahan, a National Grid residential service technician for more than 9 years, was diagnosed with a cancerous bladder tumor.
"They cut off my health insurance at the beginning and my unemployment doesn't even begin to cover the cost to continue our health insurance," Monahan said of the lockout, which the company imposed as a tactic during new-contract negotiations with the United Steelworkers (USW). Monahan, who is also caring for a toddler and a pregnant wife, told In These Times his union has helped pay his bills. But it has still been a struggle to deal with health problems and make ends meet on unemployment benefits. For Monahan, COBRA insurance, a health insurance plan offered to workers who lose their job-based insurance, costs more than $2400 a month.
"It didn't need to happen," added Monahan. ​"We have all offered to continue working under the same guidelines and parameters we all did before as we continued negotiating because that's what happened in previous contract negotiations. It was National Grid's choice and all of us workers are the ones suffering."
National Grid continued the lockout for nearly six months, undermining workers' abilities to live a normal life and properly take care of their families. Workers were left in limbo, with no sense of when they would be able to return to their jobs, with full pay and benefits restored. On January 2, the USW and National Grid reached a tentative agreement to end the lockout that union members will vote on by January 7. A ratified agreement would end the lockout.
John Doherty said he has worked for National Grid for 32 years. ​"Financially, it's a huge setback for all of us," he told In These TImes. ​"Psychologically, there's a lot of anger out on the picket lines and even a feeling of depression. Myself and many of my coworkers have been working here since the company was Boston Gas. For National Grid to lock us out is the ultimate betrayal."
Lawmakers in Massachusetts introduced a bill in July 2018 to force National Grid to continue offering health insurance to employees during the lockout, but the bill has yet to be voted on in the State Senate after it passed in the House in early December 2018. The State House also passed a bill to continue unemployment benefits to locked out National Grid workers, which will be paid by their employer and includes language to prevent the costs of the unemployment program to be passed down to consumers. The State Senate passed that bill on Christmas Eve and it was signed into law on New Year's Eve.
Though the unemployment bill provides workers with some temporary relief, they have been left to struggle without the health insurance and income they received before the lockout began.
"The National Grid lockout has placed every working man and woman at risk of having their next bargaining session end in a lockout, which poses a threat to our workers," said the author of the National Grid healthcare bill, State Rep. James O'Day (D), in an email to In These Times. ​"This lockout sets a precedent to future bargaining agreements and gives companies leverage by using health insurance and paychecks as a bargaining tool in these negotiations."
The lockout lasted for nearly six months as the United Kingdom-based multi-billion dollar utility company, National Grid, continued contract negotiations with Locals 12003 and 12012 of USW. National Grid opted to hire temporary replacement workers rather than accept an offer from the unions to extend the current contract until a new one is agreed upon.
Lockouts are work stoppages increasingly used by corporations as leverage against labor unions over contract negotiations. Lockouts represented under 4 percent of all work stoppages in 1990 but gradually grew to more than 10 percent by 2015, while labor strikes have experienced declines. The Boston Globe reported that when a work stoppage occurs, it is now twice as likely to be a lockout than a strike compared to just a decade ago.
The unions say National Grid was pushing a new labor contract that removes several benefits for new hires, including revoking medical for retirees and switching to non-traditional, less supportive pension plans. According to the union, the company was also trying to cut employee life insurance, sick time, disability pension and bidding rights for different positions within National Grid.
"They basically want a two-tiered benefit system, one for current employees and one for new employees," said USW Local 12012 President John Buonopane in an interview with In These Times. ​"They told us that night on June 25, the union committee, that if we couldn't unanimously recommend their proposed contract they were locking us out that night. They told us they weren't going to give us an opportunity for the membership to vote on it."
Buonopane said most employees showed up to work the next morning with the gates locked, and National Grid implemented a contingency plan to replace union workers. The unions fielded over 200 complaints with the Massachusetts Department of Public Utilities over unsafe activity by replacement workers, according to Buonopane.
As an example, Buonopane cited an incident in Woburn, Massachusetts this past October when a replacement worker accidentally over-pressurized a neighborhood with about 300 homes. State officials issued a moratorium on all non-emergency, non-compliance work in response to the incident, as a similar pipe over-pressurization error caused gas explosions in Merrimack Valley, Massachusetts in September 2018, though under a different utility company. In that incident, one person was killed, and 21 were injured in the explosions that damaged 131 buildings.
"They are using people who don't have the experience in the field like our people do. That's a problem, and the potential for another disaster is real," added Buonopane. He noted in cold weather, safety risks increase due to frost caps and the increased use in home appliances that raise the potential for more leaks and carbon monoxide issues.
State officials and politicians in Massachusetts increasingly sided with the union to end the National Grid lockout.
"We call on National Grid to end their lockout immediately and allow the workers to get back to work now. We believe the two parties can continue negotiations – and they must continue negotiations – while allowing these families to put food on their table, take care of their children's pressing health needs, and enjoy their holidays together," said Massachusetts State Senate President Karen E. Spilka & Senate Minority Leader Bruce E. Tarr in a joint statement on December 10. ​"This process has gone on long enough, and the Senate is prepared to take action if needed. For the New Year, we hope that these workers get their one wish: to go back to work."
The unions offered to meet with National Grid on a daily basis starting December 17, until an agreement was reached.
In an email, a National Grid spokesperson told In These Times, ​"National Grid always endeavors in bargaining fair contracts that balance the needs of our employees with the interests of our customers. But, ultimately, it is our ratepayers who pay the cost of our employees' wages and benefits, and the Company must be mindful of the direct impact that employee compensation has on the rates charged to our customers."
For David Monahan, the lockout has had a profound impact on his life.
"We all thought we had careers at National Grid and they pulled the rug out from under us,"Monahan added. ​"It's totally taken my life and flipped it upside down. It hasn't been a good experience. Not knowing when it's going to end or when life will get back to normal has been stressful."
Michael Sainato
is a journalist based in Albany, NY. Follow him on Twitter @MSainat
1