When a Company Tries to Decertify Its Union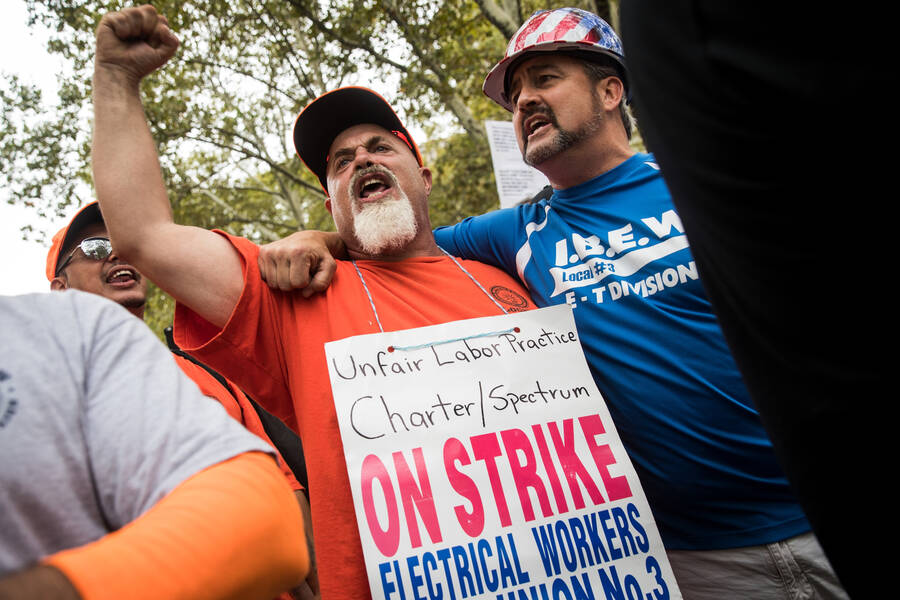 Cable provider and mass media com­pa­ny Char­ter Com­mu­ni­ca­tions, which offers its ser­vices under the Spec­trum brand, is push­ing to decer­ti­fy the IBEW Local 3 union in New York City, whose work­ers have been on strike since March 28, 2017. Decer­ti­fi­ca­tion votes are used by work­ers to get rid of a union or replace it with a dif­fer­ent one, with the vote to get rid of IBEW Local 3 being pushed by replace­ment workers.
Rough­ly 1,800 work­ers rep­re­sent­ed by IBEW Local 3 went on strike over a con­tract dis­pute with Char­ter Com­mu­ni­ca­tions, which bought out Time Warn­er Cable in May 2016. A major­i­ty of work­ers vot­ed to autho­rize a strike in response to cuts to health­care and pen­sion ben­e­fits in the wake of the buy-out.
As the strike approach­es two years, Char­ter Com­mu­ni­ca­tions is advo­cat­ing work­ers to vote to decer­ti­fy the union with the Nation­al Labor Rela­tions Board.
In an inter­nal email from Jan­u­ary 31, obtained by In These Times, Char­ter Com­mu­ni­ca­tions Region­al Vice Pres­i­dent of New York City Oper­a­tions, John Quigley, told work­ers, ​"In my opin­ion, Local 3 has not earned the right to rep­re­sent you. Over the past sev­er­al years they have mis­lead (sic.) their mem­bers, led them out on a strike with­out a clear plan, mis­han­dled almost every aspect of the strike, made it very clear what they think of employ­ees who are work­ing with us today, and con­tin­ue to make emp­ty threats about harm­ing our business."
Quigley added, ​"we hope that you vote ​'no' and give us a chance to con­tin­ue to make Char­ter a great place to work-together."
The email reveals that Spec­trum encour­aged its work­ers to get rid of the union. A Spec­trum spokesper­son told In These Times via email, ​"the vote is between our employ­ees and IBEW Local 3. We have no fur­ther comment."
"A stan­dard tac­tic in a union-bust­ing cam­paign is to be intran­si­gent in bar­gain­ing and there­by pro­voke a strike, hire replace­ment work­ers who are eli­gi­ble to vote, sched­ule a decer­ti­fi­ca­tion elec­tion and hope the replace­ment work­ers vote in greater num­bers than the strik­ers," Cather­ine Fisk, a law pro­fes­sor at the Uni­ver­si­ty of Cal­i­for­nia at Berke­ley, told In These Times via email. ​"It illus­trates the need for labor law reform that would per­mit work­ers to bar­gain and, if nec­es­sary, strike with­out los­ing their jobs and their rights to bar­gain collectively."
The peti­tion to decer­ti­fy the union was filed with the Nation­al Labor Rela­tions Board by Bruce Car­ber­ry, who the union alleges is a super­vi­sor who tran­si­tioned to a sur­vey tech­ni­cian role in order to file the peti­tion and become a part of the bar­gain­ing unit rep­re­sent­ed by the union. Union mem­bers allege this indi­vid­ual was demot­ed for the pur­pose of under­min­ing the union. Once a decer­ti­fy peti­tion is filed and approved with at least 30 per­cent of work­ers sign­ing in favor, a vote is held where a major­i­ty deter­mines the out­come. The vote went for­ward after nego­ti­a­tions to end the strike broke down in Decem­ber 2018.
On his LinkedIn pro­file, Car­ber­ry lists his role as a super­vi­sor until Jan­u­ary 2018; the peti­tion was ini­tial­ly filed in May 2018. Car­ber­ry began work­ing for Char­ter Com­mu­ni­ca­tions in May 2017, short­ly after the union went on strike. Trump-appoint­ed Nation­al Labor Rela­tions Board (NLRB) region­al direc­tor John Walsh approved Carberry's peti­tion to allow a decer­ti­fi­ca­tion vote in June 2018 despite these alle­ga­tions from the union that Car­ber­ry was inel­i­gi­ble to file the peti­tion due to his super­vi­so­ry posi­tion. The rul­ing explained the union did not prove Car­ber­ry was not in a super­vi­so­ry role at the time of fil­ing the peti­tion, despite prov­ing he served in a super­vi­so­ry role pri­or to its filing.
If the vote pass­es to decer­ti­fy the union, the out­come would essen­tial­ly end the strike in Spectrum's favor rather than con­tin­ue to pres­sure Spec­trum to make con­ces­sions in bar­gain­ing a new union con­tract. It's unclear how many replace­ment work­ers, per­ma­nent and con­tract­ed employ­ees have been hired by Spec­trum dur­ing the strike. When the strike first began, Spectrum's con­tin­gency plan includ­ed hir­ing con­trac­tors from out of state and the com­pa­ny has recent­ly been scru­ti­nized by city offi­cials for not hir­ing enough local labor.
The attor­ney rep­re­sent­ing Car­ber­ry and his peti­tion, Matthew Antonek, has pre­vi­ous­ly rep­re­sent­ed union bust­ing efforts at Ver­i­zon as the company's Exec­u­tive Direc­tor of Labor Relations.
"He's a union buster," said Tim Dub­nau, an orga­niz­ing coor­di­na­tor for the Com­mu­ni­ca­tions Work­ers of Amer­i­ca which has led efforts to union­ize Ver­i­zon employ­ees, of the petitioner's attor­ney. ​"The labor law is com­plete­ly bro­ken in this coun­try. It's amaz­ing how coer­cive employ­ers can be and are."
Since the peti­tion went through, a cam­paign that includes an anti-union blog sur­faced to try to sway work­ers to vote in favor of decer­ti­fy­ing the union. One blog post includes ten rea­sons to vote ​"No," includ­ing claims the union hates cur­rent Spec­trum employ­ees, the union lies, and that work­ers would be bet­ter off with­out the union rep­re­sent­ing the workplace.
"Around the new year start­ing when the NLRB said the vote was going to go through, a char­ter tech blog showed up say­ing things like you can't get any­more rais­es," Chris Fasu­lo, a Spec­trum work­er on strike, told In These Times. ​"There are also a cou­ple of Twit­ter accounts out there, all of a sud­den they start­ed trolling a lot of guys on strike like myself who are very out­spo­ken on Twit­ter." A Spec­trum spokesper­son denied the blog or accounts are affil­i­at­ed with the company.
The NLRB sent out bal­lots to all eli­gi­ble work­ers this month for the decer­ti­fi­ca­tion elec­tion, which includes work­ers on strike and any hired before Jan­u­ary 2019. Bal­lots were due Feb­ru­ary 22, and the out­come of the vote is not yet known.
"Even though none of these peo­ple are part of the union, the law seems to give them the abil­i­ty to vote on whether or not a union should rep­re­sent the work­place," said Troy Wal­cott, a Spec­trum work­er on strike. ​"So while we're out on strike all the peo­ple who are work­ing in place of us who don't have a union are now allowed to vote on whether a union gets to rep­re­sent the workplace."
He added a grass­roots move­ment has start­ed in the wake of the strike to cre­ate a pub­licly owned cable ser­vice in New York City. New York Gov­er­nor Andrew Cuo­mo, and union lead­ers in New York have recent­ly renewed calls to boy­cott Spec­trum and its ser­vices over the company's union bust­ing. The com­pa­ny is cur­rent­ly in nego­ti­a­tions with the New York Pub­lic Ser­vice Com­mis­sion to be able to con­tin­ue pro­vid­ing cable ser­vices in New York State after the com­mis­sion vot­ed in July 2018 to revoke approval of Spectrum's merg­er with Time Warner.
"The com­pa­ny is basi­cal­ly union bust­ing in New York City, and they've come in, raised rates on peo­ple and set their own terms because they hold a monop­oly right now and there's real­ly no one to stop them from doing what they're doing," added Walcott.
Michael Saina­to
is a jour­nal­ist based in Albany, NY. Fol­low him on Twit­ter @MSainat
1