How Have Health Workers Won Improvements to Patient Care? Strikes.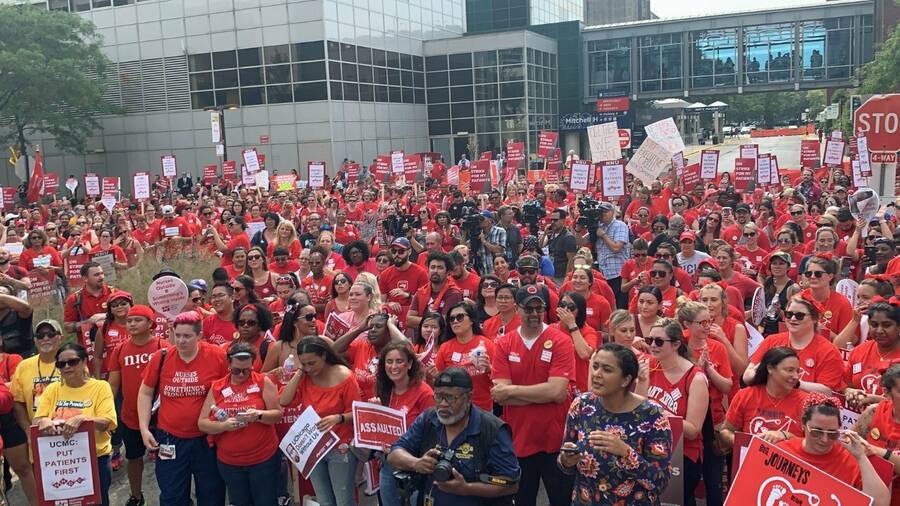 On Sep­tem­ber 20, 2,200 nurs­es rep­re­sent­ed by the Nation­al Nurs­es Unit­ed (NNU) went on a one-day strike at the Uni­ver­si­ty of Chica­go Med­ical Cen­ter. The Chica­go nurs­es were protest­ing unsafe work­ing con­di­tions and forced over­time — and had been in con­tract nego­ti­a­tions with the hos­pi­tal for months. The Med­ical Cen­ter has just spent $269 mil­lion on a hos­pi­tal expan­sion that it, insists, rep­re­sents an " invest­ment to improve our com­mu­ni­ty's health."
In response to the strike, the Med­ical Center's top offi­cials went on a P.R. offen­sive, accus­ing strik­ing nurs­es of engag­ing in ​"shame­less behav­ior," and insist­ing they are reck­less­ly endan­ger­ing their patients.
Noth­ing could be fur­ther from the truth, says Astria John­son, an Emer­gency Room nurse who has worked for the hos­pi­tal for 10 years. ​"This strike is about pro­vid­ing safe patient care. I can't do that when I am assigned four patients, two of whom are inten­sive care (ICU) patients and two of whom are very sick. Some­one may be on a ven­ti­la­tor to breathe for them. Some­one may be sep­tic and require intra­venous antibi­otics and require con­stant mon­i­tor­ing. Some peo­ple are get­ting their first diag­no­sis in the ER and I can't edu­cate them about their dis­ease or medication."
In response to the strike, man­age­ment locked nurs­es out of the hos­pi­tal for four days. The nurs­es went back to work Wednes­day morn­ing, and bar­gain­ing is expect­ed to con­tin­ue now that they're back on the job.
Health­care pro­fes­sion­als like John­son do not view strik­ing as their first option. Most spend years going through ​"the prop­er chan­nels," speak­ing with man­age­ment, and engag­ing in end­less inter­nal nego­ti­at­ing ses­sions to resolve patient care prob­lems. When they do final­ly go pub­lic with their con­cerns, their actions often result in improve­ments to patient care.
In Cal­i­for­nia for exam­ple, the Cal­i­for­nia Nurs­es Asso­ci­a­tion (CNA), the orga­ni­za­tion that was the found­ing mem­ber of NNU, spent 13 years fight­ing and win­ning the first — and thus far only — leg­is­lat­ed safe nurse-to-patient staffing ratios in the coun­try: In 1998, Cal­i­for­nia Gov­ern­ment Pete Wil­son vetoed a safe staffing bill that was passed by the leg­is­la­ture. In 1999, after more intense lob­by­ing and activ­i­ty by the CNA, leg­is­la­tion was passed and signed into law by Gov­er­nor Gray Davis. Ratios were final­ly imple­ment­ed in 2004. Accord­ing to one study, in Cal­i­for­nia, man­dat­ed ratios had a pos­i­tive impact on patient deaths as well as nurse burnout.
Oth­er health­care work­ers have gone on strike to address vex­ing patient care issues. Since 2010, the Nation­al Union of Health­care Work­ers (NUHW), which rep­re­sents 4,000 psy­chol­o­gists, social work­ers, and oth­er men­tal health clin­i­cians at Kaiser Per­ma­nente in Cal­i­for­nia, has mount­ed a cam­paign to pub­li­cize and rem­e­dy a crit­i­cal short­age of men­tal health work­ers at the state's largest HMO. In 2011, the NUHW filed com­plaints to the Cal­i­for­nia Depart­ment of Man­aged Health Care (DMHC) charg­ing Kaiser was vio­lat­ing a reg­u­la­tion that requires that HMOs must see men­tal health patients with­in 10 busi­ness or 14 cal­en­dar days of their request for an appoint­ment. The com­plaint was accom­pa­nied by a 34 page report enti­tled ​"Care Delayed, Care Denied."
In 2012, the NUHW went on strike to expose Kaiser's fail­ure to hire suf­fi­cient men­tal staff and give patients access to time­ly care. These men­tal health work­ers pushed the DMHC to take action to ful­fill its man­dates to pro­tect patients. In March of 2013, the DMHC released the results of its inves­ti­ga­tion. It found that up to 40 per­cent of patients at var­i­ous Kaiser facil­i­ties expe­ri­enced appoint­ment delays that vio­lat­ed Cal­i­for­nia law. In June of 2013, the state of Cal­i­for­nia fined the sys­tem $4 mil­lion, issued a cease-and-desist order against Kaiser, and ordered the HMO to cor­rect the prob­lems. In 2015, a fol­low up sur­vey by the DMHC, based on a sam­pling of hun­dreds of indi­vid­ual patient charts, revealed that, in North­ern Cal­i­for­nia alone, 22 per­cent of patients suf­fered exces­sive appoint­ment delays. The DMHC called the vio­la­tions ​"seri­ous."
In 2015, one of these seri­ous vio­la­tions result­ed in the death of, 83-year-old Bar­bara Ragan, accord­ing to her hus­band Den­ny Ragan. Bar­bara had worked for Kaiser her­self for more than two decades. She'd been seek­ing men­tal health care from Kaiser and, accord­ing to her hus­band, faced lengthy delays for treat­ment and ulti­mate­ly died by sui­cide. Kaiser has said it is not respon­si­ble for Ragan's death and insist­ed that she had received ade­quate care.
In 2017, the state ordered fol­low-up inspec­tions to make sure Kaiser was in com­pli­ance with state laws and reg­u­la­tions. As a result, Kaiser has also hired hun­dreds more therapists.
Even though the union's actions have played a role in forc­ing Kaiser to improve patients' access to an ini­tial vis­it or assess­ment, work­ers say prob­lems con­tin­ue when it comes to pro­vid­ing fol­low-up care. ​"Kaiser has not hired enough staff so that, after an ini­tial tele­phone appoint­ment, patients get need­ed fol­low-up care. Today patients have to wait up to two months for a fol­low up in per­son vis­it," says Kirstin Quinn Siegel a Licensed Mar­riage and Fam­i­ly Ther­a­pist at Kaiser Rich­mond. ​"Peo­ple who have been suf­fer­ing in silence, per­haps for years, and final­ly call to get help should be seen imme­di­ate­ly not in two months."
After expe­ri­enc­ing delayed care, anoth­er Kaiser patient, 19-year-old Eliz­a­beth Brown, died by sui­cide in 2018. Kaiser has declined to com­ment to the press about Brown's care.
Peter Ly, a psy­chol­o­gist on the Child Team at San Jose Kaiser, says that ​"A teenag­er strug­gling with depres­sion, or who is self ‑harm­ing or has sui­ci­dal thoughts needs to be seen right away and then con­sis­tent­ly every week or two. We can't do it. We are asked to put peo­ple into groups when what they need is indi­vid­ual one-on-one therapy."
That's why he and rough­ly 4,000 oth­er work­ers went on a five-day strike in Decem­ber 2018. For­mer Con­gress­man Patrick Kennedy (D, RI) the spon­sor of the men­tal health par­i­ty and addic­tion Equi­ty Act flew to Cal­i­for­nia to join strik­ing ther­a­pists on the pick­et line.
​"We do not go into this work to make mon­ey," says Susan Whit­ney, a mar­riage and fam­i­ly ther­a­pist at Kaiser in Bak­ers­field. ​"There is no cap on our case­load. In order to help patients we keep accept­ing more and more of them. We can't take lunch or even bath­room breaks. We don't act until we and our patients are at the break­ing point. And our num­ber one con­cern is ​"how will this affect patient care?"
In a response to union alle­ga­tions, Kaiser has issued a pub­lic state­ment insist­ing that, ​"Kaiser Per­ma­nente is com­mit­ted to find­ing solu­tions and cre­at­ing a mod­el for men­tal health care that meets the grow­ing demand for men­tal health care and responds to the short­age of qual­i­fied professionals."
But accord­ing to Whit­ney, ​"We've been going through offi­cial Kaiser chan­nels for years and the only way we've seen any enforce­ment or improve­ment is when we go pub­lic and enlist the sup­port of patients, com­mu­ni­ty lead­ers and polit­i­cal representatives."
In July of 2019, Kaiser announced that it had added 300 more men­tal health staff statewide and was con­tin­u­ing to recruit staff. NUHW mem­bers have pro­posed that they par­tic­i­pate in deci­sions about where new staff are assigned both geo­graph­i­cal­ly and to which clin­i­cal teams.
In 2004, two researchers inves­ti­gat­ed man­age­ment claims that health­care work­ers rep­re­sent­ed by unions jeop­ar­dize patient care. Michael Ash and Jean Ann Sea­go found instead that patients on car­diac units in hos­pi­tals where RNs were rep­re­sent­ed by labor unions had a reduced car­diac mor­tal­i­ty rate. They con­clud­ed that, ​"The pro­tec­tions offered by union­iza­tion may encour­age nurs­es to speak up in ways that improve patient out­comes but might be con­sid­ered insub­or­di­nate and, hence, career-jeop­ar­diz­ing with­out union protections."
What was true 15 years ago is even more so today as health­care cor­po­ra­tions con­sol­i­date through hos­pi­tal merg­ers and acqui­si­tions, gain more pow­er, and act to pro­tect the bot­tom-line rather than patient care.
Suzanne Gor­don
is a health­care jour­nal­ist and researcher.
&
nbsp; She is the co-author of Safe­ty in Num­bers: Nurse to Patient Ratios and the Future of Health­care (Cor­nell Uni­ver­si­ty Press) and most recent­ly, Wounds of War: How the VA Deliv­ers Health Heal­ing and Hope to the Nation's Vet­er­ans (Cor­nell Uni­ver­si­ty Press).