A Native Coalition is Fighting for a Better 2018 Farm Bill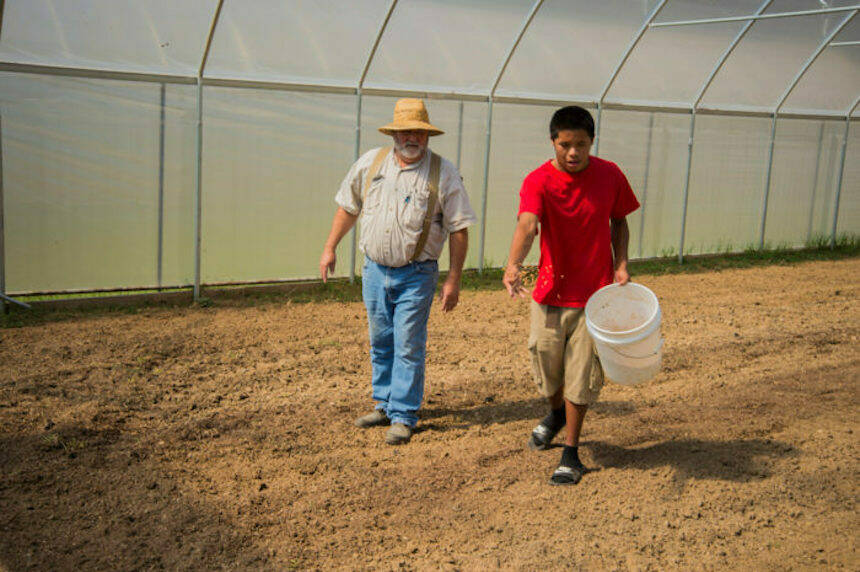 About 10 miles west from the Mis­souri bor­der in the wood­ed, lush-green north­east­ern cor­ner of Okla­homa sits the first trib­al­ly owned meat-pro­cess­ing plant in the country.
In addi­tion to pro­cess­ing its own beef and bison, the 4,800-member Qua­paw Tribe man­ages four green­hous­es that grow fresh herbs and veg­eta­bles and a bee oper­a­tion that both pol­li­nates its plants and pro­duces hon­ey. The Qua­paw peo­ple also roast their own cof­fee, which they pack­age and sell, and ear­li­er this year, they opened a craft brewery.
While par­tic­i­pat­ing in greater America's enter­prise sys­tem, the Qua­paw also use some of what they pro­duce to feed their own peo­ple and sur­round­ing non-Native com­mu­ni­ties. In addi­tion to sup­ply­ing the steak­house and restau­rants at its casi­nos with fresh­ly grown food, the tribe dis­trib­utes bison to senior cit­i­zens and at the reservation's day­care center.
"Our con­tention is tribes are not sov­er­eign unless they can feed them­selves," said Ross Racine, exec­u­tive direc­tor of the Inter­trib­al Agri­cul­ture Coun­cil. ​"But today, $3.3 bil­lion of Native Amer­i­can agri­cul­tur­al prod­ucts go into the com­mod­i­ty mar­ket. [By con­trast,] Qua­paw is eat­ing what they are growing."
Although agri­cul­ture con­tin­ues to play a big role in Native life today, the Quapaw's abil­i­ty to feed them­selves is near­ly unique. While the over­whelm­ing major­i­ty of farm oper­a­tors in the Unit­ed States are white, among farm­ers of col­or an esti­mat­ed 30 per­cent are Native Amer­i­can or Alas­ka Native, and togeth­er they gen­er­ate $3.3 bil­lion in sales each year. But Native pro­duc­ers have lit­tle access to crit­i­cal­ly impor­tant resources such as cred­it, insur­ance, or loan pro­grams, and that fact lim­its their abil­i­ty to be ful­ly autonomous.
Hop­ing to ensure that the voic­es of the nation's orig­i­nal care­tak­ers are heard, Native Amer­i­can groups have come togeth­er to advo­cate for more inclu­sion, greater fund­ing, and exten­sive revi­sions in the upcom­ing farm bill, which will replace the soon-to-expire Agri­cul­tur­al Act of 2014. For near­ly a year, the Native Farm Bill Coali­tion—made up of more than 22 tribes, trib­al orga­ni­za­tions, and non­prof­its across the coun­try — has been meet­ing to craft pol­i­cy for the $489 bil­lion omnibus bill, which over­sees food assis­tance for more than 46 mil­lion low-income Amer­i­cans, as well as food safe­ty, agri­cul­ture insur­ance and loss­es, agri­cul­tur­al research, and rur­al hous­ing and eco­nom­ic development.
"The farm bill holds the poten­tial for trib­al gov­ern­ments and pro­duc­ers to feed their own peo­ple in their own trib­al food sys­tems," said Col­by Duren, co-author of a report com­mis­sioned by the Native Farm Bill Coali­tion, dur­ing a recent webi­nar. ​"All of this will help spur eco­nom­ic devel­op­ment [and] build crit­i­cal infra­struc­ture, which is lack­ing in a lot of com­mu­ni­ties. [It will] be able to sup­port tra­di­tion­al foods and … improve health, nutri­tion, food access and food security."
Design­ing a bill to sup­port Native communities
Native com­mu­ni­ties' lack of access to resources is due part­ly to the sta­tus of Native lands, which are held in trust by the U.S. gov­ern­ment, mak­ing tra­di­tion­al landown­er financ­ing dif­fi­cult to obtain. With­out access to cap­i­tal, much of the food pro­duced on those lands is processed and con­sumed out­side the com­mu­ni­ty. Addi­tion­al­ly, while non-Native com­mu­ni­ties have had access to var­i­ous U.S. Depart­ment of Agri­cul­ture (USDA) pro­grams since the 1940s, only in 1990 were the first Native pro­duc­ers eli­gi­ble for these pro­grams, Racine said.
"We're in a phase of catch-up," he said.
The dis­ad­van­tages Native Amer­i­cans face when it comes to land and food access have roots that stretch back cen­turies. Start­ing in the late 1800s, the fed­er­al gov­ern­ment used treaties to force many to con­vert to a west­ern mod­el of agrar­i­an­ism and land man­age­ment. The U.S. gov­ern­ment assist­ed tribes in the tran­si­tion — offer­ing edu­ca­tion, health care, and the right to self-gov­ern, among oth­er pro­vi­sions — as a way to assim­i­late and set­tle Native peo­ple, who were seen as cul­tur­al­ly infe­ri­or, in exchange for their land. Yet tribes already had their own tra­di­tion­al for­ag­ing and agri­cul­tur­al sys­tems, and trib­al land reduc­tion and relo­ca­tion destroyed many of those foodways.
The effects were extreme­ly detri­men­tal to Native Amer­i­can well­be­ing. With lim­its imposed on fish­ing, for­ag­ing, and hunt­ing — and pushed out to rur­al areas with lim­it­ed access to a com­mer­cial mar­ket — many trib­al peo­ple became depen­dent on food dis­tri­b­u­tion pro­grams, which often con­tained processed food. As a result, Native Amer­i­cans suf­fer some of the high­est rates of dia­betes and obe­si­ty in the country.
Those new SNAP box­es the Trump Admin­is­tra­tion pro­posed to near-uni­ver­sal out­rage ear­li­er this month? They've been reg­u­lar­ly sup­plied to Native Amer­i­can reser­va­tions for 40 years.
Last sum­mer, the Native Farm Bill Coali­tion pub­lished Regain­ing Our Future, a report detail­ing their rec­om­men­da­tions to bet­ter sup­port Native peo­ple in each of the bill's 12 titles, or sec­tions. Their sug­ges­tions include extend­ing cred­it and con­ser­va­tion pro­grams, allo­cat­ing research dol­lars to land grant trib­al col­leges, and pro­vid­ing access to inter­na­tion­al mar­kets for cer­ti­fied Native Amer­i­can prod­ucts, among others.
The coali­tion also calls for tribes to issue their own Sup­ple­men­tal Nutri­tion Assis­tance Pro­gram (SNAP) ben­e­fits, for­mer­ly called food stamps, which makes up 80 per­cent of the over­all farm bill. (Cur­rent­ly, a major­i­ty of states man­age the SNAP pro­grams on Native Amer­i­can reser­va­tions.) Tribes would also like tra­di­tion­al and local­ly grown foods includ­ed in food dis­tri­b­u­tion pro­grams to help curb dia­betes, heart dis­ease, can­cer, and oth­er diet-relat­ed ill­ness­es that Native Amer­i­cans expe­ri­ence at high­er rates. In some Native com­mu­ni­ties, one-quar­ter of mem­bers are par­tic­i­pat­ing in a fed­er­al food program.
Mak­ing Room at the Table
As Con­gress begins the process of review­ing the mam­moth bill this spring, staffers with the office of Sen­a­tor Tom Udall (D‑NM) said bipar­ti­san dis­cus­sions on trib­al rec­om­men­da­tions that could be incor­po­rat­ed in the omnibus leg­is­la­tion or through sup­ple­men­tal bills are now tak­ing place.
Already, Udall — who serves as vice chair­man of the Sen­ate Com­mit­tee on Indi­an Affairs — and three oth­er Demo­c­ra­t­ic sen­a­tors have intro­duced the Trib­al Nutri­tion Improve­ment Act, which pro­vides fund­ing and adds fed­er­al­ly rec­og­nized tribes to the list of gov­ern­ments autho­rized to admin­is­ter fed­er­al food pro­grams includ­ing the Nation­al School Lunch and School Break­fast pro­grams, the Sum­mer Food Ser­vice Pro­gram, and the Child and Adult Care Food Pro­gram. The leg­is­la­tion would allow tribes to direct­ly admin­is­ter school food pro­grams with­out hav­ing to go through state agencies.
Though Pres­i­dent Trump's pro­posed 2019 bud­get calls for large cuts to Amer­i­can Indi­an pro­grams, tribes are still hope­ful that their voic­es may be heard, cit­ing sev­er­al gains in the last farm bill and sup­port from con­gres­sion­al lead­ers famil­iar with trib­al issues.
"For too long, Indi­an Coun­try has been knock­ing at the door of each new farm bill nego­ti­a­tion, ask­ing for a seat at the table as sov­er­eign gov­ern­ments along­side states and coun­ties," Udall said. ​"This year, there is bipar­ti­san sup­port for includ­ing Indi­an Coun­try in the farm bill nego­ti­a­tions and adding pro­vi­sions to sup­port Indi­an Coun­try through sec­tions like those on nutri­tion and eco­nom­ic devel­op­ment to name a few," he con­tin­ued, adding that he and Sen. John Hoeven (R‑ND) have start­ed dis­cus­sions with tribes, the USDA, and Congress.
"I'm opti­mistic that we can con­tin­ue to make progress," Udall said. ​"We all need to come togeth­er to push the door open and make room at the table."
Mak­ing progress on food sov­er­eign­ty is of para­mount impor­tance to Racine and oth­er Native lead­ers. ​"There has nev­er been a soci­ety in the his­to­ry of the world that has sur­vived with­out the abil­i­ty to feed itself," said Racine dur­ing a recent Sen­ate Com­mit­tee on Indi­an Affairs hear­ing on agribusi­ness in Indi­an Coun­try. ​"Agri­cul­ture is a tra­di­tion on our reser­va­tions, not the product."
("Native Com­mu­ni­ties are Fight­ing for a More Inclu­sive Farm Bill" was orig­i­nal­ly pub­lished on Civ­il Eats and is repost­ed on Rur­al Amer­i­ca In These Times with per­mis­sion. For more infor­ma­tion about sus­tain­able agri­cul­ture and the efforts under­way to change Amer­i­ca's food sys­tem for the bet­ter, fol­low @CivilEats on Twitter.)
Kim Baca
is a free­lance jour­nal­ist based in Albu­querque, New Mexico.