Everything TransCanada Didn't Want Nebraska's Regulators To Know About Keystone XL
Tribes and other anti-pipeline advocates say Big Money may have kept Nebraska's public service commission from hearing the whole story.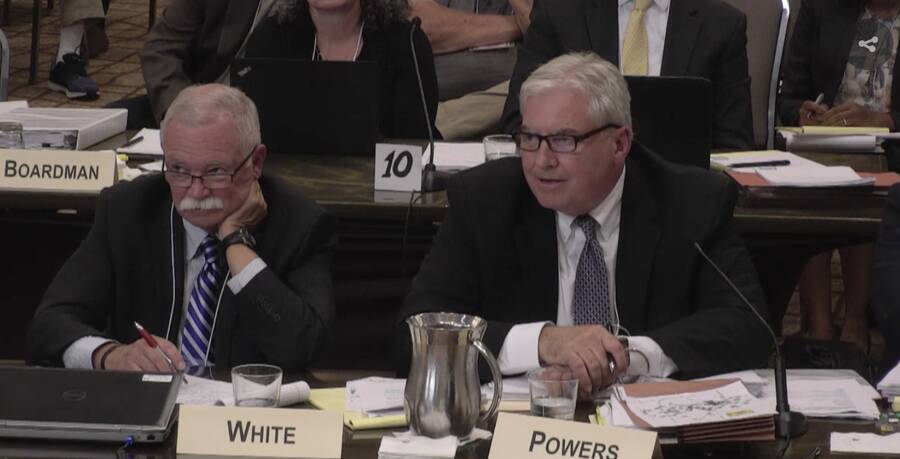 More than a day ahead of sched­ule, the Nebras­ka Pub­lic Ser­vice Com­mis­sion (PSC) hear­ing on the Key­stone XL pipeline was called to a close Thurs­day in down­town Lin­coln. The landown­ers, tribes and envi­ron­men­tal­ists opposed to the mas­sive infra­struc­ture project, though, say the com­mis­sion didn't get the full story.
"As Native Americans, our rights are always pushed to the side."
By order of the state law that allowed for the PSC hear­ings to take place, all par­ties were barred from talk­ing about pipeline safe­ty, includ­ing the risk of leaks and spills. Also off the table for dis­cus­sion were points about the neces­si­ty of the pipeline, emi­nent domain issues and nego­ti­a­tions between Tran­sCana­da and landown­ers along the route.
Bri­an Jorde of Dom­i­na Law Group is one of the attor­neys rep­re­sent­ing landown­ers in this week's hear­ing, and he has been work­ing with landown­ers to fight Key­stone for the last sev­er­al years. He says there's a rel­a­tive­ly sim­ple rea­son why the terms of the leg­isla­tive statutes — and the hear­ing, by exten­sion — have been so favor­able to the com­pa­ny: mon­ey. Tran­sCana­da is a mas­sive lob­by­ing force in the state, and anti-pipeline advo­cates sus­pect they played a heavy hand in set­ting the terms of the hear­ing. A Tran­sCana­da sub­sidiary donat­ed $20,000 to the Nebras­ka Repub­li­can Par­ty in Feb­ru­ary, and the com­pa­ny has spent a total of $925,000 on lob­by­ing in the state over the last five years.
"The real­i­ty is that Tran­sCana­da and its lob­by­ists had a hand in draft­ing those laws…It's unfor­tu­nate that the state of Nebras­ka can't con­sid­er one of the most fore­see­able prob­lems when eval­u­at­ing whether or not the route is in its prop­er loca­tion, if there is any," Jorde said of poten­tial leaks.
Giv­en the pre­pon­der­ance of pipeline mal­func­tions, the exclu­sion of any dis­cus­sion of such dan­gers seems like an espe­cial­ly odd move. In 2012, ProP­ub­li­ca found that the Unit­ed States' 2.5 mil­lion miles of oil and nat­ur­al gas pipelines expe­ri­ence hun­dreds of leaks and rup­tures each year, in some cas­es involv­ing seri­ous injury and even death. Anoth­er oper­a­tional Key­stone pipeline — of which Key­stone XL would be an exten­sion—leaked some 17,000 gal­lons of oil into South Dako­ta in the spring of 2016, just after water pro­tec­tors found­ed the encamp­ment at Stand­ing Rock. The project at the heart of that encamp­ment — the Dako­ta Access Pipeline, plus a feed­er line into it—rup­tured in two loca­tions even before it start­ed ship­ping oil, unleash­ing more than 100 gal­lons of oil into North Dakota.
"It's like we've all got lot­tery num­bers," says retired teacher Art Tanderup, who lives with his wife, Helen, on their farm along the pipeline's pro­posed route. ​"When is our lot­tery num­ber going to come up? It may nev­er come up, but in this kind of sit­u­a­tion the odds are great that some­body in Nebras­ka is going to have a severe leak a few years after they put that in. It's not good if it hap­pens any place in Nebras­ka, but espe­cial­ly if it hap­pens over our most pre­cious water sup­ply in our most porous soil," he said, ref­er­enc­ing the Ogal­lala Aquifer — the country's largest — and the fact that Nebraska's sandy soil would be par­tic­u­lar­ly vul­ner­a­ble to absorb­ing spilled oil. ​"That would be a total disaster."
Jorde also said that the commission's pro­hi­bi­tion on con­sid­er­ing argu­ments about ease­ments — rights to land on which the pipeline would be built — pre­sent­ed seri­ous chal­lenges to giv­ing the PSC a holis­tic view of the project. ​"All a route is is a string of con­nect­ed ease­ments," he argued. ​"If we can't talk about the ease­ments, we can't real­ly have an intel­li­gent con­ver­sa­tion about the route."
Because the scope of the hear­ing was so nar­row, sev­er­al lines of tes­ti­mo­ny were exclud­ed from the thick stack of doc­u­men­ta­tion the PSC will be con­sid­er­ing over the com­ing weeks.
Those with the most restric­tions placed upon them were the Pon­ca and Yank­ton Sioux tribes, which each argue that the pipeline would present a score of eco­nom­ic, social and envi­ron­men­tal haz­ards. The Pon­ca and Yank­ton Sioux tribes, each of which have land claims along the pipeline's route, had ini­tial­ly filed to par­tic­i­pate sep­a­rate­ly in the hear­ing. The com­mis­sion even­tu­al­ly ruled that the Pon­ca and Yank­ton Sioux should com­bine efforts to serve, effec­tive­ly, as one party.
"We're two sep­a­rate, sov­er­eign nations," says Jason Cooke, an elect­ed chair­man of the Yank­ton Sioux tribe of Nebras­ka who took the stand on Wednes­day. ​"They said we're ​'com­mon,' " he added, ref­er­enc­ing the PSC's asser­tion that his and the Pon­ca tribe have com­mon inter­ests regard­ing Key­stone XL. ​"Are we com­mon because of our color?"
In the hearing's final min­utes, for­mer Lan­cast­er Coun­ty Judge Karen Flow­ers, who presided over the hear­ings, debat­ed with lawyers for each tribe about how many pages each would be allot­ted for their writ­ten clos­ing argu­ments, to be sub­mit­ted in mid-Sep­tem­ber. While Tran­sCana­da, NGOs and landown­ers can write 50 pages each, the Pon­ca and Yank­ton Sioux were required to split the 50 pages among them.
Lawyers for trib­al nations were also only allowed to col­lect tes­ti­mo­ny and call wit­ness­es that dis­cussed cul­tur­al resources, or sites of sacred or his­tor­i­cal importance.
"The idea that tribes only have cul­tur­al inter­ests is ridicu­lous," Brad Jol­ly, attor­ney for the Pon­ca tribe, told In These Times. ​"Obvi­ous­ly the tribe shares the same inter­est as every­body else: envi­ron­men­tal­ly, social­ly, eco­nom­i­cal­ly — every­thing. There's a due process prob­lem there. The tribe has rec­og­niz­able rights of self-government…we see that and sev­er­al oth­er things as vio­la­tions of due process."
Among the tes­ti­mo­ny strick­en from the Yank­ton Sioux tribe's tes­ti­mo­ny were state­ments relat­ed to man camps — tem­po­rary liv­ing quar­ters for work­ers build­ing fos­sil fuel infra­struc­ture in rur­al areas.
Perkins stat­ed that his employ­ees would be sub­ject to drug tests in his tes­ti­mo­ny to the PSC, though he admit­ted on the stand that Tran­sCana­da has not yet met with police depart­ments along the route where they would be work­ing about how to han­dle the enforce­ment of drug-relat­ed or oth­er offens­es. He also stat­ed that the com­pa­ny doesn't pre­clude work­ers who are con­vict­ed sex­u­al offend­ers, demur­ring about whether the pipeline devel­op­er would enforce fed­er­al laws requir­ing such offend­ers to file in the Nebras­ka state registry.
The man-camps that sprung up in North Dako­ta dur­ing the oil boom there were noto­ri­ous for bring­ing high lev­els of sex­u­al assault and domes­tic vio­lence, and at one point the state had the high­est ratio of sin­gle young men to sin­gle young women, accord­ing to The New York Times.
Cooke said his tribe is deeply con­cerned about the impact of sim­i­lar dynam­ics on the tribe-owned Fort Ran­dall Casi­no & Hotel, one of few places to drink along the sparse­ly pop­u­lat­ed bor­der between Nebras­ka and South Dako­ta where Key­stone XL would cross. ​"These guys from the man camp are going to come to the casi­no. They say they won't but they will. And they're not going to come to gam­ble," a major source of rev­enue for indige­nous-owned casi­nos. ​"They're going to come to drink and prey on our women and chil­dren," he said.
For tribes, adding poten­tial­ly thou­sands of new, non-native res­i­dents to areas near reser­va­tions cre­ates a par­tic­u­lar chal­lenge. Like oth­er tribes, the Yank­ton Sioux don't have either a mem­o­ran­dum of under­stand­ing with local police depart­ments, or a pro­gram for cross-dep­u­ti­za­tion of law enforce­ment offi­cers inside and out­side of the reservation.
Among the biggest con­cerns for the Yank­ton Sioux and sev­er­al oth­er tribes is the dan­ger a spill could pose to their water sup­plies. ​"Our land that we farmed bare­ly makes enough for our peo­ple," he said. ​"Water is our num­ber one asset on our reser­va­tion. If it's con­t­a­m­i­nat­ed from upstream, what are we going to do? Are we going to have to start buy­ing water?"
And even with­in the cul­tur­al resources frame­work that the Pon­ca and Yank­ton Sioux were per­mit­ted to tes­ti­fy about, argu­ments about spills are all but unavoid­able. Jol­ly, who's spent his career as a trib­al rights attor­ney, recalled legal pro­ceed­ings sev­er­al years ago to remove under­ground sep­tic tanks on reser­va­tions. ​"The process was ter­ri­ble because it's not just remov­ing the tank. The prob­lem is they all leaked," he said. ​"You have to dig up every bit of that soil and take it away. You can't wash it. You can't clean it. It's done. You do that with a cul­tur­al resource and it's gone. It's not just a mat­ter of bring­ing in new dirt." As he had point­ed out dur­ing the hear­ing, the route Tran­sCana­da has applied for — and that could be vul­ner­a­ble to a spill — butts up against the Pon­ca Trail of Tears, along which sev­er­al mem­bers of the tribe died while being forcibly relo­cat­ed to Okla­homa in 1877.
Landown­ers were quick to crit­i­cize how tribes were siloed dur­ing the pro­ceed­ings. ​"Their voice was sti­fled," Tanderup told In These Times short­ly after the hear­ing con­clud­ed. ​"I feel so ter­ri­ble the way the tribes have been treat­ed here. We stand behind them … they were severe­ly mis­treat­ed, as they've been mis­treat­ed for gen­er­a­tions. It's some­thing huge com­pa­nies think they can do, is con­tin­ue to mis­treat people."
On the legal end, the PSC will now have until Novem­ber 23rd to make a final deci­sion, before which time attor­neys from each team will sub­mit final brief­in­gs to the com­mis­sion. What­ev­er they decide, appeals are expect­ed from the los­ing par­ties. In the case of anti-pipeline forces, those appeals will take place inside and out­side the legal sys­tem. At a press con­fer­ence just after the hear­ing was adjourned, Bold Alliance founder and Nebras­ka Demo­c­ra­t­ic Par­ty chair Jane Kleeb pledged civ­il dis­obe­di­ence should the PSC rule in TransCanada's favor: ​"Stand­ing Rock was a dress rehearsal com­pared to what this will be. We are not going to let an inch of for­eign steel touch Nebras­ka soil."
Tanderup sec­ond­ed the pledge. ​"We'll be out there in front of the bull­doz­ers," he told In These Times. ​"We will not allow them on our land. We will not allow them in the state of Nebraska."
Asked what's next, Cooke had a straight­for­ward answer: ​"Keep fight­ing," he said. ​"As Native Amer­i­cans, our rights are always pushed to the side. I think that's what makes us strong, though. We nev­er give up."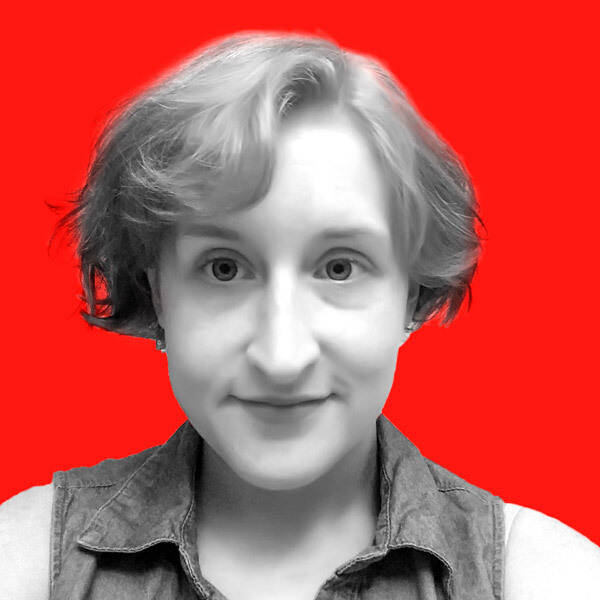 Kate Aronoff
is a Brook­lyn-based jour­nal­ist cov­er­ing cli­mate and U.S. pol­i­tics, and a con­tribut­ing writer at The Inter­cept. Fol­low her on Twit­ter @katearonoff.