These Activists Say Sabotaging Pipelines Is Legally Justified Because Humanity Hangs in the Balance
A landmark trial will test the argument that civil disobedience is needed for the greater good.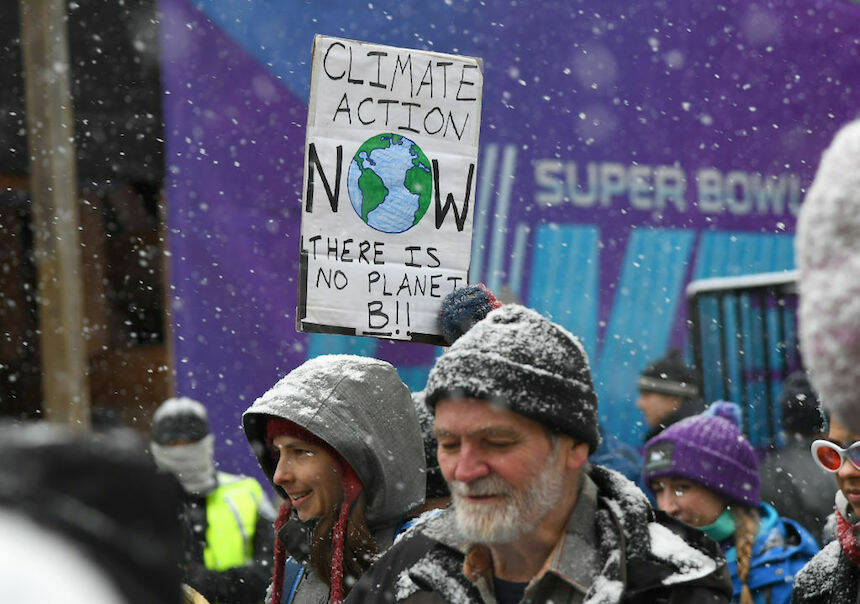 This arti­cle orig­i­nal­ly appeared in Com­mon Dreams.
"We cannot work through our political system, because its values are nothing but profit."
Three activists whose land­mark tri­al is set to begin in Min­neso­ta state court on Mon­day for their 2016 mul­ti-state #ShutIt­Down action—which tem­porar­i­ly dis­abled all tar sands pipelines cross­ing the U.S.-Canada bor­der — will argue the action was nec­es­sary because of the threat that fos­sil fuels pose to the planet.
Reject­ing a chal­lenge from state pros­e­cu­tors in April, an appeals court ruled that the ​"valve turn­ers" can present a ​"neces­si­ty defense" — and bring in top cli­mate experts to tes­ti­fy. In June, the Min­neso­ta Supreme Court denied pros­e­cu­tors' peti­tion to appeal that ruling.
The neces­si­ty defense ​"is a plea that, yes tech­ni­cal­ly we com­mit­ted a crime, but we did it to pre­vent a greater harm," explained Annette Klap­stein, a retired attor­ney from the Seat­tle area and one of the valve turn­ers on trial.
"We can­not work through our polit­i­cal sys­tem, because its val­ues are noth­ing but prof­it," she told The Nation. ​"We live in an oli­garchy, not a democracy."
"It's very much in the inter­est of the cap­i­tal­ist polit­i­cal sys­tem to make us feel pow­er­less, to make us feel that we can't do any­thing," she added, but ​"ulti­mate­ly, they can­not win if we do not con­sent. If we real­ly with­draw our con­sent, if we real­ly go out there and sit down in front of the machine, even­tu­al­ly they can no longer oper­ate it. And at this point, that is our only option."
Klap­stein and Emi­ly Nes­bitt John­ston are fac­ing felony charges under Min­neso­ta law for shut­ting down Enbridge Ener­gy's Line 4 and Line 67. While Ben­jamin Jold­er­s­ma, who assist­ed them, also faces charges in the case, the state has dropped tres­pass­ing charges against video­g­ra­ph­er Steve Liptay.
The Nation reports that Prince­ton polit­i­cal sci­en­tist Mar­tin Gilens and Har­vard Law School's Lawrence Lessig are among the expert wit­ness­es slat­ed to tes­ti­fy. Dr. James Hansen, a for­mer NASA sci­en­tist who has been called ​"the father of mod­ern cli­mate change aware­ness," and 350​.org co-founder Bill McK­ibben will also tes­ti­fy in case, accord­ing to the activist group Cli­mate Direct Action.
"These peo­ple deserve our respect and sup­port," McK­ibben said on Twit­ter about the valve turn­ers in Min­neso­ta on Friday.
This will be the first of the valve turn­er cas­es where those on tri­al can present a neces­si­ty defense, as judges in three states have barred fel­low activists from doing so. In Wash­ing­ton, Ken Ward was found guilty of sec­ond degree bur­glary after his first tri­al end­ed with a hung jury. The judge used a ​"first-time offend­er waiv­er" to sen­tence him to two days in jail, which was ful­filled by time in cus­tody after he was arrest­ed for the 2016 action.
In North Dako­ta, Michael Fos­ter was con­vict­ed of two felonies and a mis­de­meanor, and sen­tenced to three years in prison, though he only served six months and was released in August. Sam Jes­sup, who livestreamed Fos­ter's action, was con­vict­ed of a felony and a mis­de­meanor, and received a two-year deferred sen­tence with super­vised pro­ba­tion. In Mon­tana, Leonard Hig­gins was found guilty of a felony and mis­de­meanor. He received a three-year deferred sentence.
Jes­si­ca Cor­bett
, a for­mer In These Times intern, is a Maine-based staff writer at Com­mon Dreams. Fol­low her on Twit­ter at @corbett_jessica.