Immigration Reform Would Boost Business, Undermine Rights
As D.C. politicians quibble over immigration reform, their plans all make the same big mistakes.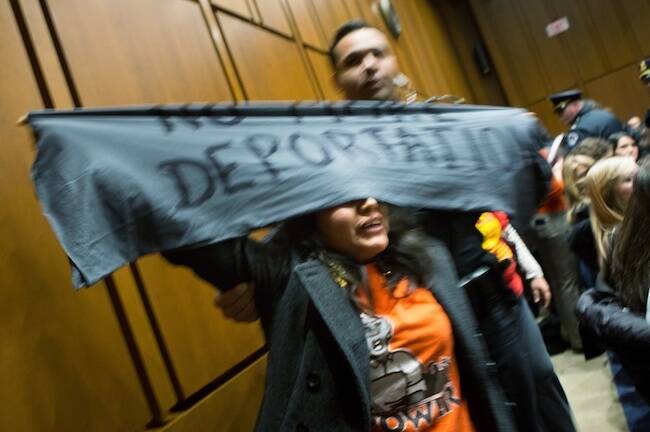 After years of Con­gres­sion­al silence on immi­gra­tion, Wash­ing­ton is final­ly stir­ring toward leg­isla­tive reform, dri­ven by Democ­rats and Repub­li­cans angling for Lati­no and Asian votes. But the plans being con­coct­ed have already sharply diverged from the demands of the grass­roots immi­grant-rights movement.
The Senate "Gang of Eight" tout their blueprint as a "tough but fair" plan that tempers "earned" legalization with harsh border enforcement, bureaucratic hurdles and financial penalties for immigration violations. ... The idea is to avoid passing any legislation that resembles "amnesty" or going too soft on unauthorized immigrants.
So far, the White House and a bipar­ti­san group of Sen­a­tors have each float­ed sim­i­lar out­lines for reform that include a process for legal­iza­tion or cit­i­zen­ship, recruit­ment of for­eign-born work­ers into select indus­tries, and strict ​"bor­der secu­ri­ty" mea­sures. In addi­tion, the details of leaked White House draft plan were report­ed by USA Today this week­end. Despite crit­i­cism from con­ser­v­a­tives, the draft also empha­sizes stronger enforce­ment of immi­gra­tion laws.
Though the var­i­ous efforts all aim to fash­ion a ​"com­pre­hen­sive" reform pack­age, any result­ing leg­is­la­tion will like­ly be any­thing but: While law­mak­ers squab­ble over how broad or nar­row to make the legal­iza­tion process, activists fear Con­gress may sim­ply erect a bureau­crat­ic dam in place of a bro­ken bor­der wall, let cor­po­ra­tions con­trol the flood­gates, and still exclude mil­lions of immigrants.
The best and brightest?
Both Pres­i­dent Oba­ma and the Sen­ate group endorse spe­cial visa pro­grams for jobs in spe­cif­ic sec­tors that, not coin­ci­den­tal­ly, wield lob­by­ing influ­ence. The agri­cul­tur­al indus­try pushed for, and got, promis­es of visas for migrant farm­work­ers. At the oth­er end of the eco­nom­ic spec­trum, Sil­i­con Val­ley moguls suc­cess­ful­ly advo­cat­ed visas for sci­ence and tech­nol­o­gy pro­fes­sion­als. Such lim­it­ed visas are usu­al­ly called ​"guest­work­er" pro­grams, although the Wash­ing­ton pro­pos­als shy away from the con­tro­ver­sial term.
Accord­ing to talk­ing points emerg­ing from the White House and the Sen­ate group, anoth­er spe­cial chan­nel of relief may be opened for undoc­u­ment­ed youth, fol­low­ing high-pro­file, media-savvy mobi­liza­tions to sup­port the DREAM Act, which would legal­ize undoc­u­ment­ed stu­dents. (In response to con­tin­ued stag­na­tion on the leg­is­la­tion in Con­gress, Oba­ma issued a scaled-down admin­is­tra­tive direc­tive in August to defer depor­ta­tions for DREAM-eli­gi­ble youth).
But many low­er-pro­file migrants have vir­tu­al­ly no voice on the Hill. Undoc­u­ment­ed women labor­ing as domes­tic work­ers in pri­vate homes, or day labor­ers and dish­wash­ers paid under the table, are no less in need of relief. But under the pro­pos­als in play, they can only hope for a more lim­it­ed legal­iza­tion process, which might impose deep finan­cial penal­ties and drag on for years (some esti­mates sug­gest up to sev­er­al mil­lion could be dis­qual­i­fied by bar­ri­ers such as minor past con­vic­tions or Eng­lish-lan­guage require­ments). More­over, it's unclear how far ​"com­pre­hen­sive" reforms would go toward ensur­ing enforce­ment of labor pro­tec­tions for all—cit­i­zen and non, with or with­out papers — which labor activists see as a cru­cial step toward build­ing a tru­ly fair, inclu­sive workforce.
Bor­der secu­ri­ty, human insecurity
The Sen­ate reform out­line, issued by a coali­tion that includes Repub­li­cans Mar­co Rubio of Flori­da and John McCain of Ari­zona, links legal­iza­tion to a vague stan­dard of ​"secur­ing our bor­ders." The lan­guage sug­gests that legal fate of mil­lions might be tied to a yet-to-be-defined bench­mark of suc­cess­ful ​"secu­ri­ty" achieved by ramp­ing up that have already ter­ror­ized count­less fam­i­lies through sur­veil­lance, incar­cer­a­tion and depor­ta­tion. Though actu­al net migra­tion from Mex­i­co cur­rent­ly hov­ers around zero, and it's unclear whether bor­der polic­ing even deters migra­tion, the Sen­ate plan vows to pro­vide the Bor­der Patrol with resources such as drones ​"to pre­vent, detect, and appre­hend every unau­tho­rized entrant." The White House draft plan details sim­i­lar heavy enforce­ment measures.
Many immi­grant-rights activists have demand­ed a halt to the mon­strous fed­er­al crack­downs. Sad­ly, the most atten­tion this idea received at the recent Sen­ate immi­gra­tion hear­ing was when a clus­ter of pro­test­ers inter­rupt­ed with calls to ​"Stop the Depor­ta­tions!", only to be removed by Capi­tol police. Yet their action reflects an esca­lat­ing wave of protests that have ampli­fied immi­gra­tion strug­gles in the media and inten­si­fied pres­sure on law­mak­ers nationwide.
In response to cen­trist, enforce­ment-heavy reform pro­pos­als, some grass­roots immi­gra­tion groups seek a more prin­ci­pled dia­logue. Their street-lev­el resis­tance to mass depor­ta­tion and state anti-immi­grant poli­cies, such as Ari­zon­a's noto­ri­ous racial pro­fil­ing leg­is­la­tion, SB1070, has inspired a rad­i­cal reform vision root­ed in human rights. In a recent dec­la­ra­tion of ​"alter­na­tive" reform prin­ci­ples issued by the labor coali­tion Unit­ed Work­ers Con­gress, Saket Soni of the Nation­al Guest­work­er Alliance stat­ed that while Wash­ing­ton inch­es toward reform, ​"work­ers across the coun­try are set­ting out to win full and first-class citizenship."
Slip­pery paths
The cen­tral point of ten­sion in the reform debate, the ​"path to cit­i­zen­ship," reveals how removed the leg­isla­tive dis­cus­sion is from the day-to-day needs and real­i­ties of immi­grant com­mu­ni­ties. The Sen­ate ​"Gang of Eight" tout their blue­print as a ​"tough but fair" plan that tem­pers ​"earned" legal­iza­tion with harsh bor­der enforce­ment, bureau­crat­ic hur­dles and finan­cial penal­ties for immi­gra­tion vio­la­tions. Such puni­tive pro­vi­sions have also been pushed by the White House. The idea is to avoid pass­ing any leg­is­la­tion that resem­bles ​"amnesty" or going too soft on unau­tho­rized immi­grants — the same ten­sion that derailed the last big push for reform in 2006.
Faced with a rare open­ing for action in Wash­ing­ton, many advo­cates may pre­fer set­tling for a com­pro­mise reform bill, rather than con­tin­ue with indef­i­nite legal and social insta­bil­i­ty. But Cather­ine Tac­taquin, head of the Nation­al Net­work for Immi­grant and Refugee Rights, isn't pin­ning her hopes on Belt­way deal­mak­ers. She tells In These Times that although there is ​"a lot of pres­sure to sup­port this bill in what­ev­er form," for orga­niz­ers, ​"if it's a vic­to­ry it will be an incom­plete one, and the fight will have to continue."
The bat­tle out­side of Wash­ing­ton pol­i­cy cir­cles revolves around basic social rights. Undoc­u­ment­ed immi­grants and their fam­i­lies face the con­stant threat of depor­ta­tion as well as employ­ment dis­crim­i­na­tion and oth­er social and eco­nom­ic hard­ships. Their mar­gin­al­i­ty in turn leaves them exposed to coer­cion and abuse, includ­ing the epi­dem­ic of wage theft in rough job sec­tors like construction.
More rad­i­cal immi­gra­tion advo­cates want reform to pri­or­i­tize the rights of work­ers and com­mu­ni­ties over busi­ness inter­ests. Tac­taquin wor­ries that both par­ties are too focused on a "'best and the bright­est,' … brain-drain approach to immi­gra­tion, of giv­ing peo­ple visas from the high skilled industries."
She con­tin­ues, ​"We think the best and the bright­est are already here, and they're both immi­grant and non-immi­grant, and we should be invest­ing in edu­ca­tion­al sup­port and oth­er forms of social pol­i­cy that are going to enable our pop­u­la­tions to also reach their poten­tials … in high-skill or low-skill areas."
Philo­soph­i­cal­ly, many pro­gres­sive immi­grant advo­cates reject the guest­work­er expan­sions law­mak­ers have pro­posed, on the grounds that such poli­cies will cre­ate a non-cit­i­zen under­class that is dis­en­fran­chised both in the work­place and the polit­i­cal sys­tem. They see cur­rent guest­work­er pro­grams in farm­work and oth­er sec­tors, which typ­i­cal­ly con­di­tion legal sta­tus on being tied to a spe­cif­ic employ­er or job, as intrin­si­cal­ly prone to exploita­tion. Guest­work­ers are more vul­ner­a­ble to abuse as long as their immi­gra­tion sta­tus depends on keep­ing the boss sat­is­fied. It's not clear whether the ​"spe­cial visas" pro­posed by the White House and the Sen­ate would come with sim­il­iar conditions.
But giv­en the real­i­ty that guest­work­ers are already a major com­po­nent of sec­tors rang­ing from hotels to seafood fac­to­ries – and that the U.S. is respon­si­ble for pro­tect­ing their rights while they're here – the Unit­ed Work­ers Con­gress calls for reformed guest­work­er sys­tems, man­aged by an inde­pen­dent body that would guar­an­tee labor-rights safe­guards. Advo­cates also want ​"job porta­bil­i­ty" to enable work­ers to change jobs with­out jeop­ar­diz­ing their sta­tus. A relat­ed ini­tia­tive, the cam­paign for leg­is­la­tion known as the POW­ER Act, would beef up legal pro­tec­tions for work­ers who file com­plaints against crooked employ­ers, which could encour­age more migrants to chal­lenge abu­sive employ­ers with­out fear of legal retaliation.
Such pro­tec­tions might incre­men­tal­ly help equal­ize rights for guest­work­ers, Tac­taquin said, but NNIRR and oth­er groups want to move away from or abol­ish the guest­work­er sys­tem alto­geth­er. A more sweep­ing alter­na­tive reform plan, the Dig­ni­ty Cam­paign, would grad­u­al­ly phase out guest­work­er pro­grams while imple­ment­ing fast legal­iza­tion and repeal­ing harsh enforce­ment mea­sures, to ensure ​"human, labor and civ­il rights for all."
Glob­al roots
Rad­i­cal immi­gra­tion activists envi­sion poli­cies that look beyond mere ​"legal­iza­tion" to con­front the glob­al social dis­par­i­ties that form the root caus­es of migra­tion. NNIRR, for instance, has worked with over­seas groups on UN ini­tia­tives to strength­en migrant rights across nations. This per­spec­tive takes into account how U.S. for­eign pol­i­cy has helped cre­ate the con­di­tions dri­ving immi­gra­tion, such as the neolib­er­al trade poli­cies that have dis­placed work­ers and entrenched pover­ty across many ​"migrant export­ing" countries.
Tac­taquin sees long-term solu­tions emerg­ing at a glob­al lev­el, through a just for­eign pol­i­cy that rec­og­nizes sys­temic eco­nom­ic injus­tices in migrant ​"export­ing" coun­tries. This mul­ti­lat­er­al approach would ​"sup­port sus­tain­able devel­op­ment poli­cies in oth­er coun­tries, job cre­ation, sound envi­ron­men­tal prac­tices," she said. ​"These are things we should be invest­ing in long-term."
Such social invest­ments blur con­ven­tion­al divi­sions between domes­tic and for­eign pol­i­cy. And with Con­gress mired in vote-count­ing and fill­ing job slots, pro­gres­sive pro-migrant groups must con­tin­ue broach­ing those glob­al strug­gles through grass­roots com­mu­ni­ty mobi­liza­tion – often just one peti­tion, sit-in or march at a time. Though exclud­ed from the polit­i­cal are­na, when they take to the streets and declare their exis­tence as bor­der crossers, migrants embody the con­nec­tion between human move­ment and social movement.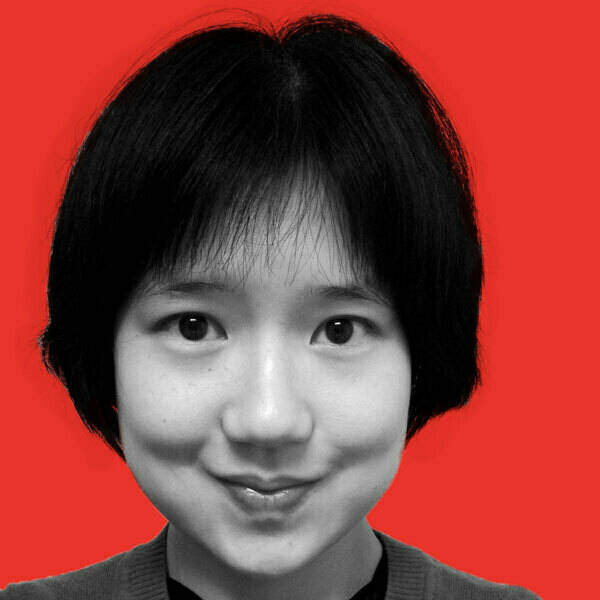 Michelle Chen is a con­tribut­ing writer at In These Times and The Nation, a con­tribut­ing edi­tor at Dis­sent and a co-pro­duc­er of the ​"Bela­bored" pod­cast. She stud­ies his­to­ry at the CUNY Grad­u­ate Cen­ter. She tweets at @meeshellchen.