How Bad Politics and Bad Planning Make Hurricanes Even Worse
To prepare for the impacts of climate change, other cities must learn the lessons of Hurricane Harvey.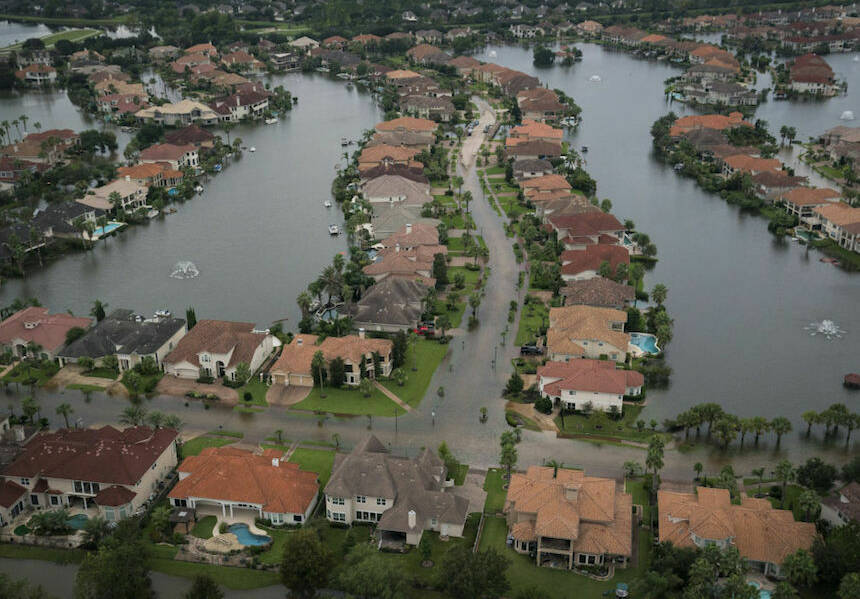 Hur­ri­cane Har­vey was an unnat­ur­al dis­as­ter. Con­trary to much media cov­er­age, the dev­as­ta­tion of Hous­ton and sur­round­ing areas result­ed not so much from an iso­lat­ed extreme weath­er event, although Hur­ri­cane Har­vey was indeed the biggest record­ed rain­storm ever to hit the con­tigu­ous Unit­ed States. Rather, the flood­ing is the prod­uct of a com­bi­na­tion of anthro­pogenic cli­mate change, ram­pant real estate spec­u­la­tion, polit­i­cal cor­rup­tion and the tox­ic blend of fos­sil fuel addic­tion and cli­mate change denial that char­ac­ter­izes the Trump admin­is­tra­tion and its sup­port­ers. In the wake of Hur­ri­cane Irma's impact on Flori­da and the Caribbean, and the oth­er hur­ri­canes to have hit since Har­vey, it is past time to begin a nation­al con­ver­sa­tion about strate­gic retreat from imper­iled cities like Hous­ton, and about the mea­sures that would be nec­es­sary to make this a just retreat. To gain a bet­ter sense of the stakes of such a con­ver­sa­tion, we first need to under­stand the par­tic­u­lar per­ils fac­ing Hous­ton and oth­er coastal cities.
A just reconstruction of Houston will hinge on steadfast rejection of another round of privatization.
Hous­ton is hard­ly alone as a coastal city fac­ing mul­ti­ple cli­mate change-relat­ed per­ils. Glob­al­iza­tion has helped accel­er­ate the growth of coastal megac­i­ties in the Unit­ed States and around the world. We usu­al­ly think of glob­al­iza­tion in terms of jet air­planes, but in fact the con­tain­er ship is the most impor­tant vehi­cle of con­tem­po­rary inter­na­tion­al exchange. Con­se­quent­ly, port cities like Hous­ton (and Guangzhou, Nagoya and Mum­bai, among oth­ers) have grown explo­sive­ly in recent decades. The wave of plan­e­tary urban­iza­tion along the coasts has been par­tic­u­lar­ly dra­mat­ic in sub-Saha­ran Africa and Asia, where chang­ing eco­nom­ic prospects have led migrants to set­tle in vast slums in the hearts of cities like Lagos, Nige­ria and Dha­ka, Bangladesh. But neolib­er­al glob­al­iza­tion has helped pro­duce increas­ing eco­nom­ic polar­iza­tion even in rel­a­tive­ly afflu­ent cities like New York, Mia­mi and Hous­ton, the lat­ter of which, accord­ing to a study by the Pew Research Cen­ter, has the most dra­mat­ic income seg­re­ga­tion of the nation's 10 largest cities. Such extreme socio-eco­nom­ic inequal­i­ty and seg­re­ga­tion weak­ens social and polit­i­cal cohe­sion, mak­ing it far less like­ly that cities will devel­op adap­ta­tion strate­gies ade­quate to ensure the safe­ty of all their cit­i­zens in the face of storms like Harvey.
These extreme cities are sore­ly in need of can­ny adap­tive strate­gies. In 2013, a study led by World Bank econ­o­mist Stephane Hal­le­gat­te warned that cli­mate change, rapid urban­iza­tion and sub­sid­ing land are plac­ing the world's coastal cities at increas­ing risk of dan­ger­ous and cost­ly flood­ing, and that half of the 10 most at-risk cities in terms of over­all cost of dam­age are in the Unit­ed States. In terms of sheer num­bers of vul­ner­a­ble peo­ple, though, cities in poor coun­tries" like Abid­jan, Ivory Coast, and Dha­ka, may be the most imperiled.
How We Got Here
Cli­mate change is bring­ing fiercer and more fre­quent storms to cities around the globe. A recent study by a group of cli­mate sci­en­tists based at Prince­ton and Rut­gers pro­ject­ed a forty-fold increase in the num­ber of 100-year floods along the U.S. coast­line by 2050. Some of this increased flood risk is a result of ris­ing sea lev­els, which make the storm surges pushed by pow­er­ful hur­ri­canes like Har­vey high­er and more dead­ly. But, as Har­vey demon­strat­ed, cli­mate change also makes the rain­fall that accom­pa­nies big storms worse: Since warmer air holds more water vapor, cli­mate change is caus­ing more intense rain­fall and snow­storms. This link between warmer air and increased pre­cip­i­ta­tion is par­tic­u­lar­ly notice­able in cities. As a result of the urban heat island effect, which is pro­duced when nat­ur­al sur­faces like veg­e­ta­tion and water are replaced by heat-trap­ping con­crete and asphalt, large cities are expect­ed to warm an addi­tion­al two degrees com­pared to non-urban areas by 2050, a recent study found. Cities are effec­tive­ly cre­at­ing their own extreme weath­er patterns.
Bad plan­ning deci­sions made by urban author­i­ties can sig­nif­i­cant­ly aggra­vate the destruc­tive impact of the extreme weath­er events linked to cli­mate change. Hous­ton is a par­tic­u­lar­ly clear and trag­ic case of an unjus­ti­fied fail­ure to pre­pare. Har­vey may have dumped mas­sive amounts of rain on the city, but it didn't come out of the blue: It is the third 500-year flood the city has expe­ri­enced in the last three years. The pre­vi­ous two — the Memo­r­i­al Day 2015 and the Tax Day 2016 floods — togeth­er killed 16 peo­ple and caused more than $1 bil­lion in dam­age. Hous­ton has seen the most dam­ag­ing flood­ing of any city in the coun­try in recent decades, accord­ing to Texas A&M sci­en­tist Sam Brody. Harvey's most direct prece­dent is Trop­i­cal Storm Alli­son, which swamped the city with near­ly 40 inch­es of rain­fall in 5 days in 2001, killing 22 peo­ple and flood­ing 73,000 homes.
After Alli­son, the city and its flood con­trol author­i­ty, the Har­ris Coun­ty Flood Con­trol Dis­trict, spent hun­dreds of mil­lions of dol­lars to pre­pare for the next storm, widen­ing the bay­ous that pro­vide drainage for the city and build­ing deten­tion ponds to tem­porar­i­ly hold flood­wa­ter dur­ing peri­ods of intense rain­fall. FEMA also expand­ed its flood­plain maps — guides to which parts of the city are expect­ed to flood — by up to 20 per­cent in some parts of the city. Yet, despite these storm-proof­ing mea­sures, Hous­ton remained high­ly flood-prone. In fact, the insur­ance claims Brody used to track the city's his­to­ry of flood­ing spiked dra­mat­i­cal­ly after 2002. What explains this increas­ing vul­ner­a­bil­i­ty to extreme weather?
In a word: sprawl. The explo­sive growth of low-inten­si­ty hous­ing devel­op­ments in the exur­ban areas north and west of Hous­ton has stripped the city of much of its nat­ur­al pro­tec­tion against flood­ing. Accord­ing to coastal ecol­o­gist Erin Kin­ney of the Hous­ton Advanced Research Cen­ter, bull­doz­ing wet­lands is the key con­trib­u­tor to Houston's flood­ing. When water-absorb­ing nat­ur­al ter­rain is replaced by cement and asphalt, water becomes ​"runoff;" Rather than sink­ing into the ground it moves hor­i­zon­tal­ly toward bay­ous, streams and, ulti­mate­ly, the Gulf of Mex­i­co. But first, it floods through people's homes and cars. Erin Kinney's work doc­u­ments the loss of 23,000 acres of fresh­wa­ter wet­land in the Hous­ton-Galve­ston Bay region between 1953 and 1989 as a result of devel­op­ment and sub­si­dence caused by exces­sive drain­ing of water from local aquifers. Of what remained, an addi­tion­al 30 per­cent was lost between 1992 and 2010, research by Texas A&M sci­en­tist John Jacob and his col­leagues shows. Part of the prob­lem was that wet­lands in the region's coastal prairie, the area where devel­op­ment was tak­ing place, were not pro­tect­ed by fed­er­al con­ser­va­tion guide­lines. But in addi­tion, accord­ing to a sear­ing account of devel­op­ment in the city pub­lished last year by ProP­ub­li­ca and the Texas Tri­bune, efforts by pub­lic offi­cials to pre­vent devel­op­ment after the 2001 Alli­son dis­as­ter met with stiff resis­tance and were ulti­mate­ly stymied by local real estate inter­ests. The mon­ey to be made in the short term sim­ply over­rode the warn­ings of sci­en­tists and mem­bers of the pub­lic who wor­ried about the poten­tial for cat­a­stroph­ic flooding.
But not all pub­lic offi­cials were anx­ious to do the right thing. The prob­lem is not sim­ply that Texas has a cli­mate change-deny­ing gov­er­nor and a state leg­is­la­ture dom­i­nat­ed by politi­cians whose pock­ets are lined by the oil indus­try. As the ProP­ub­li­ca/Tri­bune arti­cle doc­u­ments, Mike Tal­bott, head of Houston's flood con­trol author­i­ty from 1998 to 2016, reject­ed research show­ing that the paving over wet­lands with roads and park­ing lots was a bad idea. He accused sci­en­tists whose work demon­strat­ed the dan­gers of wet­lands destruc­tion of being ​"anti-devel­op­ment." Tal­bott long insist­ed that devel­op­ment has noth­ing to do with increas­ing flood­ing, and stat­ed that the flood con­trol author­i­ty had no plans to research the impact of cli­mate change. Rather than chal­leng­ing devel­op­ment, Tal­bott and his suc­ces­sor pur­sued a pol­i­cy of retro­fitting old drainage infra­struc­ture. But in his com­ments to ProPublica/​the Tri­bune Tal­bott admit­ted that these mea­sures wouldn't come close to pro­tect­ing the city from anoth­er Tax Day flood, let alone a storm like Har­vey. To make mat­ters worse, adding all this (rel­a­tive­ly inef­fec­tive) infra­struc­ture is extreme­ly expen­sive: Tal­bott con­ced­ed that at the cur­rent rate of spend­ing, it would take 400 years to com­plete his retro­fitting plans. While devel­op­ment goes on at a blis­ter­ing pace, pub­lic offi­cials in Hous­ton wait for state and fed­er­al offi­cials to make funds avail­able to speed up planned flood infra­struc­ture projects. But as the over­flow of the Addicks and Bark­er reser­voirs dur­ing Har­vey shows, which the Army Corps of Engi­neers allowed to del­uge near­by homes in order to spare down­town Hous­ton from flood­ing, some infra­struc­ture can actu­al­ly aggra­vate flood­ing under the extreme weath­er con­di­tions that are becom­ing the new normal.
Enough False Solutions
The belief that cities can engi­neer their way out of the prob­lems gen­er­at­ed by cli­mate change and devel­op­ment runs deep. And Hous­ton offi­cials are not the only ones to embrace such hopes. Mia­mi Beach, for exam­ple, has adopt­ed a resilien­cy strat­e­gy called Ris­ing Above that involves ele­vat­ing more than 100 miles of roads, build­ing 80 new storm water pump­ing sta­tions, and rais­ing sea walls in vul­ner­a­ble areas. Mia­mi Beach May­or Philip Levine admits that these mea­sures alone will do lit­tle more than buy Mia­mi Beach a few short decades before flood­ing over­whelms the low-lying city. Yet such mea­sures can often gen­er­ate unfore­seen and unjust forms of envi­ron­men­tal blow­back. Raised roads, for exam­ple, can flush storm water into adja­cent homes. Ele­vat­ed sea walls around expen­sive hous­ing devel­op­ments push high­er lev­els of flood water into less afflu­ent near­by neigh­bor­hoods who lack fund­ing to install such walls. And mas­sive water pump­ing sta­tions are run on pow­er gen­er­at­ed by fos­sil fuels, so that, indi­rect­ly, pump­ing the water out grad­u­al­ly aug­ments the amount of water com­ing in. But such big infra­struc­ture projects let pub­lic offi­cials trum­pet to the media that they are doing some­thing in the face of cli­mate change. Since a sig­nif­i­cant por­tion of the fund­ing for infra­struc­ture spend­ing comes from tax­es on real estate devel­op­ment, flood infra­struc­ture also gives pub­lic offi­cials a gold­en ali­bi for green­light­ing con­tin­ued devel­op­ment in their imper­iled cities: With­out the tax dol­lars that such devel­op­ment pro­duces, offi­cials can claim, the city would not be able to pro­tect itself from ris­ing tides. Just don't ask them about the log­ic of con­tin­u­ing to build lux­u­ry con­dos in flood zones.
This kind of wrong­head­ed but high­ly lucra­tive adap­ta­tion to cli­mate change is on dis­play not just in Mia­mi but in cities around the world. With help from Dutch con­sul­tants, for exam­ple, the Indone­sia cap­i­tal city Jakar­ta is build­ing a huge sea wall shaped like a myth­i­cal bird. The wall is to be cov­ered with elite hous­ing devel­op­ments where the country's rich can stash their cash by invest­ing in real estate. But since the city only has one func­tion­ing waste treat­ment plant, the bay formed behind the giant sea wall could become a lagoon of tox­ic waste. Lagos is build­ing its own ver­sion of such a lux­u­ry sea wall city, a devel­op­ment to be called Eko Atlantic, which will stand cheek-by-jowl next to some of the city's worst slums, where hun­dreds of thou­sands of poor peo­ple eke out an exis­tence with­out clean water or elec­tric­i­ty in a par­tic­u­lar­ly stark ver­sion of the cli­mate apartheid that is becom­ing increas­ing­ly wide­spread.
Hous­ton makes the fun­da­men­tal hypocrisy of such devel­op­ment par­tic­u­lar­ly plain. After all, the city's boom­ing real estate mar­ket is tied to a sig­nif­i­cant extent to prof­its from oil. High prices for oil helped fuel the growth in devel­op­ment that imper­iled Hous­ton, while also iron­i­cal­ly gen­er­at­ing the glob­al warm­ing and the cli­mate change denial that con­tributed to the city's dev­as­ta­tion. As the great­est cen­ter for the petro­chem­i­cal indus­try in the Unit­ed States, Hous­ton exem­pli­fies the dead­ly con­tra­dic­tions between a fos­sil fueled eco­nom­ic sys­tem based on unfet­tered eco­nom­ic growth and the envi­ron­men­tal sus­tain­abil­i­ty of our great cities.
As in pre­vi­ous unnat­ur­al dis­as­ters in extreme cities, it is the most vul­ner­a­ble urban cit­i­zens who will suf­fer the most. Air Alliance Hous­ton has warned that the shut­down of petro­chem­i­cal plants before Har­vey hit Hous­ton put more than 1 mil­lion pounds of harm­ful pol­lu­tion into the air. Those liv­ing clos­est to these tox­ic dis­charges are dis­pro­por­tion­ate­ly low-income com­mu­ni­ties of col­or. The impact of Hur­ri­cane Kat­ri­na on New Orleans showed that it is pre­cise­ly such com­mu­ni­ties that are most dev­as­tat­ed dur­ing unnat­ur­al dis­as­ters. And it is not just dur­ing floods that these vul­ner­a­ble com­mu­ni­ties suf­fer dis­pro­por­tion­ate­ly. As the recon­struc­tion of New Orleans fol­low­ing Kat­ri­na showed, a process that Nao­mi Klein dubbed ​"dis­as­ter cap­i­tal­ism," post-dis­as­ter rebuild­ing can entrench and exac­er­bate exist­ing inequal­i­ties and envi­ron­men­tal injus­tice. After Kat­ri­na, pub­lic hous­ing was demol­ished, munic­i­pal hos­pi­tals were shut­tered and the pub­lic school sys­tem was pri­va­tized. It is a tru­ly bit­ter irony that many of those cur­rent­ly being evac­u­at­ed from Hous­ton moved to the city after being dis­placed from New Orleans dur­ing and after Katrina.
A just recon­struc­tion of Hous­ton will hinge on stead­fast rejec­tion of anoth­er round of the neolib­er­al dog­ma of pri­va­ti­za­tion. The city can­not aim to rebuild to where it was before Har­vey since its pre-dis­as­ter state was marked by extreme eco­nom­ic inequal­i­ty and envi­ron­men­tal unsus­tain­abil­i­ty. Recon­struc­tion must instead be based on envi­ron­men­tal­ly sound poli­cies: pre­serv­ing the city's remain­ing green space, curb­ing devel­op­ment in flood­plains and plan­ning for the future impact of cli­mate change, rather than rely­ing on past expe­ri­ence to project the impact of extreme weath­er to come. The rebuild­ing effort must also be based on social­ly just poli­cies, includ­ing pro­vid­ing well-pay­ing recon­struc­tion jobs and the skills to car­ry out those jobs to eco­nom­i­cal­ly dis­ad­van­taged com­mu­ni­ties in the city.
Plans for a just recon­struc­tion must also con­sid­er the ques­tion of strate­gic retreat. After the FEMA flood maps were redrawn in 2001, over 330,000 homes remained in the vul­ner­a­ble parts of the 100-year flood­plain — the area with a 1 per­cent chance of being flood­ed in any giv­en year over a 100-year times­pan. The res­i­dents of these homes were nev­er offered fund­ing to move away from flood zones. What­ev­er relief fund­ing comes to Hous­ton from the fed­er­al and state gov­ern­ment fol­low­ing Har­vey should be direct­ed first and fore­most to peo­ple liv­ing in such per­ilous areas so that wealthy res­i­dents of the city do not use the lion's share of relief to fix up their hous­es, as has hap­pened after many dis­as­ters. In addi­tion, res­i­dents of neigh­bor­hoods in East Hous­ton endan­gered by the petro­chem­i­cal indus­try should be part of the con­ver­sa­tion about strate­gic retreat, and should have emer­gency relief funds ear­marked for them. These com­mu­ni­ties must be empow­ered to deter­mine their own course of action so that strate­gic retreat is not per­ceived as sim­ply anoth­er land grab by gen­tri­fy­ing elites. This was pre­cise­ly the con­cern stirred up by plans to remake por­tions of New Orleans fol­low­ing Kat­ri­na, where mem­bers of low-income com­mu­ni­ties feared that plans to shrink the city were part of a much longer his­to­ry of remov­ing black res­i­dents from valu­able urban real estate.
The unfold­ing tragedy in Hous­ton also needs to spark a much broad­er con­ver­sa­tion about our imper­iled coast­lines and the extreme cities locat­ed along them. Less than two weeks before Har­vey hit Hous­ton, Pres­i­dent Trump signed an exec­u­tive order revok­ing Oba­ma-era reg­u­la­tions that required fed­er­al infra­struc­ture projects to fac­tor in sci­en­tif­ic pro­jec­tions on the effects of cli­mate change. Such spec­tac­u­lar­ly fool­ish pol­i­cy­mak­ing and the cli­mate change denial it builds on needs to be seen for what it is: a wicked­ly cor­rupt capit­u­la­tion to pow­er­ful mon­eyed inter­ests like the fos­sil fuel and devel­op­ment indus­tries that puts hun­dreds of mil­lions of Amer­i­cans in the direct path of griev­ous dam­age and eco­nom­ic ruina­tion. We must revamp the fed­er­al flood insur­ance poli­cies that have encour­aged peo­ple to set­tle along imper­iled coast­lines. At present, FEMA flood insur­ance poli­cies dis­pro­por­tion­ate­ly ben­e­fit eco­nom­ic elites since by far the great­est per­cent­age of sub­si­dized insur­ance goes to homes in afflu­ent coun­ties. But such pol­i­cy changes must not leave poor com­mu­ni­ties under water, both eco­nom­i­cal­ly and lit­er­al­ly. We also need to have a frank con­ver­sa­tion about whether it makes sense to keep rebuild­ing cities like Hous­ton, where 500-year floods have become a reg­u­lar phe­nom­e­non. Per­haps it's time to devel­op a nation­al plan for relo­cat­ing peo­ple away from vul­ner­a­ble coast­lines en masse. Unlike, for exam­ple, the Dutch, we are for­tu­nate enough to have the space to do this. But most of all, the trag­ic flood­ing of Hous­ton should cat­alyze a frank recog­ni­tion of the fatal con­tra­dic­tions of fos­sil cap­i­tal­ism. Until and unless we rec­og­nize that an eco­nom­ic sys­tem based on feck­less growth and unstint­ing car­bon emis­sions is sui­ci­dal, we will not be in a posi­tion to plan a bet­ter future. And we will by con­se­quence face ever more fre­quent unnat­ur­al disasters.