We Can't Beat Climate Change Under Capitalism. Socialism Is the Only Way.
The changes needed to avert environmental catastrophe are incompatible with capitalism.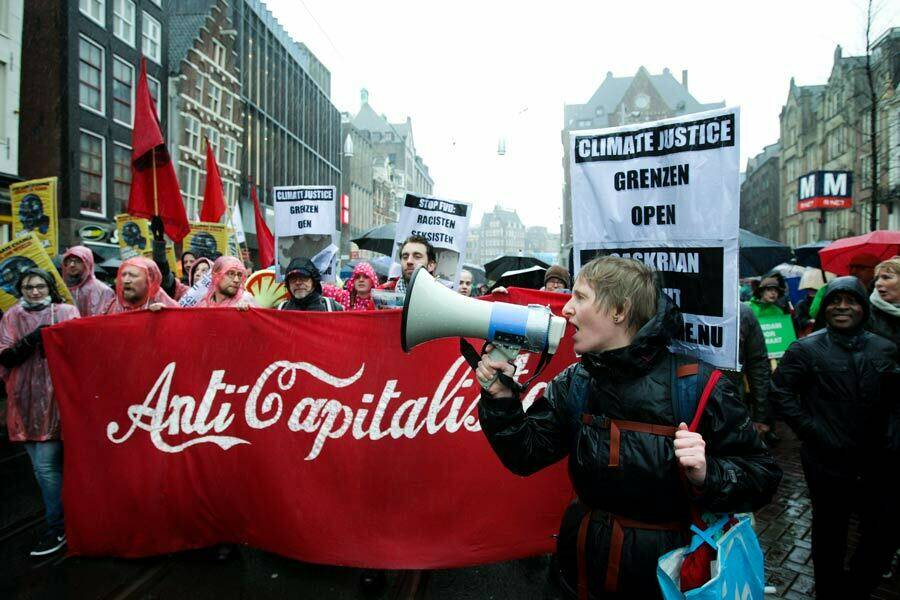 The Inter­gov­ern­men­tal Pan­el on Cli­mate Change (IPCC)'s land­mark Octo­ber 2018 report declared that pre­vent­ing run­away glob­al warm­ing will require ​"far-reach­ing tran­si­tions in ener­gy, land … and indus­tri­al sys­tems" for which there is ​"no doc­u­ment­ed his­toric prece­dent." Oxford Uni­ver­si­ty cli­mate sci­en­tist and report author Myles Allen explained, ​"It's telling us we need to … turn the world econ­o­my on a dime."
Rapid and equitable decarbonization means putting corporations under public control.
To make this turn hap­pen, we need a care­ful­ly planned and demo­c­ra­t­i­cal­ly admin­is­tered emer­gency pro­gram for eco­log­i­cal recon­struc­tion. But such a pro­gram is not remote­ly rec­on­cil­able with capitalism's imper­a­tives of prof­it max­i­miza­tion and growth, not to men­tion pri­vate own­er­ship of the means of pro­duc­tion. In oth­er words: We need sys­tem change to beat cli­mate change.
Under cap­i­tal­ism, economies must grow at a min­i­mum com­pound rate of 3 per­cent to remain healthy. ​"Any slow­down or block­age in cap­i­tal flow will pro­duce a cri­sis," wrote Marx­ist geo­g­ra­ph­er David Har­vey in a 2010 paper. ​"If our blood flow stops, then we die. If cap­i­tal flow stops, then the body politic of cap­i­tal­ist soci­ety dies." This gen­er­al­ly means a slow­down in invest­ment, falling wages and wide­spread unemployment.
But giv­en our finite plan­e­tary resource base, this inces­sant growth is killing us. A recent review of hun­dreds of sci­en­tif­ic stud­ies show­cas­es the direct link over the last half-cen­tu­ry (dur­ing the so-called Great Accel­er­a­tion) between eco­nom­ic growth, ener­gy use and car­bon emis­sions. While the orig­i­nal New Deal helped spur this uptick, the Green New Deal must wind it down.
Some sec­tors of the econ­o­my require imme­di­ate con­trac­tion. Accord­ing to the think tank Car­bon Track­er, 80 per­cent of known fos­sil fuel reserves need to be kept in the ground if we are to avert tem­per­a­ture rise above 2 degrees Cel­sius (3.6 degrees Fahren­heit). But much of these reserves are con­trolled by fos­sil fuel cor­po­ra­tions account­able only to investors. To main­tain their val­ue and mar­ket share, these com­pa­nies must con­tin­ue to extract and sell these reserves and dis­cov­er new reserves to replace them. Con­trac­tion is inim­i­cal to growth, so it's ​"Drill, baby, drill."
How can we dis­man­tle this plan­et-destroy­ing extrac­tive econ­o­my? Free-mar­ket solu­tions and incen­tives like car­bon tax­es have, where imple­ment­ed, failed to sig­nif­i­cant­ly dimin­ish fos­sil fuel con­sump­tion (part of why the big oil and gas com­pa­nies sup­port them). A dra­mat­i­cal­ly high­er car­bon tax might work to effec­tive­ly bank­rupt these cor­po­ra­tions, but it would not give the pub­lic any con­trol over how the clo­sure of these indus­tries takes place, risk­ing job loss and eco­nom­ic disruption.
Rapid and equi­table decar­boniza­tion, then, means putting these cor­po­ra­tions under pub­lic con­trol — i.e., nation­al­iz­ing them, through buy­ing out the major­i­ty of their shares. Writ­ers at The Democ­ra­cy Col­lab­o­ra­tive esti­mate a price tag of around $1.15 tril­lion. This may sound expen­sive, but remem­ber: Over the next decade, Trump's tax cuts will give $2.3 tril­lion to the rich.
This assault on pri­vate prop­er­ty will no doubt trig­ger fierce resis­tance from elites. To over­come this oppo­si­tion, we will need a mas­sive, orga­nized anti-cap­i­tal­ist movement.
The phase­out of fos­sil fuels must be econ­o­my-wide, includ­ing wind­ing down, find­ing alter­na­tives to, and sup­port­ing affect­ed work­ers from fos­sil fuel-depen­dent indus­tries like petro­chem­i­cals, agribusi­ness and avi­a­tion, and much super­flu­ous indus­tri­al pro­duc­tion — not to men­tion the arms indus­try and the mil­i­tary. A cam­paign against mil­i­tarism, and for a Glob­al Green New Deal, would require chal­leng­ing the intra-state eco­nom­ic and mil­i­tary com­pe­ti­tion upon which cap­i­tal­ism relies.
While the net effect will be to con­tract pro­duc­tion, we must also invest in selec­tive growth in cer­tain sec­tors, from renew­able ener­gy to organ­ic farm­ing, as well as low-car­bon, social­ly nec­es­sary activ­i­ties such as edu­ca­tion and the car­ing pro­fes­sions. This will involve revers­ing the neolib­er­al cap­i­tal­ist dog­ma that has imposed aus­ter­i­ty for decades.
The Indige­nous Envi­ron­men­tal Net­work (IEN) applauds the vision, inten­tion and scope of the Green New Deal res­o­lu­tion but insists on ​"the fun­da­men­tal need to chal­lenge and trans­form the cur­rent dom­i­nant polit­i­cal and eco­nom­ic sys­tems that are dri­ving for­est destruc­tion, social injus­tice and the cli­mate crisis."
"An econ­o­my based on extract­ing from a finite sys­tem faster than the capac­i­ty of the Earth to regen­er­ate," IEN argues, ​"will even­tu­al­ly come to an end." Our demands for reform must pre­cip­i­tate what comes next. As the IEN puts it, ​"To reclaim our future, we must change the present."
For a response to this piece, see ​"We Don't Have Time to End Cap­i­tal­ism — But Growth Can Still Be Green.​"