New Hillary Clinton Emails Show She Wanted Credit for Libya Intervention in 2011. Now She Doesn't.
The latest tranche of Clinton emails recalls her pivotal role in the U.S. intervention.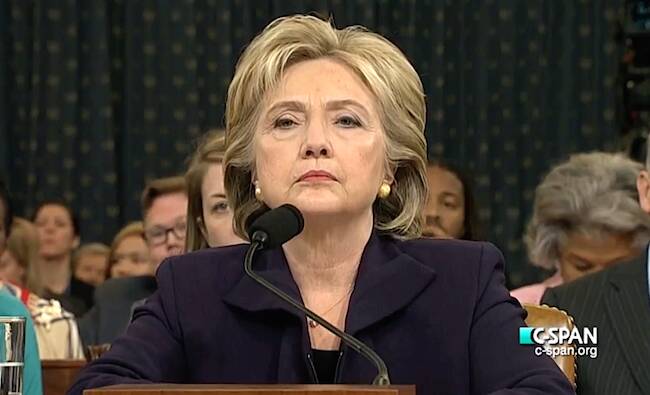 Now that Libya has descend­ed into chaos, Demo­c­ra­t­ic pres­i­den­tial front-run­ner Hillary Clin­ton is at pains to dis­pel the notion that, as sec­re­tary of state, she led the U.S. inter­ven­tion that top­pled dic­ta­tor Muam­mar Gaddafi in 2011.
The Clinton of 2012 saw herself as a principal agent in forging the very resolution that the Clinton of 2015 cites as a turning point in her thinking.
Yet the lat­est tranche of emails from Clinton's pri­vate serv­er, released by the State Depart­ment on Octo­ber 30, shows there's one indi­vid­ual who would strong­ly object to those efforts: the Hillary Clin­ton of 2011 and 2012.
A report in June by the New York Times revealed that in August 2011, Clinton's advi­sors had urged her to take cred­it for what was then seen as a mil­i­tary suc­cess in Libya. Now, the new­ly released emails show that the for­mer sec­re­tary of state was her­self intent on empha­siz­ing her key role in the affair — and that her team used cozy rela­tion­ships with the media to help her do so.
In one exchange, on April 4, 2012, a frus­trat­ed Clin­ton com­plains to her staffers that they'd omit­ted a num­ber of key details in a time­line titled ​"Sec­re­tary Clinton's lead­er­ship on Libya." The time­line, which aims to show that Clin­ton ​"was instru­men­tal in secur­ing the autho­riza­tion, build­ing the coali­tion and tight­en­ing the noose around Qad­hafi [sic] and his régime," would lat­er be pro­vid­ed to media.
"Did I meet in Paris w Jabril [sic] (brought to hotel by BHL) on 3⁄14? It's not on time­line," she writes in the April 4 email, refer­ring to Mah­moud Jib­ril, the prime min­is­ter for Libya's Nation­al Tran­si­tion­al Coun­cil dur­ing the country's civ­il war, and Bernard-Hen­ri Lévy (BHL), the French philoso­pher who helped dri­ve France's own involve­ment in the con­flict. In fact, Clinton's meet­ing with Jib­ril was list­ed on the orig­i­nal time­line pro­duced by advi­sor Jacob Sul­li­van, sug­gest­ing Clin­ton was either refer­ring to a dif­fer­ent ver­sion of the time­line or, more like­ly, failed to see it on the document.
"This time­line is total­ly inad­e­quate (which both­ers me about our record­keep­ing)," Clin­ton writes three min­utes lat­er. ​"For exam­ple, I was in Paris on 3⁄19 when attack start­ed. That's not on time­line. What else is miss­ing? Pls go over it asap." Twen­ty-three min­utes lat­er, Sul­li­van sent Clin­ton an updat­ed ver­sion of the time­line with the March 19 inci­dent added in.
Clin­ton emailed her advi­sors twice more with­in six min­utes, say­ing, ​"What both­ers me is that S/P [the State Department's Bureau of Pol­i­cy Plan­ning staff] pre­pared the time­line but it does­n't include much of what I did." Among the items that were left out, she notes phone calls and meet­ings with Arab offi­cials, as well as her role in secur­ing a March 12 Arab League res­o­lu­tion, which called for a U.N.-imposed no-fly zone over Libya.
The emails also reveal that Clinton's team was feed­ing infor­ma­tion to the media to push the nar­ra­tive she is now con­test­ing: that she was the chief force behind inter­ven­tion in Libya.
In the same email chain, Clin­ton com­plains, ​"The Joby War­rick piece from 10/30/11 includes more detail than our own time­line." She is refer­ring to a Wash­ing­ton Post arti­cle that details Clinton's ​"piv­otal role" in forg­ing and main­tain­ing the alliance of inter­ven­ing coun­tries through ​"her mix­ture of polit­i­cal prag­ma­tism and tenacity."
How­ev­er, Clinton's team quick­ly assures her that Warrick's piece was as thor­ough as it was because the State Depart­ment had dili­gent­ly fur­nished him with the nec­es­sary information:
The com­pre­hen­sive tick tock Jake put togeth­er … was done in large part for the War­rick piece. The great detail Joby had came entire­ly from Jake. Joby didn't do any inde­pen­dent research.
This sug­gests the time­line was pro­vid­ed to the Post to serve as the basis for the piece. Addi­tion­al­ly, the fact that Clin­ton is ran­kled that the article's exten­sive detail out­does the time­line, and her staff's sub­se­quent assur­ance that Sul­li­van was the source of this behind-the-scenes detail on Clinton's lead­er­ship, implies that Sul­li­van — now one of Clinton's top advi­sors for her pres­i­den­tial cam­paign — may have been one of the name­less State Depart­ment offi­cials cit­ed by Warrick.
A com­par­i­son of the arti­cle and the time­line reveals their sim­i­lar­i­ties. The Post piece fol­lows vir­tu­al­ly the same pro­gres­sion as the time­line pre­pared for Clin­ton. Both cov­er her arrival in Paris on March 14 and her sub­se­quent meet­ings with the G8 and Mah­moud Jib­ril; her work to secure the March 17 Unit­ed Nations Secu­ri­ty Coun­cil res­o­lu­tion autho­riz­ing a no-fly zone in Libya (as well as Russ­ian absten­tion on that vote); her efforts to con­vince Qatar, Jor­dan and the Unit­ed Arab Emi­rates to pro­vide their air­pow­er in the con­flict; and her role in press­ing more than 20 nations to rec­og­nize the Libyan Nation­al Tran­si­tion­al Coun­cil as the country's legit­i­mate government.
The piece also leans heav­i­ly on uniden­ti­fied State Depart­ment offi­cials and aides who ​"described the administration's inner work­ings on the con­di­tion of anonymi­ty." One, described as a ​"senior State Depart­ment offi­cial," notes that, despite receiv­ing no instruc­tions from the White House to sup­port Libyan inter­ven­tion upon arriv­ing in Paris, Clin­ton ​"began to see a way for­ward" by her own initiative.
This is all a far cry from the Clin­ton of today, who tends to paint her­self as just one of many push­ing for an inter­ven­tion — and stress­es that Pres­i­dent Oba­ma made the final decision.
For instance, in her 2014 mem­oir, Hard Choic­es, pub­lished long after con­di­tions in Libya had dete­ri­o­rat­ed, Clin­ton por­trays her­self as reluc­tant to push for mil­i­tary action until the March 12 Arab League res­o­lu­tion ​"changed the cal­cu­lus." Like­wise, in both the Octo­ber 13 Demo­c­ra­t­ic debate and her tes­ti­mo­ny to the House Com­mit­tee on Beng­hazi in Octo­ber 22, she point­ed to the Arab League's ​"unprece­dent­ed" res­o­lu­tion as a key rea­son she sup­port­ed intervention.
Yet Clinton's emails sug­gest that she saw her own work on the res­o­lu­tion as a crit­i­cal ele­ment in ​"secur­ing the autho­riza­tion" for force on Libya. In oth­er words, the Clin­ton of 2012 saw her­self as a prin­ci­pal agent in forg­ing the very res­o­lu­tion that the Clin­ton of 2015 cites as a turn­ing point in her thinking.
Fur­ther­more, over the last few years, Clin­ton has tend­ed to lay the deci­sion to go into Libya square­ly at Obama's feet. Clin­ton says in her mem­oir that ​"the pres­i­dent decid­ed to move for­ward with draw­ing up mil­i­tary plans and secur­ing a UN Secu­ri­ty Coun­cil res­o­lu­tion," rhetor­i­cal­ly remov­ing her­self from the equa­tion. Like­wise, in response to a ques­tion by Peter Roskam (R‑IL) dur­ing the lat­est Beng­hazi hear­ing about whether she ​"per­suad­ed Pres­i­dent Oba­ma to inter­vene mil­i­tar­i­ly" in Libya, Clin­ton stressed that ​"there were many in the State Depart­ment" in favor of inter­ven­tion, and point­ed­ly stat­ed that, ​"at the end of the day, this was the president's decision."
Yet the time­line pro­duced by Clinton's own team calls her ​"a lead­ing voice for strong UNSC action and a NATO civil­ian pro­tec­tion mis­sion" and has her secur­ing ​"Russ­ian absten­tion and Por­tuguese and African sup­port for UNSC 1973 [which autho­rized a no-fly zone over Libya], ensur­ing that it pass­es." More­over, the Post arti­cle that Clinton's aides helped influ­ence paints her as the decid­ing fac­tor in Obama's deci­sion to inter­vene. ​"The pres­i­dent," the arti­cle states, ​"who had been weigh­ing argu­ments from a sharply divid­ed Cab­i­net for sev­er­al days, sided with his sec­re­tary of state," who had become a ​"strong advo­cate" for inter­ven­tion by the time she spoke with Oba­ma on March 15, accord­ing to an anony­mous ​"admin­is­tra­tion official."
These emails also raise ques­tions about the rela­tion­ship between admin­is­tra­tion offi­cials and the media. The estab­lish­ment press has been crit­i­cized in the past for hav­ing cozy rela­tion­ships with those in pow­er, as well as an over­re­liance on anony­mous admin­is­tra­tion sources, which allows offi­cials to broad­cast their pre­ferred ver­sion of events with­out fac­ing cri­tique or ques­tion­ing. The New York Times' Pub­lic Edi­tor Mar­garet Sul­li­van has not­ed crit­i­cism of such report­ing being lit­tle bet­ter than ​"stenog­ra­phy" that ​"takes at face val­ue what gov­ern­ment offi­cials say," and that the Times' own style­book advis­es reporters to use anonymi­ty as a ​"last resort."
This wasn't the only time Clinton's staffers would work with media out­lets behind the scenes to prop­a­gate a nar­ra­tive that ben­e­fit­ed them. As report­ed last month by this mag­a­zine, an email to Clinton's staff by then-Assis­tant Sec­re­tary for Pub­lic Affairs Michael Ham­mer cel­e­brat­ed a June 30, 2011, New York Times edi­to­r­i­al urg­ing NATO not to give up in Libya and ​"stand firm­ly with the rebels." Ham­mer told them that the State Depart­ment had arranged for then-Ambas­sador to Libya Gene Cretz to give NYT For­eign Affairs Edi­tor Car­ol Gia­co­mo ​"more ammo" for the op-ed. Telling­ly, he added: ​"We're doing more of this engage­ment with the edi­to­r­i­al writ­ers. Go team!" That piece made no men­tion of the con­ver­sa­tion with Cretz. Oth­er reports have also not­ed the Clin­ton team's mas­sag­ing of the media on oth­er subjects.
As oth­ers have point­ed out, despite Repub­li­cans' attempts to use the Beng­hazi Com­mit­tee to eat into Clinton's poll num­bers, the real scan­dal involv­ing Clin­ton and Libya is her full-throat­ed sup­port for a war that has left the North African nation a chaot­ic breed­ing ground for ter­ror­ism. Clin­ton may attempt to run away from her lega­cy in Libya, but she can't out­run her own words.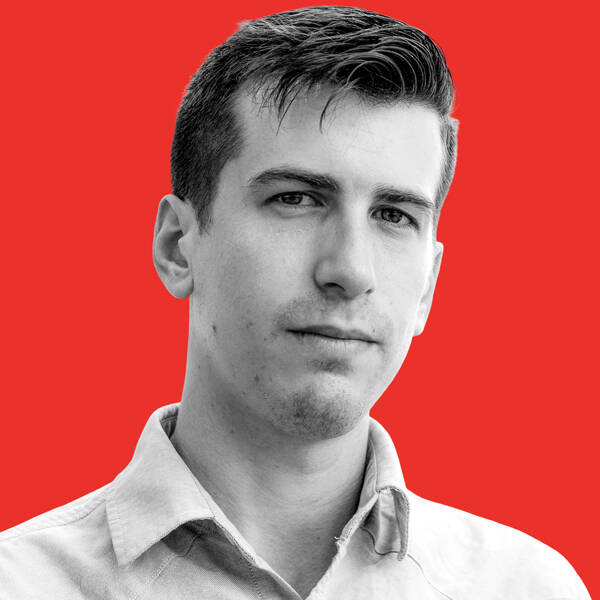 Branko Marcetic
is a staff writer at Jacobin mag­a­zine and a
2019
 – 
2020
Leonard C. Good­man Insti­tute for Inves­tiga­tive Report­ing fel­low. He is work­ing on a forth­com­ing book about Joe Biden.