New SEIU Sec.-Treas. Eliseo Medina Sets Plans for Organizing, Immigration Reform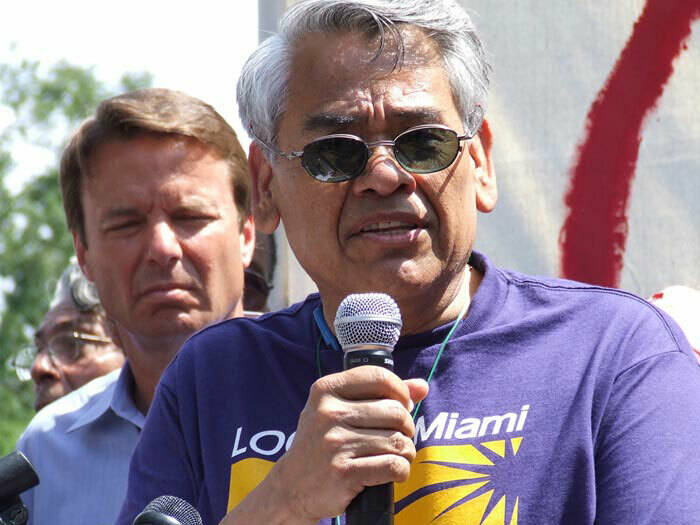 The lives of work­ing peo­ple will only improve through unions, the vet­er­an orga­niz­er says in this interview
Eliseo Med­i­na, a for­mer leader of the Unit­ed Farm Work­ers, a high­ly suc­cess­ful orga­niz­er and exec­u­tive vice-pres­i­dent for the Ser­vice Employ­ees Inter­na­tion­al Union (SEIU), and one of the labor movement's fore­most advo­cate of immi­grant work­ers' rights and immi­gra­tion reform, unan­i­mous­ly won sup­port from his fel­low exec­u­tive board mem­bers last Wednes­day to become the new sec­re­tary-trea­sur­er of SEIU.
Med­i­na will serve at least until 2012, fill­ing out the term of Ann Burg­er, who resigned in August after los­ing her bid to suc­ceed retir­ing pres­i­dent Andy Stern to SEIU's new pres­i­dent Mary Kay Henry.
Born in Mex­i­co in 1946, Med­i­na came to the U.S. ten years lat­er with his par­ents, who were agri­cul­tur­al work­ers in the bracero pro­gram then oper­at­ing. As a teenage farm work­er he joined the UFW dur­ing its land­mark strike in Delano, Calif., in 1965, ris­ing through the ranks, then part­ing ways with Chavez and join­ing the SEIU. He proved adept at orga­niz­ing, lead­ing strikes, polit­i­cal mobi­liza­tion, and advo­ca­cy among fel­low trade union­ists, who wide­ly admire him. (See Harold Meyerson's warm biog­ra­phy here.)
Med­i­na, who backed Hen­ry, seems well-suit­ed to her lead­er­ship style, which ini­tial­ly involves exten­sive inter­nal dis­cus­sion of strat­e­gy and a greater focus on fight­ing cor­po­rate pow­er, in a search for solu­tions to what she calls the Sev­en Per­cent Prob­lem – the fright­en­ing­ly low lev­el of union­iza­tion in the pri­vate sector.
In this edit­ed inter­view, Med­i­na talks with In These Times about what he hopes to do on his new job, which includes spe­cial empha­sis on greater trans­paren­cy and account­abil­i­ty in finan­cial man­age­ment, increas­ing the union's orga­niz­ing efforts, and win­ning immi­gra­tion reform.

What are your major goals for your new office?

One of the pri­ma­ry duties of the sec­re­tary-trea­sur­er is being the finan­cial offi­cer of the union, to make sure the resources of the union are used in an effec­tive man­ner, to make sure we have full trans­paren­cy to our mem­bers, so they can see their hard-earned dues dol­lars are used in a way that will make the future bet­ter for them and their children.
The oth­er thing I want to work on, it's clear things are not going well for work­ing peo­ple. Con­di­tions are worse than any time in my mem­o­ry. We've got sit­u­a­tion where mil­lions of peo­ple are unem­ployed, mil­lions are los­ing their homes, and there's no hope for a bet­ter future. So I hope to be work­ing close­ly with our new pres­i­dent and the exec­u­tive board to turn this around. The only way we can do that is to engage in renewed cam­paigns to orga­nize work­ers into unions so they can have a voice in deci­sions that are being made.
The third thing I'm involved in and want to expand my par­tic­i­pa­tion in fig­ur­ing out is, not only how we fix this country's bro­ken immi­gra­tion sys­tem but how we inte­grate immi­grants into the life of coun­try. We are the new gen­er­a­tion of immi­grants and have much to con­tribute, but we have to elim­i­nate bar­ri­ers to par­tic­i­pa­tion, both in fix­ing the bro­ken immi­gra­tion sys­tem but also with prob­lems of infor­ma­tion about cit­i­zen­ship, so peo­ple can become full par­tic­i­pants in soci­ety, so they can become cit­i­zens and once they re cit­i­zens, informed vot­ers.

To take your first task, there's been a lot of con­cern that SEIU's bud­get has not been well man­aged in recent years. Have you had any chance to assess the finan­cial shape of the union?

Yes, and I think we're in good shape, but, giv­en the chal­lenges we face, it's impor­tant to go through all of our finances and make sure all of our mon­ey is devot­ed to our pri­or­i­ties. That means we have to look very close­ly at all of our expen­di­tures and ask, ​"Is this help­ing the goals of the union as artic­u­lat­ed by our exec­u­tive board?" If it's not, we need to real­lo­cate mon­ey to our goals. As far as I can see, we are in good finan­cial shape, but that doesn't mean we shouldn't review our expen­di­tures to make sure we do what we want to do.

Are there any indi­ca­tions of where seri­ous amounts of mon­ey were spent where it shouldn't have been spent?

We're a big orga­ni­za­tion, and a lot of mon­ey is spent on dif­fer­ent things. There are some things I want to go into in detail. For exam­ple, if the exec­u­tive board says growth is the top pri­or­i­ty, if win­ning on health­care reform and immi­gra­tion reform are top pri­or­i­ties, we should take a look at what we're doing and real­lo­cate accord­ing­ly. It doesn't mean they're not all good, worth­while things, but we may need to put them on hold while we focus on those oth­er pri­or­i­ties.

Your sec­ond pri­or­i­ty is growth. How should SEIU and the labor move­ment pro­ceed now, with lit­tle prospect for pas­sage in the near future of the Employ­ee Free Choice Act?

With or with­out the Employ­ee Free Choice Act, we need to go out and take our mes­sage to work­ers and give them the hope that if they join togeth­er they will make a dif­fer­ence. I think the Employ­ee Free Choice Act is a crit­i­cal com­po­nent of change so that work­ers have a free choice, but we can't wait until Con­gress makes those changes.
We've got to set ambi­tious goals. In SEIU we are try­ing to fig­ure out how to deal with this prob­lem. About 7 per­cent of pri­vate sec­tor work­ers are in a union now, and that's unten­able. There's no way you're going to be able to cre­ate the kind of move­ment to reverse the trend we're see­ing of declin­ing wages, health­care, pen­sions and all that unless work­ers have an orga­nized voice fight­ing for the com­mon good. It's going to be a hard strug­gle, but if we don't do it, things are only going to get worse for workers.
In recent years the vast major­i­ty of growth even in SEIU has come from pub­lic or qua­si-pub­lic sec­tor. Any ideas on what to do dif­fer­ent­ly in the pri­vate sec­tor?

Large por­tions of our econ­o­my depend on pub­lic fund­ing, like the defense indus­try. The dif­fer­ence between pub­lic work­ers and pub­licly- fund­ed work­ers is that basi­cal­ly in the pub­lic sec­tor, the employ­er allows the work­ers to make their own deci­sions. They don't go out and try to con­vince work­ers not to join the union. They don't do cap­tive audi­ence meet­ings, or threat­en peo­ple with fir­ing. They let peo­ple make up their own minds. It's anal­o­gous to what we do with our elec­tions. You don't find pres­i­den­tial can­di­dates threat­en­ing peo­ple if they don't vote for him. It's not what you do in a democracy.
But the pub­licly-fund­ed employ­ers are the oppo­site. They think they can threat­en, harass, intim­i­date peo­ple from hav­ing a free choice. One of the things we have to do is hold them account­able. If they're going to use tax­pay­er dol­lars, they ought to use them in a way respect­ful of work­ers' rights.
We found that when you take the employ­er out and leave it to the work­ers, they always opt for an orga­ni­za­tion. Lots of employ­ers in the hos­pi­tal indus­try agreed to give work­ers a choice in a non-threat­en­ing way, while mak­ing their opin­ion known, and in all cas­es work­ers vot­ed for the union. We did the same thing gen­er­al­ly, not always, with janitors.
The thing that is going to allow more work­ers to orga­nize is that we – and by exten­sion the rest of the labor move­ment – have to go back to square one, and do what we need to do to pro­vide the infor­ma­tion and vision for work­ers to join unions.

You've been respon­si­ble for new orga­niz­ing in the South and South­west. How do you assess the suc­cess of that effort? Do you want to con­tin­ue it?

We had very good suc­cess. We went from about 30,000 mem­bers in 2004 in the South and South­west to about 120,000 mem­bers today. So we've grown by 400 per­cent. That sounds good but we just bare­ly scratched the sur­face, and a lot more needs to be done. So I think that as we dis­cuss the work we have to do in SEIU we need to recom­mit our­selves to orga­nize in a more aggres­sive man­ner in the South and South­west. Oth­er­wise it will always be the low-wage alter­na­tive for the rest of coun­try. We've shown it makes sense, but it takes focus, and it takes com­mit­ment.

Does any­thing make it eas­i­er to orga­nize in the South today com­pared to the past, like the influx of Lati­no immi­grants?

No ques­tion chang­ing demo­graph­ics have helped us to be able to orga­nize. Immi­grants, when they come to this coun­try, come with hope for the future and want claim a piece of the Amer­i­can dream. Orga­niz­ing a union is part of that. Every­where I go there's a lot of inter­est in join­ing the union, but with the econ­o­my, I find it with all groups – African-Amer­i­cans, Cau­casians, Asians and Pacif­ic Islanders.
But because we in the labor move­ment haven't done our job well, they haven't had the oppor­tu­ni­ty to come togeth­er and fight for their share of the pie. What's hap­pen­ing now is the econ­o­my is help­ing, and chang­ing demo­graph­ics are help­ing. In many ways, the South and South­west are at a tip­ping point in terms of chang­ing, the way they look at unions and the way things are going on in this coun­try.

Nev­er­the­less, it looks like Repub­li­cans will make seri­ous gains this fall even though a cou­ple of years ago it looked like there was an emerg­ing Demo­c­ra­t­ic major­i­ty for years to come. Why?

I think peo­ple vot­ed for change, and they still want change. There's not the kind of orga­niz­ing that brings peo­ple togeth­er to talk about how do we get change. That's why orga­niz­ing a union mat­ters. It's a way for peo­ple to come togeth­er, to have con­ver­sa­tions and to move togeth­er. A stronger labor move­ment, allied with com­mu­ni­ty groups, civic groups, and civ­il rights groups that care about the same issues, will be able to cre­ate a con­stituen­cy for change we need and we want. One elec­tion isn't going to do it.
One of the mis­takes made in 2008 is peo­ple thought we were elect­ing Barack Oba­ma king, not pres­i­dent. He doesn't have pow­er and author­i­ty to get the change he want­ed. The spe­cial inter­ests are very entrenched. They're not going to give up their pow­er will­ing­ly or eas­i­ly. It will take cit­i­zens who are moti­vat­ed.

What's the one biggest mis­take the Oba­ma admin­is­tra­tion made?

They didn't main­tain the coali­tion that elect­ed him. It was very broad. Unfor­tu­nate­ly – it wasn't just Pres­i­dent Oba­ma – peo­ple thought change came as result of an elec­tion, not as a result of a con­stituen­cy that con­tin­ues to work for things they vot­ed for.

You have been one of the trustees of Unit­ed Health­care West [now in a bat­tle with the new Nation­al Union of Health­care Work­ers, led by for­mer UHW offi­cials, for rights to rep­re­sent mem­bers of the 150,000-member local union].

That ceased 6, 7, 8 months ago.

Look­ing back, do you think there was a bet­ter way SEIU might have han­dled rela­tions with that local?

You know, that's a real­ly dif­fi­cult ques­tion. I've known the for­mer lead­ers of UHW for over 20 years. Unfor­tu­nate­ly, I think they devel­oped a dif­fer­ent phi­los­o­phy, a dif­fer­ent per­spec­tive about strate­gies to make life bet­ter for work­ers, and they had start­ed to imple­ment their sep­a­ratist strat­e­gy at least a year pri­or to the thing com­ing to a head. So we tried every way we could.
Quite hon­est­ly, I don't know what we could have done dif­fer­ent­ly. Like any­thing, it takes two to make things work. In their case there were deci­sions made and direc­tions tak­en before any con­ver­sa­tions with the inter­na­tion­al. By the time we became aware a lot of what they were doing and began to exer­cise over­sight respon­si­bil­i­ty, it was too late.

Regard­ing your third task, immi­gra­tion reform also seems to be stalled. If very con­ser­v­a­tive Repub­li­cans are elect­ed, the prospects will be even worse. How do you pro­pose to pro­ceed.?

You were nice to say it's stalled. Now it's become such a polit­i­cal and ide­o­log­i­cal foot­ball that I think it's very dif­fi­cult to get things done. We're deal­ing with a pubic pol­i­cy issue: We've been work­ing very hard to make the case of why immi­gra­tion reform made sense for this country.
Unfor­tu­nate­ly our oppo­nents were not deal­ing with it that way. Groups of peo­ple who are pret­ty much nativis­tic will nev­er agree that this is an issue that needs to be resolved for the good of this coun­try. Then you com­bine this with pol­i­tics. Unfor­tu­nate­ly, the Repub­li­can par­ty has always felt mak­ing Lati­nos a wedge issue was a way to polit­i­cal pow­er, nev­er mind that if you look back three or four elec­tion cycles, you don't find a sin­gle anti-immi­gra­tion can­di­date who has rid­den that to polit­i­cal office.
So I think that what we're in for a dif­fi­cult fight, and the only way we're going to fix this is to insure that immi­grants con­tin­ue to become actors in the polit­i­cal debate. We're going to con­tin­ue to help peo­ple become cit­i­zens, by giv­ing them the infor­ma­tion they need to become cit­i­zens, more impor­tant­ly, why they should become cit­i­zens. Once they become cit­i­zens we need to make sure they vote, and we'll pro­vide infor­ma­tion on where can­di­dates stand.
I think that we're going to fix this immi­gra­tion sys­tem soon­er or lat­er – I hope soon­er – but the only way we're going to get this done is to con­tin­ue to add to the num­ber of vot­ers and active par­tic­i­pants. Giv­en the demo­graph­ics, I think it's just a mat­ter of time. In some very key states, it's going to pret­ty darn dif­fi­cult for any can­di­date to be elect­ed pres­i­dent in 2012 unless they have a sto­ry to tell to the Lati­no com­mu­ni­ty. It's going be hard for the Repub­li­can par­ty if they have a his­to­ry of anti-immi­grant activ­i­ty and iden­ti­ty as the par­ty of Pete Wil­son [for­mer Cal­i­for­nia gov­er­nor who scape­goat­ed immigrants].
They'll be in dif­fi­cult sit­u­a­tion. If you look at 2012, Lati­nos will be the mar­gin of vic­to­ry in Neva­da, Ari­zona, Texas, Col­orado, Flori­da, Cal­i­for­nia, Illi­nois, and New York. New York and Cal­i­for­nia are blue. Ari­zona, Col­orado, Flori­da, and Neva­da are not.
The only way we get immi­gra­tion reform is to keep grow­ing those num­bers and make sure in 2012 that if Repub­li­cans keep going the way they are, they do what Pete Wil­son did in the [anti-immi­grant] Propo­si­tion 187 years. He won the first elec­tion, but in the long run, he lost a gen­er­a­tion of Lati­nos, and that's how Cal­i­for­nia became blue. If Repub­li­cans think that in 2010 bash­ing immi­grants is way to win, they're fol­low­ing Wilson's for­mu­la, and they're going to find that in 2012 this will back­fire very badly.
What I'm hop­ing is that after the elec­tion, san­i­ty will pre­vail regard­less of what par­ty is in pow­er because it's in both of their inter­ests to take the issue off the table. The Repub­li­cans have no way they can defend [their posi­tion] and Democ­rats can't win with­out accom­plish­ing some­thing, hav­ing a record they can point to. Posi­tion­ing Lati­nos as inde­pen­dent vot­ers ask­ing for action on immi­gra­tion reform is the best posi­tion we could be in.
Polit­i­cal par­ties and can­di­dates can not write off and alien­ate for the long term the fastest grow­ing con­stituen­cy in the coun­try. If you look at demo­graph­ics, it's inevitable. In 2012 we know there will be many more Lati­no vot­ers than there are today. In 2014 there will be more, even more in 2016. If Repub­li­cans say not only are we the par­ty of no, but hell, no, when it comes to immi­gra­tion reform, they are send­ing an unmis­tak­able mes­sage to Latinos.
The last thing I'll say, 20 years ago it real­ly mat­tered whether we were Mex­i­can, Puer­to Rican, Sal­vado­ran or Argen­tin­ian, but because of all the activ­i­ties of Repub­li­cans in the last four years, they have cre­at­ed the great­est uni­ty among Lati­nos that I have ever seen since I came to this coun­try in 1956. That's good for us and bad for them.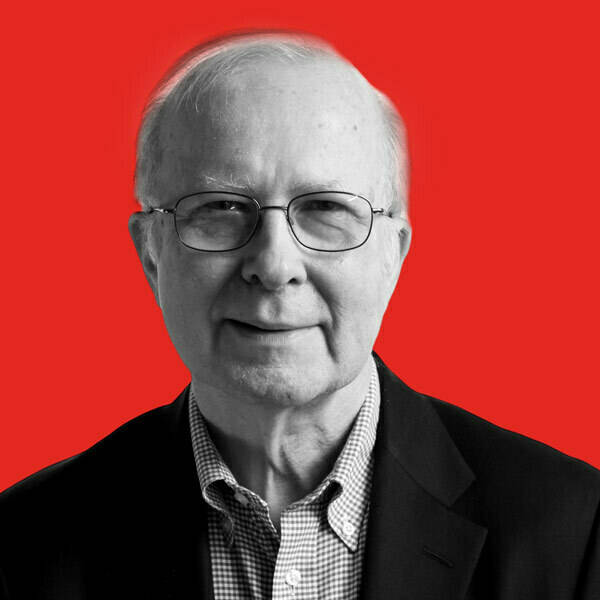 David Moberg, a senior edi­tor of In These Times, has been on the staff of the mag­a­zine since it began pub­lish­ing in 1976. Before join­ing In These Times, he com­plet­ed his work for a Ph.D. in anthro­pol­o­gy at the Uni­ver­si­ty of Chica­go and worked for Newsweek. He has received fel­low­ships from the John D. and Cather­ine T. MacArthur Foun­da­tion and the Nation Insti­tute for research on the new glob­al economy.