New York A-Twitter with Reports of Voting Malfunctions
Last year, elections officials blamed Sandy. What's their excuse now?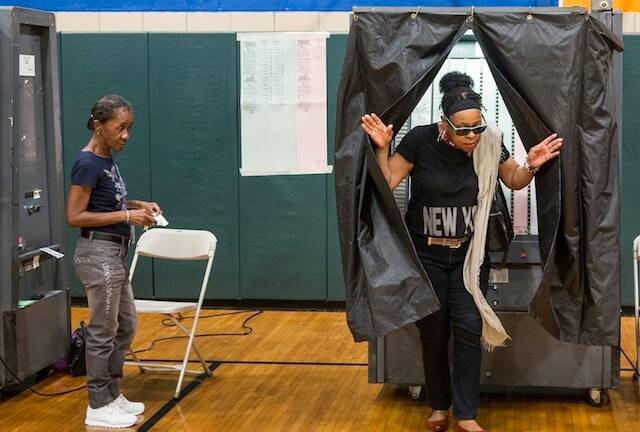 We wanted to make sure you didn't miss the announcement of our new Sustainer program. Once you've finished reading, take a moment to check out the new program, as well as all the benefits of becoming a Sustainer.

Last fall, New York City voted for president (and plenty of local offices too) just days after Superstorm Sandy. With thousands of residents displaced and neighborhoods destroyed, the city's election process was a mess. Displaced voters were allowed to cast affidavit ballots anywhere in the city, but even in neighborhoods relatively untouched by Sandy, long lines and technological failures marred the process.
The Board of Elections has had a year to fix the system, but judging by initial reports from today, it didn't manage to do so. Reports were that specific levers for specific candidates didn't work.
The Board of Elections nonetheless patted itself on the back for a job well done, which left Council Member Jumaane Williams worried about this year's election. ​"The problem is, if they're saying they did an excellent job, what are they trying to correct?" he told me in an interview last November. ​"I'm concerned about that. They did not do an excellent job."
Today, New Yorkers voted to decide who would represent the Democratic and Republican parties in November's general elections for mayor, comptroller, public advocate and city council. In the mayor's race, the question was, would leader Bill de Blasio get more than 40 percent of the vote and win the Democratic primary outright? In the public advocate's race, the entire election could be decided today, as no Republicans seek that office.
The Board of Elections has had a year to fix the system, but judging by initial reports from today, it didn't manage to do so.
Voters this year welcomed back the old voting machines (think 1940s old), where you flip a small lever next to the candidate's name and then pull a big lever to cast your ballot. The machines were last used in 2009 and had a 4.3 percent failure rate back then, according to a spokesperson for the Board of Elections. They'd been ​"retired" in favor of a more up-to-date system that used paper ballots and an optical scanner (think Scantron testing), but after the vote count was delayed in 2012, the lever machines were brought back.
The vote is still on as I write this, but there have been plenty of reports that machines were breaking down. Joe Lhota, the Republican former MTA head expected to easily win that party's mayoral primary, may be the highest-profile person to report having to use a paper ballot when the machines at his Brooklyn polling place weren't functioning; Salon's Alex Pareene tweeted about the same problem. Other reports were that specific levers for specific candidates didn't work. Council Member Brad Lander, who spent his day observing the vote in Park Slope and then in Bushwick, told In These Times that there actually seemed to be fewer problems than he expected with the old machines, which were mandated by the state. The Park Slope Armory in his district had its machines go down; according to Lander, a few dozen people voted by paper ballot and another few dozen may have just left.
This morning, Williams was out as he was last year, tweeting the location of poll site problems to the Board of Elections (and the rest of his followers), including what he called the ​"busiest poll site" in his district, where all machines were down. In Sunset Park, Brooklyn, one poll site coordinator reportedly never showed up.
One of the biggest problems seemed to be the shifting of polling locations. State Assemblymember Brian Kavanagh reported that the official notice received by some Manhattan voters sent them to a nonexistent polling place; they were referred back to the BOE website. The Board of Elections' Twitter feed took questions and complaints in real time, a dramatic improvement from 2012, but the amount of problems it had to handle was telling.
A fancy new poll site locator website put up by the BOE based on Google Maps was directing Brooklynites to Manhattan in a few cases; in my neighborhood, the polling address given was wrong. Jesse Myerson, a Manhattan resident who's lived in the same building for some time, told In These Times that just this morning, a notice was posted at his apartment building directing residents to vote at a different polling place than usual. When Myerson arrived to vote, his name wasn't on the rolls and he had to vote via paper ballot. Lander noted that disability accessibility was purportedly the reason for the change in voting locations, but many of the prior locations had been public schools, which are federally required to be disability accessible. A few voters from South Park Slope, he said, were relocated to Red Hook — quite a distance away.
After repeated complaints during previous elections of shoddy training for poll workers, the New York World, a Columbia Journalism School publication, sent reporter Laura Nahmias to a training to investigate. She reported having to learn two kinds of voting machines, as well as a process helping voters with disabilities, in a single session. The lever machines, she learned, miscount often enough that poll workers have to check for inaccuracies after every vote. ​"Calling the borough office is basically the contingency plan for every emergency scenario at the poll site," she wrote. ​"There are dozens of emergency scenarios."
Nahmias also pointed out that the training she attended was in a building run by an organization founded by former State Assemblymember Vito Lopez — the same Vito Lopez who was forced out of the Assembly after accusations of sexual harassment, and the same Vito Lopez who is now running for City Council in that district. The training site was a polling site today. Lopez won the prize for the most horrifying election mailer of the day, with quotes from anonymous experts declaring that ​"95 percent of these cases prove to be unfounded" — referring, presumably, to sexual harassment charges.
It's worth noting that this was a low-turnout primary, though it's stoked some national attention. Long lines were mostly not a problem (unless machines broke). A higher-turnout general election with the same problems could lead to the kind of long waits seen in 2012, where I saw lines wrapping around city blocks and Williams reported five-hour waits in his district. New York is a rich, liberal city that often isn't on the radar of reporters covering the ongoing attacks on voters, but broken poll machines, misplaced voter registration information and no-show officials point to a system badly in need of updating.
Be a Sustainer
We surveyed thousands of readers and asked what they would like to see in a monthly giving program. Now, for the first time, we're offering three different levels of support, with rewards at each level, including a magazine subscription, books, tote bags, events and more—all starting at less than 17 cents a day. Check out the new Sustainer program.
Sarah Jaffe is a Type Media Center Fellow, co-host (with Michelle Chen) of Dissent magazine's Belabored podcast, and a columnist at The New Republic and New Labor Forum. She was formerly a staff writer at In These Times and the labor editor at AlterNet. Her previous book is Necessary Trouble: Americans in Revolt, which Robin D.G. Kelley called ​"The most compelling social and political portrait of our age." You can follow her on Twitter @sarahljaffe.