New York Is on the Verge of Major Climate Action—But Centrist Democrats Stand in the Way
Lawmakers stalled as advocates pushed to get an ambitious climate bill through the state senate before the legislative session ended.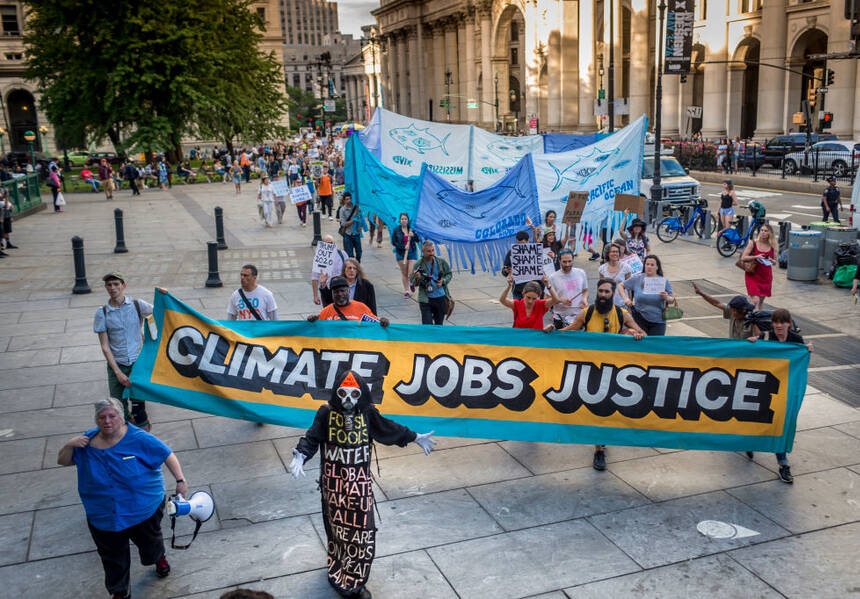 This piece has been updat­ed to reflect that the leg­isla­tive ses­sion has end­ed, and the cli­mate bill was not brought for­ward to a vote.
"If you cobble together enough city and states, then the federal withdrawal from Paris becomes less and less significant."
The eight mem­bers of New York's Inde­pen­dent Demo­c­ra­t­ic Con­fer­ence (IDC), may not be the first peo­ple you'd expect to spon­sor a piece of land­mark cli­mate leg­is­la­tion. In the tra­di­tion­al­ly blue Empire State, the IDC cau­cus­es with Repub­li­cans, allow­ing the state's GOP to form a major­i­ty — all despite the fact that New York­ers reli­ably elect a Demo­c­ra­t­ic major­i­ty into their state­house. The rea­son IDC mem­bers cite for the alliance is prag­ma­tism, and a desire to make bipar­ti­san action more pos­si­ble. The real­i­ty, more often than not, is that they put a damper on pro­gres­sive efforts.
That's part of why their unan­i­mous spon­sor­ship of the Cli­mate and Com­mu­ni­ty Pro­tec­tion Act (CCPA) — a bill laud­ed as a mod­el for oth­er states hop­ing to defy Trump's attacks on the envi­ron­ment — came as a sur­prise to Dan Sher­rell. Sher­rell is cam­paign coor­di­na­tor for New York Renews, the coali­tion of more than 100 labor, com­mu­ni­ty and envi­ron­men­tal groups that draft­ed the CCPA and has attempt­ed to get it passed through New York's state leg­is­la­ture since just after the Paris Accord was agreed upon in late 2015.
After being intro­duced by non-IDC Assem­bly Speak­er Carl Heast­ie, the bill passed through that body by a wide mar­gin on Mon­day night, after a short debate. In the sen­ate, the CCPA's fate fell to New York State Sen­a­tor — and IDC mem­ber — Tony Avel­la, the bill's lead spon­sor who, along­side fel­low spon­sor and IDC mem­ber Jeff Klein, would have had to con­vince Sen­ate Major­i­ty Leader John Flana­gan to bring the bill to a vote in the cham­ber in order for it to get passed. Avella's office did not respond to In These Times' request for a com­ment. Even though the IDC has endorsed the bill, New York Renews mem­bers feared Avel­la may con­tin­ue stalling until the leg­isla­tive ses­sion is slat­ed to end today, extract­ing the good PR of hav­ing sym­bol­i­cal­ly backed pro­gres­sive leg­isla­tive while doing rel­a­tive­ly lit­tle to get it passed into law. Wor­ry­ing­ly for the coali­tion, two IDC mem­bers ear­li­er this week also vot­ed to defund ener­gy and envi­ron­men­tal pri­or­i­ties that the CCPA would enshrine into law.
"The IDC has cho­sen to take lead­er­ship on the CCPA. We wel­come them to the cli­mate fight, and call on them to bring this bill to a vote," Sher­rell told In These Times bef. ​"This could not be more cru­cial after Trump's exit from the Paris Accord."
But his fears proved well found­ed. Flana­gan did not bring the CCPA to a vote, and the leg­isla­tive ses­sion expired at the end of the day on Wednes­day. Sher­rell tells In These Times that New York Renews will be call­ing on the IDC and the gov­er­nor to pass the bill in a spe­cial ses­sion of the leg­is­la­ture this sum­mer, when law­mak­ers are expect­ed to recon­vene to dis­cuss New York City's pub­lic school sys­tem. ​"If they're com­ing back to deal with school­ing for NYC kids," Sher­rell says in an email, ​"then sure­ly they can pass a bill to pro­tect those kids' future from a wors­en­ing cli­mate crisis."
As the prospects for cli­mate action at the fed­er­al lev­el grow increas­ing­ly bleak, the impact of states like New York — and bills like the CCPA — could extend well beyond their borders.
After the White House announced it was with­draw­ing the Unit­ed States from the cli­mate treaty on June 1, atten­tion has shift­ed increas­ing­ly to what cities and states can do to stem ris­ing tides. New York State Gov. Andrew Cuo­mo, Cal­i­for­nia Gov. Jer­ry Brown and Wash­ing­ton Gov. Jay Inslee teamed up to cre­ate the Unit­ed States Cli­mate Alliance, now com­prised of 13 states, that seeks to uphold the com­mit­ments laid out in the Paris Agree­ment through state-lev­el policy.
The Cal­i­for­nia leg­is­la­ture is push­ing its own ambi­tious leg­is­la­tion, and is one of sev­er­al West­ern states team­ing up with Cana­di­an provinces to col­lab­o­rate on cli­mate solu­tions. Many now see New York, and the CCPA in par­tic­u­lar, as pre­sent­ing the next oppor­tu­ni­ty for promis­ing state-lev­el action. As Sher­rell puts it, New York can be a ​"beach head for cli­mate progress in the next four years." Heather McGhee, pres­i­dent of the left-lean­ing think tank Demos, and pro­gres­sive econ­o­mist Robert Reich have called the CCPA ​"the most pro­gres­sive cli­mate-equi­ty pol­i­cy we've seen."
So what exact­ly is this pol­i­cy? The CCPA would task state agen­cies with cre­at­ing indi­vid­u­al­ized plans to reduce their green­house gas emis­sions, attempt­ing to put some meat on the bones of Cuomo's 2015 pledge to dra­mat­i­cal­ly reduce emis­sions by 2050. The bill fur­ther stip­u­lates that 40 per­cent of state ener­gy fund­ing be direct­ed toward the low-income com­mu­ni­ties and com­mu­ni­ties of col­or most like­ly to be hit worst by cli­mate impacts. The bill also requires that fair labor stan­dards—includ­ing a pre­vail­ing wage — be enact­ed at all green projects receiv­ing state funds. Such a tran­si­tion, the bill's back­ers argue, could cre­ate as many as 100,000 jobs statewide in the next sev­er­al decades.
"New York Renews was co-found­ed by the envi­ron­men­tal jus­tice move­ment … after the People's Cli­mate March in 2014," says Eddie Bautista, exec­u­tive direc­tor of the New York City Envi­ron­men­tal Jus­tice Alliance. ​"It shouldn't be a shock to any­one that jus­tice and equi­ty con­cerns are at the cen­ter of it. How could we pos­si­bly demon­strate lead­er­ship if we're not incor­po­rat­ing what every­one now acknowl­edges to be the dis­pro­por­tion­ate impacts of cli­mate change on com­mu­ni­ties of color?"
As Bryce Covert, draw­ing on a body of research, point­ed out in The Nation last year, race is the most sig­nif­i­cant pre­dic­tor of whether some­one is like­ly to live near con­t­a­m­i­nat­ed air, water or soil. Six­ty-eight per­cent of African Amer­i­cans nation­wide live with­in 30 miles of a coal plant, and Black Los Ange­lenos are twice as like­ly to die dur­ing a heat wave as their white coun­ter­parts. And as Hur­ri­canes Kat­ri­na and Sandy both showed, com­mu­ni­ties of col­or are more vul­ner­a­ble to cat­a­stroph­ic dam­age from cli­mate-fueled storms and the dis­place­ment that can fol­low them. By 2013, for instance, some 80 per­cent of res­i­dents who fled New Orleans' pre­dom­i­nate­ly black Low­er 9th Ward had not returned, and black res­i­dents were sig­nif­i­cant­ly less like­ly to return to the city in the year after the storm than non-black residents.
With its robust equi­ty pro­vi­sions, Bautista adds, the spe­cif­ic atten­tion the CCPA pays to cli­mate-impact­ed com­mu­ni­ties could be an exam­ple for oth­er states. And the bill's scale also shows that mean­ing­ful cli­mate pol­i­cy needn't be kneecapped by Trump: ​"If a state as large and diverse as New York is will­ing to take this lev­el of com­mit­ment, then sure­ly the rest of the states could fol­low," says Eddie Bautista, Exec­u­tive Direc­tor of the New York City Envi­ron­men­tal Jus­tice Alliance. ​"If you cob­ble togeth­er enough city and states, then the fed­er­al with­draw­al from Paris becomes less and less significant."
But time is run­ning out. NY Renews mem­bers and allies have flood­ed Avella's office with calls, ask­ing him to intro­duce the bill. Sher­rell esti­mates from peo­ple who've told him about their calls to Albany that there have been around 500 so far, ​"but they've lost count," he told me.
The CCPA has been in a sim­i­lar spot before. It also passed through the Assem­bly in 2016 but nev­er made it to the Sen­ate. It was includ­ed in a ver­sion of the FY2018 bud­get debat­ed this spring, though was nixed in the final bud­get Cuo­mo signed in April, after nei­ther Cuo­mo nor the state sen­ate made it a pri­or­i­ty in their bud­get bills. But giv­en the Trump admin­is­tra­tion, Bautista says, the stakes are high­er this time. ​"It's pret­ty hard to over­es­ti­mate how impor­tant this moment is, par­tic­u­lar­ly in light of the Paris with­draw­al," he says. ​"The only way that we're going to be able to impede at least the worst of cli­mate change is through a com­bi­na­tion of local and state actions that fill the void left by the Trump-ocaplypse."
This isn't the first occa­sion pro­gres­sives have had to be angry at the IDC. Ire against the cau­cus has been boil­ing since November's elec­tion, and a num­ber of state and nation­al politi­cians — includ­ing Rep. Kei­th Elli­son (D‑MN) — have called on the cau­cus to rejoin Democ­rats so that the par­ty can claim a prop­er major­i­ty. Giv­en New York is one of the country's most deeply blue states, pro­gres­sive lead­ers are eager to have it punch at or above its weight in oppos­ing Trump.
As Alex Shep­ard and Clio Chang wrote for The New Repub­lic, ​"The sit­u­a­tion in Albany would be weird in any polit­i­cal envi­ron­ment, but it's high­ly prob­lem­at­ic in the Trump era, when pro­posed fed­er­al immi­gra­tion and health care poli­cies have made mil­lions of New York's res­i­dents vul­ner­a­ble. A Demo­c­ra­t­ic major­i­ty in the Sen­ate could pro­tect these people."
All this puts Demo­c­ra­t­ic Gov. Andrew Cuo­mo in an awk­ward posi­tion. He's gen­er­al­ly con­tent to go along with the IDC, in large part because his own pri­or­i­ties tend to favor con­strained bud­gets. He's refused to active­ly urge them to rejoin Democ­rats (though he's said it would be ​"opti­mal" if they did).
Yet in the months fol­low­ing Hillary Clinton's trounc­ing in the gen­er­al elec­tion, the cen­trist wing of the par­ty he rep­re­sents has nev­er been weak­er than it is now on the nation­al stage. Mem­bers of the New York Renews coali­tion — gen­er­al­ly clos­er to the Democ­rats' Bernie Sanders wing — see the CCPA as a chance to hold his feet to a fire lit by pro­gres­sive vot­ers. IDC spon­sor­ship of the bill could turn the CCPA into a polit­i­cal­ly easy oppor­tu­ni­ty to chal­lenge Trump on the nation­al stage — some­thing he seems inclined to do, giv­en the flur­ry of cli­mate-relat­ed announce­ments he made in the days after the White House's with­draw­al from the Paris Accord. Despite this, he's remained qui­et about the CCPA.
Regard­less of what hap­pens in the Sen­ate, Bautista says shock waves from the bill are already being felt. In ear­ly June, Cuo­mo announced the cre­ation of a task force on cli­mate jobs along with sev­er­al oth­er mea­sures seem­ing­ly inspired by the CCPA. Lan­guage from the bill, too — includ­ing the 40 per­cent invest­ment pro­vi­sion — was lift­ed almost ver­ba­tim and includ­ed in the ​"100 by ​'50" Act intro­duced by Sens. Jeff Merkley (D‑Ore.), Bernie Sanders (I‑Vt.) and oth­ers short­ly before late April's People's Cli­mate March, out­lin­ing a tran­si­tion to 100 per­cent renew­able ener­gy usage by 2050. ​"This bill is just one of a vari­ety of approach­es that we'll be advanc­ing in the com­ing years," Bautista says. Now, Avel­la and his cau­cus col­leagues have to decide whether it will be allowed to move forward.
"The IDC was cre­at­ed as a way to get things done with the Repub­li­cans," Bautista says of the bill's still-uncer­tain prospects for pass­ing through the leg­is­la­ture with bipar­ti­san sup­port. ​"So prove that it can!"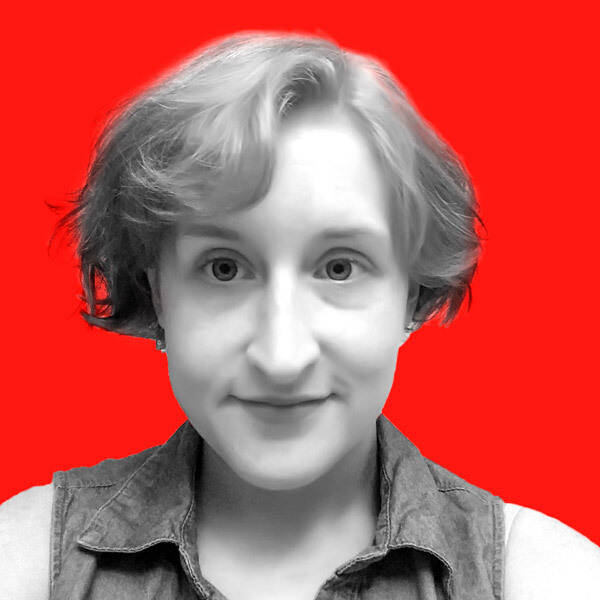 Kate Aronoff
is a Brook­lyn-based jour­nal­ist cov­er­ing cli­mate and U.S. pol­i­tics, and a con­tribut­ing writer at The Inter­cept. Fol­low her on Twit­ter @katearonoff.