Dozens of Activists Arrested in Battle Against a Fracking "Gateway Drug" in New York
Residents of New York's Finger Lakes argue that gas projects would spell ecological and economic disaster for the region.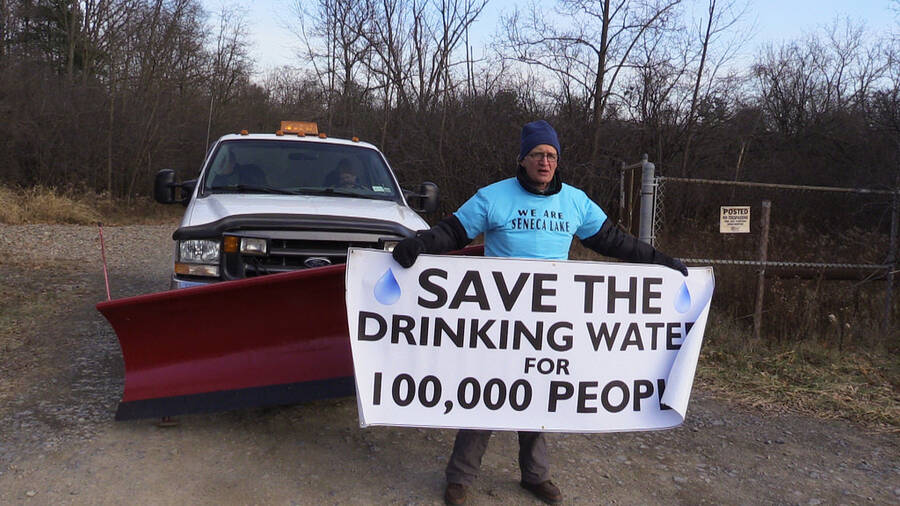 Tens of thou­sands of years ago, as mas­sive sheets of ice moved across riv­er val­leys in what's now west-cen­tral New York, they cut 11 deep grooves that even­tu­al­ly became the Fin­ger Lakes. Some 390 mil­lion years before that, in the sea that once cov­ered the Appalachi­an Basin, algae and oth­er organ­ic mat­ter mixed togeth­er with min­er­al par­ti­cles and set­tled, a black sludge that was trans­formed over mil­lions of years into the Mar­cel­lus Shale, the gas-rich rock for­ma­tion that stretch­es from New York down to West Vir­ginia. And as the sea dried up, it left behind huge deposits of salt, which began to be mined in the nine­teenth cen­tu­ry, cre­at­ing a hon­ey­comb of hol­lowed-out cav­erns deep underground.
"These are just ordinary people who have exhausted every possible means of expressing their opposition and are at wits' end," says Yvonne Taylor, a co-founder of Gas Free Seneca.
Today, this geo­log­i­cal his­to­ry is at the heart of a bat­tle being waged by Fin­ger Lakes res­i­dents to stop two pro­posed gas stor­age projects they believe pose a grave risk to the ecol­o­gy of region and the peo­ple who live there — projects that, in the words of biol­o­gist and author San­dra Ste­in­graber, threat­en to ​"turn us into an extrac­tion colony for investor profits."
On Wednes­day evening, Ste­in­graber was tak­en away in hand­cuffs from the small town hall in Read­ing, New York, along­side 86-year-old Roland Mick­lem and Colleen Boland, a retired Air Force sergeant. All three had pled guilty to tres­pass­ing on the prop­er­ty of Crest­wood Mid­stream, a Hous­ton-based nat­ur­al gas com­pa­ny that stores fracked methane in giant under­ground salt cav­erns along the west­ern shore of Seneca Lake, the largest of the Fin­ger Lakes.
Ste­in­graber, Mick­lem and Boland, who each chose to spend 15 days in jail rather than pay the $250 fine, are among more than 50 peo­ple who have been arrest­ed over the past four weeks dur­ing a series of block­ades to protest Crestwood's plans to expand its methane stor­age in the salt cav­erns by a third. (Mick­lem end­ed up being released Thurs­day due to health concerns.)
In addi­tion to the methane expan­sion, the activists are also fight­ing a sep­a­rate Crest­wood project that would con­vert two cav­erns into a facil­i­ty that could store 2.1 bil­lion bar­rels of liq­ue­fied petro­le­um gas (LPG) — most­ly propane and some butane.
The projects, which were first pro­posed five years ago by Iner­gy, Crestwood's pre­de­ces­sor com­pa­ny, have faced strong oppo­si­tion from locals who see the poten­tial for cat­a­stroph­ic acci­dents and envi­ron­men­tal dev­as­ta­tion, and fear the indus­tri­al­iza­tion of a region whose eco­nom­ic con­di­tion depends heav­i­ly on its envi­ron­men­tal integri­ty. So far, 13 munic­i­pal­i­ties have passed res­o­lu­tions oppos­ing the LPG project, includ­ing Watkins Glen, which lies two miles south of the Crest­wood site and is home to 1,900 people.
But influ­en­tial state politi­cians like Sen­a­tors Kirsten Gilli­brand and Charles Schumer have remained silent on the issue despite pleas from the projects' oppo­nents to inter­vene, and the project has won the sup­port of the Schuyler Coun­ty Leg­is­la­ture (though not with­out con­tro­ver­sy).
In August, New York's Depart­ment of Envi­ron­men­tal Con­ser­va­tion, which has juris­dic­tion over the LPG project, announced that it would hold off on rul­ing on the project until an ​"issues con­fer­ence" could be held to exam­ine the con­cerns about the project's safe­ty. But last week, the DEC issued a draft per­mit for the project, which pro­test­ers have inter­pret­ed as a sig­nal that the agency is lean­ing toward approval. Pri­ma­ry juris­dic­tion on the methane stor­age expan­sion, mean­while, lies with the Fed­er­al Ener­gy Reg­u­la­to­ry Com­mit­tee (FERC), which last month gave Crest­wood the go-ahead to begin con­struc­tion—a devel­op­ment that sparked the wave of civ­il disobedience.
"These are just ordi­nary peo­ple who have exhaust­ed every pos­si­ble means of express­ing their oppo­si­tion and are at wits' end," says Yvonne Tay­lor, a co-founder of Gas Free Seneca, a group formed in 2011 to oppose the Crest­wood projects.
One major con­cern cit­ed by the pro­test­ers is the geo­log­i­cal sta­bil­i­ty of the salt cav­erns where the gas would be stored, and the risk of a dis­as­ter such as an explo­sion or col­lapse in the salt caves, that could lead to human casu­al­ties and eco­log­i­cal devastation.
"These cav­erns were nev­er designed to hold hydro­car­bon gas­es," says Ste­in­graber, who lives with her fam­i­ly in near­by Tru­mans­burg and is one of the orga­niz­ers of We Are Seneca Lake, the group that is stag­ing the block­ades. ​"If you want­ed to design a struc­ture to safe­ly store a whole bunch of com­pressed, explo­sive hydro­car­bon gas­es under­ground, the archi­tect wouldn't come up with this plan. This is just acci­den­tal space that's left over."
This year, Rob MacKen­zie, the for­mer CEO of Cayu­ga Med­ical Cen­ter, per­formed a risk analy­sis of the Crest­wood LPG project. Accord­ing to his find­ings, there is a more than 40 per­cent chance that a dis­as­ter of ​"seri­ous or extreme­ly seri­ous con­se­quences" will occur over the next 25 years, whether in the cav­erns them­selves or dur­ing the trans­port of the gas to the facil­i­ties via truck and rail, anoth­er fear of the oppo­nents of the project. (A con­sult­ing firm hired by Crest­wood has dis­put­ed the valid­i­ty of the study.)
Accord­ing to Mackenzie's report, between 1972 and 2012 18 ​"seri­ous or extreme­ly seri­ous" inci­dents occurred at salt cav­ern stor­age facil­i­ties in the Unit­ed States. In Hutchin­son, Kansas, for exam­ple, in 2001, gas leaked from a salt-mine stor­age facil­i­ty and migrat­ed sev­en miles under­ground to the city cen­ter, set­ting off a series of explo­sions that killed two people.
"As much as the com­pa­ny wants us to believe this is per­fect­ly safe, you can't rule out equip­ment fail­ure or human error," says Taylor's part­ner, Joseph Camp­bell, also a co-founder of Gas Free Seneca.
Oppo­nents of the Crest­wood projects also note that there is evi­dence that one of the cav­erns in which the gas will be stored suf­fered a par­tial col­lapse sev­er­al decades ago, lead­ing to fears that Seneca Lake will be the site of a dis­as­ter like the one that occurred Bay­ou Corne, Louisiana, in 2012, when a salt mine col­lapsed, cre­at­ing a sink­hole that is now more than 26 acres wide and still growing.
"Even though the risk of cat­a­stro­phe may not be a … prob­a­ble event," says Ste­in­graber, ​"if the con­se­quences are unfix­able dev­as­ta­tion and the loss of drink­ing water for a huge num­ber of peo­ple, we find that to be an unac­cept­able situation."
Faith Meck­ley, one of the orga­niz­ers of We Are Seneca Lake, was born and raised in Gene­va, at the north shore of the lake, and grew up hik­ing in Watkins Glen State Park. A jour­nal­ism stu­dent at Itha­ca Col­lege, she took the fall semes­ter off to take part in the Great March for Cli­mate Action, walk­ing 1,800 miles, from New Mex­i­co to the Ohio-Penn­syl­va­nia bor­der, before leav­ing the march in Octo­ber to return to the Fin­ger Lakes and help orga­nize the Seneca Lake fight.
"The scari­est thing is imag­in­ing that beau­ti­ful area we have on the south end of the lake… some­times I imag­ine that as a crater," says Meck­ley. ​"And that's what it could become. If there were a col­lapse or some sort of major event and an explo­sion were to occur, it could be a huge and cat­a­stroph­ic event."
Oppo­nents of the projects are also con­cerned about the poten­tial impact on water qual­i­ty in Seneca Lake, which pro­vides drink­ing water for 100,000 local res­i­dents. When gas is pushed into the salt cav­erns, Ste­in­graber explains, it dis­places salty brine, which could poten­tial­ly trav­el through fis­sures in the rock and work its way into the lake — which is already the salti­est of the Fin­ger Lakes — as could the gas itself. Due to the depth of Seneca Lake and the way it drains, says Ste­in­graber, should a con­t­a­m­i­na­tion occur, ​"the amount of time it would take to get all the con­t­a­m­i­nants out would be mea­sured in human gen­er­a­tions, not days or weeks."
And then there are the eco­nom­ic con­cerns. More than 20 mil­lion tourists vis­it the Fin­ger Lakes each year, attract­ed by the dra­mat­ic landscape's glacial gorges, lakes and water­falls. Many locals, beyond their own per­son­al attach­ment to that land­scape, wor­ry about what will hap­pen to the tourism if it is marred by industrialization.
Tourists also vis­it the Fin­ger Lakes for its thriv­ing wine indus­try, which last month led Wine Enthu­si­ast mag­a­zine to declare New York State the ​"wine region of the year." Con­sid­ered the crown jew­el of the Fin­ger Lakes, Seneca Lake is large­ly respon­si­ble for the unique micro­cli­mate that has allowed more than 100 winer­ies to flour­ish — ​"the heart­beat of our local econ­o­my," says Ste­in­graber. But wine grapes are a prod­uct of their envi­ron­ment, sen­si­tive to pol­lu­tion and contaminants.
"This whole indus­try depends on clean water and fer­tile soil and clean air," says Art Hunt. Hunt is the co-own­er, with his wife, Joyce, of Hunt Coun­try Vine­yards, a sixth-gen­er­a­tion farm on near­by Keu­ka Lake that is one of some 250 area busi­ness­es that have joined Gas Free Seneca. More­over, should an indus­tri­al acci­dent occur, even if the eco­log­i­cal impact was min­i­mal, some locals fear that it would come to define the region.
"This area is known as the Fin­ger Lakes wine region, and that's what's get­ting inter­na­tion­al atten­tion," says Joyce Hunt. ​"If there were to be an acci­dent, … the tourism would stop."
Crest­wood has main­tained that the pro­posed stor­age facil­i­ties are per­fect­ly safe, and has tout­ed the LPG project, which will it says will cre­ate 10 per­ma­nent jobs and add more than $25 mil­lion to the local tax base, as an eco­nom­ic boon for the region (the project also has been endorsed by the Unit­ed Steel­work­ers). The com­pa­ny also points out that gas stor­age in the area is not a new phe­nom­e­non: Crest­wood itself has been stor­ing methane in the cav­erns since 1997, and there are two oth­er salt-cav­ern LPG stor­age facil­i­ties in near­by coun­ties, one of which is owned by Crestwood.
A web­site cre­at­ed by Crest­wood to refute con­cerns about the LPG project, NYPropaneAd​vo​ca​cy​.com, states that ​"the unique geol­o­gy of local salt for­ma­tions makes these salt cav­erns ide­al for stor­ing propane," and points out FERC and the state geol­o­gist have reviewed the company's geo­log­i­cal data on the salt cav­erns and have approved the project as safe. But many oppo­nents of the projects see FERC as a rub­ber-stamp machine, and are out­raged that Crest­wood refus­es to release its data and the maps of the cav­erns to the public.
"We don't know how sta­ble those cav­erns are, and we're being com­pelled to bear risks that we're not even informed of," says Ste­in­graber. ​"We can't real­ly offer informed con­sent, because we're not allowed to see the data that FERC used to make its decision."
More­over, some oppo­nents fear that the cur­rent pro­pos­als are just set­ting the stage for Crest­wood to fur­ther expand its facil­i­ty. Accord­ing to Gas Free Seneca's Yvonne Tay­lor, ​"This is just the camel's nose under the tent."
Crestwood's plans also tap into local con­cerns about the future of frack­ing in New York State, where a mora­to­ri­um has been in place since 2008. Frack­ing oppo­nents' fears seemed to be val­i­dat­ed last month, when Cap­i­tal New York report­ed that Gov. Andrew Cuomo's admin­is­tra­tion had edit­ed a study on frack­ing in the state to down­play the poten­tial dan­gers and elim­i­nate entire­ly a line that not­ed the poten­tial risk of pipeline trans­port and under­ground stor­age of methane. Mean­while, across the state, con­struc­tion of the infra­struc­ture need­ed to sup­port the dis­tri­b­u­tion of gas import­ed from oth­er states, such as pipelines, com­pres­sor sta­tions, and stor­age and treat­ment facil­i­ties, has revved up.
Faith Meck­ley sees such con­struc­tion as prepa­ra­tion for an age when New York's frack­ing mora­to­ri­um is lift­ed and the dam opened. ​"When you look at the map and see the web of frack­ing infra­struc­ture, it's obvi­ous that this is sort of prim­ing New York for an age when it will accept frack­ing itself," says Meck­ley. ​"The infrastructure's all there, basi­cal­ly ready to go."
Tay­lor agrees. ​"If we allow [the Crest­wood projects] in," she says, ​"it's just a gate­way drug for frack­ing in New York."
Four years into the cam­paign to put a stop to Crestwood's plans, the pro­test­ers' frus­tra­tion with the polit­i­cal sys­tem is pal­pa­ble. Ear­li­er this month, speak­ing from Wash­ing­ton D.C., Meck­ley said, ​"I'm walk­ing past these big, tall, white, glo­ri­ous gov­ern­ment build­ings, and it just feels so fake to me right now." Meck­ley, who was in D.C. to par­tic­i­pate in protests at FERC head­quar­ters dur­ing the cul­mi­na­tion of the Cli­mate March, sees the Seneca Lake bat­tle as one of count­less inci­dents across the coun­try in which cit­i­zens' voic­es are being drowned out by corporations.
"This inci­dent here at Seneca Lake, which went for­ward despite huge pub­lic oppo­si­tion, is not an iso­lat­ed inci­dent in our coun­try," she said. ​"I've walked through mul­ti­ple states and talked with the peo­ple who live there and learned about their sto­ries and what they're fac­ing, and it's hap­pen­ing everywhere."
Despite, or per­haps because of, this frus­tra­tion, oppo­nents of the projects are dig­ging their heels in. "[Win­ning] is the only option for me," Meck­ley said ear­li­er this month. ​"We're going to keep putting our­selves in the way of Crest­wood activ­i­ties as much as we can" and putting pres­sure on local offi­cials, she said, adding that We Are Seneca Lake's ranks are grow­ing, as more and more peo­ple are will­ing to put them­selves on the line at Crestwood's gate. ​"We have rein­force­ments com­ing in, so that we can sus­tain this for a long time," she said.
Meckley's words were borne out this week, as the cam­paign inten­si­fied with dai­ly block­ades, and dai­ly arrests (includ­ing of Meck­ley, who was arrest­ed Mon­day). Yes­ter­day, orga­niz­ers say, the block­ades shut Crestwood's trucks out of the facil­i­ty for sev­en hours. Ten­sion between the pro­test­ers and local law enforce­ment has also inten­si­fied, as the sher­iff has accused the pro­test­ers of eat­ing up his department's resources, with pro­test­ers coun­ter­ing that pro­tect­ing the inter­ests of a Texas-based com­pa­ny shouldn't be among the sheriff's priorities.
Speak­ing to a crowd of over 100 peo­ple at a ral­ly before her sen­tenc­ing Wednes­day night, Ste­in­graber asked, ​"Why are the Schuyler Coun­ty deputies being turned into a pri­vate secu­ri­ty force for Hous­ton-based Crest­wood when gen­er­a­tion of res­i­dents are endan­gered by Crestwood's plans to bring explo­sive gas into our com­mu­ni­ty and bury it by a source of drink­ing water for 100,000 people?"
She also urged the crowd not to let up. ​"If I don't go home tonight, I do not want a vig­il," she said. ​"All I want is for you to take my place."
The next morn­ing, nine more pro­test­ers were arrest­ed at Crestwood's gates.
Mol­ly Ben­net
is an Asso­ciate Edi­tor at In These Times. She attend­ed Wes­leyan Uni­ver­si­ty and was pre­vi­ous­ly a reporter for New York Magazine.