"This Will Have a Ripple Effect Across the Country": State of New York Bans Fracking
After years of pushing in New York, environmental activists have finally chalked up a victory against hydraulic fracturing.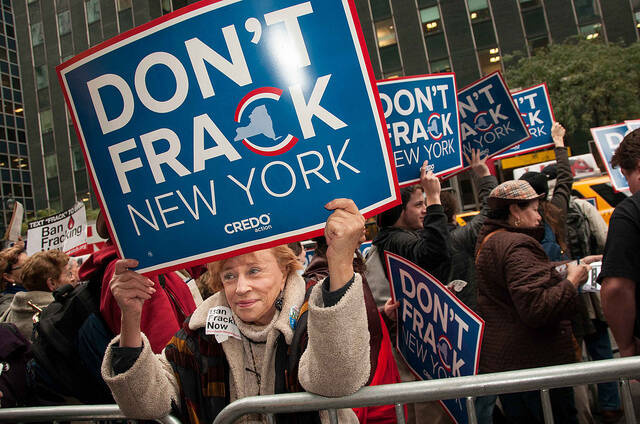 Six years after pub­lic oppo­si­tion began to mount, the state of New York is mov­ing to pro­hib­it hydraulic frac­tur­ing, or ​"frack­ing" — the con­tro­ver­sial drilling prac­tice that involves blast­ing apart shale rock for­ma­tions with chem­i­cals and water in order to access oil and nat­ur­al gas deposits.
"This will have a ripple effect across the country. ... It will really embolden the growing national movement against fracking."
"I can­not sup­port high-vol­ume hydraulic frac­tur­ing in the great state of New York," Health Com­mis­sion­er Howard Zuck­er announced at a Wednes­day cab­i­net meet­ing along­side Gov­er­nor Andrew Cuo­mo. Moments lat­er, the state's envi­ron­men­tal chief Joseph Martens said he would issue a legal­ly bind­ing rec­om­men­da­tion to pro­hib­it fracking.
Once final­ized, the out­right ban will replace the state's de-fac­to mora­to­ri­um, in place since 2009, mark­ing the end of one of the longest, most polit­i­cal­ly heat­ed debates on the sub­ject in the nation. In the end, Zuck­er said the lack of sci­en­tif­ic knowl­edge on the long-term pub­lic health impact of frack­ing makes the drilling tech­nique unsafe.
"I think the process that the gov­er­nor used to get there was tor­tured, to say the least," says Bruce Fer­gu­son, an activist with Catskill Cit­i­zens for Safe Ener­gy, based in Sul­li­van Coun­ty. But even­tu­al­ly, the admin­is­tra­tion ​"did fol­low the trail of sci­en­tif­ic evi­dence and came to the right conclusion."
After years of call­ing for a ban and encour­ag­ing towns to pass their own bans, activists are cel­e­brat­ing the land­mark deci­sion. Ver­mont passed a frack­ing ban in 2012, but New York is the first state with sig­nif­i­cant gas deposits to pro­hib­it the practice.
"When I got involved in this in the spring of 2008, there were just a hand­ful of peo­ple work­ing on the issue," Fer­gu­son says. ​"If there had not been this tremen­dous out­pour­ing of grass­roots sup­port since 2008, there's no ques­tion that New York would [have been] fracked for years now."
Cru­cial, too, was the activist role of med­ical pro­fes­sion­als. The New York State Med­ical Soci­ety, the Amer­i­can Lung Asso­ci­a­tion in New York and the Amer­i­can Acad­e­my of Pedi­atrics all raised con­cerns as the state con­duct­ed its long-term pub­lic health study, which began in Sep­tem­ber 2012. The health-focused log­ic behind the forth­com­ing ban stands in stark con­trast to the reg­u­late-as-you-go method fol­lowed by most states.
"Many states across the coun­try went ahead and fracked before under­stand­ing what the poten­tial health effects would be and real­ly sub­ject­ed the peo­ple liv­ing in the states to a large pub­lic health exper­i­ment, like guinea pigs," says Emi­ly Wurth, water pro­gram direc­tor at Food & Water Watch, the nation's biggest anti-frack­ing group. ​"It's refresh­ing to see the state of New York take a much more pre­cau­tion­ary approach to pro­tect pub­lic health and the environment."
Oth­er polit­i­cal and eco­nom­ic fac­tors were at play, too. The Cuo­mo admin­is­tra­tion faced increas­ing­ly vis­i­ble oppo­si­tion from the Left over its per­ceived ​"stalling" on the issue: Cuomo's under­dog chal­lengers in September's pri­ma­ry and November's gen­er­al elec­tion—Zephyr Tea­chout and Howie Hawkins, respec­tive­ly — cam­paigned heav­i­ly on an anti-frack­ing mes­sage and both per­formed sur­pris­ing­ly well. More­over, with falling oil and nat­ur­al gas prices, the poten­tial eco­nom­ic ben­e­fits of drilling are not as pro­nounced as they once were.
The nation's two biggest oil and gas lob­by­ing groups, the Amer­i­can Petro­le­um Insti­tute and America's Nat­ur­al Gas Alliance, expressed dis­may over the decision.
Empire State reg­u­la­tors are chal­leng­ing a pow­er­ful nar­ra­tive from indus­try — the idea that anti-frack­ing activists are essen­tial­ly emo­tion­al­ly dri­ven, anti-sci­ence quacks.
"You've had the EPA head call­ing hydraulic frac­tur­ing com­plete­ly safe, and if it's good enough for the experts at the top of the Oba­ma admin­is­tra­tion, it seems strange that the New York Depart­ment of Health would have a prob­lem with this," says Julia Bell, spokesper­son for the Inde­pen­dent Petro­le­um Asso­ci­a­tion of Amer­i­ca, anoth­er indus­try trade group.
Activists say the deci­sion will strength­en efforts to rein in the drilling prac­tice nationwide.
"This will have a rip­ple effect across the coun­try," says Emi­ly Wurth at Food and Water Watch. ​"It will real­ly embold­en the grow­ing nation­al move­ment against fracking."
Two lib­er­al-lean­ing states, in par­tic­u­lar, face heat­ed bat­tles over frack­ing. In Mary­land, out­go­ing Gov­er­nor Mar­tin O'Malley just put an end to the state's de-fac­to mora­to­ri­um, releas­ing a set of sup­pos­ed­ly respon­si­ble ​"best prac­tices" for drilling. But activists are hop­ing to con­vince the state's veto-proof Demo­c­ra­t­ic major­i­ty leg­is­la­ture to pass an out­right ban. Mean­while, in Cal­i­for­nia, Gov­er­nor Jer­ry Brown is fac­ing sim­i­lar demands from green groups.
Polls have shown the Amer­i­can pub­lic increas­ing­ly oppos­es frack­ing. But Cuomo's deci­sion marks the clear­est shift in actu­al polit­i­cal pow­er toward activists bent on stop­ping such drilling.
"When the ini­tial mora­to­ri­um passed here, that had nation­al and inter­na­tion­al rever­ber­a­tions," says Renee Vogel­sang, upstate region­al direc­tor of New York­ers Against Frack­ing. ​"The same thing's going to hap­pen today."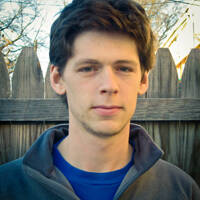 Cole Stan­gler
writes about labor and the envi­ron­ment. His report­ing has also appeared in The Nation, VICE, The New Repub­lic and Inter­na­tion­al Busi­ness Times. He lives in Paris, France. He can be reached at cole[at]inthesetimes.com. Fol­low him
@colestangler
.