Laundromat Workers Air New York's Dirty Laundry in Performance Piece
A new film/performance spotlights the often-invisible workers who fold the clothes, maintain the machines and know your secrets.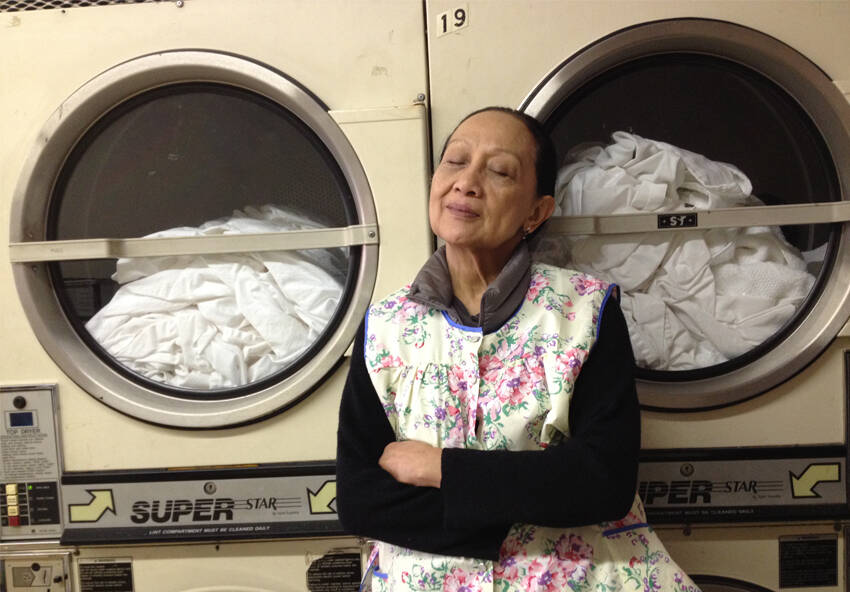 Nes­tled in the crevices between cor­ner bode­gas and twist­ed alleys, the cor­ner laun­dro­mat is the town square of the post­mod­ern city. It's where neigh­bors gath­er to gos­sip and strangers gath­er to check help-want­ed ads as their dirty under­things min­gle. And nowhere is the laun­dro­mat a more cen­tral insti­tu­tion than in New York City, where the pre­mi­um on urban space makes it dif­fi­cult to fit wash­ing machines inside apart­ments that are bare­ly big enough for the ten­ant to turn around in, much less a spin cycle.
Paradoxically, though the coin-operated laundromat is designed to replace the labor of hand-washing, as with many other modern conveniences, the workers remain necessary, though erased.
It's in this churn­ing admix­ture of the per­son­al and pub­lic that film­mak­er Lynne Sachs and play­wright Lizzie Olesker stage their doc­u­men­tary-fic­tion-per­for­mance piece, Every Fold Mat­ters.
The project fore­grounds the often-ignored work­ers who wash drop-off loads and man­age the self-ser­vice machines. Para­dox­i­cal­ly, though the coin-oper­at­ed laun­dro­mat is designed to replace the labor of hand-wash­ing, as with many oth­er mod­ern con­ve­niences, the work­ers remain nec­es­sary, though erased (just as vac­u­um clean­ers are still oper­at­ed by house­keep­ers, and mech­a­nized agri­cul­ture still relies on ​"stoop labor").
Sachs, who has also chron­i­cled the lives of migrant work­ers and Viet­nam War pro­test­ers, tends to explore the over­looked cor­ners of civ­i­liza­tion, and the peo­ple who fold your sheets are among the least vis­i­ble in the city. Still, the sto­ries of laun­dry work­ers can't be done jus­tice just by depict­ing them as exploit­ed labor­ers; they speak before the cam­era about both what they love and what they hate about their jobs. And often the work­ers emerge as spec­ta­tors of the quo­tid­i­an dra­ma of the city, as they seek to scrub out people's hid­den stains.
Sachs and Olesker con­struct­ed the script out of real inter­views with laun­dry work­ers in New York over a peri­od of months. In one scene, per­form­ers act out the method­i­cal steps of shirt-fold­ing in a per­cus­sive drum-dance ensem­ble. In anoth­er, an actor play­ing a laun­dry work­er reflects on how she falls into an imag­i­na­tive trance as she fin­gers strangers' sor­did secrets:
All you get is their name and their bag of dirty stuff — you write it on a tag — a tag for all that sweat, cof­fee, peri­od stains, and… what­ev­er. … you can tell someone's sto­ry just by what they've worn, how it's dirty — you know?
The actors ​"play­ing" cus­tomers among the machines and coun­ter­tops may elic­it con­fused dou­ble-takes and chuck­les from passers­by (The pro­duc­tion was orig­i­nal­ly com­mis­sioned as part of ​"Dirty Laun­dry: Loads of Prose," a series of laun­dro­mat read­ings and per­for­mances orga­nized by Emi­ly Rubin, now in its tenth year.)
Sachs has arranged with local laun­dry busi­ness­es to stage and screen the show dur­ing busi­ness hours. ​"Ide­al­ly," Sachs says, ​"the laun­dro­mat does­n't even close, so we catch peo­ple as they're doing their per­son­al domes­tic work, clean­ing their clothes. But then we have oth­er peo­ple come in inten­tion­al­ly to see it. I kind of like the ambi­gu­i­ty around what's a spectator."
But find­ing a will­ing venue is a chal­lenge; Sachs notes that some own­ers are uncom­fort­able about pos­si­bly dis­rupt­ing busi­ness by host­ing a seat­ed audi­ence among the reg­u­lar launderers.
As doc­u­men­tary-fic­tion, Every Fold's actors voice nar­ra­tives com­posed from inter­views with work­ers, in actu­al laun­dry set­tings, blend­ing real and fic­tion­al scenes to evoke the com­mon expe­ri­ences of urban laun­der­ing: Between the clicks of quar­ters, qui­et courtships are sparked in shy tus­sles over mis­placed lin­gerie. Eth­i­cal dilem­mas spi­ral out of a dry­er that drops a care­less­ly crum­pled $20 bill into an anony­mous fist. The work­ers' sto­ries medi­ate between the pub­lic aspect of the busi­ness — serv­ing impa­tient, some­times men­tal­ly unsta­ble cus­tomers — and the pri­vate realm as they poke through snatch­es of strangers' lives, from loose change to blood­stained tank tops.
I attend­ed a per­for­mance in May as part of the Work­ers Unite! Film Fes­ti­val. Held at the old lith­o­graph­ic work­ers' union hall in New York, it had a dif­fer­ent feel, since it was set in a real audi­to­ri­um with no wash­ing machines. But the set­ting allowed the labor ethos of the project to shine through. In one scene, per­former Jas­mine Hol­loway recites the man­i­festo of the 1881 Atlanta wash­er woman's strike in the voice of a black 19th-cen­tu­ry laun­dress: ​"We will have full con­trol of the city's wash­ing at our own prices, as the city has con­trol of our hus­bands' work at their prices. Don't for­get this!"
Cut to anoth­er scene, gen­er­a­tions removed from the bar­rels slosh­ing with lye and starch: Hol­loway plays a con­tem­po­rary laun­dry work­ers, recall­ing ten­der­ly how her moth­er taught her how to fold, press­ing each crease with care, even know­ing it will be soiled again in min­utes: ​"Take your time. Make every fold mat­ter. Put your­self into it. Like you mean it."
Hol­loway, whose grand­moth­er worked in a laun­dry cen­ter, exudes proud rage when chan­nel­ing the protest­ing wash­er woman, but puts just as much pas­sion into the hyp­not­i­cal­ly rote fold­ing of a sim­ple swatch: the same pair of hands, reach­ing across gen­er­a­tions and between the screen and real life.
For the last scene, the actors speak in their own voic­es about their own mem­o­ries of doing laun­dry — or not being able to, as when one man dis­cov­ered one day that his old neigh­bor­hood laun­dro­mat had closed:
But when I got to the cor­ner, the laun­dro­mat was gone… It was one of the only places where you still can talk to strangers.
Laun­dro­mats are shut­ter­ing across the city, fol­low­ing the trend of gen­tri­fi­ca­tion and the grow­ing preva­lence of laun­dry facil­i­ties in build­ing base­ments or apart­ments. But Every Fold Mat­ters dri­ves home why such com­mu­ni­ty spaces remain irre­place­able: As they mill through the lim­i­nal space between machines and aisles, cus­tomers become both spec­ta­tors and per­form­ers — just as on any giv­en day at a laun­dro­mat, the col­lapse of pub­lic and per­son­al space cre­ates the per­fect stage.
Sach­s's last film shone light on a dif­fer­ent crack in the cityscape: the shift-bed apart­ments in Chi­na­town where men share a mat­tress with strangers. Every Fold con­tin­ues to rub its nose in the seams of the urban land­scape, explor­ing how scarce space in a Malthu­sian social cru­cible draws us togeth­er in a sta­t­i­cal­ly charged bond.
Every Fold Mat­ters is a work in progress, and the film­mak­ers are plan­ning to sched­ule more on-site per­for­mances and com­plete a film version.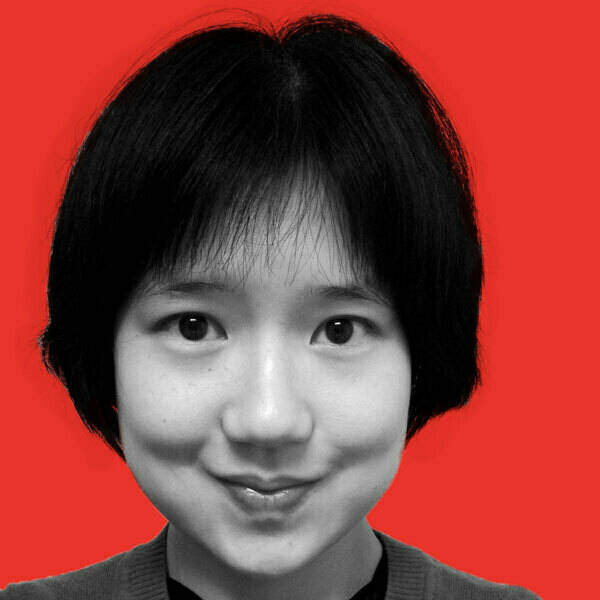 Michelle Chen is a con­tribut­ing writer at In These Times and The Nation, a con­tribut­ing edi­tor at Dis­sent and a co-pro­duc­er of the ​"Bela­bored" pod­cast. She stud­ies his­to­ry at the CUNY Grad­u­ate Cen­ter. She tweets at @meeshellchen.