In Major Win for Nurses, Judge Rescues Brooklyn Hospital From SUNY Shutdown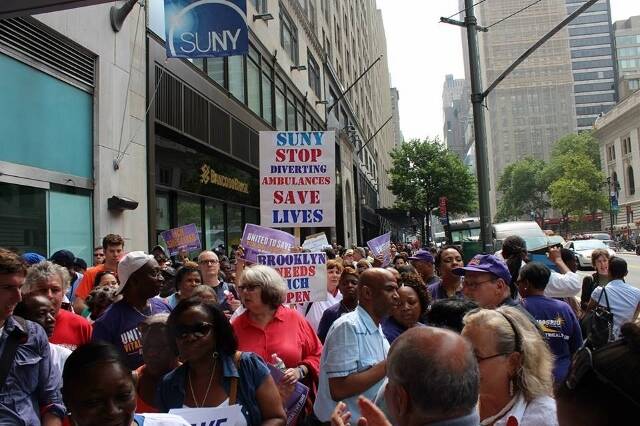 A huge judi­cial rul­ing today set the tone going for­ward for the move­ment to save New York's com­mu­ni­ty hos­pi­tals: Vic­to­ry is, in fact, possible.
SUNY Down­state, the oper­a­tor of Long Island Col­lege Hos­pi­tal (LICH), has been try­ing to close the hos­pi­tal since Feb­ru­ary, even though the local com­mu­ni­ty relies upon it for emer­gency care. But now, less than a week after Judge John­ny Lee Baynes of the New York Supreme Court ruled that must restore ser­vices to their July 19 lev­el, Judge Car­olyn Demarest has vacat­ed her May 2011 order that approved the trans­fer of LICH's assets to SUNY in the first place. SUNY, accord­ing to Demarest, was not tru­ly com­mit­ted to oper­at­ing the hos­pi­tal and did not hold up its end of the bargain.
​"The only real con­sid­er­a­tion for the trans­fer of assets was the rep­re­sen­ta­tion that LICH would be pre­served as a hos­pi­tal serv­ing the peo­ple of Brook­lyn," Demarest's order reads. ​"Recent events have estab­lished that the con­sid­er­a­tion, which the Court found to be fair and rea­son­able in the cir­cum­stances, has failed, pos­si­bly by design, and that this Court, and many of the oth­er inter­est­ed par­ties, may have been delib­er­ate­ly mis­led at the time the trans­fer was approved."
The rul­ing means that all assets revert to LICH, and a court con­fer­ence with Judge Demarest is sched­uled for Thurs­day to fig­ure out how to pro­ceed. In the order, the judge sug­gests that Con­tin­u­um Health Part­ners, Inc. could resume oper­a­tion of the hos­pi­tal right away.
Most remark­able, per­haps, is the fact that Judge Demarest act­ed on her own. After hear­ing reports of the strug­gle to save the hos­pi­tal, she vis­it­ed the facil­i­ty her­self and wit­nessed ambu­lances being divert­ed, which she called a ​"trav­es­ty."
​"This order val­i­dates our sus­pi­cion that SUNY took over LICH with the inten­tion of prof­it­ing off of the real estate," said Jill Furil­lo, a reg­is­tered nurse and exec­u­tive direc­tor of the New York State Nurs­es Asso­ci­a­tion (NYS­NA), which has led the bat­tle to keep LICH open. ​"Real estate prof­its must not be put before the health­care needs of an entire com­mu­ni­ty. We hope that this order will take us one step clos­er to our goal of keep­ing LICH open for care and let­ting prof­i­teers know that we will not let them close any our hos­pi­tals — not LICH, not Inter­faith, not any New York hospital."
How­ev­er, LICH is just one of the hos­pi­tals that NYS­NA, 1199SEIU, and a grow­ing num­ber of com­mu­ni­ty mem­bers are fight­ing to save. The strug­gle for the remain­ing hos­pi­tals got more star-stud­ded this week even as their con­di­tion got more crit­i­cal. On the heels of a ral­ly to save the only hos­pi­tal in the Rock­aways, the penin­su­la along the bot­tom of the bor­ough of Queens that was dev­as­tat­ed by Hur­ri­cane Sandy, Har­ry Bela­fonte, Susan Saran­don and Cyn­thia Nixon showed up Mon­day morn­ing in Man­hat­tan at the site of shut­tered St. Vin­cen­t's hos­pi­tal with Pub­lic Advo­cate and may­oral can­di­date Bill deBla­sio to call for ​"hos­pi­tals, not condos."
​"Health­care is a human right. Health­care is a civ­il right," said Belafonte.
The hos­pi­tal fight remains some­thing like a giant game of whack-a-mole with count­less lives hang­ing in the bal­ance. The win at LICH came just days after the Labor and Deliv­ery and neona­tal inten­sive care units at North Cen­tral Bronx Hos­pi­tal were closed. Ral­lies con­tin­ue in Bed­ford-Stuyvesant to save Inter­faith Med­ical Cen­ter, where, the New York Times not­ed, the loss of psy­chi­atric ser­vices would threat­en Brook­lyn with ​"a severe short­age of inpa­tient men­tal health care."
On August 14, Rock­aways res­i­dents marched in the streets, past homes still being rebuilt after last year's storm and around the only hos­pi­tal they'll be able to reach if anoth­er storm hits the area and ren­ders the bridges inac­ces­si­ble. The ride on the A train to after the ral­ly took near­ly half an hour sim­ply to get off the penin­su­la. The detox unit is already gone at St. John's Epis­co­pal Hos­pi­tal in the Rock­aways; clin­ics are being out­sourced and dial­y­sis is also on the chop­ping block. Mean­while, longer-term deci­sions about the fate of the entire hos­pi­tal remain murky. Detox units are being shut­tered around the city, accord­ing to orga­niz­ers with NYS­NA, and oth­er depart­ments that don't bring in the big bucks are clos­ing or consolidating.
While the hos­pi­tal work­ers, in many cas­es, aren't at risk of los­ing their jobs—the nurs­es and oth­er staff from North Cen­tral Bronx Hos­pi­tal were trans­ferred to Jaco­bi Med­ical Cen­ter — they are lead­ing the fights every­where. 1199 SEIU orga­nized the ral­ly for St. John's; NYS­NA nurs­es turned out in force in the Bronx and have staged esca­lat­ing events while fight­ing court bat­tles along­side 1199 and deBla­sio to main­tain ser­vices at LICH. Because of the unions' will­ing­ness to fight for the entire com­mu­ni­ty, the indi­vid­ual neigh­bor­hood bat­tles have con­sol­i­dat­ed into some­thing that looks like a real movement.
One of the fears of those fight­ing for the hos­pi­tals is that when elec­tion sea­son is over and the politi­cians now mak­ing big promis­es have won (or lost), their ral­lies will be qui­eter, the peo­ple will­ing to take arrest in protest few­er and less famous. It's a jus­ti­fi­able fear, espe­cial­ly for the Rock­aways, where res­i­dents like Lin­da Bow­man have been through this all before. Penin­su­la Hos­pi­tal closed short­ly before Sandy, and as a mem­ber of com­mu­ni­ty group New York Com­mu­ni­ties for Change, Bow­man was part of the fight to keep it open too.
​"I tell the truth, but it does­n't make a dif­fer­ence," Bow­man says. ​"That's just how it is out here. Out here we have noth­ing and if all of us don't pull togeth­er we're not gonna have anything."
The bat­tle over hos­pi­tal access goes beyond New York City or even the state. With no author­i­ty that requires hos­pi­tals or health­care providers in cer­tain areas, they can keep clos­ing, with noth­ing to replace them, because the free mar­ket does­n't find them prof­itable enough. With­out a nation­al health­care sys­tem — which the Afford­able Care Act is not — there is no guar­an­tee that health­care will be avail­able where and when it is needed.
Hos­pi­tals in low-income areas don't make lots of mon­ey. Their emer­gency rooms are filled with peo­ple who don't see pri­ma­ry care doc­tors at all and whose emer­gen­cies are cov­ered by Med­ic­aid, not pri­vate insur­ers. Their com­mu­ni­ties val­ue them even when that care is sub­stan­dard, but to the own­ers, the build­ings may be more valu­able as lux­u­ry con­dos. One may ask about the schools when one moves to a new neigh­bor­hood, but until there's an emer­gency, one rarely asks about near­by hospitals.
Right now, the com­mu­ni­ties are fight­ing and draw­ing head­lines and famous faces and would-be may­ors and Pub­lic Advo­cates. But this fight is going to be a long one, and at some point it may well be less glam­orous. The peo­ple show­ing up now need to stick around for the long haul.
Yet the vic­to­ry at LICH is real, and will help keep the hos­pi­tal open for care, as NYS­NA has vowed all along. For that, this move­ment should jus­ti­fi­ably be celebrating.
Sarah Jaffe
is a for­mer staff writer at
In These Times
and author of
Nec­es­sary Trou­ble: Amer­i­cans in Revolt
, which Robin D.G. Kel­ley called ​
"
The most com­pelling social and polit­i­cal por­trait of our age." You can fol­low her on Twit­ter
@sarahljaffe
.