In Major Win for Nurses, Judge Rescues Brooklyn Hospital From SUNY Shutdown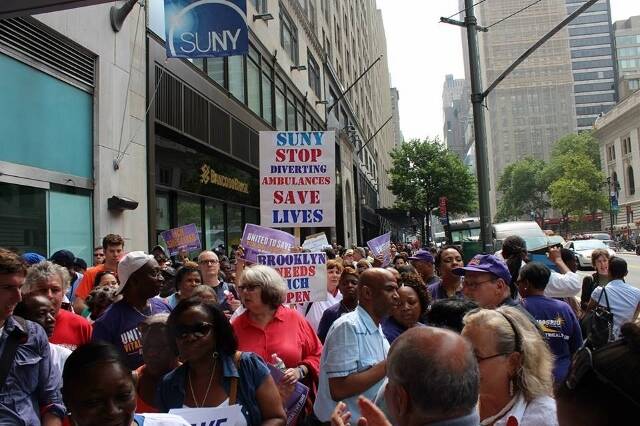 We wanted to make sure you didn't miss the announcement of our new Sustainer program. Once you've finished reading, take a moment to check out the new program, as well as all the benefits of becoming a Sustainer.

A huge judicial ruling today set the tone going forward for the movement to save New York's community hospitals: Victory is, in fact, possible.
SUNY Downstate, the operator of Long Island College Hospital (LICH), has been trying to close the hospital since February, even though the local community relies upon it for emergency care. But now, less than a week after Judge Johnny Lee Baynes of the New York Supreme Court ruled that must restore services to their July 19 level, Judge Carolyn Demarest has vacated her May 2011 order that approved the transfer of LICH's assets to SUNY in the first place. SUNY, according to Demarest, was not truly committed to operating the hospital and did not hold up its end of the bargain.
​"The only real consideration for the transfer of assets was the representation that LICH would be preserved as a hospital serving the people of Brooklyn," Demarest's order reads. ​"Recent events have established that the consideration, which the Court found to be fair and reasonable in the circumstances, has failed, possibly by design, and that this Court, and many of the other interested parties, may have been deliberately misled at the time the transfer was approved."
The ruling means that all assets revert to LICH, and a court conference with Judge Demarest is scheduled for Thursday to figure out how to proceed. In the order, the judge suggests that Continuum Health Partners, Inc. could resume operation of the hospital right away.
Most remarkable, perhaps, is the fact that Judge Demarest acted on her own. After hearing reports of the struggle to save the hospital, she visited the facility herself and witnessed ambulances being diverted, which she called a ​"travesty."
​"This order validates our suspicion that SUNY took over LICH with the intention of profiting off of the real estate," said Jill Furillo, a registered nurse and executive director of the New York State Nurses Association (NYSNA), which has led the battle to keep LICH open. ​"Real estate profits must not be put before the healthcare needs of an entire community. We hope that this order will take us one step closer to our goal of keeping LICH open for care and letting profiteers know that we will not let them close any our hospitals — not LICH, not Interfaith, not any New York hospital."
However, LICH is just one of the hospitals that NYSNA, 1199SEIU, and a growing number of community members are fighting to save. The struggle for the remaining hospitals got more star-studded this week even as their condition got more critical. On the heels of a rally to save the only hospital in the Rockaways, the peninsula along the bottom of the borough of Queens that was devastated by Hurricane Sandy, Harry Belafonte, Susan Sarandon and Cynthia Nixon showed up Monday morning in Manhattan at the site of shuttered St. Vincent's hospital with Public Advocate and mayoral candidate Bill deBlasio to call for ​"hospitals, not condos."
​"Healthcare is a human right. Healthcare is a civil right," said Belafonte.
The hospital fight remains something like a giant game of whack-a-mole with countless lives hanging in the balance. The win at LICH came just days after the Labor and Delivery and neonatal intensive care units at North Central Bronx Hospital were closed. Rallies continue in Bedford-Stuyvesant to save Interfaith Medical Center, where, the New York Times noted, the loss of psychiatric services would threaten Brooklyn with ​"a severe shortage of inpatient mental health care."
On August 14, Rockaways residents marched in the streets, past homes still being rebuilt after last year's storm and around the only hospital they'll be able to reach if another storm hits the area and renders the bridges inaccessible. The ride on the A train to after the rally took nearly half an hour simply to get off the peninsula. The detox unit is already gone at St. John's Episcopal Hospital in the Rockaways; clinics are being outsourced and dialysis is also on the chopping block. Meanwhile, longer-term decisions about the fate of the entire hospital remain murky. Detox units are being shuttered around the city, according to organizers with NYSNA, and other departments that don't bring in the big bucks are closing or consolidating.
While the hospital workers, in many cases, aren't at risk of losing their jobs—the nurses and other staff from North Central Bronx Hospital were transferred to Jacobi Medical Center — they are leading the fights everywhere. 1199 SEIU organized the rally for St. John's; NYSNA nurses turned out in force in the Bronx and have staged escalating events while fighting court battles alongside 1199 and deBlasio to maintain services at LICH. Because of the unions' willingness to fight for the entire community, the individual neighborhood battles have consolidated into something that looks like a real movement.
One of the fears of those fighting for the hospitals is that when election season is over and the politicians now making big promises have won (or lost), their rallies will be quieter, the people willing to take arrest in protest fewer and less famous. It's a justifiable fear, especially for the Rockaways, where residents like Linda Bowman have been through this all before. Peninsula Hospital closed shortly before Sandy, and as a member of community group New York Communities for Change, Bowman was part of the fight to keep it open too.
​"I tell the truth, but it doesn't make a difference," Bowman says. ​"That's just how it is out here. Out here we have nothing and if all of us don't pull together we're not gonna have anything."
The battle over hospital access goes beyond New York City or even the state. With no authority that requires hospitals or healthcare providers in certain areas, they can keep closing, with nothing to replace them, because the free market doesn't find them profitable enough. Without a national healthcare system — which the Affordable Care Act is not — there is no guarantee that healthcare will be available where and when it is needed.
Hospitals in low-income areas don't make lots of money. Their emergency rooms are filled with people who don't see primary care doctors at all and whose emergencies are covered by Medicaid, not private insurers. Their communities value them even when that care is substandard, but to the owners, the buildings may be more valuable as luxury condos. One may ask about the schools when one moves to a new neighborhood, but until there's an emergency, one rarely asks about nearby hospitals.
Right now, the communities are fighting and drawing headlines and famous faces and would-be mayors and Public Advocates. But this fight is going to be a long one, and at some point it may well be less glamorous. The people showing up now need to stick around for the long haul.
Yet the victory at LICH is real, and will help keep the hospital open for care, as NYSNA has vowed all along. For that, this movement should justifiably be celebrating.
Be a Sustainer
We surveyed thousands of readers and asked what they would like to see in a monthly giving program. Now, for the first time, we're offering three different levels of support, with rewards at each level, including a magazine subscription, books, tote bags, events and more—all starting at less than 17 cents a day. Check out the new Sustainer program.
Sarah Jaffe is a Type Media Center Fellow, co-host (with Michelle Chen) of Dissent magazine's Belabored podcast, and a columnist at The New Republic and New Labor Forum. She was formerly a staff writer at In These Times and the labor editor at AlterNet. Her previous book is Necessary Trouble: Americans in Revolt, which Robin D.G. Kelley called ​"The most compelling social and political portrait of our age." You can follow her on Twitter @sarahljaffe.