If the New York Times Wanted Ideological Diversity, Why Not Hire a Socialist?
To the Times, Bret Stephens' racism and climate denial are more acceptable than leftism.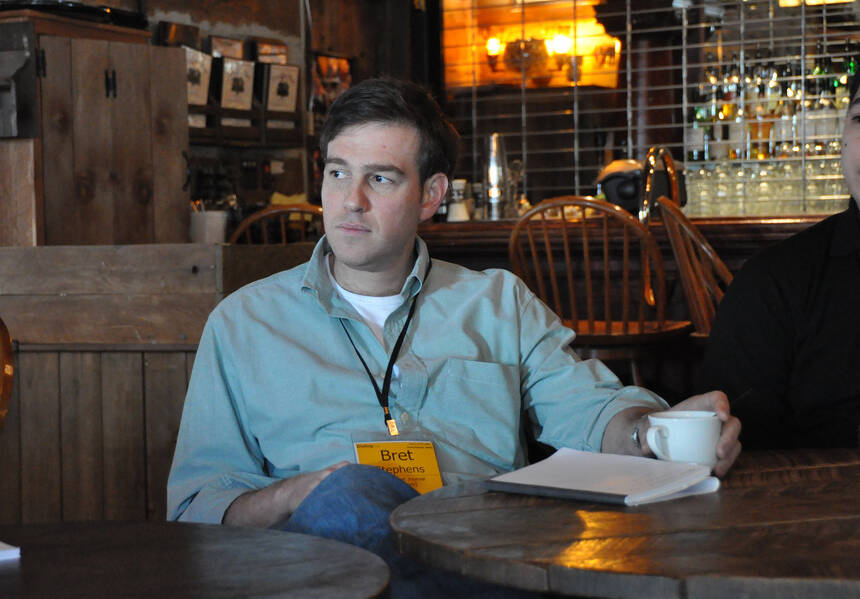 This arti­cle first appeared at Fair​.org
Stephens holds a number of fringe right-wing opinions, namely his consistent climate change denial, anti-Arab racism, anti-black racism, advocacy of torture and insistence that the campus rape epidemic is an "imaginary enemy."
The New York Times is the most influ­en­tial news­pa­per in the Eng­lish-lan­guage world, not just because of its reach and lead­er­ship sta­tus with­in the indus­try, but because it defines the bound­aries of accept­able debate. Being in the New York Times is a legit­imiz­ing event, one that cements ideas as not fringe, ​"oth­er," or in the realm of the dread­ed, career-end­ing ​"con­spir­a­cy the­o­ry." So it under­stand­ably upset many lib­er­als when the Times decid­ed to bestow upon hard-right Wall Street Jour­nal deputy edi­to­r­i­al page edi­tor Bret Stephens the ulti­mate stamp of Accept­able Opin­ion approval by afford­ing him a reg­u­lar op-ed col­umn in the Times.
It's not just that Stephens is yet anoth­er white man, like nine of the oth­er 12 cur­rent colum­nists. As Hamil­ton Nolan thor­ough­ly doc­u­ment­ed over at Fusion (4÷14÷17), Stephens holds a num­ber of fringe right-wing opin­ions, name­ly his con­sis­tent cli­mate change denial, anti-Arab racism, anti-black racism, advo­ca­cy of tor­ture and insis­tence that the cam­pus rape epi­dem­ic is an ​"imag­i­nary enemy."
Stephens has referred to anti­semitism as ​"the dis­ease of the Arab mind," insist­ed Pales­tini­ans have a ​"blood fetish" and ​"blood lust," said Black Lives Mat­ter was a ​"lie" based on the ​"myth of vic­tim­iza­tion," labeled insti­tu­tion­al­ized racism anoth­er ​"imag­i­nary ene­my," called cli­mate change ​"hys­te­ria" and a ​"reli­gion with­out God," and, in a piece sub­tly head­lined ​"I Am Not Sor­ry the CIA Water­board­ed," con­tend­ed Khalid Sheikh Mohammed in fact ​"water­board­ed him­self" by not being ​"truth­ful with his captors."
As oth­ers have not­ed (The Out­line, 4/18/17; Think Progress, 4/13/17), these are all far-right posi­tions that would be usu­al­ly be con­sid­ered out­side the Accept­able Main­stream. What is less com­ment­ed upon is how Stephens' hir­ing high­lights the rad­i­cal asym­me­try at work when con­sid­er­ing what is and isn't a fringe opin­ion. When one goes to the far right — name­ly the neo­con right, which puts a pre­mi­um on anti-Arab and anti-black racism, and fetishizes Amer­i­can excep­tion­al­ism above all else — there doesn't seem to be a line that can't be crossed.
This is in stark con­trast to the oth­er end on the spec­trum, where any­thing slight­ly to the left of Hillary Clin­ton is nonex­is­tent in the staff opin­ion sec­tion at the New York Times. All of the lib­er­al or pro-Demo­c­ra­t­ic Times colum­nists dur­ing the 2016 pri­ma­ry, for exam­ple, were behind Clin­ton or, at the very least, not behind Sanders or his broad­er pol­i­cy aims.
The Times' Paul Krug­man, a promi­nent lib­er­al, was square­ly in the tank for Clin­ton, call­ing (4/25/16) the for­mer sec­re­tary of State ​"the most knowl­edge­able, well-informed can­di­date in this elec­tion," and com­plain­ing (4/8/16) that ​"Mr. Sanders is start­ing to sound like his worst fol­low­ers. … Absence of sub­stance beyond the slo­gans seems to be true of his posi­tions across the board."
"Every seri­ous pro­gres­sive pol­i­cy expert on either health­care or finan­cial reform who has weighed in on the pri­ma­ry seems to lean Hillary," Krug­man false­ly claimed (1/26/17).
Oth­er Times colum­nists sim­i­lar­ly ruled Sanders out: ​"We're not social­ists," Thomas Fried­man (2/17/16) explained dis­mis­sive­ly. Charles Blow (4/27/16) set­tled on Clin­ton on prag­mat­ic grounds, writing:
The ideals are not in dis­pute. What's in dis­pute is whether our ideals can be rea­son­ably accom­plished by a sin­gle admin­is­tra­tion or a gen­er­a­tion. Some­times you have to cut deals to reach ideals. That's politics.
Gail Collins (5/12/16) argued that Democ­rats should ​"let Hillary Clin­ton have the nom­i­na­tion," despite Sanders' ​"inspir­ing vision of change," because only she had ​"the com­pe­tence to run the coun­try from Day 1."
All per­fect­ly fine posi­tions, such that they are — and Krug­man, Blow and Collins like­ly arrived at their stances in total good faith — but the fact that their luke­warm embrace of Clin­ton rep­re­sents the far reach­es of accept­able left opin­ion is telling.
Despite the fact that only 26 per­cent of Amer­i­cans sup­port the Trans-Pacif­ic Part­ner­ship trade deal, and its increas­ing unpop­u­lar­i­ty among unions and activists, the best the Times could muster was self-described ​"soft oppo­nent" Krug­man (3/11/16), whose oppo­si­tion was hyper-qual­i­fied and marked by accu­sa­tions that Sanders ​"demagogu[es] the issue".
Again, on the issue of sin­gle-pay­er health­care — a posi­tion sup­port­ed by a plu­ral­i­ty of Amer­i­cans and a major­i­ty of Democ­rats — the only Times colum­nist to nom­i­nal­ly sup­port the cause, Paul Krug­man, spent weeks dur­ing the pri­ma­ry explain­ing why it wasn't fea­si­ble ("it's just not going to hap­pen any­time soon") and should be tabled until some unknown time in the future.
Oth­er lib­er­al colum­nists, like Blow, Nick Kristof, Gail Collins and Roger Cohen, were either silent on the issue of sin­gle-pay­er health­care or sim­i­lar­ly dis­missed it as unre­al­is­tic ("almost cer­tain­ly an unat­tain­able goal," Cohen insist­ed—11/4/16). Strange­ly, the most con­ser­v­a­tive of the lib­er­al colum­nists, Thomas Fried­man, endorsed the idea in an off­hand thought exper­i­ment last year (1/6/16), but as with Krug­man, sin­gle-pay­er is rel­e­gat­ed to a nor­ma­tive, the­o­ret­i­cal goal, while those push­ing it — name­ly Sanders — are dis­missed as fringe day-dream­ers promis­ing the Moon.
The point is not that any par­tic­u­lar colum­nist is under any left­ist oblig­a­tion to like Sanders, or all of his pol­i­cy goals — it's that the lack of a sin­gle colum­nist sup­port­ing a can­di­date whose plat­form would be down-the-mid­dle in most Euro­pean and Latin Amer­i­can coun­tries shows how far to the right the Over­ton win­dow is in the most influ­en­tial news­pa­per in the world. Ideas like sin­gle-pay­er health­care and free col­lege are dis­missed as pie-in-the-sky fan­tasies, while cli­mate denial, anti-Arab big­otry and anti-woman vit­ri­ol are, accord­ing to Times edi­tors (Huff­in­g­ton Post, 4/14/17), bring­ing a ​"new per­spec­tive to bear" that ​"fur­ther widens" the ​"vibrant diver­si­ty of opin­ions" the paper presents.
Adam H. John­son is a media ana­lyst for Fair­ness and Accu­ra­cy in Report­ing and co-host of the Cita­tions Need­ed podcast.