New York's Low-Wage Workers Rally for Rights and Stir Solidarity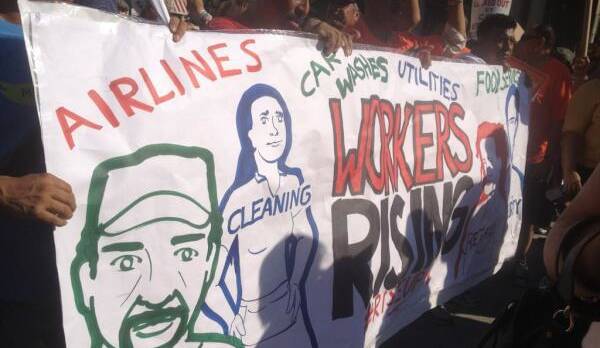 Five o'clock is when lucky New Yorkers leave their workplaces, and many more stay for overtime, or start the late shift, or just keep working until their bosses say they're done. But yesterday, 5 pm was when some of the city's poorest workers took a break together at Union Square – and told the world they've had enough.
Wearing t-shirts, holding banners and banging drums in the punishing sun, the crowd at the New York Workers Rising Day of Action represented taxi drivers, security guards, dishwashers, car washers and chain store clerks. They all had one thing in common: they could really use a raise.
Many of the workers were union members, including a group of Con Edison utility workers who are locked out in a monumental impasse in contract negotiations, and public school teachers, who have locked horns with the billionaire mayor over budget cuts. But the strongest presence at the rally was not traditional organized labor but a cross-section of the city's more precarious, non-unionized sectors, in which many work off the books, often without benefits, sometimes without breaks.
The gathering highlighted the testimonies of low-wage workers, especially immigrants and people of color, who often have little recourse even when their boss breaks the law. Santos Lopez, a local car wash worker recounted the daily hardships he faces while trying to support his family:
In this job and with the salary that I make each week, I have lost my illusions of being able to help my family economically, because what they pay me is not enough to pay my father's medical bills and live a decent life in this country. … I feel frustrated and I wonder what we could do to change these difficult working conditions that we face every day – bosses with no conscience, abuse and humiliation.
Appearing alongside various city officials, the workers expressed frustration with inadequate labor regulations as well as the steady erosion of workers' pay and collective bargaining rights by employers through legal and illegal means.
Among the workers who pivot between the ​"mainstream" workforce and ​"informal" labor are the nannies, elder caregivers and housekeepers who essentially run the households of New York City professionals when they're at the office. That often-invisible labor force, in large part filled with women of color and immigrants, was represented at the rally by Domestic Workers United. The grassroots group scored a victory in 2010 with a landmark ​"Bill of Rights," which established paid leave and anti-discrimination protections for roughly 200,000 domestic workers across New York; they've also inspired a national campaign for similar reforms in other communities.
DWU's outreach coordinator Joycelyn Gill-Campbell, a former domestic worker herself, says the landmark legislation has helped empower domestic workers by providing them with some legal leverage to hold employers accountable. On the other hand, she acknowledges, many employers are still violating workers' rights, and ​"we're still working relentlessly to hold those employers accountable."
The group's chief task now is educating workers and gathering their individual grievances to fuel collective action. Gill-Campbell cited the case of a live-in nanny who recently complained to DWU that she makes just $90 for a 17-hour day.
​"Actually, she's overworked and underpaid," Gill-Campbell says, ​"because at the end of the day, she's working seven days a week, because she gets every other weekend off. So there's still that exploitation and abuse within the industry. So we're working hard trying to implement the laws, through education, ​'know your rights' [training] to the workers."
As state and federal lawmakers remain locked in an impasse over raising the minimum wage of $7.25 an hour, Gill-Campbell says the political inaction over the dirt-poor base wage is ​"adding insult to injury. Because domestic workers, all low wage workers, are the working-class people in this country. And they are the engines that keep the country running."
The low-wage workers' rally folds into a national labor rights movement centered on demands for a minimum-wage hike, more inclusive labor protections (covering ​"excluded" sectors like farm labor and domestic work), and a stronger social safety net, with policies like paid sick leave (an initiative business lobbyists have fought fiercely in City Hall and on Capitol Hill).
In New York in particular, the struggle of low-wage workers matters not just because they've been economically devastated, but because they make up a huge swath of the city. Research by the advocacy coalition United NY, which coordinated the Tuesday action, shows that ​"four in 10 workers in New York City are low-wage workers based on the federal definition and that nearly one-third of workers in New York City earn below $25,000 a year." The minimum wage floor, which is supposed to protect the poorest, has effectively sunk to miserable depths; the state's $7.25 minimum wage today has less than three-quarters of the purchasing power it would have had in 1970, according to government data.
Speaking before a cheering crowd at the rally, airport security guard Prince Jackson (also featured in David Moberg's article on the minimum wage), called it like he saw it: ​"I'm gonna be straight up with you. There's 9,000 workers at JFK airport, and it's like a plantation out there. We need to stand in solidarity, right here and right now."
After the initial gathering, protesters were directed to march to other protest sites for low-wage workers–big names like Dunkin' Donuts, ConEdison, and even the city's welfare agency Human Resources Administration. The printed map of protest targets reveals a complex political geography: the city is covered with exploitative and abusive employers, but the diversity of the low-wage workforce is both an asset and a challenge for developing a unified platform.
The lessons of the largely-dissipated Occupy movement hovered Union Square: A large protest offers a space to rally and build support. But the real test comes the next day when workers go back to work. Hopefully they'll start seeing their job not just as a dead end, but as their connection to a community that shares a single struggle.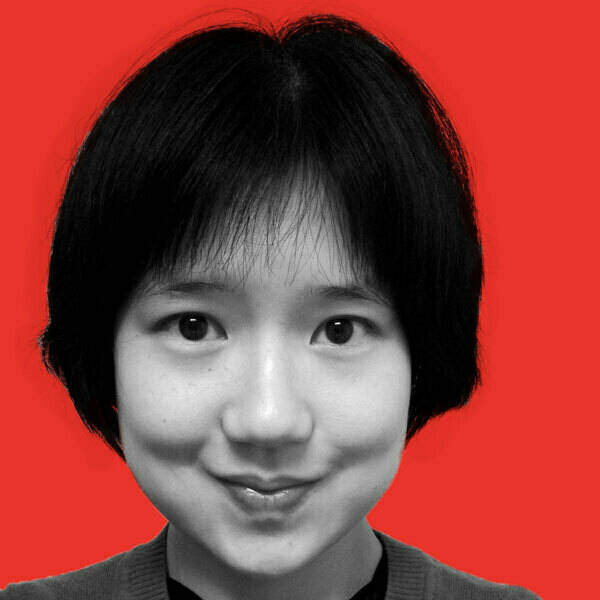 Michelle Chen is a contributing writer at In These Times and The Nation, a contributing editor at Dissent and a co-producer of the ​"Belabored" podcast. She studies history at the CUNY Graduate Center. She tweets at @meeshellchen.