Newark Teachers Union Embraces Performance Pay, Wins Peer Review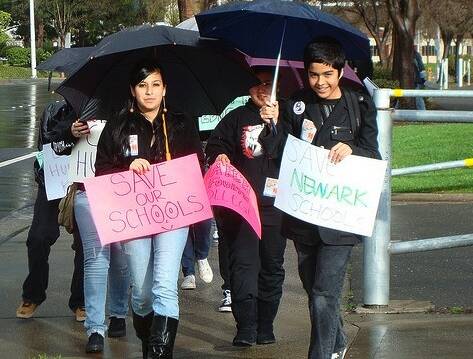 NEWARK, N.J. — At a Thurs­day press con­fer­ence, the pres­i­dent of the city teach­ers union and the super­in­ten­dent of schools signed a ten­ta­tive agree­ment on a path-break­ing new con­tract. Both sides tout­ed the deal's key com­pro­mise: The dis­trict will begin to peg teach­ers' pay in part to eval­u­a­tions, but teach­ers will have a role in eval­u­at­ing each other.
The agree­ment has the bless­ing of New Jer­sey Gov­er­nor Chris Christie and of nation­al Amer­i­can Fed­er­a­tion of Teach­ers Pres­i­dent Ran­di Wein­garten, who calls its pro­vi­sions ​"a sys­tem of the future."
​"It val­ues both expe­ri­ence as well as the work that a per­son does dur­ing the year," Wein­garten said in a Fri­day phone inter­view with Work­ing In These Times. Under the new con­tract, she said, ​"Newark teach­ers actu­al­ly have more voice than they ever did before."
For­mer U.S. Assis­tant Sec­re­tary of Edu­ca­tion Diane Rav­itch offered a more crit­i­cal take. "[Per­for­mance bonus­es are] not going to make them bet­ter teachers…Exactly how does this help kids?
Teach­ers are expect­ed to vote with­in the next few weeks on whether to rat­i­fy the deal. It includes changes in teach­ers' pay scale that the Newark Teach­ers Union (NTU) says will improve teacher reten­tion by pro­vid­ing more mon­ey ear­li­er in teach­ers' careers and help­ing to cov­er the costs of earn­ing a master's degree. Like the old con­tract, it includes ​"step increas­es" that pay teach­ers more based on their years on the job (though those rais­es can be with­held from teach­ers who receive poor eval­u­a­tions). But the agree­ment also includes ​"pay for per­for­mance" bonus­es that will be pro­vid­ed to the teach­ers who are eval­u­at­ed as most effective.
The eval­u­a­tions will be over­seen by a joint com­mit­tee with equal num­bers of union and man­age­ment rep­re­sen­ta­tives. Teach­ers serv­ing as ​"peer eval­u­a­tors" will be tasked with inde­pen­dent­ly assess­ing oth­er teach­ers' per­for­mance. Those rat­ings, along with man­age­ment eval­u­a­tions and stu­dent test scores, will play a role in evaluations.
​"I've been want­i­ng this pro­fes­sion to become a pro­fes­sion for a long time," NTU Pres­i­dent Joe Del Grosso said Thurs­day. ​"Who dis­bars lawyers? Oth­er lawyers."
​"This is not a mer­it pay sys­tem," said Wein­garten. ​"This is a full com­pen­sa­tion sys­tem where the work you do and the com­pen­sa­tion you have are tied in togeth­er." She said the new con­tract is ​"align­ing the eval­u­a­tion sys­tem with expe­ri­ence" while offer­ing ​"sig­nif­i­cant­ly high­er salaries for teach­ers all through­out their expe­ri­ence. … When you have all of those com­po­nents, that's a pro­fes­sion­al com­pen­sa­tion system."
Dur­ing nego­ti­a­tions, said Del Grosso, man­age­ment sug­gest­ed per­for­mance pay, he coun­tered with peer review, and ​"we ban­tered back and forth until, as Gov­er­nor Christie said, I got off my street and they got off their street, and we came on the boule­vard of compromise."
NTU's last con­tract expired in 2010. Full details will not be avail­able until after rat­i­fi­ca­tion. Accord­ing to a three-page sum­ma­ry pre­pared by the NTU, the agree­ment pro­vides $31 mil­lion in back pay, cre­ates a new sick leave bank, allows work­ers and man­age­ment to joint­ly seek waivers to some con­tract pro­vi­sions in cer­tain schools, and lets man­age­ment impose dif­fer­ent expec­ta­tions on teach­ers in up to ten strug­gling schools.
The nego­ti­a­tions were shaped by the edu­ca­tion reform bill signed into law by Gov­er­nor Christie in August, one of many such laws encour­aged by the Oba­ma Administration's Race to the Top pro­gram. That law trans­formed teacher tenure, eas­ing the fir­ing of teach­ers who receive two con­sec­u­tive poor eval­u­a­tions. Along with lim­it­ing union teach­ers' job secu­ri­ty, the law required that stu­dent test scores com­pose a por­tion of teach­ers' eval­u­a­tions begin­ning in 2013.
Del Grosso said that he had offered to sup­port the new law on the con­di­tion that it includ­ed an option for union con­tracts to include peer review as part of the eval­u­a­tion sys­tem. Del Grosso also said that a pro­vi­sion increas­ing (to four) the num­ber of years teach­ers must work before qual­i­fy­ing for tenure had been his idea; he described it as anoth­er way of treat­ing teach­ing like oth­er professions.
The Newark deal was also shaped by a $100 mil­lion dona­tion from Face­book founder Mark Zucker­berg des­ig­nat­ed for Newark schools. Under the ten­ta­tive agree­ment, step increas­es will be paid for with tax­es, but the per­for­mance bonus­es will be paid for with Zucker­berg cash. Del Grosso said that at first the Zucker­berg mon­ey ​"didn't real­ly moti­vate me, because they offered it in the way of ​'mer­it pay'…I said well keep the mon­ey." But on reflec­tion, ​"I said what hap­pens if I don't use the mon­ey? I bet some char­ter school will take it." Instead, with the new con­tract, said Del Grosso, ​"I fig­ured out a way" to put it to use.
​"If we are to place very high stakes, includ­ing pay, on eval­u­a­tions," said Newark Schools Super­in­ten­dent Cami Ander­son, ​"then we must be com­mit­ted to doing so in a way that is fair and accu­rate. And in order to do that, that requires col­lab­o­ra­tion with our union part­ners and the teach­ers themselves."
The Newark schools are con­trolled by the state, not the city. Both May­or Book­er and Gov­er­nor Christie have at times been at odds with teach­ers' unions. Book­er is among the key sup­port­ers of ​"par­ent trig­ger" laws that would allow par­ents to vote for a union­ized pub­lic school to be replaced with a non-union char­ter school. Keynot­ing August's Repub­li­can con­ven­tion, Christie told the crowd, ​"They believe in teach­ers' unions. We believe in teachers."
A spokesper­son for the mayor's office declined a request for com­ment on the agree­ment. In an emailed state­ment, Christie's press sec­re­tary Michael Drew­ni­ak called a deal ​"a crit­i­cal mile­stone" which ​"increas­es account­abil­i­ty, stress­es per­for­mance and above all, puts stu­dents first."
​"This is a win-win for every­body in the cli­mate that we're in," Mike Dixon, a 20-year vet­er­an teacher and a mem­ber of NTU's bar­gain­ing com­mit­tee, said by phone on Fri­day. Unlike oth­er mer­it pay pro­pos­als, said Dixon, the new per­for­mance bonus­es will be ​"above and beyond" work­ers' ​"reg­u­lar salary," and so ​"it's not puni­tive at all." Dixon said he sup­ports the con­cept because ​"you have edu­ca­tors that real­ly do their jobs, and this is a way of reward­ing them. And then you have edu­ca­tors that are close to being where they need to be, and this may give them the incen­tive to do that lit­tle bit extra." Dixon pre­dict­ed that mem­bers will rat­i­fy the deal by a wide mar­gin. After years with­out a raise, he said most mem­bers he talked to say, ​"Tell me about the money."
Rav­itch, a promi­nent crit­ic of the main­stream edu­ca­tion reform agen­da, offered a mixed take on the deal's report­ed con­tents. She said there's ​"a very good pos­si­bil­i­ty that the Newark Teach­ers Union, and Ran­di Wein­garten, is tak­ing Chris Christie to the clean­ers," in that ​"a lot of mon­ey is going to flow to the teach­ers in Newark."
Rav­itch also described the intro­duc­tion of peer review as a union vic­to­ry, and as the best way of actu­al­ly eval­u­at­ing teach­ers' effec­tive­ness. She said that the union appears to have extract­ed hefty rais­es from the school dis­trict as the cost of intro­duc­ing per­for­mance pay: ​"The ide­o­logues win one thing, and the union wins $100 mil­lion dollars."
But Rav­itch expressed con­cern that, once the state law require­ment that test scores shape eval­u­a­tions kicks in, this con­tract will mean that test scores play a role in shap­ing teach­ers' pay. Pay­ing teach­ers in part based on test scores, said Rav­itch, is ​"treat­ing them like don­keys rather than pro­fes­sion­als." She cit­ed a three-year study by Van­der­bilt Uni­ver­si­ty and the RAND Cor­po­ra­tion that showed no dif­fer­ence between teach­ers paid under mer­it pay and a con­trol group.
Rav­itch, who keynot­ed AFT's nation­al con­ven­tion last year, said she's already heard from teach­ers in oth­er school dis­tricts who say, ​"How are we going to be able to fight this off if they agreed to it in Newark?" In cities with­out Zucker­berg phil­an­thropy, or in future Newark con­tracts, Rav­itch not­ed, per­for­mance pay is more like­ly to come at the expense of oth­er rais­es. She also fault­ed NTU for not tak­ing a page from the Chica­go Teach­ers Union and using their con­tract fight to push broad­er edu­ca­tion issues like class size and integration.
Asked what hap­pens in the next con­tract, after Zuckerberg's dona­tion runs out, Del Grosso said, ​"Let's pray that there's anoth­er Zucker­berg out there."
Wein­garten said that improved achieve­ment will demon­strate the need for greater gov­ern­ment invest­ment: ​"If it increas­es con­fi­dence in pub­lic edu­ca­tion in Newark, then what will hap­pen is there will be more pub­lic funds available."
​"No one is afraid of respon­si­bil­i­ty and account­abil­i­ty," said Wein­garten. ​"But we have to do it in a way that is fair and that gives peo­ple the tools to do their jobs." She called the deal ​"an hon­est com­pro­mise," and said it offers an exam­ple ​"that col­lec­tive bar­gain­ing real­ly works."
His­tor­i­cal­ly, said Del Grosso, ​"We were one of the first to go on strike, and we were very mil­i­tant about get­ting con­tracts. We are equal­ly mil­i­tant today about stu­dent per­for­mance and our own achievement."
Josh Eidel­son
is a free­lance writer and a con­trib­u­tor at In These Times, The Amer­i­can Prospect, Dis­sent, and Alter­net. After receiv­ing his MA in Polit­i­cal Sci­ence, he worked as a union orga­niz­er for five years. His web­site is http://​www​.joshei​del​son​.com.Twit­ter: @josheidelsonE‑mail: ​
"
jei­del­son" at ​
"
gmail" dot com.