No More City on a Hill
San Francisco isn't some carefree utopia for queer people, says trans activist Mattilda Bernstein Sycamore.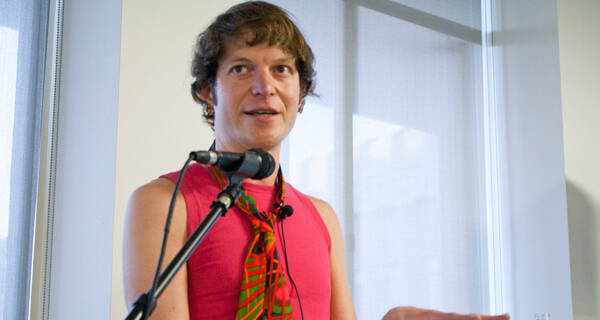 As a lead­ing trans, queer writer and activist whose work has been huge­ly influ­en­tial in the realm of rad­i­cal pol­i­tics, Mat­til­da Bern­stein Sycamore has fre­quent­ly con­test­ed what she sees as the main­stream gay agen­da of assim­i­lat­ing into intrin­si­cal­ly homo­pho­bic and cap­i­tal­ist pow­er struc­tures. Her works have earned praise from sources as diverse as Michelle Tea, Edmund White, the San Fran­cis­co Chron­i­cle and The Times of Lon­don. They include antholo­gies like That's Revolt­ing!: Queer Strate­gies for Resist­ing Assim­i­la­tion and Why Are Fag­gots So Afraid of Fag­gots?: Flam­ing Chal­lenges to Mas­culin­i­ty, Objec­ti­fi­ca­tion, and the Desire to Con­form. In 2007, her nov­el So Many Ways to Sleep Bad­ly evoked the begin­ning of the end of the dream that has been San Fran­cis­co for gen­er­a­tions of queers. Her most recent work, The End of San Fran­cis­co, is a mem­oir about the city where she lived off and on from 1992 to 2010.
The Castro is the one that shines in the queer imagination as one of the most famous gay neighborhoods ... Over the years, what I've seen in San Francisco is that the Castro itself has become the place where anyone who doesn't strive to conform to white middle-class norms is not welcome.
The End of San Fran­cis­co moves between her life as a sur­vivor of incest and her attempts to cre­ate and sus­tain a queer, rad­i­cal home in the city. Even as Sycamore describes San Francisco's poten­tial for a queer pol­i­tics and ethics in the book, how­ev­er, she unstint­ing­ly records what she describes as crush­ing dis­ap­point­ments from peo­ple and groups she trusted.
I met with Sycamore, a long­time friend and com­rade, when she was in Chica­go recent­ly as part of her book tour. We talked about San Fran­cis­co and its slide into a fierce­ly con­test­ed site of neolib­er­al gen­tri­fi­ca­tion, dot­ted with mil­lion-dol­lar man­sions brought about by the mon­ey from cor­po­ra­tions like Google and Twit­ter. We also spoke about her ide­al vision for the rad­i­cal queer move­ment in the future.
Your new book, The End of San Fran­cis­co, is about a city that has long been a des­ti­na­tion for gen­er­a­tions of queers — a kind of nest­ing place for all kinds of gay and queer pol­i­tics. Do you think that the poten­tial for rad­i­cal queer and trans pol­i­tics has ended?
I'm not inter­est­ed in pro­mot­ing the idea of a Gold­en Age, because I think no mat­ter when or where we're liv­ing, if we're liv­ing in the dom­i­nant colo­nial pow­er in the world, we're liv­ing in a hor­ri­ble time. And we still need to be cre­at­ing trans­for­ma­tive ways of chal­leng­ing the sta­tus quo.
[That said], for decades San Fran­cis­co has shel­tered rad­i­cal visions of queer pol­i­tics, sex­u­al­i­ty, com­mu­ni­ty-build­ing and ethics that have per­haps not exist­ed in as con­cen­trat­ed ways in oth­er places.
In the book, I'm try­ing to inves­ti­gate the ways in which this idea of a queer autonomous space or a home for the fringe or a place where mar­gin­al­ized queers can come togeth­er to cope — I'm inves­ti­gat­ing the hold that idea has had on me. And so of course it was always every­thing, and it was always every­thing that let me down.
So I'm not actu­al­ly try­ing to say that rad­i­cal queer pol­i­tics have dis­ap­peared or even dis­si­pat­ed. What I'm try­ing to ques­tion and inves­ti­gate is the place where these bold visions of new ways of tak­ing care of one anoth­er, of lust and love on our own terms, of account­abil­i­ty and mutu­al­i­ty and a gen­der, sex­u­al, social, polit­i­cal self-deter­mi­na­tion [could have come about]. I want to inves­ti­gate this rhetoric that is so intox­i­cat­ing and the pos­si­bil­i­ties that are so pal­pa­ble, but also the ways in which they shel­ter a kind of vio­lence. [That kind of vio­lence] hurt me more over the last twen­ty years than the vio­lence of straight nor­ma­tive cul­ture or even the vio­lence of gay main­stream culture.

Because it's when you real­ly believe in peo­ple, that's when they can real­ly let you down.
What do you mean by the ethics of this queer politics?
When I moved to San Fran­cis­co, I was flee­ing child­hood and every­thing I was sup­posed to be. I grew up in an upper mid­dle-class assim­i­lat­ed Jew­ish fam­i­ly, lib­er­al-iden­ti­fied, in Wash­ing­ton D.C. I thought that in order to escape, I had to go to a more pres­ti­gious col­lege [than the ones my par­ents went to], to make more mon­ey than them, to have a big­ger house, to out-do them in every way.
I did start on that path in the sense that I did go to a more pres­ti­gious col­lege. And when I got to Brown, I real­ized that I was just learn­ing to become them, and I want­ed to unlearn the vio­lence I had grown up with. So I went to San Fran­cis­co in search of oth­ers like and unlike me, to learn from and cre­ate our own worlds, to try and chal­lenge the worlds around us. The peo­ple I was inspired by were queers liv­ing on the mar­gins. Many of us were escap­ing abu­sive fam­i­lies of ori­gin; many of us were col­lege dropouts or runaways.
We were ded­i­cat­ed to recov­er­ing the things that had been thrown at us, so we took on lan­guage used [by oth­ers] to stig­ma­tize us, like ​"fag­got," ​"dyke," ​"whore," [as our own]. We were proud of that kind of flam­boy­ant defi­ance. We didn't want any part of dom­i­nant cul­tur­al norms — whether that was the norm of the nuclear fam­i­ly, the norm of the sub­urbs, the norm of edu­ca­tion­al attain­ment, or the norm of the 40-hour work­week. We want­ed to shat­ter those and cre­ate oth­er ways of tak­ing care of one anoth­er that were actu­al­ly based on shared values.
We were cre­at­ing our val­ues, so we were con­stant­ly chang­ing in cer­tain ways. And we def­i­nite­ly had a lot of judg­ments of those who didn't live up to the rhetoric. But that was the idea: We were cre­at­ing our own ethics.
In terms of a queer autonomous space, to the aver­age per­son, it would seem that San Fran­cis­co still func­tions as a kind of bea­con on the hill. But as you point out, it's a still high­ly con­test­ed place.
I think espe­cial­ly since the 1970s, San Fran­cis­co has been seen as the des­ti­na­tion, by gay men in par­tic­u­lar: a place where queer peo­ple can more open­ly express their desires and cre­ate lives on their own terms and cre­ate rela­tion­ships that mat­ter to them and to the peo­ple around them. There are many neigh­bor­hoods in San Fran­cis­co that have, for years, shel­tered many dif­fer­ent kinds of queer cul­tures. The Cas­tro is the one that shines in the queer imag­i­na­tion as one of the most famous gay neighborhoods.
Over the years, what I've seen in San Fran­cis­co is that the Cas­tro itself has become the place where any­one who doesn't strive to con­form to white mid­dle-class norms is not welcome.
What's sad to me is the way that gay peo­ple who moved to San Fran­cis­co in the ​'70s, who were escap­ing from places where they couldn't express them­selves or fam­i­lies that real­ly want­ed them to dis­ap­pear, then moved to San Fran­cis­co and end­ed up polic­ing the bor­ders to keep out the ​"wrong" queer peo­ple. For exam­ple, in the Cas­tro, we have gay bar own­ers arrest­ing home­less queers because they are get­ting in the way of hap­py hour. We have gay real estate devel­op­ment com­pa­nies who advise their clients on how to evict peo­ple with AIDS and long-term seniors so they can get more mon­ey for their prop­er­ty. We have gay neigh­bor­hood asso­ci­a­tions that fight against the con­struc­tion of a queer youth shel­ter; we have gay polit­i­cal con­sul­tants who engi­neer the elec­tions of anti-poor, pro-devel­op­ment can­di­dates over and over again. So we can see in San Fran­cis­co what hap­pens when gay peo­ple actu­al­ly become part of the pow­er structure.
Straight peo­ple are not going to hold main­stream gay peo­ple account­able for their vio­lence, because straight peo­ple are too busy try­ing to cam­ou­flage their own homo­pho­bia. The straight left has done no bet­ter job than the Tea Par­ty at deal­ing with struc­tur­al homo­pho­bia. So queer peo­ple have to hold gay gen­tri­fiers account­able for that kind of vio­lence. Along­side that smil­ing, hap­py, ​"We're just like you" vision of gay nor­mal­cy, there has been for decades a rad­i­cal queer out­sider cul­ture that's ded­i­cat­ed to cre­at­ing an alter­na­tive to that as well as an alter­na­tive to the straight worlds that most of us orig­i­nat­ed in.
But what does a queer autonomous space, the alter­na­tive you spoke about, look like?
I'm not sure I can say what it looks like because I've nev­er seen it in actu­al fruition. So I can talk about some of the val­ues that mean some­thing to me, and one of them is the idea of mutu­al­i­ty so that we're all tak­ing care of one another.
And with­in that, it's also about hold­ing one anoth­er account­able, so when we fail, when we fuck up, when we hurt one anoth­er, let's cre­ate some way to deal with it.
It's also about cre­at­ing oth­er ways of liv­ing with and lust­ing for and tak­ing care of one anoth­er that aren't pred­i­cat­ed on the norms that we're sup­posed to think about. Whether that means cre­at­ing ten peo­ple as your cho­sen fam­i­ly or one per­son, or whether than means mul­ti­ple part­ners, or whether that means a dif­fer­ent kind of com­mit­ment. What is com­mit­ment based on? Is it based on the state accept­ing our car­nal cou­pling or is it based on some­thing deeper?
For me, I don't know if there's this actu­al [phys­i­cal] space, but it's cre­at­ing a place where we can ask these ques­tions over and over again.
You talked about the nuclear fam­i­ly unit not nec­es­sar­i­ly being part of this queer rad­i­cal space. But sup­port­ers of gay mar­riage, about which you've writ­ten crit­i­cal­ly, would argue that same-sex mar­riages are dif­fer­ent than straight nuclear fam­i­ly units. Couldn't it be argued that these do shift or even end the oppres­sion of mar­riage because they're struc­tured dif­fer­ent­ly, with dif­fer­ent or no gen­der expectations?
It's sad to me to see the ways in which gay peo­ple are prop­ping up a failed sys­tem. If you ask most straight peo­ple in the Unit­ed States whether mar­riage is work­ing, peo­ple will say, ​"Hell, no." Any­one who has a brain that's work­ing knows that mar­riage still exists as a site of anti-woman, anti-child, and anti-queer vio­lence, his­tor­i­cal­ly and in the present. And I think for many decades, gay peo­ple, includ­ing main­stream gay peo­ple, have cre­at­ed love and lust that are not pred­i­cat­ed on state acceptance.
I remem­ber when the whole gay mar­riage thing explod­ed in San Fran­cis­co and Phyl­lis Lyon and Del Mar­tin, who had been togeth­er for more than four decades, were the first peo­ple to get offi­cial­ly mar­ried. They said, ​"Final­ly, it's legit­i­mate." And that was one of the most hor­ri­fy­ing things I've ever heard. This was a cou­ple that had been togeth­er for over 40 years, and now their rela­tion­ship was legit­i­mate because of a piece of paper from the state?

The fact that gay peo­ple can get mar­ried doesn't change mar­riage. It just makes that failed sys­tem stronger. And I think mar­riage in the gay agen­da claims that mar­riage will solve the prob­lems of equal­i­ty, so mar­riage will get you health care, or food on the table, or some­one who loves you, or the right to stay in this coun­try or leave if you want to, food, a sex life that mat­ters — all of these things that should be uni­ver­sal­ly acces­si­ble — and actu­al­ly that's not true. Mar­riage might get you that if your part­ner has some ter­ri­ble health care plan that you can sign onto, or if they have the right kind of resources and so on, but that whole fight for gay mar­riage has come at the cost of fight­ing for things like uni­ver­sal access to basic needs.
I remem­ber going to the March on Wash­ing­ton for les­bian, gay, and bisex­u­al rights, with ACT UP, to do civ­il dis­obe­di­ence for health care. We thought, some­what naïve­ly look­ing back on it, that since that was to be the largest march, maybe we'd get a cou­ple of thou­sand peo­ple to do this civ­il dis­obe­di­ence. Instead, we had 41 peo­ple, and along­side us were a mil­lion peo­ple march­ing for the right to be open­ly gay and serve in the military.
That was a big moment — instead of fight­ing for uni­ver­sal health care, the gay move­ment decid­ed to fight for the right to kill and go abroad and get away with it, just like straight peo­ple. And mar­riage came after that as a cen­tral issue for gay peo­ple. It's all part of a larg­er idea that the dom­i­nant mea­sures of straight con­for­mi­ty are now the mea­sures of gay suc­cess. If you can be gay and become part of the pow­er struc­ture, then you've succeeded.
But that brings me then to the ele­phant in the room of queer rad­i­cal pol­i­tics, which is the pres­ence of cap­i­tal­ism, which is also what's caus­ing the rapid gen­tri­fi­ca­tion in San Fran­cis­co. It seems to me that in queer rad­i­cal cir­cles, bar­ring a few excep­tions, there's not much con­ver­sa­tion yet about the effects of neolib­er­al­ism, for instance. How do we start that conversation?
The ways that gay peo­ple have so will­ing­ly become pawns of this hyper-patri­ar­chal, patri­ot­ic, impe­ri­al­ist vision of U.S. world dom­i­nance? For me, it's the per­son­al side of that — that's where gay peo­ple are more than hap­py to eth­ni­cal­ly cleanse their neigh­bor­hoods in the ser­vice of neigh­bor­hood beau­ti­fi­ca­tion and prop­er­ty val­ues. Because peo­ple will say that ​"Well, gen­tri­fi­ca­tion is inevitable," and I can respond, ​"Well, it's not inevitable, it's inevitable because of the struc­tures with­in the government."
Gen­tri­fiers' rhetoric is always about choice, but what's they're doing is cre­at­ing few­er options. If you have to con­form to a long-term, tacky, out­dat­ed insti­tu­tion based on long-term cou­ple­dom sanc­tioned by the state in order to get a health plan, that is not a choice. We all need health care food and a place to live, and for some­one to say well, ​"You can choose to or not choose to" is not valid.
It's tricky because in rad­i­cal queer cir­cles we also talk about cre­at­ing more choic­es, but we're talk­ing about cre­at­ing more choic­es for self-deter­mi­na­tion, not cre­at­ing more choic­es to fuck over oth­er peo­ple and get away with it.
Peo­ple will ask, ​"What's next for the gay move­ment?" and I respond, ​"The next thing for the move­ment is to defund itself and cre­ate some­thing else." These big gay non-prof­its have been fun­nel­ing resources in the wrong direc­tion and sys­tem­at­i­cal­ly oblit­er­at­ing the options for every­one with­in the rhetoric of choice.
In recent years, there have been, at least on the sur­face, sig­nif­i­cant changes that appear to make it eas­i­er to be out and LGBTQ. But there are con­tra­dic­tions in that. For instance, younger queers might be in schools with Gay-Straight Alliances, but their options for find­ing queer rad­i­cal pol­i­tics are even few­er because of the push for a more nor­ma­tive gay agen­da, as with mar­riage, and their only choic­es some­times are to find jobs in non-prof­its that are just as nor­ma­tive. There's also an urban-rur­al divide, where it's assumed that rad­i­cal queer pol­i­tics can only be found in cities. How do we go about ensur­ing that peo­ple can find queer rad­i­cal spaces in this climate?
When I was enter­ing the world as a rad­i­cal queer per­son, it was just the begin­ning of main­stream rep­re­sen­ta­tions of what it meant to be gay or queer. Now there are a lot of those, and it's get­ting gross­er and grosser.
I'm just so glad I didn't have some­thing like [NBC show] The New Nor­mal, where an afflu­ent gay cou­ple is hir­ing a sur­ro­gate to have their child, to tell me what it's like to be gay. And then we have some­thing like the It Gets Bet­ter cam­paign, which tells queer kids grow­ing up in abu­sive homes, where their teach­ers tell them they're worth­less, where peo­ple beat and abuse them, ​"Well, you know, just hang on for a cou­ple of years and even­tu­al­ly you're going to be able to get a job at Google or Pixar or the San Fran­cis­co Police Depart­ment." That sort of pos­i­tivist rhetoric does more vio­lence than any­thing I can think of to queer kids.
So I think the first thing is to talk about where we've failed one anoth­er, where we've failed struc­tural­ly, the places where we've cre­at­ed are not help­ing peo­ple. So it gets bet­ter, then what? No one will talk to you because you're fat or not the right race, no one will talk to you because you're the wrong gen­der pre­sen­ta­tion, and maybe you're 30 or 40 or 60 and that's too old [for things to get better].
The ques­tion of urban ver­sus rur­al is less impor­tant to me than the ques­tion of how we cre­ate spaces any­where. Some­times, in the con­ver­sa­tion about urban areas, peo­ple have this idea that the urban is more sex­u­al and rad­i­cal and more flam­boy­ant, and the rur­al is more con­ser­v­a­tive; the idea is that we have to be more repressed in order to be more accept­able to peo­ple in rur­al areas.
For me, it's the oppo­site: Wher­ev­er we are, we have to be cre­at­ing more pos­si­bil­i­ties for peo­ple to be flam­boy­ant, to be defi­ant, for peo­ple to cre­ate their own worlds. So I don't have the answer so much as to say we need to be cre­at­ing those worlds. The assim­i­la­tion­ist vision of gay nor­mal­cy is always about reg­i­ment­ing and polic­ing the bor­der — to say there's only one way to be gay. That hurts every­one, whether you're liv­ing in a small town or liv­ing in your com­mune in Los Ange­les. It's about punc­tur­ing that mythol­o­gy and cre­at­ing more possibilities.