No Sugar-Coating Immigration
A new film will enthrall baseball fans--and anyone fascinated by the endurance of American ideals.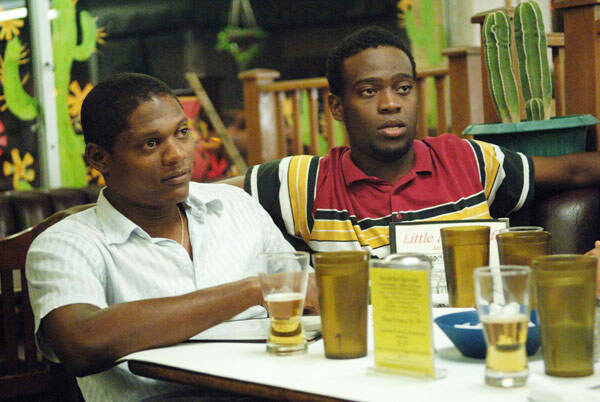 Brook­lyn-based film­mak­ers Ryan Fleck and Anna Boden have fol­lowed up their self-assured 2006 fea­ture debut, Half Nel­son, with anoth­er suc­cess. Their new immigration/​baseball dra­ma, Sug­ar, may be the best Amer­i­can sports movie and the most touch­ing immi­gra­tion saga of the decade.
Sugar's experiences reveal the labors of all immigrants who struggle to adjust to the harsh realities of American life on the margins.
As much as North Amer­i­can and Asian pop­u­la­tions are enam­ored with base­ball, their enthu­si­asm hard­ly com­pares with the pas­sion found in many Latin Amer­i­can coun­tries, where the game referred to as ​"beis­bol" has inspired legions of obsessed young ballplay­ers and spec­ta­tors. In Cuba, the Domini­can Repub­lic and Venezuela, base­ball and soc­cer are the only games in town. Twen­ty-nine of the 30 Major League Base­ball (MLB) fran­chis­es now run devel­op­men­tal ​"acad­e­mies" in the Domini­can Repub­lic and oth­er base­ball-rich Latin coun­tries to mine tal­ent from the region. Almost three out of every 10 MLB play­ers hails from a Latin Amer­i­can country.
With Sug­ar, Fleck and Boden plumb the depths of this world and deliv­er a love­ly sopho­more effort, a film that is as much about lone­li­ness as it is about our nation­al pas­time. Non-pro­fes­sion­al actor Alge­nis Perez Soto plays the title char­ac­ter, Miguel ​"Sug­ar" San­tos, a gift­ed young pitch­er from the Domini­can Repub­lic who is dis­cov­ered and plucked for a chance at base­ball star­dom. He leaves his fam­i­ly and girl­friend to play Dou­ble A ball in the Kansas City Knights' sys­tem and strug­gles as much with self-doubt and soli­tude as he does with keep­ing his break­ing ball down.
As they did with young Sha­ree­ka Epps in Half Nel­son, Fleck and Boden have elicit­ed an authen­tic and heart-rend­ing por­tray­al from a first-time actor. Soto's expres­sive face reveals the con­tours of the mod­ern-day immi­grant expe­ri­ence. It's a per­for­mance that is full of both comedic and melan­cholic moments of dis­lo­ca­tion and mis­un­der­stand­ing, such as when Sug­ar insists on order­ing French toast at an Iowa din­er for meal after meal, because it's the only food he can name in English.
Fleck and Boden's slick dol­ly moves, whip pans, and rack focus shot open­ings are a depar­ture in style from the hand­held cam­eras moves and dim frames of Half Nel­son. As the film's plot moves from the Domini­can Repub­lic to Iowa to New York City, the style gen­tly mir­rors Sugar's emo­tion­al jour­ney, mov­ing from the warm and col­or­ful palette and loose style of the Domini­can sequences to the more rigid com­po­si­tions of Iowa base­ball fields.
As the film's focus expands, Sugar's expe­ri­ences reveal not only the labors of bright-eyed young ballplay­ers striv­ing for their slice of the Amer­i­can Dream, but also those of all immi­grants who strug­gle to adjust to our lan­guage and cus­toms – and the harsh real­i­ties of Amer­i­can life on the margins.
Fleck and Boden bring to life an array of fas­ci­nat­ing char­ac­ters, includ­ing the elder­ly cou­ple who hous­es Sug­ar in their Iowa farm­house; the church­go­ing young blonde whom he begins to fan­cy; and the hot­shot, Stan­ford-edu­cat­ed, first-round pick whom he befriends. It is these peo­ple who pro­vide a tes­ta­ment to the film­mak­ers' rov­ing eye for specifics and their hunger for a small sto­ry, grand­ly told. Par­tic­u­lar­ly good is for­mer Cincin­nati Reds pitch­er José Rijo as the cig­ar-smok­ing Domini­can scout who dis­cov­ers Sugar's prowess, and Michael Gas­ton as his no-non­sense minor league manager.
A film that base­ball fans – demor­al­ized by the steroid era (which the film touch­es on) – will find helps restore their pas­sion for this most ele­gant and cere­bral of games, Sug­ar will also enthrall any­one who is fas­ci­nat­ed by the endurance (and the under­side) of America's ideals.
Bran­don Har­ris
is a Brook­lyn-based film­mak­er and jour­nal­ist who has writ­ten for a num­ber of lead­ing inde­pen­dent film pub­li­ca­tions, includ­ing
Film­mak­er
mag­a­zine,
Ham­mer to Nail
and
Spout­Blog
.