Dakota Access Gets Final Approval, Standing Rock Sioux Tribe Calls for March in D.C.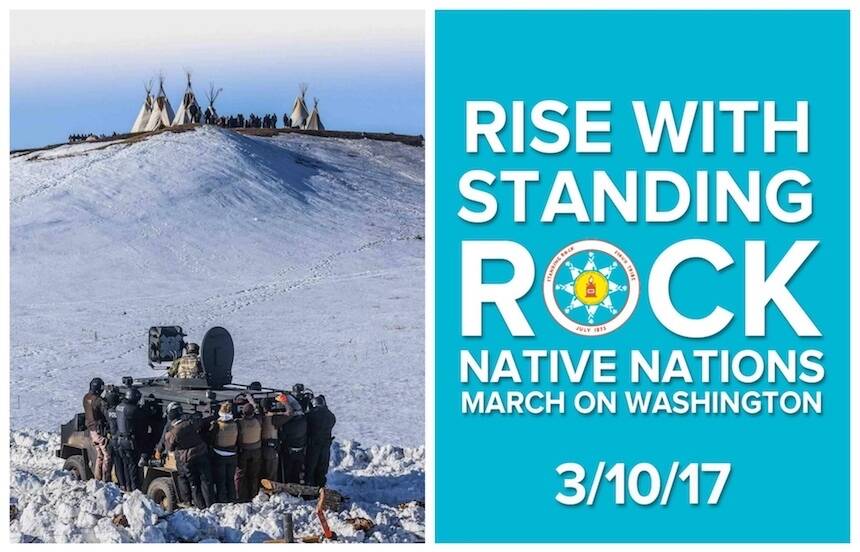 The U.S. Army Corps of Engi­neers (USACE) will grant Dako­ta Access, a sub­sidiary of Ener­gy Trans­fer Part­ners, the final ease­ment need­ed to fin­ish con­struc­tion of the Dako­ta Access Pipeline (DAPL). The Stand­ing Rock Sioux Tribe, which has opposed the project from its con­cep­tion, vows to chal­lenge the deci­sion in court.
"The drink­ing water of mil­lions of Amer­i­cans is now at risk," says Dave Archam­bault II, tribe chair­man, in a state­ment released late Tues­day. ​"We are a sov­er­eign nation and we will fight to pro­tect our water and sacred places from the brazen pri­vate inter­ests try­ing to push this pipeline through to ben­e­fit a few wealthy Amer­i­cans with finan­cial ties to the Trump administration."
But Archam­bault also urged sup­port­ers of the #NoDAPL move­ment not to return to the camps in Can­non Ball, N.D., where many thou­sands have trav­elled since August of last year to protest the pipeline. ​"Our fight is no longer at the North Dako­ta site itself," says Archam­bault. ​"Our fight is with Con­gress and the Trump admin­is­tra­tion." The Stand­ing Rock Sioux, Native Nations of the Unit­ed States and their allies are orga­niz­ing a demon­stra­tion in Wash­ing­ton D.C on March 10.
This final ease­ment effec­tive­ly gives Dako­ta Access the per­mis­sion it needs to tun­nel under the Lake Oahe Reser­voir, part of the Mis­souri Riv­er, in North Dako­ta. The Stand­ing Rock Sioux Tribe views the pipeline's con­struc­tion as a des­e­cre­tion of their sacred sites and the oil it will car­ry as a threat to their water sup­ply. In Decem­ber, the out­go­ing Oba­ma admin­is­tra­tion instruct­ed the USACE to tem­porar­i­ly with­hold the per­mit so that a full envi­ron­men­tal impact state­ment (EIS) could be pre­pared and alter­nate routes explored. But on Jan­u­ary 24, Pres­i­dent Trump signed an exec­u­tive order fast track­ing the envi­ron­men­tal per­mit­ting process required for DAPL along with oth­er exec­u­tive orders aimed at reviv­ing the Key­stone XL pipeline and using more Amer­i­can steel in its construction.
The tribe says the EIS has been wrong­ful­ly ter­mi­nat­ed. ​"This pipeline was unfair­ly rerout­ed across our treaty lands," says Archam­bault. ​"The Trump admin­is­tra­tion— yet again — is poised to set a prece­dent that defies the law and the will of Amer­i­cans and our allies around the world." The press release continues:
Attor­neys for the Tribe empha­size that the ease­ment can­not be grant­ed legal­ly at this time. ​"The Oba­ma admin­is­tra­tion cor­rect­ly found that the Tribe's treaty rights need­ed to be acknowl­edged and pro­tect­ed, and that the ease­ment should not be grant­ed with­out fur­ther review and con­sid­er­a­tion of alter­na­tive cross­ing loca­tions," said Jan Has­sel­man, lead attor­ney for the Tribe. ​"Trump's rever­sal of that deci­sion con­tin­ues a his­toric pat­tern of bro­ken promis­es to Indi­an Tribes and unlaw­ful vio­la­tion of Treaty rights. They will be held account­able in court."

Next steps for Tribe and allies

The Tribe will chal­lenge any ease­ment deci­sion on the grounds that the EIS was wrong­ful­ly ter­mi­nat­ed. The Tribe will demand a fair, accu­rate and law­ful envi­ron­men­tal impact state­ment to iden­ti­fy true risks to its treaty rights, includ­ing its water sup­ply and sacred places.
The Tribe has asked the court for DAPL to dis­close its oil spill and risk assess­ment records for full trans­paren­cy and review by the public.
If DAPL is suc­cess­ful in con­struct­ing and oper­at­ing the pipeline, the Tribe will seek to shut the pipeline oper­a­tions down.
A Native Nations march on Wash­ing­ton is sched­uled for March

10

. The Stand­ing Rock Sioux Tribe and tribes across the coun­try invite allies in Amer­i­ca and from around the world to join the march.
"As Native peo­ples, we have been knocked down again, but we will get back up, we will rise above the greed and cor­rup­tion that has plagued our peo­ples since first con­tact," says Archambault.
"We call on the Native Nations of the Unit­ed States to stand togeth­er, unite and fight back. Under this admin­is­tra­tion, all of our rights, every­thing that makes us who we are is at risk. Please respect our peo­ple and do not come to Stand­ing Rock and instead exer­cise your First Amend­ment rights and take this fight to your respec­tive state capi­tols, to your mem­bers of Con­gress, and to Wash­ing­ton, DC."
[If you like what you've read, help us spread the word. ​

"

Like" Rur­al Amer­i­ca In These Times on Face­book. Click on the ​

"

Like Page" but­ton below the bear on the upper right of your screen. Also, fol­low RAITT on Twit­ter @RuralAmericaITT]
This blog's mis­sion is to pro­vide the pub­lic ser­vice of help­ing make the issues that rur­al Amer­i­ca is grap­pling with part of nation­al discourse.