How Unions Can Bridge the Gap Between Climate and Labor Movements
The unionization of environmental organizations is changing the climate justice movement for the better. Here's how.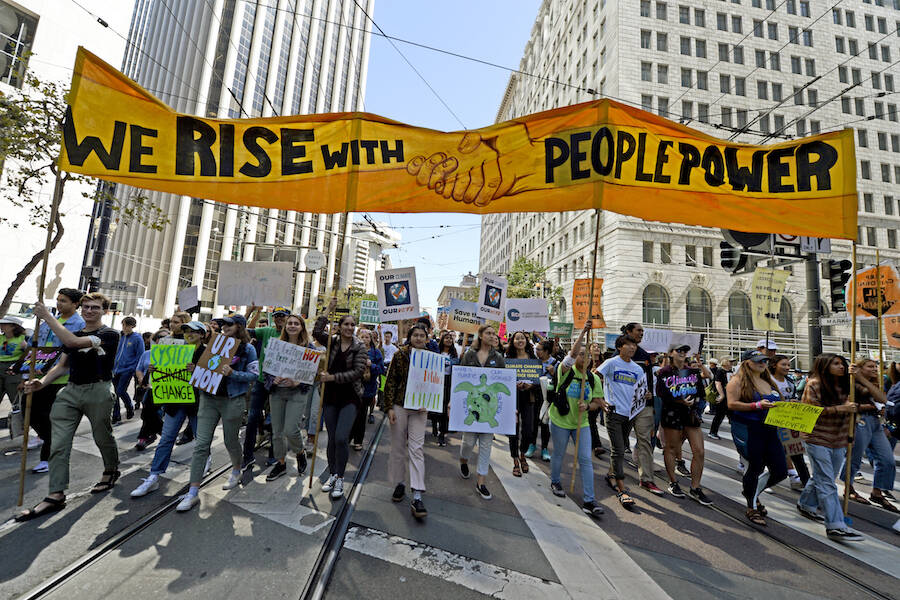 While U.S. union density hit an all-time low in 2019, the nonprofit sector appears to be one area where workers are unionizing. The Nonprofit Professional Employees Union (NPEU) brought seven new workplaces into their union during a 16-day period in April, including the environmental organization Friends of the Earth. And while there is no official data on nonprofit unions yet (many of them are fairly new), climate justice organizations are some of the many workplaces that have scrambled to unionize both prior to and during the pandemic for the same reasons as other workers: pay, benefits and job security.
Climate activists have often been denounced by trade unionists who believe they are out to destroy workers' well-paying jobs. There's an old joke that goes, ​"Are you an environmentalist, or do you work for a living?" But what happens to the often fraught relationship between unions and environmental organizations when green staffers become union members too?
Unions' primary purpose is to give workers the ability to collectively bargain around working conditions — so it's not hard to understand why many workers would want to be union members. In fact, labor unions currently have a 65% approval rating. As the economy is in shambles, labor's support has been steadily increasing, perhaps because millions have been laid off, many of whom lost their health insurance and received no severance. Nonprofits, which can be financed through a mix of federal and state funding, private grants and individual donations, are also in a Covid-induced precarious situation. Workers who may have felt that their jobs were previously secure thanks to an air of prestige have seen colleagues furloughed or laid off — or have witnessed leadership make big changes in their organizations without involving staff.

Charlie Jiang, a climate campaigner at Greenpeace USA, an environmental nonprofit, told In These Times that staff there ​"have been organizing for quite some time, and the pandemic strengthened our resolve. We're fighting for more clear and consistent policies and more organizational transparency." The Greenpeace USA Workers Union, affiliated with Progressive Workers Union (PWU), was voluntarily recognized in August. Jiang said that union members ​"are looking ahead to meeting management with good faith at the bargaining table… We formed a union to fight for fair and better working conditions, and for a culture rooted in justice."
Unions do far more than allow workers to collectively bargain. They give people the ability to practice democracy in the workplace, they have the power to change our political system, and they challenge corporate profit and power — making them potential allies for environmental organizations that do the same. Groups like Greenpeace, the Sierra Club and 350​.org often fight big corporations over their dangerous disposal of chemical waste, fossil fuel emissions, factory farming and more. Workers for these corporations are the ones who handle toxic waste, breathe dirty air and process chicken at poultry plants.
Environmental groups and worker organizations are aligned on many issues, and some do work closely together. According to Rebecca Wolf, a senior organizer on the factory farm team at Food and Water Watch and a member of NPEU, ​"Our true focus is corporate control. Unionizing workers inherently beats back against corporate control and control of the food system. I see environmental organizations all the time in corporate partnerships, and we have a hard line against that."
While unions are funded only by members' dues money, many environmental organizations take money from corporate donors — some of which face off against unions in their own workplaces. This dynamic can create tension between staff and leadership at environmental organizations, which may have different priorities.
Elon Musk, billionaire CEO of Tesla, anonymously donated over $6 million to the Sierra Club. But in the summer of 2018, after coming under fire for a $40,000 donation to a Republican-allied group, Musk asked Sierra Club executive director Michael Brune for public support. A steward at PWU who asked to remain anonymous for fear of retaliation told In These Times that ​"PWU kicked that tough discussion off. [We] help them stay grounded on worker issues." While Brune initially shared words of support for Musk on his personal Twitter account, later that year, the Sierra Club released a statement in support of workers organizing at Tesla — something union members believe can be attributed, at least in part, to the union. The anonymous steward told In These Times, ​"It's important for unions that represent workers at progressive organizations to hold those organizations accountable." Without a union, it may have been more difficult for Sierra Club staff to push back against leaders and ensure that they publicly supported Tesla workers instead of their CEO, that steward underscores.
And while unions are able to win impressive gains around wages, benefits and a voice at work, their true power lies in their ability to shut down the economy if necessary. On the whole, workers at nonprofits and other progressive organizations are not necessarily in a strategic position to exert leverage to secure the biggest wins for the climate — their going on strike would not have a significant impact on the broader economy. Workers in logistics, healthcare and education have far more power to throw a wrench in how our economy and society functions. And building trades workers, who are likely to have more work if legislation like the Green New Deal is passed, could be very influential in climate policy. Their unions are large and powerful, and their members are construction workers and electricians, whose work will be directly impacted by both climate change and climate legislation. While building trades workers tend to be more conservative, the potential for more work and larger membership rolls could make them the deciding factor in the passage of a Green New Deal.
But environmental staffers' identity with the broader labor movement and the solidarity that can be strategically expressed — such as in the case of the Sierra Club and Tesla workers organizing — could forge more ties between the workers' movement and the environmental movement as more of these workers organize at their workplaces. It's also undeniable that the experience of acting collectively with coworkers can deepen political consciousness, no matter one's workplace or prior political commitments.
Wolf, who was on her union's organizing committee, told In These Times that ​"even though we work to make people's lives better every day at work, collective action is the experience you need to truly understand power-building. Forming a union takes all the messy and good bits of experience, values, and political consciousness and brings them together in a patchwork that moves everyone along."
But a factor that may diminish the influence of these environmental staff unions is the unions they are tied to. NPEU is affiliated with the International Federation of Professional and Technical Engineers (IFPTE), which is a member of the AFL-CIO, the largest labor federation in the country. In contrast, NPEU is a fairly small union, with ​"roughly 250 to 300 dues-paying members, about 500 working on their first contract, and hundreds more that are in the process of organizing," according to Katie Barrows, vice president of communications for the union.
In contrast, PWU, which also organizes environmental nonprofits, is an independent union, which means it's not affiliated with any other union or any labor federation. (PWU's bargaining units include staffers at Sierra Club, 350​.org, Greenpeace USA and the Union of Concerned Scientists.) According to the anonymous Sierra Club steward, this independence from the AFL-CIO has actually helped the union: PWU is free to run its own program, which focuses on anti-racism and social justice. He told In These Times that ​"the members of PWU are first-time union members. They never knew what was possible in a union, so there are no limitations. Our power is in the involvement of our members and their creativity."
However, there are benefits to being part of a larger federation. Only AFL-CIO affiliates are able to shape the federation's strategy and elect its leaders, which means that PWU won't have a say in whether the AFL-CIO ever supports the Green New Deal. Barrows believes that ​"if environmental professionals organize, they'll be a growing part of the labor movement, and they'll have a voice in decisions, especially if they're in the AFL. Having environmental workers organize will be helpful to bridging that gap, and to uniting labor and environmental groups."
While environmental staffers have formed unions for the same reasons most workers do, their unions may be a tool for something greater. The anonymous steward told In These Times, ​"Our members are at the intersection of labor and environmental work. They work on behalf of environmental causes, but they're workers as well. They're trying to weave their beliefs about the importance of workers into climate legislation and conversations with politicians and union leaders." The steward pointed to a pro-union video that PWU members made in collaboration with the Sierra Club about the 2018 Janus v. AFSCME Supreme Court decision, which made it illegal for public sector unions to collect fees from non-members. He also told In These Times that the Sierra Club and union also worked together to release a statement about the decision, which quotes executive director Brune as saying, ​"Today's decision does the bidding of the very same corporations that have polluted our communities, but we will march on."
While it is undeniable that the rift between labor and environmental organizing runs deep, the staff at climate organizations joining the ranks of the labor movement could help bridge the divide between these two critical movements. As Wolf at Food and Water Watch told In These Times, ​"We can always be doing better, and while greens in general are doing better, we need to be much more public about our connection to labor, and a broader connection to and with all social movements.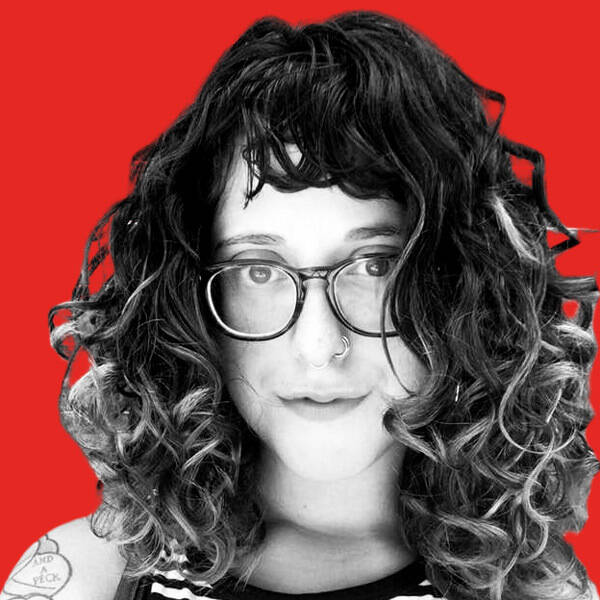 Mindy Isser
works in the labor movement and lives in Philadelphia.