North Dako­ta vot­ers have reject­ed a mea­sure that would have per­mit­ted cor­po­ra­tions to own and to oper­ate dairy and pork farms of up to 640 acres. On Tues­day, 75.7 per­cent of vot­ers opposed Mea­sure 1.
North Dako­ta is one of only nine states that pro­hib­it or lim­it cor­po­rate farm­ing. A 1932 law has long for­bid­den non­fam­i­ly cor­po­rate own­er­ship of farms. But in March of last year, the state leg­is­la­ture passed a bill that loos­ened restric­tions for dairy and pork farms only.
The North Dako­ta Farm­ers Union opposed the law and gath­ered more than 20,000 sig­na­tures to force a statewide vote on Mea­sure 1. The group spent hun­dreds of thou­sands of dol­lars to defeat the mea­sure, far more than the sev­er­al thou­sand com­mit­ted by the dairy and pork inter­ests. Accord­ing to its pres­i­dent, Mark Watne, about 1,000 peo­ple par­tic­i­pat­ed in its cam­paign, mak­ing 90,000 phone calls and knock­ing on 5,000 doors.
North Dako­ta Farm Bureau Pres­i­dent Daryl Lies, who sup­ports legal­iza­tion of cor­po­rate own­er­ship, said he expect­ed the out­come. ​"Con­sid­er­ing that the vote no cam­paign was financed in excess of a mil­lion dol­lars and basi­cal­ly zero dol­lars were spent on the yes side, it's not sur­pris­ing," says Lies.
The measure's vic­to­ri­ous oppo­nents con­tend that the law would have invit­ed large cor­po­ra­tions to buy land, cre­at­ing com­pe­ti­tion that would harm fam­i­ly farm­ers. They add that the mea­sure could have threat­ened the North Dakota's val­ues and her­itage. The state's pol­i­tics have long been dis­tinc­tive. It was the site of the People's Par­ty (the Pop­ulists) orga­niz­ing dur­ing the late 19th cen­tu­ry, and the Bank of North Dako­ta, the only state-owned insti­tu­tion of its kind, was found­ed in 1919.
Watne argues that fam­i­ly farms are more effi­cient than cor­po­rate farms. ​"Farm fam­i­lies tend to train the next gen­er­a­tion, to take care of the land," he says. ​"Cor­po­ra­tions reward share­hold­er prof­its, which may or may not be in the long-term inter­est of the land." Allow­ing cor­po­ra­tions to own land caus­es con­sol­i­da­tion, and ​"cre­ates a com­pe­ti­tion lev­el for fam­i­ly farms" that can be ​"seen in oth­er states, where there is a decrease in fam­i­ly farms with con­sol­i­da­tion." If farm­ers want to coop­er­ate, he said, they do not need the cor­po­rate busi­ness mod­el, and can instead form a part­ner­ship. Farm­ers might also orga­nize cooperatives.
In addi­tion to their eco­nom­ic ben­e­fits, Watne believes fam­i­ly farms pro­mote healthy com­mu­ni­ties. Fam­i­ly farm­ers ​"tend to live in or near com­mu­ni­ties where the land is locat­ed," he says. ​"They're part of society."
Ahead of Tuesday's vote on the ref­er­en­dum, one farmer expressed his oppo­si­tion (in a let­ter to the edi­tor of a region­al ag pub­li­ca­tion) this way:
"[Mea­sure 1] will only dri­ve up the price of land and rent as cor­po­rate farms expand their land base to gain ​'effi­cien­cy' by spread­ing costs over more acres. This will cause farm­ing mar­gins to be thin­ner yet for all farm­ers and make it dif­fi­cult for fam­i­ly farm­ers and espe­cial­ly begin­ning farm­ers to com­pete for land against the deep pock­ets of corporations."
He con­tin­ued:
"Pro­po­nents also false­ly tout that Mea­sure 1 is need­ed to allow cur­rent fam­i­ly farms to pass their oper­a­tion on to the next gen­er­a­tion. Cur­rent North Dako­ta laws already allow fam­i­ly mem­bers the abil­i­ty to incor­po­rate or form LLPs. This is real­ly about mon­ey and pow­er. Who­ev­er has the most of one has the most of both."
The yes vote
Sup­port­ers of Mea­sure 1 argue that, after years of declin­ing ani­mal farm­ing, the defeat­ed law would have enabled fam­i­ly farm­ers to join forces to form cor­po­ra­tions to bet­ter compete.
Lies says that the neg­a­tive effects on small farm­ers would have been ​"min­i­mal to none," and added that the law could have cre­at­ed ​"oppor­tu­ni­ties for small farm­ers to do things togeth­er through cor­po­rate struc­tures, to make busi­ness more sus­tain­able through oppor­tu­ni­ties for invest­ment and diver­si­fi­ca­tion." In almost every oth­er state, he says, these oppor­tu­ni­ties for cor­po­rate struc­tures exist.
State Sen. Ter­ry Wanzek, a Repub­li­can, spon­sored the 2015 bill that would relax restric­tions on cor­po­rate own­er­ship. He believes fear about cor­po­rate com­pe­ti­tion is ​"way overblown." He point­ed out that his bill restrict­ed cor­po­rate farms to 640 acres. It fol­lowed the lead of oth­er states like South Dako­ta, where there are few­er restric­tions but where, he said, large com­pa­nies do not dom­i­nate. ​"I don't think it would cause one iota of com­pe­ti­tion," he says. ​"I see more opportunity."
Accord­ing to Wanzek, the state is home to only about 16,000 dairy cows com­pared to Wisconsin's 1.3 mil­lion and about 10,000 hogs com­pared to Iowa's 21 mil­lion. But North Dako­ta has resources includ­ing open space, low-cost feed, and plen­ti­ful water that Wanzek believes cre­ate ​"great poten­tial." If farm­ers could work togeth­er to form a cor­po­ra­tion, he says, they could more eas­i­ly make shared invest­ments to suc­ceed financially.
Wanzek does not believe his bill would have caused a break with his state's tra­di­tions. ​"I don't think it would affect how we feel about our her­itage at all," he says. ​"I can do in one day what took my grand­pa a whole plant­i­ng sea­son to get done. Even with new tech­nolo­gies, I have the same fam­i­ly, con­ser­v­a­tive, tra­di­tion­al val­ues as my grandpa."
Though it pro­hibits non­fam­i­ly cor­po­ra­tions, North Dako­ta is already home to many large farms. Accord­ing to the U.S. Depart­ment of Agri­cul­ture, a farm is con­sid­ered small if it has an annu­al gross cash income of less than $350,000. North Dako­ta has the small­est share of small fam­i­ly farms in the nation at 71 percent.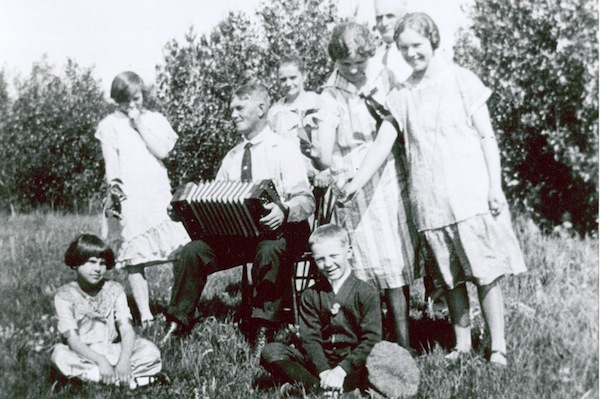 A farm fam­i­ly in Blais­dell, North Dako­ta cir­ca 1924. (Pho­to: Flickr / Cre­ative Commons)
Cor­po­rate rights
Accord­ing to David Sax­owsky, a pro­fes­sor of agri­cul­ture at North Dako­ta State Uni­ver­si­ty, if Mea­sure 1 had passed, it would have ​"prob­a­bly ben­e­fit­ed the econ­o­my." He says that both sup­port­ers and oppo­nents of the law make valid argu­ments. Allow­ing cor­po­ra­tions to oper­ate dairy and pork farms would enable fam­i­ly farm­ers in those indus­tries to incor­po­rate with sec­ond cousins and neigh­bors, cre­at­ing new oppor­tu­ni­ties. At the same time, loos­en­ing reg­u­la­tions would allow out­side cor­po­ra­tions to buy land, pro­vid­ing new com­pe­ti­tion for local fam­i­ly farms.
Sax­owsky raised addi­tion­al con­cerns about envi­ron­men­tal dam­age. ​"If not prop­er­ly man­aged, it could have an adverse effect on the envi­ron­ment," and in par­tic­u­lar might have caused ​"some con­t­a­m­i­na­tion of water resources." In addi­tion to fer­til­iz­er and pes­ti­cide runoff, one of the largest agri­cul­tur­al threats to water qual­i­ty, whether owned by a fam­i­ly or cor­po­ra­tion, are Con­cen­trat­ed Ani­mal Feed­ing Oper­a­tions (CAFOs). Not to be con­fused with ​"manure", aquat­ic ecosys­tems are not equipped to han­dle the sheer vol­ume of urine and feces these indus­tri­al­ized oper­a­tions generate.
Wanzek says he does not intend to re-intro­duce the law now that cit­i­zens have reject­ed it. But oppo­nents of the 1932 law restrict­ing cor­po­rate own­er­ship have not giv­en up. Last month, the Farm Bureau sued, ask­ing a fed­er­al judge in Far­go to inval­i­date the entire law. The Bureau informed the Grand Forks Her­ald that the case will be trans­ferred to South­west­ern Fed­er­al Dis­trict Court in Bismarck.
Lies says his orga­ni­za­tion is suing because the exist­ing law is uncon­sti­tu­tion­al and dis­crim­i­na­to­ry. ​"As farm­ers," he says, ​"we can't use the cor­po­rate struc­ture like any oth­er business."