The Historic Korean Peace Declaration Was Made Possible By Social Movements, Not Trump
A conversation with peace activist Christine Ahn.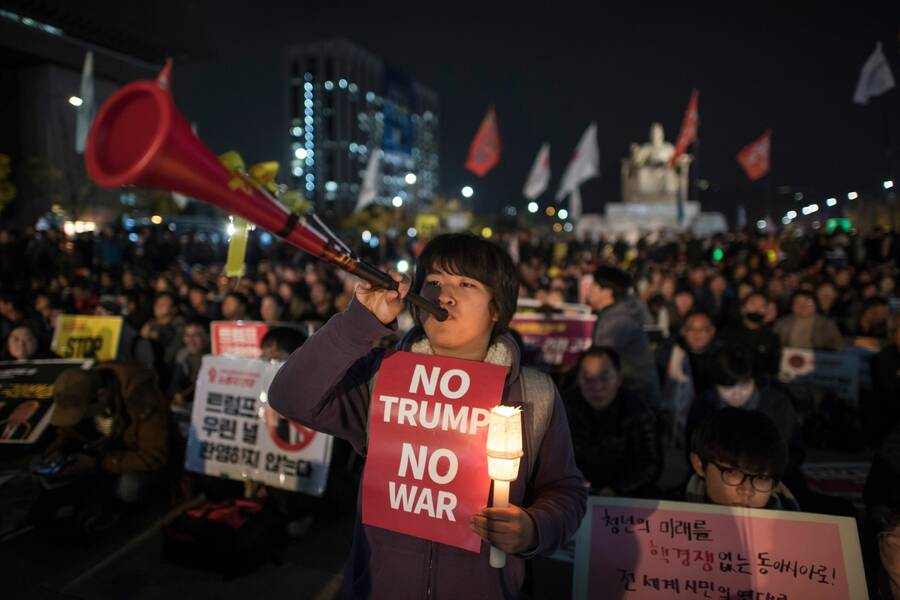 Pres­i­dent Don­ald Trump — who has pre­vi­ous­ly threat­ened the entire Kore­an penin­su­la with nuclear anni­hi­la­tion — now appears to be claim­ing cred­it for a his­toric step towards mil­i­tary de-esca­la­tion tak­en April 27 by North and South Kore­an heads of state. Fol­low­ing a joint peace dec­la­ra­tion by North Kore­an leader Kim Jong-un and his South Kore­an coun­ter­part, Moon Jae-in, Trump was met at an April 28 ral­ly in Michi­gan with chants of ​"Nobel! Nobel!" He replied to the crowd: ​"That's very nice, thank you… I just want to get the job done."
"It's a new day, and we're building the movement."
Accord­ing to peace activist Chris­tine Ahn, the ​"job" of push­ing lead­ers to move towards for­mal­ly end­ing the Kore­an War was, in fact, accom­plished by dogged Kore­an anti-war activists who helped oust for­mer South Kore­an Pres­i­dent Park Geun-hye in 2017 and gave Moon Jae-in a man­date for peace. Ahn says that it was these move­ments, sup­port­ed by inter­na­tion­al activists, that forced the North and South Kore­an lead­ers to release a state­ment that declares the ​"new era of peace" will include steps towards fam­i­ly reuni­fi­ca­tion, denu­cleariza­tion and ces­sa­tion of all hos­tile acts.
Ahn is in a posi­tion to know. The South Korea-born, Hawaii-based peace activist has been orga­niz­ing to end the Kore­an war under the admin­is­tra­tions of Trump, Barack Oba­ma and George W. Bush. She found­ed and coor­di­nates Women Cross DMZ, which describes itself as ​"a glob­al move­ment of women mobi­liz­ing to end the Kore­an War, reunite fam­i­lies, and ensure women's lead­er­ship in peace building."
The 1950 – 1953 Kore­an War left up to three-mil­lion Kore­ans dead, wound­ed or miss­ing, thanks in part to a vicious bomb­ing cam­paign per­pe­trat­ed by the Unit­ed States. While a 1953 agree­ment put an armistice in place, the war has still not been for­mal­ly end­ed. The recent peace dec­la­ra­tion is the most mean­ing­ful devel­op­ment to date to offi­cial­ly end the conflict.
Ahn tells In These Times about the sig­nif­i­cance of Friday's sum­mit, the peace move­ments that made the announce­ment pos­si­ble and how peo­ple in the Unit­ed States can show sol­i­dar­i­ty — in con­trast to their president.
Sarah Lazare: You have been orga­niz­ing for years — under Don­ald Trump as well as Barack Oba­ma — for the world to sup­port a for­mal end to the Kore­an War. What is your response to Friday's summit?
Chris­tine Ahn: It was a water­shed moment for Korea. It was extra­or­di­nary to see the two lead­ers take hands, smile at each oth­er and express gen­uine heart­felt desire for peace between the two Kore­as and on the Kore­an Penin­su­la. This was backed up by a real­ly impres­sive joint dec­la­ra­tion. They pledge that the con­flict between North and South Korea has end­ed, and they have com­mit­ted to begin­ning the process of reuni­fi­ca­tion. Korea and the Kore­an peo­ple are at the cen­ter of the process. It was real­ly a beau­ti­ful statement.
The first sec­tion out­lines var­i­ous steps they want to take to begin that process. This includes fam­i­ly reunions — the first will be held August 15, the anniver­sary of Kore­an lib­er­a­tion from Japan­ese occu­pa­tion. They will begin civ­il soci­ety exchanges in June. They're going to have an embassy on the North Kore­an side that has rep­re­sen­ta­tives from both North and South Korea to make sure there is a smooth transition.
The sec­ond sec­tion is about reduc­ing mil­i­tary ten­sions. Kim Jong-un and Moon Jae-in com­mit­ted to stop­ping loud­speak­ers at the bor­der that emit pro­pa­gan­da. They said they would work to trans­form the DMZ, the heav­i­ly mil­i­ta­rized bor­der­land between North and South Korea that has 1.2 mil­lion land­mines, into a peace park. They said they would trans­form the west­ern sea bor­der, the sight of many skir­mish­es, into a mar­itime peace zone.
The third sec­tion is about trans­form­ing the armistice agree­ment into a peace agree­ment — and try­ing to get the Unit­ed States and Chi­na to sign a peace agree­ment. I think this sum­mit is going to be the great­est deter­rent against con­flict on the Kore­an Penin­su­la. It also includes the com­mit­ment to denu­cleariza­tion: a nuclear-free Kore­an Peninsula.
Sarah: Who do you think deserves cred­it for this agree­ment? How did this come to be?
Chris­tine: The two Kore­as must be cred­it­ed. The real game-chang­ing moment was the fact that the peace move­ment over­threw Pres­i­dent Park Geun-hye and it led to Can­dle­light Rev­o­lu­tion and ush­ered in Pres­i­dent Moon Jae-in who comes from this move­ment for democ­ra­cy and human rights. He is reflect­ing a man­date from the peo­ple of South Korea. He has a pop­u­lar­i­ty rate of 75 to 80 per­cent, and the clear major­i­ty of South Kore­ans want peace. He's real­ly reflect­ing the will of the Kore­an people.
The out­come is because the peo­ple rose up. I also cred­it inter­na­tion­al sol­i­dar­i­ty, includ­ing the work of my orga­ni­za­tion for being a part of this. If you'd seen the shit I've had to go through: being red bait­ed, tar­get­ed by a gov­ern­ment-led smear cam­paign against me and Women Cross DMZ. There being a press con­fer­ence in 2016 where a curi­ous white Amer­i­can lawyer alleged that the peace walk was the work of the North Kore­an gov­ern­ment. We had to go through all of that, but it was the courage of inter­na­tion­al women who pushed through the mes­sage of need­ing to end the Kore­an War with a peace treaty at a time of real­ly low inter-Kore­an rela­tions and a repressed South Kore­an peace move­ment under the last 10 years of darkness.
Sarah: After threat­en­ing the Kore­an Penin­su­la with nuclear attacks, Trump now appears to be tak­ing par­tial cred­it for the peace break­through. And Moon Jae-in, who has been known to flat­ter Trump, sug­gest­ed to his aides on Mon­day that the U.S. pres­i­dent deserves the Nobel Peace prize, report­ed­ly stat­ing: ​"The only thing we need is peace." What do you make of this?
Chris­tine: Moon Jae-in telling Trump that he should get the Nobel peace prize and the Kore­ans will have peace says every­thing about how gra­cious of a leader he is. If this is what will get Trump to push through his detrac­tors, so let it be! Kore­ans have their eyes on the big­ger prize: the end of the war and the start of a new begin­ning for the people.
Sarah: How can peo­ple in the Unit­ed States and around the world show sol­i­dar­i­ty with Kore­an peace move­ments right now?
Chris­tine:I felt respon­si­bil­i­ty as a U.S. cit­i­zen know­ing the Unit­ed States is the largest per­pe­tra­tor in the war and has respon­si­bil­i­ty to bring clo­sure. [Editor's note: The U.S. mil­i­tary dev­as­tat­ed North Korea dur­ing the Kore­an War. Accord­ing to mil­i­tary his­to­ri­an Con­rad Crane, the U.S. mil­i­tary ​"at least half oblit­er­at­ed" 18 of North Korea's 22 major cities.]
Our respon­si­bil­i­ty as a U.S. peace move­ment is to sup­port the inter-Kore­an peace process and to call on our gov­ern­ments, espe­cial­ly those that par­tic­i­pate in the Kore­an war. At least 20 coun­tries — includ­ing Cana­da, the Unit­ed King­dom, France and the Nether­lands — par­tic­i­pat­ed in the Kore­an War. Those coun­tries have a respon­si­bil­i­ty to help bring for­mal closure.
It's a new day, and we're build­ing the move­ment. That's why in May we're part­ner­ing with the Nobel Wom­en's Ini­tia­tive to build this move­ment and increase mobi­liza­tion of women across the world to end this war. This was an inter­na­tion­al con­flict, not just a civ­il war. We are see­ing the begin­ning of a new kind of transna­tion­al fem­i­nist solidarity.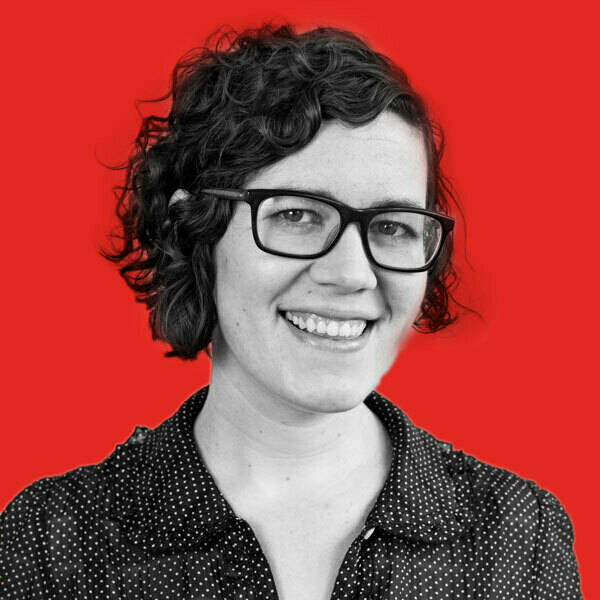 Sarah Lazare is web edi­tor at In These Times. She comes from a back­ground in inde­pen­dent jour­nal­ism for pub­li­ca­tions includ­ing The Inter­cept, The Nation, and Tom Dis­patch. She tweets at @sarahlazare.