NPR Workers Just Showed Us Why Journalists Need to Organize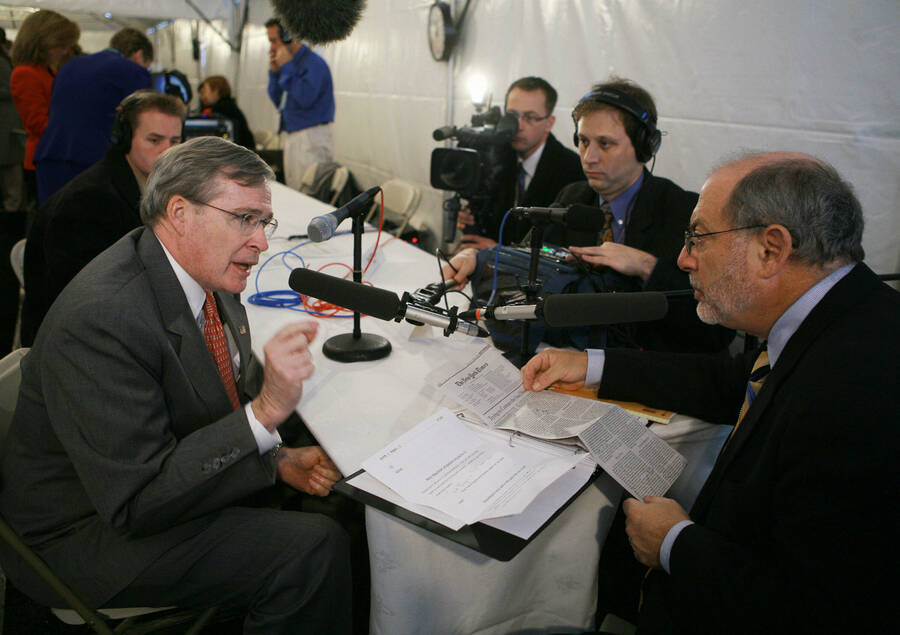 NPR work­ers just proved that col­lec­tive action works, and — in today's media land­scape — staff unions are more impor­tant than ever.
The Screen Actors Guild‐​American Fed­er­a­tion of Tele­vi­sion and Radio Artists (SAG-AFTRA) and Nation­al Pub­lic Radio (NPR) reached a ten­ta­tive, three-year agree­ment short­ly after mid­night on July 15, pre­vent­ing more than 400 NPR employ­ees from going on strike.
On July 14, almost 300 of these employ­ees vot­ed to request strike autho­riza­tion from the SAG-AFTRA nation­al board. Despite soar­ing pub­lic radio rat­ings in the wake of Trump's elec­tion, the union said that NPR was insti­tut­ing a two-tier salary sys­tem, in which one group of work­ers would receive low­er pay than the oth­er. His­tor­i­cal­ly, the estab­lish­ment of two-tier union con­tracts have dealt major blows to work­er sol­i­dar­i­ty. ​"My great­est con­cern is for the new hires who come in behind me," tweet­ed NPR reporter Sarah McCam­mon on July 14.
An email sent from the union nego­ti­at­ing com­mit­tee to mem­bers of the bar­gain­ing unit on July 11 explained, ​"Absent an 11th-hour change, the com­pa­ny is plan­ning to offer us an odi­ous con­tract. The com­pa­ny is set­ting up a bit­ter choice for us."
Accord­ing to employ­ees, man­age­ment even float­ed the idea of gut­ting over­time pay and tak­ing away health­care cov­er­age for tem­po­rary work­ers. ​"They are try­ing to low­er salary min­i­mums, and they are real­ly try­ing to weak­en the pow­er of the union," NPR pro­duc­er Becky Sul­li­van said dur­ing a July inter­view. ​"They want to write in more flex­i­bil­i­ty for out­side peo­ple to do union work and take away the union's abil­i­ty to file a grievance."
Dur­ing nego­ti­a­tions, some of NPR's most pop­u­lar staff mem­bers, includ­ing ​"All Things Con­sid­ered" host Robert Siegel, sent CEO Jarl Mohn a let­ter detail­ing the impor­tance of the union con­tract. ​"NPR's stature and audi­ence have grown, while most of us were serv­ing under the SAG-AFTRA con­tract," it reads. ​"Mem­bers of your man­age­ment team seem to believe that NPR has become the revered media com­pa­ny it is — a com­pa­ny that they boast about serv­ing — despite that con­tract. They mis­un­der­stand NPR's his­to­ry and cul­ture: NPR has become great part­ly because of our labor-man­age­ment con­tract. The con­tract has ensured prop­er work­ing con­di­tions, col­lab­o­ra­tion and col­le­gial­i­ty, and an atmos­phere of mutu­al respect."
Although details of the new deal have not been dis­closed, a SAG-AFTRA rep­re­sen­ta­tive said that it includes salary increas­es and ​"effec­tive­ly repelled efforts to erode union pro­tec­tions and insti­tute a two-tiered salary system."
"Despite the often-ref­er­enced decline of orga­nized labor, news unions have been a major sto­ry over the last two years as media out­lets like Salon, Vice, MTV News, The Guardian US, Jacobin, Thril­list, Slate, and oth­ers have obtained union rep­re­sen­ta­tion. ​"News unions are back," wrote Gary Weiss at the Colum­bia Jour­nal­ism Review last month, ​"They nev­er real­ly went away, of course, but for the first time in mem­o­ry they are proac­tive rather than on the defensive."
In addi­tion to tele­vi­sion and radio jour­nal­ists, SAG-AFTRA also rep­re­sents record­ing artists and film and the­ater per­form­ers. Accord­ing to Writ­ers Guild of Amer­i­ca orga­niz­er Megan McRobert, the union's bar­gain­ing on behalf of NPR employ­ees demon­strates how the very threat of a strike wields con­sid­er­able pow­er in the media world.
"In many indus­tries today, includ­ing in media, work­ers feel replace­able and as if their jobs could dis­ap­pear at any day," McRobert told In These Times. ​"But com­pa­nies depend on labor to gen­er­ate rev­enue, which is why with­hold­ing of labor — or threat­en­ing to — remains such a pow­er­ful tool."
"When faced with a strike threat or work stop­page, image-con­scious media com­pa­nies, in par­tic­u­lar, have to con­tend with a duel threat to their brand and source of rev­enue," McRobert con­tin­ued. ​"Tak­ing col­lec­tive action in the work­place is a proven way to chal­lenge and change the pow­er dynam­ics of an increas­ing­ly cor­po­ra­tized media industry."
In real­i­ty, NPR is much more cor­po­rate than many of its pro­gres­sive admir­ers believe, and it is much less lib­er­al than many of its con­ser­v­a­tive crit­ics assume. Regard­less, pub­lic broad­cast­ing is now in the Trump administration's crosshairs. Mean­while, NPR's right-wing detrac­tors are com­plain­ing about strong bias most com­i­cal of places, throw­ing a tantrum when NPR tweet­ed the Dec­la­ra­tion of Inde­pen­dence. NPR has strength­ened its brand by pre­sent­ing itself as the sober, rea­son­able alter­na­tive to an unhinged polit­i­cal cli­mate, and the com­pa­ny would have found itself in a chal­leng­ing sit­u­a­tion if the strike had played out.
With more than 37 mil­lion week­ly lis­ten­ers, 980 mem­ber sta­tions and an ever-grow­ing num­ber of pod­casts, the media orga­ni­za­tion would have had to scram­ble to fill spots on pop­u­lar shows like ​"All Things Con­sid­ered" and ​"Morn­ing Edi­tion," whose hosts are union mem­bers. A walk­out pre­sum­ably would have seen fans upset at man­age­ment deny­ing them a valu­able pub­lic ser­vice and Trump sup­port­ers bask­ing in lib­er­al hypocrisy.
NPR work­ers were able to use their lever­age effec­tive­ly and show why jour­nal­ism unions are still so important.
"
Michael Arria
is the U.S. cor­re­spon­dent for Mon­doweiss. Fol­low him on Twit­ter: @michaelarria.