Nurses Taste Victory in Battle That Shook New York Politics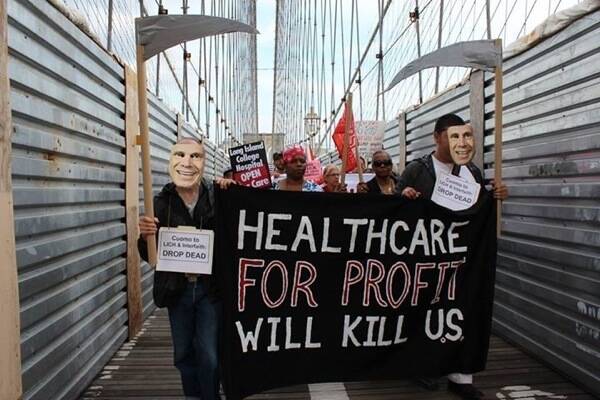 We wanted to make sure you didn't miss the announcement of our new Sustainer program. Once you've finished reading, take a moment to check out the new program, as well as all the benefits of becoming a Sustainer.

The momentum in the fight to save Brooklyn's hospitals seems to have shifted decidedly to the side of the community, not the bosses.
Not only did the fight over the hospitals prove central to the mayoral primary, helping sweep Bill de Blasio from the back of the pack to near-certain Democratic nominee and overall favorite; not only did a judge step in last month to side with nurses in declaring that SUNY Downstate had no right to close Long Island College Hospital (LICH); but now, another judge has issued a sweeping ruling in favor of the nurses that may have consequences for other embattled institutions.
Judge Johnny Lee Baynes of the state Supreme Court ruled on Thursday that the closure plan for LICH filed with the state Department of Health by SUNY Downstate officials was invalid and furthermore, that the DOH was at fault. He called the DOH's regulations for closing hospitals ​"unconstitutionally vague" and criticized its new tendency to act as a ​"rubber stamp" on hospital closings rather than acting in the best interests of the community. (He noted that, as recently as 2008, the department intervened at LICH to stop several departments from being shuttered.)
That's exactly what the attorneys representing the New York State Nurses Association, 1199SEIU and Concerned Physicians of LICH argued in their suit to keep the hospital open, making this yet another victory in the battle by the hospital workers to save their jobs and continue providing community healthcare. Along with several community associations, the unions and physicians' group have held rallies, taken direct action, staged a ​"Race for Care" and marched over the Brooklyn Bridge, taking their fight from a small neighborhood struggle to a defining issue of an election season that has centered on the gap between the city's haves and have-nots.
Judge Baynes' ruling requires the DOH to rewrite its rules closing hospitals before any other hospitals can be shut down — meaning that Interfaith Hospital in Bedford-Stuyvesant, next on the chopping block, may also have a reprieve. His ruling amounts to something like the moratorium on hospital closures that NYSNA has called for. Jill Furillo, registered nurse and executive director at NYSNA, said the decision ​"changes the playing field" in the citywide struggle for healthcare. ​"We now have stronger standing to keep other vital community hospitals, like Interfaith, open for care."
SUNY had been slowly closing departments at LICH even as the court battles went on, but things are now definitely looking up. On Judge Carolyn Demarest's order, ambulances began running to LICH again last Friday, September 6. Though the hospital is not yet operating at full capacity, the number of patients in the hospital is up to 41, according to NYSNA, with 11 being treated in the ICU. Meetings continue with Judge Demarest to determine who will take over operation of LICH from SUNY (one option that's been floated is that the doctors run the hospital themselves, along with a partner).
Judge Baynes must still issue an order to explain how his ruling will be enforced going forward. But the nurses, community members and elected officials are pleased with the way things are headed. As local and national media outlets have noted in recent days, the power dynamics in New York City are shifting, and the labor and community groups at the heart of this fight are the ones making that shift happen.
​"Today LICH; Tomorrow Interfaith, North Central Bronx Hospital, and St. Joseph's hospital. Today, we are one step closer to saving these hospitals, and preserving their services in our communities," said Letitia James, City Council member and candidate to succeed de Blasio as public advocate.
Be a Sustainer
We surveyed thousands of readers and asked what they would like to see in a monthly giving program. Now, for the first time, we're offering three different levels of support, with rewards at each level, including a magazine subscription, books, tote bags, events and more—all starting at less than 17 cents a day. Check out the new Sustainer program.
Sarah Jaffe is a Type Media Center Fellow, co-host (with Michelle Chen) of Dissent magazine's Belabored podcast, and a columnist at The New Republic and New Labor Forum. She was formerly a staff writer at In These Times and the labor editor at AlterNet. Her previous book is Necessary Trouble: Americans in Revolt, which Robin D.G. Kelley called ​"The most compelling social and political portrait of our age." You can follow her on Twitter @sarahljaffe.