Nursing Home Workers Win Big After Threatening to Strike: "We Have the Power Now"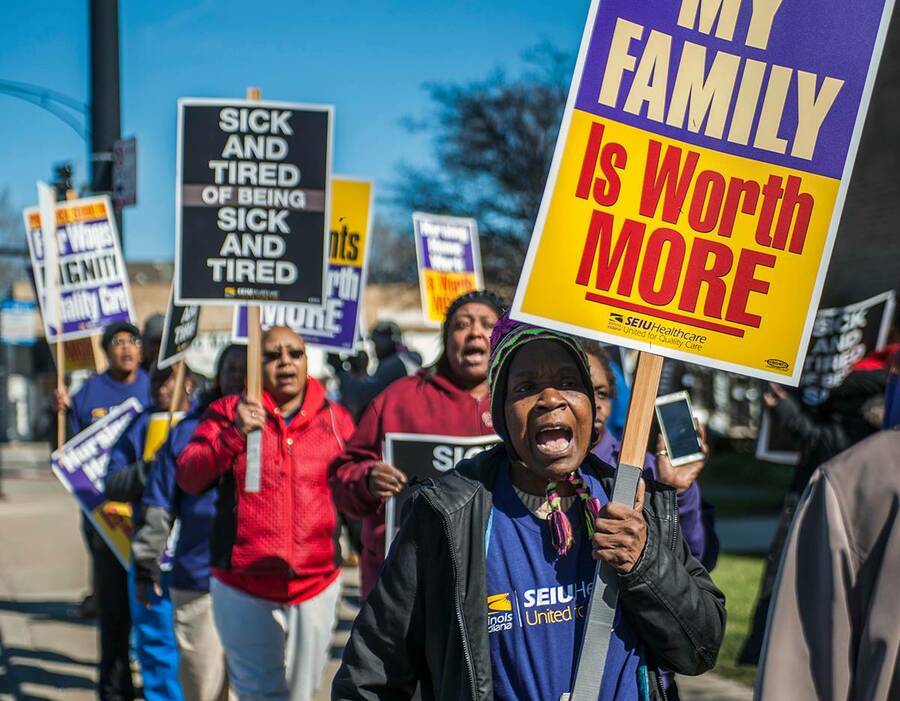 CHICA­GO — For more than two years, around 10,000 Illi­nois nurs­ing home work­ers worked with­out a new union con­tract — wait­ing and agi­tat­ing for a long over­due pay raise and bet­ter pro­tec­tion of their rights on the job. Those rights, they argued, would also improve the care of the ill and elder­ly in their charge.
Fed up with the own­ers' intran­si­gence, 5,000 of those work­ers announced that they were pre­pared to walk out. By rais­ing the cred­i­ble threat of the biggest strike in the his­to­ry of the U.S. nurs­ing home indus­try, the union con­vinced the lead­ing employ­er alliance in the state — the Illi­nois Asso­ci­a­tion of Health Care Facil­i­ties — to throw in the tow­el at the last minute.
Ear­ly this month, the own­ers agreed to most of the union's key demands, and the union called off the strike. Lat­er, work­ers vot­ed, and 97 per­cent approved the contract.
The work­ers — mem­bers of a large four-state health­care local of the Ser­vice Employ­ees Inter­na­tion­al Union (SEIU) — seemed hap­py with their finan­cial gains, even if some thought they deserved more. (SEIU cal­cu­lates that it rep­re­sents 25 per­cent of Illi­nois nurs­ing home work­ers and 75 per­cent of those in the Chica­go met­ro­pol­i­tan area.)
"It is great. I'm not going to com­plain," said Pamela Bleck­er, whose pay after 17 years as a cer­ti­fied nurs­ing assis­tant will rise from $11.31 an hour to $13.69 an hour under the new con­tract. ​"I think it could have been more, but some­thing beats noth­ing. I would have want­ed $15 an hour. Of course, I was will­ing and ready to strike."
"Oh, yeah, I was ready to strike," said William Rose, 56, who works in house­keep­ing and dietary depart­ments in Chicago's west side. ​"I want­ed to go straight for $15, but it was pret­ty fair, bet­ter than what [the employ­ers] said they could do."
He said he also felt hope­ful that the con­tract would help the union reduce the per­sis­tent prob­lem of under­staffing where he works.
"It was great to have this con­tract," said Susana Fragoso, 41, a cer­ti­fied nurs­ing assis­tant. ​"Some peo­ple were mak­ing $8.55 an hour, and under the new con­tract they would make over $11, some close to $12, but over­all there will be an aver­age of a 24 per­cent increase in pay."
But equal­ly impor­tant to most work­ers as pay, the con­tract gives them more pro­tec­tion of rights on the job — faster griev­ance pro­ce­dures, stronger staffing rules, few­er ways for employ­ers to raise issues of immi­gra­tion sta­tus and pro­tec­tions against man­age­ment under­min­ing high­er-paid work­ers with pref­er­ences for those paid less.
Nurs­ing home work­ers also learned how to deal with many of their prob­lems by col­lec­tive­ly con­fronting their super­vi­sors. That expe­ri­ence led to reliance dur­ing nego­ti­a­tions — and a strike, had it been need­ed — on ​"con­tract action teams," which kept work­ers involved in the fight, mak­ing it ​"a total­ly dif­fer­ent ball game," accord­ing to house­keep­er Francine Rico.
Nurs­ing homes rarely occu­py the head­lines, reflect­ing pop­u­lar neglect of the res­i­dents as much as the work­ers. But some ana­lysts see such per­son­al care work as the jobs of the future. Among the fastest grow­ing occu­pa­tions, accord­ing to the U.S. Bureau of Labor Sta­tis­tics, are nurs­ing, ther­a­py and oth­er exam­ples of peo­ple car­ing for peo­ple. Finan­cial Times colum­nist Sarah O'Connor writes that ​"if these are the fastest-grow­ing jobs in the econ­o­my and some of the unique­ly human jobs of the future, we need to make them better."
The work­ers' con­trac­tu­al gains require employ­ers to pay work­ers bet­ter and, indi­rect­ly, improve care for res­i­dents. But sat­is­fac­to­ry long-term nurs­ing home care (or care at a client's home when it's the choice of patients or doc­tors) will require more pub­lic funds, such as Medicare and Med­ic­aid. Those pro­grams, how­ev­er, could be vul­ner­a­ble under the cur­rent Repub­li­can administration.
More pub­lic fund­ing needs to be linked with oth­er reforms to try to ensure high qual­i­ty and rel­a­tive­ly equal care for every­one, accord­ing to SEIU. Chief nego­tia­tor for the union, Lar­ry Alcoff, notes that New York offers the ​"gold stan­dard" in res­i­den­tial nurs­ing home care and relies heav­i­ly on non-prof­it nurs­ing homes. Pub­lic or non-prof­it facil­i­ties are less like­ly to be focused on real estate strate­gies and investor prof­its and more on qual­i­ty of care, he says. The indus­try needs to be more account­able to res­i­dents, their fam­i­lies, the work­ers and the pub­lic at large. Alcoff argues for a ​"re-bal­anc­ing of pri­or­i­ties" (such as choic­es of more appro­pri­ate mod­els of care, at or away from home) and for increased pub­lic finan­cial sup­port. In that vein, the Illi­nois con­tract includes lan­guage designed to make the nurs­ing home own­ers more account­able for pro­vid­ing high-qual­i­ty care standards.
The achieve­ments of the almost-strike fall into two broad cat­e­gories, both impor­tant. On the one hand, work­ers scored sig­nif­i­cant gains in mate­r­i­al wel­fare. On the oth­er hand, they strength­ened their moral author­i­ty and abil­i­ty to con­tin­ue their fight by cre­at­ing more durable means of col­lec­tive power.
Here is how two nurs­ing home work­ers summed up their success:
"It's going to make a big dif­fer­ence for me and my fam­i­ly," said Debra Ward, 56, who has worked in nurs­ing homes for 10 years and served on the bar­gain­ing com­mit­tee. ​"I knew it would be tough. I didn't want to go on strike, but enough was enough."
"Next time will be a total­ly dif­fer­ent ball game," said Rico. ​"We are going to increase our stew­ard lead­er­ship and be pre­pared. Most impor­tant, we have shift­ed the pow­er at work. We have the pow­er now."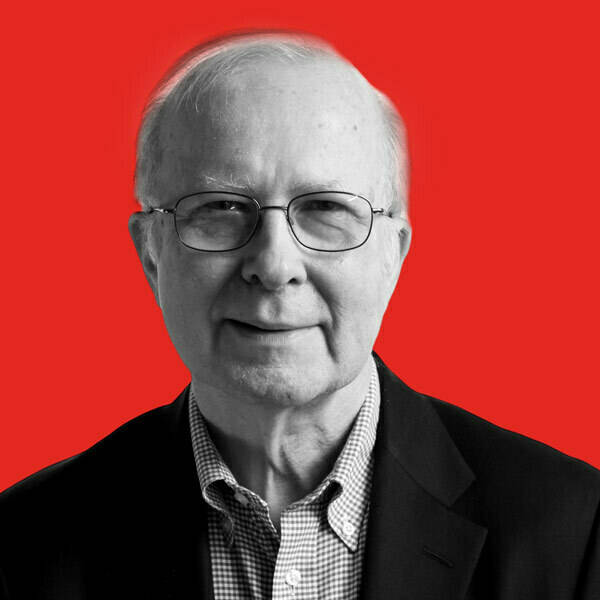 David Moberg, a senior edi­tor of In These Times, has been on the staff of the mag­a­zine since it began pub­lish­ing in 1976. Before join­ing In These Times, he com­plet­ed his work for a Ph.D. in anthro­pol­o­gy at the Uni­ver­si­ty of Chica­go and worked for Newsweek. He has received fel­low­ships from the John D. and Cather­ine T. MacArthur Foun­da­tion and the Nation Insti­tute for research on the new glob­al economy.