Protesting Budget Cuts, Thousands of NYC School Bus Drivers Strike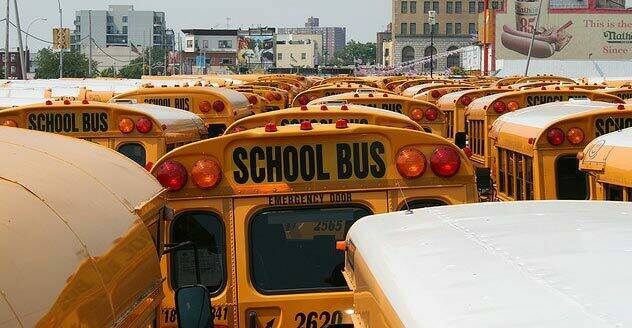 Reader donations, many as small as just $1, have kept In These Times publishing for 45 years. Once you've finished reading, please consider making a tax-deductible donation to support this work.
More than eight thousand New York City school bus drivers and aides went on strike Wednesday morning, protesting Mayor Michael Bloomberg's refusal to maintain workers' job security and wage protections. The strike affects more than
150
,
000
students who must find alternate means of transportation, but protesters say they're fighting on behalf of children.Many of the bus drivers and aides with Amalgamated Transit Union (ATU) Local
1181
undergo extensive training to work with the city's roughly
50
,
000
special-needs children who ride the bus. Proposed budget cuts, they say, will bring in too many less experienced drivers who just can't provide the same quality of care.
To cut costs, Bloomberg struck down the city's Employee Protection Provisions, a long-established
&
nbsp;system of maintaining job security for bus drivers and aides.
&
nbsp;Under the EPP, in place for more than
30
years, displaced drivers could transfer to other companies and receive pay and benefits according to industry seniority. Instead, Bloomberg wants to put bus contracts ​
"
out to open bid" for the first time.
&
ldquo;This is a very professional and serious job that we get trained for,
&
rdquo; said Anita Timmes, a matron who
&
rsquo;s accompanied children on and off the buses for
23
years.
&
nbsp;Timmes, who had been on the picket line since dawn, pointed out that many children use wheelchairs or are attached to medical devices such as respirators; they require more than just supervision.
&
ldquo;I don
&
rsquo;t think any driver can come off the street and do what we do,
&
rdquo; she said.
Your donation makes In These Times possible
Camille Beredjick
is a student of the Medill School of Journalism at Northwestern University and a Spring
2013
ITT intern.