The NYT Is Wrong: Greece Shouldn't Accept Endless Depression Because Default Might Be Painful
The paper of record says Greeks should look to the example of Argentina's 2001 default. But that default actually seems to have tremendously benefited the country.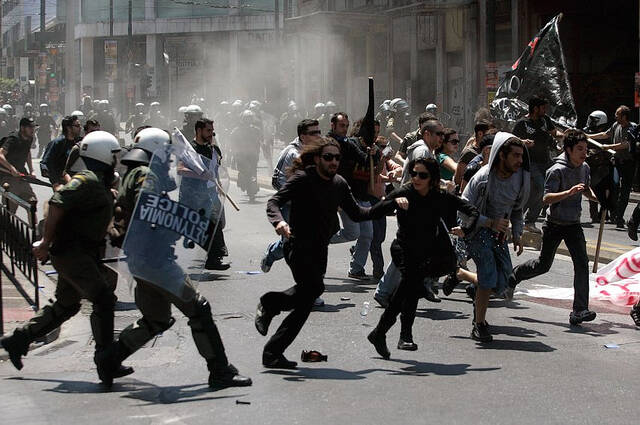 James Stew­art had a piece in the New York Times telling read­ers that if Greece were to leave the euro, it would face a dis­as­ter. The head­line warns read­ers, ​"Imag­ine Argenti­na, but Much Worse." The arti­cle includes sev­er­al asser­tions that are mis­lead­ing or false.
First, it is dif­fi­cult to describe the default in Argenti­na as a dis­as­ter. The econ­o­my had been plum­met­ing pri­or to the default, which occurred at the end of the year in 2001. The country's GDP had actu­al­ly fall­en more before the default than it did after the default. (This is not entire­ly clear on the graph, since the data is annu­al. At the point where the default took place in Decem­ber of 2001, Argentina's GDP was already well below the year-round aver­age.) While the econ­o­my did fall more sharply after the default, it soon rebound­ed, and by the end of 2003 it had regained all the ground lost fol­low­ing the default.
Argentina's econ­o­my con­tin­ued to grow rapid­ly for sev­er­al more years, ris­ing above pre-reces­sion lev­els in 2004. Giv­en the fuller pic­ture, it is dif­fi­cult to see the default as an espe­cial­ly dis­as­trous event, even if it did lead to sev­er­al months of uncer­tain­ty for the peo­ple of Argentina.
In this respect, it is worth not­ing that Paul Vol­ck­er is wide­ly praised in pol­i­cy cir­cles for bring­ing down the U.S. infla­tion rate. To accom­plish this goal, he induced a reces­sion that pushed the unem­ploy­ment rate to almost 11 per­cent. So the idea that short-term pain might be a price worth pay­ing for a longer-term ben­e­fit is wide­ly accept­ed in pol­i­cy circles.
The pre-default decline has been much sharp­er in Greece than in Argenti­na: over 25 per­cent in Greece, com­pared to less than 10 per­cent in Argenti­na. This should mean that Greece has much more room to bounce back if it regains con­trol over its fis­cal and mon­e­tary policy.
At one point, the piece refers to the views of Yanis Varo­ufakis, Greece's finance min­is­ter, on the dif­fi­cul­ties of leav­ing the euro. It relies on what it describes as a ​"recent blog­post." Actu­al­ly, the post is from 2012.
To sup­port the argu­ment that Greece has lit­tle prospect for increas­ing its exports, it quotes Daniel Gros, direc­tor of the Cen­ter for Euro­pean Pol­i­cy Stud­ies in Brus­sels, on the impact of deval­u­a­tion on tourism:
But they've already cut prices and tourism has gone up. But it hasn't real­ly helped, because total rev­enue hasn't gone up.
Actu­al­ly, tourism rev­enue has risen. It rose by 8 per­cent from 2011 to 2013 (the most recent data avail­able) mea­sured in euros, and by rough­ly 20 per­cent mea­sured in dollars.
In argu­ing that Greece can't increase rev­enue from fish­ing, the piece tells read­ers, ​"The Euro­pean Union has strict quo­tas to pre­vent over­fish­ing." How­ev­er, the piece also tells read­ers that leav­ing the euro would cause Greece to be thrown out of the Euro­pean Union. If that's true, the EU lim­its on fish­ing would be irrelevant.
The piece also make a big point of the fact that Greece does not at present have a cur­ren­cy oth­er than the euro. There are plen­ty of coun­tries, includ­ing many which are poor­er than Greece, who have man­aged to switch over to a new cur­ren­cy in a rel­a­tive­ly short peri­od of time. While this process will nev­er be pain­less, it must be com­pared to the pain asso­ci­at­ed with an indef­i­nite peri­od of unem­ploy­ment in excess of 20 per­cent, which is almost cer­tain­ly the path asso­ci­at­ed with remain­ing in the euro on the Troika's terms.
In mak­ing com­par­isons between Greece and Argenti­na, it is also worth not­ing that almost all econ­o­mists pro­ject­ed dis­as­ter at the time Argenti­na default­ed in 2001. Per­haps they have learned more about eco­nom­ics in the last 14 years, but this is not obvi­ous­ly true.
A ver­sion of this post orig­i­nal­ly appeared on the Cen­ter for Eco­nom­ic and Pol­i­cy Research's blog Beat the Press.