The Oakland Teachers Strike Isn't Just a Walk Out—It's a Direct Challenge to Neoliberalism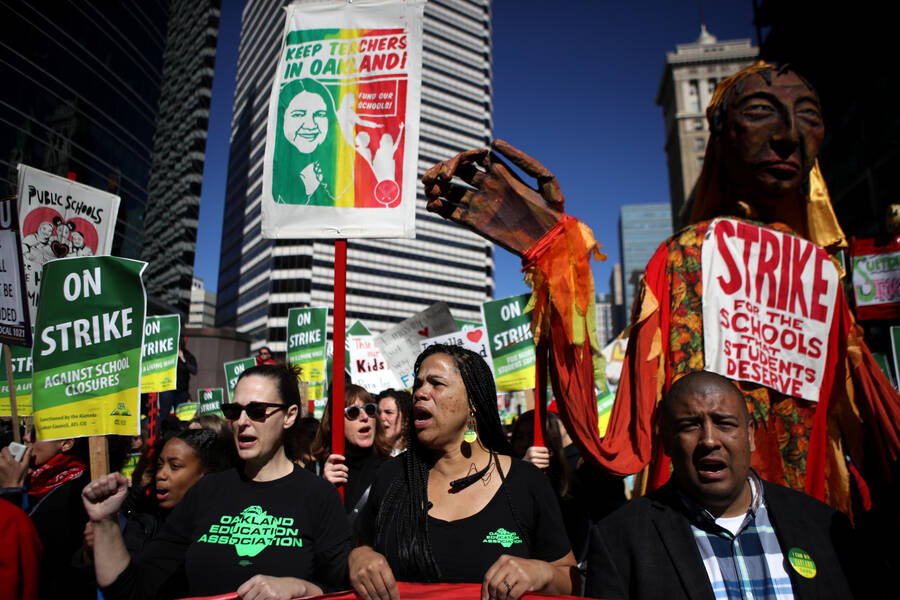 Though at first glance, the Oak­land teach­ers' strike, now in its sev­enth day, may seem sim­ply yet anoth­er in the wave of teacher walk­outs this year, it in fact rep­re­sents a water­shed in resis­tance to neolib­er­al eco­nom­ic pol­i­cy. The strike in Oak­land simul­ta­ne­ous­ly mir­rors and advances pop­u­lar resis­tance across the coun­try to aus­ter­i­ty and ​"accu­mu­la­tion by dis­pos­ses­sion" — the cap­i­tal­ist elite's con­scious trans­fer of wealth and pow­er from us to them.
In one regard Oak­land teach­ers' demands — increased pay, invest­ments in stu­dent ser­vices, small­er class sizes and an end to school clo­sures — echo those in this year's strike wave, a grow­ing social move­ment led by teach­ers, with mas­sive sup­port of par­ents and com­mu­ni­ty mem­bers, to save pub­lic schools from destruc­tion by wealthy elites who have car­ried out a project attempt­ing to ​"mar­ke­tize" the edu­ca­tion sec­tor. This project includes an array of poli­cies includ­ing the use of stan­dard­ized test­ing which yields data to be bought and sold, the cre­ation of char­ter schools con­trolled by net­works of bil­lion­aire fun­ders and the out­sourc­ing of edu­ca­tion­al services.
Yet press brief­in­gs by the Oak­land Edu­ca­tion Asso­ci­a­tion (OEA) — the union rep­re­sent­ing the teach­ers — and a web­site cre­at­ed by a com­mu­ni­ty sup­port­er, show an extra­or­di­nary shift: a fusion of atten­tion to racial and gen­der jus­tice along­side labor's mis­sion to defend the dig­ni­ty of work and work­ers. ​"It's real­ly, real­ly excit­ing — a move­ment that is con­nect­ing the dots" observed Pauline Lip­man, whose research on the racial sig­nif­i­cance of neolib­er­al school reform in Chica­go helped inform the Chica­go Teach­ers Union's (CTU) wide­ly-adopt­ed tem­plate for union demands: ​"The Schools Chicago's Stu­dents Deserve."
The Oak­land school dis­trict, like the Chica­go Pub­lic Schools and urban school sys­tems in most blue states are, as CTU researcher Pavlyn Jankov explains, ​"broke on pur­pose." Local and state politi­cians, in con­junc­tion with the cor­po­rate elite, have refused to pur­sue pro­gres­sive tax­a­tion for pub­lic ser­vices and pub­lic employ­ee pen­sions. In Oak­land, these actors have trapped the city and its school sys­tem in the pat­tern Jankov iden­ti­fies as ​"a cycle of bro­ken bud­gets and a depen­dence on finan­cial instru­ments" that exploit residents.
The ​"finan­cial real­i­ty" that Oak­land Schools Super­in­ten­dent Kyla John­son-Tram­mell and the system's state-appoint­ed trustee say con­fines the district's capac­i­ty to meet the strik­ers' demands is in part a result of mis­man­age­ment, includ­ing sig­nif­i­cant costs for con­sul­tants, but it is also a func­tion of California's method of fund­ing schools. Oak­land has been finan­cial­ly mis­man­aged because the state, charged with over­see­ing the bud­get, has per­mit­ted it to be so. Research has exposed the cor­re­spon­dence between real estate devel­op­ers' plans for new hous­ing that will dis­place low­er-income fam­i­lies, school clos­ings and the open­ing of char­ter schools.
The cri­sis in afford­able hous­ing is caused by the same bil­lion­aires and politi­cians that are dri­ving school pri­va­ti­za­tion. Neolib­er­al edu­ca­tion poli­cies of ​"Democ­rats for Edu­ca­tion Reform" are a com­pan­ion to the eco­nom­ic poli­cies that have been embraced by the Demo­c­rat Par­ty estab­lish­ment fig­ures which Bernie Sanders assailed dur­ing his 2016 pres­i­den­tial campaign.
A num­ber of school sys­tems, includ­ing those in Newark, Detroit and Oak­land, have suf­fered a dou­ble blow of impov­er­ish­ment through dein­dus­tri­al­iza­tion and dis­en­fran­chise­ment via state takeovers. Though some Democ­rats may now under­stand privatization's hor­rors, they still resist acknowl­edg­ing the domes­tic col­o­niza­tion of com­mu­ni­ties of col­or that occurs when states deprive com­mu­ni­ties of elect­ing their school boards.
Though OEA's orga­ni­za­tion was rather shaky at the start of strike, long­time and new­er union sup­port­ers, includ­ing mem­bers of the Demo­c­ra­t­ic Social­ists of Amer­i­ca (DSA), helped pick up the slack. The alliance with com­mu­ni­ty and par­ents, seen in West Vir­ginia and Los Ange­les, has devel­oped into a part­ner­ship. One fac­tor explain­ing that's often over­looked is Oakland's rich, often-ignored his­to­ry of rad­i­cal­ism, includ­ing the 1946 gen­er­al strike and the emer­gence of the Black Pan­thers. These moments res­onate for par­tic­i­pants in the Oak­land teach­ers' strike, as the his­to­ry of coal min­ers' strug­gles has for West Vir­ginia teachers.
Win­ning the strike
The OEA has two resources that have not yet been tapped. One is the Nation­al Edu­ca­tion Asso­ci­a­tion affil­i­ate, the Cal­i­for­nia Teach­ers Asso­ci­a­tion (CTA), to which the OEA belongs. Though CTA describes itself as ​"pow­er­ful and pas­sion­ate," those qual­i­ties have, as of yet, been miss­ing in push­ing state Democ­rats to inter­vene in the strike. As Jack Ger­son, a long­time teacher union activist and Oak­land res­i­dent explained, the ​"CTA has a his­to­ry of a legal­is­tic and cau­tious approach" and although they've been influ­enced by the strike wave, they have not yet changed their ways.
This descrip­tion of CTA echoes the cri­tique of teach­ers in the ​"red state" walk­outs of their unions, symp­to­matic of busi­ness union­ism. The CTA, like oth­er NEA affil­i­ates that have not been chal­lenged by reform­ers, is reflex­ive­ly bureau­crat­ic, at times sti­fling local ini­tia­tive and rank-and-file con­trol of strikes.
Anoth­er untapped oppor­tu­ni­ty for strik­ers to pres­sure the Democ­rats to find the mon­ey and cease school clo­sures is through sup­port from oth­er pub­lic employ­ees, in par­tic­u­lar unions that have tan­gled with the city, coun­ty and state over con­tracts and bud­gets. In West Vir­ginia, school-employed bus dri­vers helped shut down the Put­nam Coun­ty school dis­trict. In Oak­land, AC Tran­sit work­ers refus­ing to cross the strik­ers' pick­et lines are doing the same.
A key tar­get for the strike could be the Port of Oak­land, which is an essen­tial eco­nom­ic hub in North­ern Cal­i­for­nia and the eighth largest con­tain­er port in the Unit­ed States. As Uni­ver­si­ty of Cal­i­for­nia soci­ol­o­gy pro­fes­sor Edna Bonaci­ch explains in New Labor Forum, ports are ​"vital nodes in the sys­tem of production/​distribution," and ​"choke-points in the glob­al flow of commodities."
The OEA boasts strong sup­port from the two locals of the Inter­na­tion­al Long­shore and Ware­house Union (ILWU) rep­re­sent­ing port work­ers. An alliance between the ILWU, the OEA and the com­mu­ni­ty to shut down the Port would not only help win this strike, it could fun­da­men­tal­ly alter Oakland's over­all finan­cial situation.
The Oak­land teach­ers' strike is a water­shed moment for U.S. labor and for the social move­ments that have tak­en to the streets to chal­lenge Trump and the GOP's poli­cies. A vic­to­ry would serve as a beach­head in cre­at­ing the social move­ment we need to not just halt aus­ter­i­ty, but to repos­sess the social gains being stolen from us.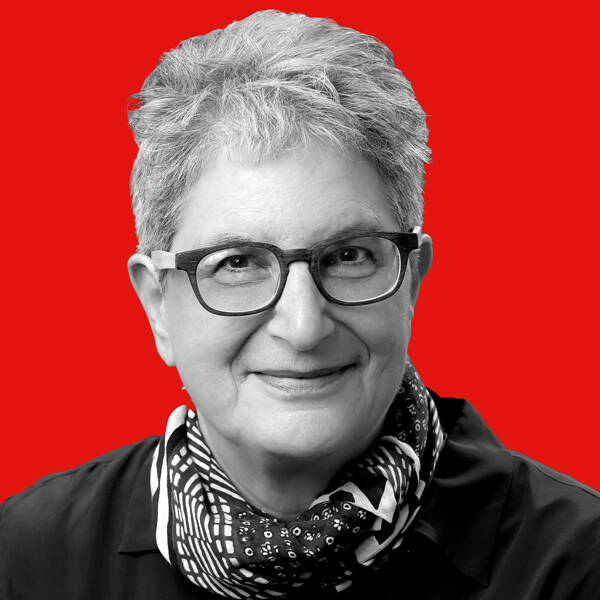 Lois Wein­er is the author The Future of Our Schools: Teach­ers Unions and Social Jus­tice (Hay­mar­ket, 2012). An inde­pen­dent researcher and con­sul­tant, she writes wide­ly on edu­ca­tion and teach­ers unions.