How Obama and Trump Turned Their Backs on Haitians
In a Tijuana church, dozens of migrants remain stranded.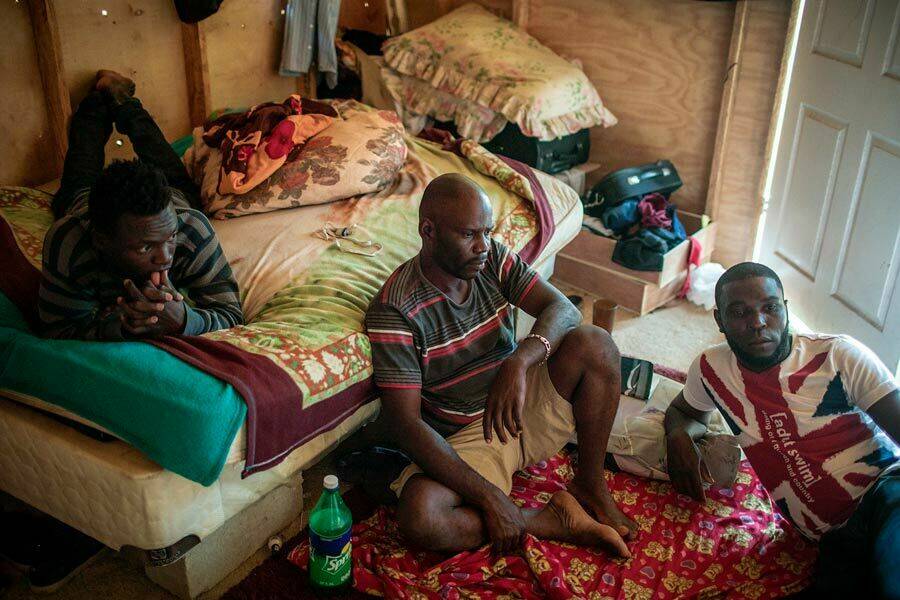 TIJUANA, MEXICO— Queen-size mattresses line the walls of Gustavo Banda's church, Embajadores de Jesús. Suitcases stacked on top of one another crowd the space even before parishioners line up in plastic chairs. For the past year, the thin-mustached pastor has turned the building into a shelter for thousands of Haitians figuring out where to go next.
This January, President Donald Trump called Haiti a "shithole," then removed Haitians from eligibility for low-skill seasonal work visas.
Banda tells In These Times he did not foresee the church's current role when he built it, but, he says, ​"God does not make mistakes."
The plight of Tijuana's Haitians reveals the obstacles created by changing U.S. immigration policy, first under Obama and now under Trump. Most arrived in Mexico from Brazil, where they had fled after Haiti's massive 2010 earthquake, looking for work preparing for the Olympics and the World Cup. When Brazil's economy started to collapse, many Haitians headed north, believing the United States would grant them parole, a status that had saved other Haitians from deportation.
From October 2015 to September 2016, more than 6,000 Haitians crossed the U.S.-Mexico border. Then the Obama administration announced it would begin sending planes of immigrants back to Haiti, a country still splintered by the earthquake, as well as a cholera epidemic (set off by infected U.N. peacekeepers) that killed 10,000 from 2010-2017.
Rosnet Pierre, 37, trekked through nine countries to make it to Tijuana. When he arrived in January 2017, Haitians were sleeping on bedbug-ridden mats in shelters across the city.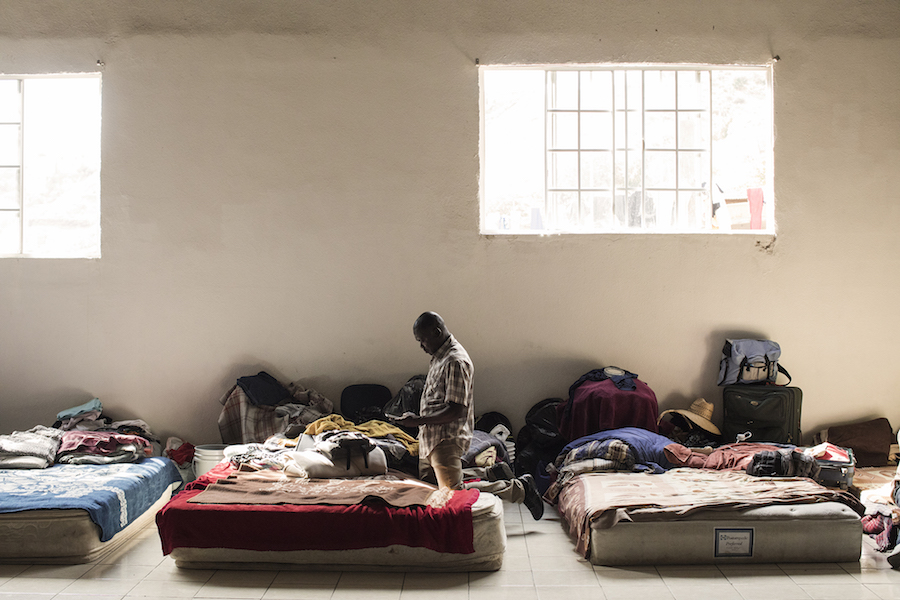 The men's area at the church-turned-shelter Iglesia Embajadores de Jesús, where around 170 Haitian migrants were living in July 2017. (Jordi Ruiz)
After eight months in Banda's church, Pierre moved into a tiny plywood house that Banda's handyman had built outside, the start of a precarious Haitian neighborhood that now includes eight small houses. But with his wife, Ruth Monexil, his 17-year-old stepson and his 15-year-old daughter, Pierre began to discuss alternatives to Mexico. He believed rumors that women and children had a better chance of receiving asylum, while men were more likely to be deported immediately. Weeks after the move, he dropped off his wife and daughter at the U.S. border, where they requested asylum, fearing retaliation in a family land dispute in Haiti.
"Any Haitian who wants to cross the border can go tomorrow," says Pierre. ​"If you get lucky, you can stay in the United States. … If they send us to Haiti, it'll be ugly."
Since Pierre arrived in Tijuana, he has seen the Trump administration narrow the options for Haitians on both sides of the border. It announced in November 2017 that Haiti would lose Temporary Protected Status, which, since 2010, had protected more than 50,000 Haitians from deportation. This January, President Donald Trump called Haiti a ​"shithole," then removed Haitians from eligibility for low-skill seasonal work visas.
Yet for those who have spent all their savings to get to the border, it's hard to give up on a dream.
For several months, Pierre and his stepson, Djhougensly Alexandre, stayed in Scorpion's Canyon, an area whose steep mud walls make it prone to flooding and whose streets are unsafe after dark. He listened to Christian music radio, flipped the pages of a book with Bible teachings and cooked plantains and rice on a small stove he had bought. But this January, missing their family, he and the teen buckled. They turned themselves in at the border to await their fate in the asylum process.
Maya Averbuch
, a reporter based in Mexico, writes about immigration and refugees.