TIJUA­NA, MEX­I­CO— Queen-size mat­tress­es line the walls of Gus­ta­vo Banda's church, Emba­jadores de Jesús. Suit­cas­es stacked on top of one anoth­er crowd the space even before parish­ioners line up in plas­tic chairs. For the past year, the thin-mus­tached pas­tor has turned the build­ing into a shel­ter for thou­sands of Haitians fig­ur­ing out where to go next.
This January, President Donald Trump called Haiti a "shithole," then removed Haitians from eligibility for low-skill seasonal work visas.
Ban­da tells In These Times he did not fore­see the church's cur­rent role when he built it, but, he says, ​"God does not make mistakes."
The plight of Tijuana's Haitians reveals the obsta­cles cre­at­ed by chang­ing U.S. immi­gra­tion pol­i­cy, first under Oba­ma and now under Trump. Most arrived in Mex­i­co from Brazil, where they had fled after Haiti's mas­sive 2010 earth­quake, look­ing for work prepar­ing for the Olympics and the World Cup. When Brazil's econ­o­my start­ed to col­lapse, many Haitians head­ed north, believ­ing the Unit­ed States would grant them parole, a sta­tus that had saved oth­er Haitians from deportation.
From Octo­ber 2015 to Sep­tem­ber 2016, more than 6,000 Haitians crossed the U.S.-Mexico bor­der. Then the Oba­ma admin­is­tra­tion announced it would begin send­ing planes of immi­grants back to Haiti, a coun­try still splin­tered by the earth­quake, as well as a cholera epi­dem­ic (set off by infect­ed U.N. peace­keep­ers) that killed 10,000 from 2010 – 2017.
Ros­net Pierre, 37, trekked through nine coun­tries to make it to Tijua­na. When he arrived in Jan­u­ary 2017, Haitians were sleep­ing on bed­bug-rid­den mats in shel­ters across the city.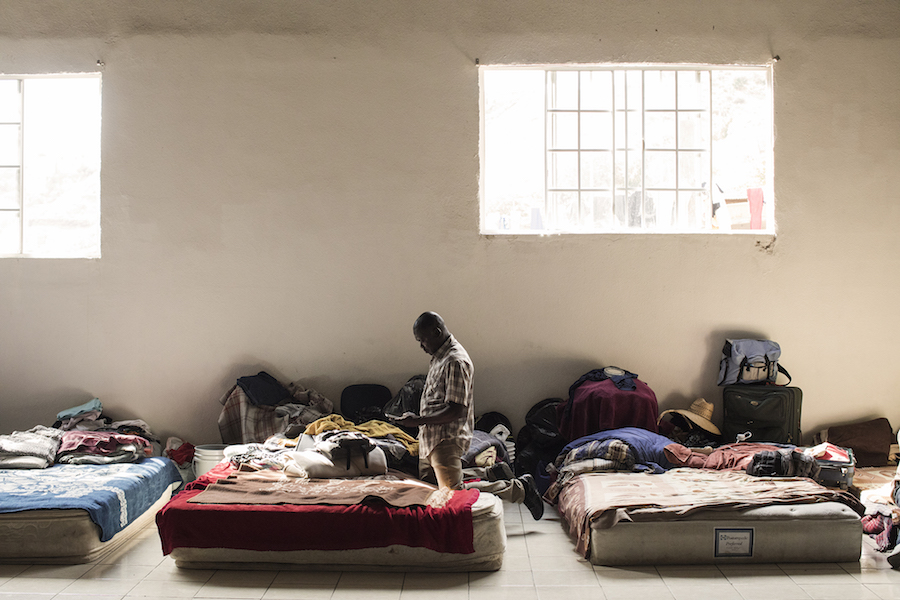 The men's area at the church-turned-shel­ter Igle­sia Emba­jadores de Jesús, where around 170 Hait­ian migrants were liv­ing in July 2017. (Jor­di Ruiz)
After eight months in Banda's church, Pierre moved into a tiny ply­wood house that Banda's handy­man had built out­side, the start of a pre­car­i­ous Hait­ian neigh­bor­hood that now includes eight small hous­es. But with his wife, Ruth Mon­ex­il, his 17-year-old step­son and his 15-year-old daugh­ter, Pierre began to dis­cuss alter­na­tives to Mex­i­co. He believed rumors that women and chil­dren had a bet­ter chance of receiv­ing asy­lum, while men were more like­ly to be deport­ed imme­di­ate­ly. Weeks after the move, he dropped off his wife and daugh­ter at the U.S. bor­der, where they request­ed asy­lum, fear­ing retal­i­a­tion in a fam­i­ly land dis­pute in Haiti.
"Any Hait­ian who wants to cross the bor­der can go tomor­row," says Pierre. ​"If you get lucky, you can stay in the Unit­ed States. … If they send us to Haiti, it'll be ugly."
Since Pierre arrived in Tijua­na, he has seen the Trump admin­is­tra­tion nar­row the options for Haitians on both sides of the bor­der. It announced in Novem­ber 2017 that Haiti would lose Tem­po­rary Pro­tect­ed Sta­tus, which, since 2010, had pro­tect­ed more than 50,000 Haitians from depor­ta­tion. This Jan­u­ary, Pres­i­dent Don­ald Trump called Haiti a ​"shit­hole," then removed Haitians from eli­gi­bil­i­ty for low-skill sea­son­al work visas.
Yet for those who have spent all their sav­ings to get to the bor­der, it's hard to give up on a dream.
For sev­er­al months, Pierre and his step­son, Djhougensly Alexan­dre, stayed in Scorpion's Canyon, an area whose steep mud walls make it prone to flood­ing and whose streets are unsafe after dark. He lis­tened to Chris­t­ian music radio, flipped the pages of a book with Bible teach­ings and cooked plan­tains and rice on a small stove he had bought. But this Jan­u­ary, miss­ing their fam­i­ly, he and the teen buck­led. They turned them­selves in at the bor­der to await their fate in the asy­lum process.