Obama's State of the Union: No Jobs, but More Business Tax Cuts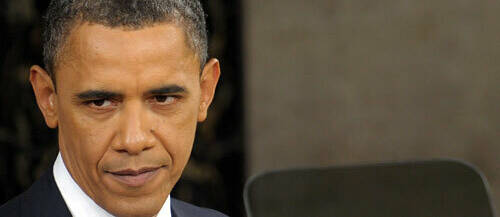 Not a word about the 25 mil­lion Amer­i­cans still with­out jobs. Noth­ing about how to help the more than 7 mil­lion home­own­ers who have faced, or the addi­tion­al 4 mil­lion who will soon face, fore­clo­sures and evic­tions. Absolute silence about the dozens of states and hun­dreds of local gov­ern­ments in deep­en­ing fis­cal cri­sis and approach­ing bank­rupt­cy — and the hun­dreds of thou­sands of pub­lic employ­ees who will pay for that bank­rupt­cy with their jobs, wages, pen­sions, and health benefits.
OK, some vague ref­er­ences to infra­struc­ture and alter­na­tive ener­gy jobs — over the next 25 years. Paid for by Obam's explic­it ref­er­ence to cut Medicare and Med­ic­aid ben­e­fits by tens of mil­lions of dol­lars.

But the most dis­turb­ing ele­ment of Obama's State of the Union address last night was his firm com­mit­ment to cut cor­po­rate tax­es even fur­ther, and there­after to move on to ​'sim­pli­fy' the U.S. tax code in gen­er­al — i.e. a code word in pol­i­cy cir­cles for fur­ther reduc­ing top tax brack­ets which always results in tax cuts for the wealth­i­est house­holds.

What Oba­ma pro­posed in his address on Tues­day was a clas­sic con­tin­u­a­tion of a sup­ply side, ide­o­log­i­cal pro­gram focus­ing on busi­ness tax reduc­tion, sup­ple­ment­ed by var­i­ous oth­er mea­sures to reduce busi­ness costs at the expense of con­sumers, work­ers, and others.
But the prob­lem today is not exces­sive­ly high busi­ness costs. It's not a sup­ply-side prob­lem. Busi­ness has been cut­ting costs to the bone the past three years with mas­sive lay­offs, wage reduc­tions, employ­ee ben­e­fit cuts, hir­ing part time and temp work­ers, and imple­ment­ing var­i­ous pro­duc­tiv­i­ty boost­ing measures.
Oba­ma and Con­gress have fur­ther lav­ished tax cuts and sub­si­dies on busi­ness at his­toric lev­els the past two years. The Fed­er­al Reserve in turn has reduced busi­ness costs still fur­ther by reduc­ing inter­est rates to record low lev­els. The result of all this busi­ness cost reduc­tion has been a rapid return to pre-cri­sis lev­els of busi­ness prof­its and an accu­mu­lat­ed cor­po­rate cash hoard of more than $2 tril­lion. And none of this $2 tril­lion has been spent by busi­ness thus far to cre­ate jobs to any rea­son­able extent.

In his address, Oba­ma praised the fact that busi­ness cre­at­ed 1 mil­lion jobs in 2010. But the major­i­ty of the 1 mil­lion were temp and part time jobs. And at that 1 mil­lion a year rate of job cre­ation it will take 15 years just to recov­er the jobs lost in the recent reces­sion. Yet Oba­ma main­tains Busi­ness needs fur­ther cost reduc­tion assis­tance, and still more busi­ness tax cuts to ​'make them more com­pet­i­tive'.

The prob­lem in the U.S. econ­o­my, now expe­ri­enc­ing the most lop­sided (and weak­est) eco­nom­ic ​'recov­ery' from any reces­sion since 1947, is not too high busi­ness costs or insuf­fi­cient sup­ply side (busi­ness tax) stim­u­lus. The prob­lem is demand side — i.e. not enough income for the 90 mil­lion mid­dle and work­ing class house­holds. That insuf­fi­cient income means first and fore­most not enough jobs. On Tues­day night, Oba­ma said noth­ing of sub­stance about how to cre­ate jobs today or even in the next one to two years. Job cre­ation was rel­e­gat­ed to the dis­tant future, stretched out over the next 25 years.

The U.S. econ­o­my and house­holds do not need a 25-year job cre­ation plan. They need an imme­di­ate job cre­ation pro­gram. And they need a defin­i­tive solu­tion to pre­vent 10 mil­lion fore­clo­sures. And the bet­ter get quick­ly a res­cue of the states and cities, before the local gov­ern­ment cri­sis sinks the munic­i­pal bond mar­kets and sub­se­quent­ly pre­cip­i­tates anoth­er ​'subprime'-like finan­cial implo­sion. Yet no men­tion of any of this in the State of the Union address, as if these weren't the most seri­ous issues con­fronting the US econ­o­my today.

In his Tues­day address Oba­ma clear­ly fol­lowed in the foot­steps of George W. Bush. Bush first passed more than $3 tril­lion in tax cuts for wealthy house­holds between 2001 – 2003 by cut­ting cap­i­tal gains, div­i­dends, and estate tax­es. (Oba­ma last Decem­ber extend­ed the same for two more years). Bush then fol­lowed up in 2004 with sev­er­al indus­try-by-indus­try spe­cif­ic cor­po­rate tax cuts worth anoth­er $1 tril­lion. (Oba­ma now fol­lows up with pro­pos­als to cut the cor­po­rate tax rate).
In 2005, Bush then pro­posed to revise the gen­er­al tax code in his sec­ond term to make it all per­ma­nent. Oba­ma and the Repub­li­can Con­gress will pass the addi­tion­al cor­po­rate tax cuts this year, then move on to the gen­er­al tax code revi­sion in 2012 that will ​'sim­pli­fy' (low­er) tax­es on the wealth­i­est house­holds before the next gen­er­al elec­tions.

On Tues­day Oba­ma thus echoed the tired cor­po­rate refrain that ​'tax cuts cre­ate jobs.' His new twist is that the tax cuts are nec­es­sary to ​'make U.S. cor­po­ra­tions more glob­al­ly com­pet­i­tive' vis-à-vis their for­eign rivals. In oth­er words, the pri­ma­ry focus of the tax cuts is to ben­e­fit U.S. multi­na­tion­al cor­po­ra­tions. As the argu­ment goes, if they are ​'more com­pet­i­tive' (i.e. if their costs are less), they will be able to get a larg­er share of glob­al exports and sales, which will mean more invest­ment and jobs in the U.S.

But for more than a decade now multi­na­tion­al cor­po­ra­tions as a group have been steadi­ly reduc­ing jobs in the U.S., and will con­tin­ue to do so. Obama's cor­po­rate tax cuts will result in few­er — not more — jobs in the U.S., as cor­po­ra­tions use the addi­tion­al income to con­tin­ue to invest in new equip­ment that will result in job dis­place­ment rather than new job cre­ation.

More tax cuts for multi­na­tion­als could also prove to have only a tem­po­rary effect at best at boost­ing exports and prof­its, and thus invest­ment and jobs. The present peri­od is one in which all the major glob­al eco­nom­ic sec­tors — the U.S., the Euro­zone, Chi­na, Japan, the Asian periph­ery, and BRICs like India and Brazil, are all inten­si­fy­ing their fight over the remain­ing glob­al export pie.

Their respec­tive, domes­tic economies have all been expe­ri­enc­ing dif­fi­cul­ty gen­er­at­ing sus­tained inter­nal eco­nom­ic recov­ery — except for Chi­na which has recent­ly begun to slow its econ­o­my on pur­pose to deal with ris­ing glob­al spec­u­la­tion and inter­nal inflation.
Japan has entered a dou­ble-dip reces­sion. Asian periph­ery economies are rapid­ly slow­ing and some pre­dict­ed to enter reces­sion again. Like Chi­na, India and Brazil are slow­ing their economies inten­tion­al­ly as well, Growth in the Euro­zone will slow, dri­ven by its periph­ery nations' finan­cial insta­bil­i­ty. Glob­al com­pe­ti­tion over exports is grow­ing more intense. More cur­ren­cy fights are erupt­ing. More pro­tec­tion­ism is like­ly. And all over a glob­al export pie that will to grow more slow­ly in 2011 and per­haps more so in 2012.

The new­ly emerg­ing Oba­ma-Big Busi­ness focus on rely­ing on exports and multi­na­tion­al cor­po­ra­tions to lift the US recov­ery to a sus­tained path is there­fore a high­ly risky pol­i­cy shift. It will not only fail to cre­ate jobs; it will like­ly fail as well to pro­vide the main source for a sus­tained eco­nom­ic recov­ery that has elud­ed Oba­ma to date.
For all who are not bankers, investors, or cor­po­rate man­agers and big stock­hold­ers or bond traders — we can expect more of the same for the next two years in a con­tin­u­ing lop­sided eco­nom­ic recov­ery.

Jack Ras­mus is the author of Epic Reces­sion: Pre­lude to Glob­al Depres­sion (Plu­to Press, 2011).
Jack Ras­mus
, pro­fes­sor of eco­nom­ics and polit­i­cal econ­o­my at San­ta Clara Uni­ver­si­ty and St. Marys Col­lege, is author of
Epic Reces­sion: Pre­lude to Glob­al Depres­sion
, and
The War at Home: The Cor­po­rate Offen­sive From Ronald Rea­gan to George W. Bush
. His forth­com­ing book (
2011
) is
Obama's Econ­o­my: Why Recov­ery Failed. What's Next?
Ras­mus has pub­lished numer­ous arti­cles in
Z
mag­a­zine,
Cri­tique, Amand­la, Against the Cur­rent, the Dis­patch­er
and oth­er periodicals.