The Trillion-Dollar Debt Ceiling Deal: Class Warfare in Action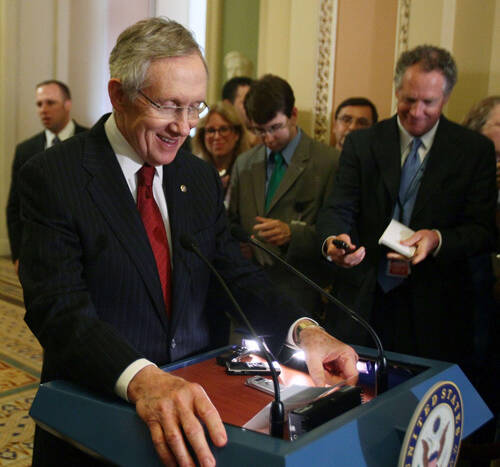 Last night, Pres­i­dent Oba­ma and Sen­ate Major­i­ty and Minor­i­ty lead­ers Har­ry Reid and Mitch McConnell announced they had reached an agree­ment on cut­ting $1 tril­lion in spend­ing in exchange for rais­ing the debt ceil­ing. House Speak­er John Boehn­er indi­cat­ed he was also in agree­ment, sub­ject to vot­ing to take place in the House on Mon­day.

This lat­est ​"deal" is essen­tial­ly the same that was reached by Har­ry Reid in the Sen­ate on July 29 and Boehn­er in the House on July 27, with two major changes — one favored by the Repub­li­cans and anoth­er by Oba­ma. These two changes were then ​'trad­ed off' this week­end, bring­ing the par­ties to a deal.

Boehn­er and Reid all but came to an agree­ment last Fri­day, July 29. Their respec­tive pro­pos­als called for $917 to $927 bil­lion in spend­ing cuts, only $10 bil­lion apart. Both pro­pos­als con­tained no ref­er­ence to tax loop­hole clos­ings. The tax hike idea was giv­en up by Oba­ma and the Democ­rats ear­ly last week, bring­ing the Democ­rats in line with the Repub­li­can posi­tion on spend­ing vs. tax hikes.
The only sub­stan­tive dif­fer­ence as of July 29 between the two was that Reid also pro­posed $1.044 tril­lion in addi­tion­al cuts in defense spend­ing, as well as a mea­sure that pro­hib­it­ed a re-open­ing of the debt ceil­ing issue before the Novem­ber 2012 elec­tions.

Sunday's Boehn­er-Reid agree­ment effec­tive­ly drops explic­it cuts in defense, anoth­er Repub­li­can posi­tion all along. Reid's defense cuts are now replaced with ​'trig­gers' in defense spend­ing reduc­tion. The ​'trig­gers' con­cept has been a maneu­ver used by Con­gress on occa­sion in the past. It is designed to let one par­ty save face, allow­ing it to appear that their pro­vi­sion is retained in the bill, when in real­i­ty it like­ly won't be imple­ment­ed.

With defense spend­ing cuts tak­en effec­tive­ly ​'off the table' this week­end, the only remain­ing sub­stan­tive issue was whether the debt ceil­ing would be allowed to come up as an issue before the 2012 elec­tions. Repub­li­cans now agree it will not.

This Repub­li­can shift sig­nals that Reid's pre­vi­ous­ly pro­posed $1 tril­lion addi­tion­al cuts in defense appears, in ret­ro­spect, to have been a ​'trad­ing item' — a tac­ti­cal maneu­ver designed to get the Repub­li­cans to agree not to revis­it the debt ceil­ing issue again before the com­ing 2012 elec­tions.

But the Repub­li­can lead­ers in the House and Sen­ate don't need a debt ceil­ing debate again to get fur­ther cuts. The 2012 bud­get dead­line of Octo­ber 1 will do just as well for a threat to shut down the gov­ern­ment.

So, in sum­ma­ry, it appears the deal just nego­ti­at­ed means both par­ties agree on cut­ting $1 tril­lion in spend­ing, only with no tax hikes. The Repub­li­cans will shift to the 2012 bud­get dead­line for a new ham­mer to extract extra spend­ing cuts. Defense will remain effec­tive­ly untouched. And, in exchange for $1 tril­lion in cuts and no tax hikes and leav­ing defense spend­ing untouched, Oba­ma gets an agree­ment not to raise the debt ceil­ing issue again before his next election.
But don't think that's the end of the sto­ry. It's just the begin­ning.

The big­ger attack on Social Secu­ri­ty, Medicare, Med­ic­aid is still to come. The next round in what amounts to class eco­nom­ic war­fare via leg­is­la­tion is the 2012 bud­get nego­ti­a­tions, which are sup­posed to con­clude by Sep­tem­ber 23. Repub­li­cans will get anoth­er bite of the apple in spend­ing cuts at that time. And Oba­ma and the Democ­rats will like­ly cave in to those demands yet again, as they have repeat­ed­ly over the past year.

But the even big­ger bite will come as a result of anoth­er pro­vi­sion in today's agree­ment: the cre­ation of a so-called ​'Bipar­ti­san Com­mis­sion' to reduce the debt and deficits by even greater mag­ni­tudes. That Com­mis­sion will make fur­ther major pro­pos­als for cuts by Novem­ber of this year, to be vot­ed on by Con­gress before the year's end.

Fol­low­ing Sen­a­tors Reid and McConnell, Pres­i­dent Oba­ma spoke on nation­al TV on Sun­day night to endorse the ten­ta­tive Boehn­er-Reid agree­ment and to announce the ​"Bi-Par­ti­san Debt Reduc­tion Com­mis­sion." In his brief com­ments he employed an impor­tant phrase that TV com­men­ta­tors most­ly over­looked. He said, ​"The Commission's pro­pos­als will be sub­mit­ted for an up or down vote only" by mem­bers of Congress.
That means some small group — no doubt appoint­ed by him or con­gres­sion­al lead­ers — will now decide sole­ly between them­selves the com­po­si­tion and mag­ni­tude of cuts to Medicare, Social Secu­ri­ty, Med­ic­aid, how much tax loop­holes will be closed, and how much Defense spend­ing will be cut. The rest of Con­gress will then be lim­it­ed to vot­ing ​'yea' or ​'nay' and that's it.

The con­ser­v­a­tive com­po­si­tion of such recent­ly appoint­ed com­mis­sions is well known. There was the Simp­son-Bowles deficit com­mis­sion appoint­ed by Oba­ma in 2009 that was lop­sid­ed­ly con­ser­v­a­tive. And Obama's com­mis­sion to rec­om­mend Health Care leg­is­la­tion that was com­posed of most­ly con­ser­v­a­tive Repub­li­can and Democ­rats. The forth­com­ing ​'Bipar­ti­san Com­mis­sion' will almost cer­tain­ly assume the same con­ser­v­a­tive-lean­ing com­po­si­tion. We can expect $2 in cuts in Medicare and Social Secu­ri­ty for every $1 in tax loop­hole clos­ing and Defense spend­ing reductions…if we're lucky.

This deal of the past week­end to raise the debt ceil­ing in exchange for $1 tril­lion in spend­ing cuts — with no tax hikes or defense cuts — clear­ly shows that politi­cians in Wash­ing­ton are con­cerned first and fore­most with their re-elec­tions. Democ­rats don't want to be con­front­ed with anoth­er debt ceil­ing deba­cle dur­ing their re-elec­tion cam­paign. Both Repub­li­cans and Democ­rats are, fur­ther­more, intent on pro­tect­ing their Defense indus­try friends, and on ensur­ing their cor­po­rate cam­paign con­trib­u­tors don't have to pay their fair share in tax­es. The rest of Amer­i­ca gets to pay the bills and pay the price.
Jack Ras­mus
, pro­fes­sor of eco­nom­ics and polit­i­cal econ­o­my at San­ta Clara Uni­ver­si­ty and St. Marys Col­lege, is author of
Epic Reces­sion: Pre­lude to Glob­al Depres­sion
, and
The War at Home: The Cor­po­rate Offen­sive From Ronald Rea­gan to George W. Bush
. His forth­com­ing book (
2011
) is
Obama's Econ­o­my: Why Recov­ery Failed. What's Next?
Ras­mus has pub­lished numer­ous arti­cles in
Z
mag­a­zine,
Cri­tique, Amand­la, Against the Cur­rent, the Dis­patch­er
and oth­er periodicals.