Occupy's Success Will Take a Lifetime
An organizer's perspective on the need for continued efforts.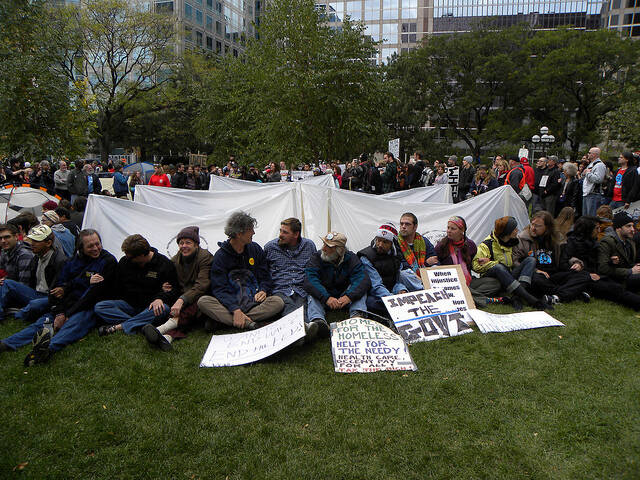 For In These Times' Decem­ber 2013 cov­er fea­ture, ​"Gen­er­a­tion Hope­less?", the mag­a­zine asked a num­ber of polit­i­cal­ly savvy peo­ple, younger and old­er, to respond to an essay by 22-year-old Occu­py activist Matthew Richards in which he grap­ples with what the move­ment meant and whether Occupy's unful­filled promis­es are a lost cause or the seeds of the dif­fer­ent world whose promise he glimpsed two years ago. Here is Nick Espinosa's response:
'Without a clear, disciplined and democratic process that allows people from all walks of life to meaningfully participate, we can't develop and sustain leaders over time.'
Occu­py Wall Street brought pre­vi­ous­ly siloed issues under a big tent and sowed the seeds of rev­o­lu­tion­ary change that have yet to bear fruit. Richards is wrong when he denies that the movement's lack of for­mal struc­ture was a cause of its demise. And I couldn't dis­agree more with his idea that we just need to wait until con­di­tions are more con­ducive to organizing.
There has nev­er been a more oppor­tune moment to fight for the world we need for our col­lec­tive sur­vival — but suc­cess will take a life­time of com­mit­ted and inten­tion­al work.
Attend­ing Gen­er­al Assem­blies every night for months con­vinced me that this ​"ultra demo­c­ra­t­ic" method of deci­sion-mak­ing made the move­ment inac­ces­si­ble to those who could not afford to spend hours a day in meet­ings. This exclud­ed the very con­stituen­cies most affect­ed by the issues raised by the Occu­py movement.
With­out a clear, dis­ci­plined and demo­c­ra­t­ic process that allows peo­ple from all walks of life to mean­ing­ful­ly par­tic­i­pate, we can't devel­op and sus­tain lead­ers over time. With authen­ti­cal­ly demo­c­ra­t­ic struc­tures and coor­di­nat­ed strat­e­gy, the Occu­py move­ment, like social move­ments through­out his­to­ry, could have bet­ter sus­tained itself beyond the inevitable police repres­sion it suffered.
We must main­tain hope and con­tin­ue the work the Occu­py move­ment cat­alyzed. Not because some­thing might just give at some point if we're lucky, but because with con­verg­ing eco­nom­ic and eco­log­i­cal crises, our sur­vival depends on our build­ing democ­ra­cy to exert con­trol over our com­mu­ni­ties. With dis­ci­pline, strat­e­gy and lead­er­ship devel­op­ment, we can counter cor­po­rate con­trol and build a last­ing move­ment to change the course of history.
Nick Espinosa
helped launch Occu­py Min­neapo­lis and start­ed the ​
"
glit­ter­bomb" trend by dump­ing glit­ter on Newt Gin­grich at a book sign­ing in Minneapolis.