Occupy's Super Tuesday? Get Ready for May Day and Nationwide 'General Strike'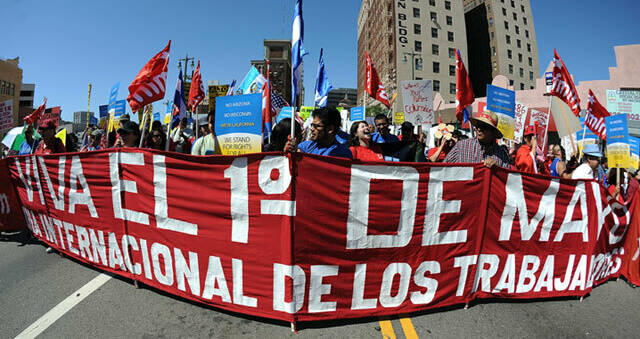 In col­lab­o­ra­tion with inde­pen­dent media around the coun­try, In These Times will offer spe­cial coverage
The Left is excit­ed about May Day again.
The hol­i­day began as a com­mem­o­ra­tion for Chicago's 1886 Hay­mar­ket Mas­sacre, but turned into some­thing much larg­er, encom­pass­ing the strug­gles of work­ers across the globe. While Inter­na­tion­al Work­ers' Day's sig­nif­i­cance has waned in the Unit­ed States, it recieved a resur­gence in 2006 when hun­dreds of thou­sands marched in Los Ange­les, Chica­go, New York and dozens of oth­er cities, using the occa­sion to agi­tate for immi­grant rights.
In 2006, pro­test­ers labeled May 1 ​"a day with­out immi­grants." This year, the Occu­py move­ment has labeled it ​"a day with­out the 99%" and called for a gen­er­al strike in more than 125 cities. The momen­tum of Occu­py, along with the nation­al back­lash fol­low­ing a recent string of harsh anti-immi­grant laws, will make this Tues­day a piv­otal day for activists.
Occu­py Wall Street, in fact has already declared a vic­to­ry. ​"While Amer­i­can cor­po­rate media has focused on yet anoth­er stale elec­tion between Wall Street-financed can­di­dates, Occu­py has been orga­niz­ing some­thing extra­or­di­nary: the first tru­ly nation­wide Gen­er­al Strike in U.S. his­to­ry," OWS's web­site says. ​"Build­ing on … past Gen­er­al Strikes in U.S. cities…, the nation­al gen­er­al strikes in Spain this year, and the on-going stu­dent strike in Que­bec, the Occu­py Move­ment has called for A Day With­out the 99% on May 1st, 2012. This in and of itself is a tremen­dous vic­to­ry. For the first time, work­ers, stu­dents, immi­grants, and the unem­ployed from over 125 U.S. cities will stand togeth­er for eco­nom­ic justice."
But gen­er­al strikes have been ille­gal in the Unit­ed States since 1947, and unions won't call their mem­bers off the jobs and into streets on Tues­day. So what exact­ly will hap­pen? In con­junc­tion with our part­ners at the Media Con­sor­tium, In These Times will bring you spe­cial live cov­er­age of May Day-relat­ed events around the coun­try through­out the day.
Staff writer Bhaskar Sunkara will be live-tweet­ing street protests in New York City, along with blog­ging on Upris­ing, while In These Times staff mem­bers will be cov­er­ing the action in Chica­go, the mag­a­zine's front­yard. Addi­tion­al­ly, we'll be live-stream­ing spe­cial cov­er­age by Free Speech TV, and offer­ing an inter­ac­tive map and stori­fy that will link to cov­er­age by Media Con­sor­tium out­lets around the country.
Check out Medi​aforthe99per​cent​.com, the Media Con­sor­tium's spe­cial site with a map detail­ing planned protests and actions across the Unit­ed States. Actions are planned in Chica­go, New York City, San Fran­cis­co, Austin, Seat­tle and every­where in between.
In a press release, OWS said ​"We want­ed to cre­ate a broad space for peo­ple in all dif­fer­ent cir­cum­stances from all sorts of back­grounds to be able to par­tic­i­pate. But we also rec­og­nize that for some peo­ple skip­ping work is not fea­si­ble so we are encour­ag­ing peo­ple to par­tic­i­pate how they can whether that involves wear­ing a but­ton at work or leav­ing ear­ly or sim­ply show­ing up to the march after work."
The move­ment is try­ing to bal­ance inclu­siv­i­ty and mil­i­tan­cy, action and cel­e­bra­tion — Tom Morel­lo, Das Racist, Immor­tal Tech­nique and Dan Dea­con will per­form in Man­hat­tan's Union Park — to broad­ly appeal to ​"the 99%" and prove that an Occu­py Spring is flowering.
What­ev­er hap­pens, In These Times will be in the streets.
Patrick Glen­non
is a writer and musi­cian liv­ing in Chica­go. He received his B.A. in His­to­ry from Skid­more Col­lege and cur­rent­ly works as Com­mu­ni­ca­tions Man­ag­er for the Michael For­ti for Cook Coun­ty Court cam­paign and as the web intern at
In These Times
.