Anders Breivik's Frightening Testimony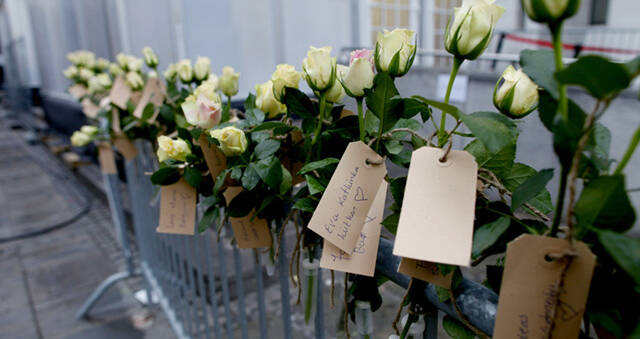 Nor­we­gian ter­ror­ist Anders Behring Breivik
&
mdash;the self-styled cru­sad­er who mur­dered
77
peo­ple last summer
&
mdash;finished five days of tes­ti­mo­ny ear­li­er this week. Unre­pen­tant, the con­fessed killer claimed that his actions were
&
ldquo;nec­es­sary
&
rdquo; in order to save Euro­pean civ­i­liza­tion from
&
ldquo;cul­tur­al Marx­ists." The tri­al, set to run
10
weeks, began on April
16
. With no ques­tion as to his guilt, the court
&
rsquo;s pri­ma­ry task is to decide whether or not Breivik is crim­i­nal­ly insane, a label he vehe­ment­ly rejects.Breivik offered his tes­ti­mo­ny calm­ly, tick­ing off the grue­some details of his shoot­ing ram­page on Ut
&
oslash;ya, the island where he mas­sa­cred
67
chil­dren and young adults attend­ing the Labour par­ty's annu­al youth retreat. ​
"
I do not rec­og­nize the Nor­we­gian courts. You have received your man­date from polit­i­cal par­ties [that] sup­port mul­ti­cul­tur­al­ism,
&
rdquo; Breivik said at the begin­ning of pro­ceed­ings. He admit­ted to all the acts detailed in the pub­lic pros­e­cu­tors
&
rsquo; chill­ing indict­ment but plead­ed not guilty, claim­ing that he had act­ed in
&
ldquo;self defense.
&
rdquo;His tes­ti­mo­ny betrayed a mud­dled brand of rad­i­cal pol­i­tics: A vague conspiracy
&
mdash;variously defined as
&
ldquo;polit­i­cal cor­rect­ness,
&
rdquo;
&
ldquo;mul­ti­cul­tur­al­ism
&
rdquo; and
&
ldquo;Islamification
&
rdquo;
&
mdash;poses a civ­i­liza­tion­al threat to Europe, import­ed by (pri­mar­i­ly Mus­lim) immi­grants and fos­tered by left­ist apol­o­gists.The tru­ly fright­en­ing aspect of Breivik
&
rsquo;s the­o­ries, how­ev­er, is that they hold broad appeal among the resur­gent nation­al­ist Right in Europe. Groups such as the Eng­lish Defense League and polit­i­cal par­ties such as France's Nation­al Front espouse the same prin­ci­ples, sin­gling out Islam as a threat to Euro­pean iden­ti­ty.In fact, Breivik
&
rsquo;s para­noia is high­ly uno­rig­i­nal. Short­ly before car­ry­ing out the attacks last sum­mer, he released a sprawl­ing, heav­i­ly pla­gia­rized man­i­festo that bor­rows from pop­u­lar far-Right com­men­ta­tors. He quotes exten­sive­ly from the xeno­pho­bic mus­ings of Robert Spencer, who writes for Jihad Watch
&
mdash;a blog run by the David Horowitz Foun­da­tion that occa­sion­al­ly fea­tures the work of Pamela Geller, edi­tor of the anti-Islam­ic blog Atlas Shrugs.
Breivik also claims to have stud­ied al-Qae­da vig­or­ous­ly, glean­ing tac­tics from the ter­ror­ist net­work in order to ignite a nation­al­ist move­ment in Europe. Dur­ing his tes­ti­mo­ny, he spoke of Islam­ic extremism
&
rsquo;s influ­ence on his own actions: I think the big prob­lem for mil­i­tant nation­al­ists in Europe is that there have been very few role mod­els since WWII. If a sofa gen­er­al is to bor­row tra­di­tion from al-Qae­da and does­n't dare to do it him­self but asks oth­ers to do it
&
hellip; he would­n't have any cred­i­bil­i­ty. That's how role mod­els are cre­at­ed, by sac­ri­fic­ing one­self.Just as al-Qae­da per­ceives civil­ians as legit­i­mate mil­i­tary tar­gets, Breivik sees cer­tain polit­i­cal and reli­gious groups in his own soci­ety as exis­ten­tial ene­mies on an imag­i­nary bat­tle­field.
&
nbsp;On his last day of tes­ti­mo­ny, Breivik apol­o­gized to the fam­i­ly of a pub own­er killed in the bomb attack he unleashed in the gov­ern­ment dis­trict of Oslo, stat­ing that his inten­tion was not to kill
&
ldquo;civil­ians.
&
rdquo; His clas­si­fi­ca­tion of the pub own­er stands in stark con­trast with the youth killed on Ut
&
oslash;ya:
&
ldquo;They were not inno­cent, non-polit­i­cal chil­dren,
&
rdquo; Breivik said in his tes­ti­mo­ny,
&
ldquo;these were young peo­ple who worked to active­ly uphold mul­ti­cul­tur­al val­ues.
&
rdquo;Iron­i­cal­ly, he would go on to com­pare the island retreat to a gath­er­ing of Hitler youth, a group that rep­re­sents the com­plete antithe­sis of mul­ti­cul­tur­al­ism.These con­cepts depend on a reduc­tion­ist per­cep­tion of how society
&
mdash;and politics
&
mdash;function. It is there­fore no sur­prise that Breivik claims to have prac­ticed for the car­nage by play­ing Call of Duty and oth­er vio­lent video games. In a video game, actors pos­sess clear-cut alle­giances with con­crete objec­tives. Atom­ized and anti­so­cial in real life, Breivik pro­ject­ed this kind of sim­plis­tic real­i­ty onto the world through the the­o­ries of far-Right polemi­cists.The end result was bru­tal, trag­ic and heart-breaking.
Patrick Glen­non
is a writer and musi­cian liv­ing in Chica­go. He received his B.A. in His­to­ry from Skid­more Col­lege and cur­rent­ly works as Com­mu­ni­ca­tions Man­ag­er for the Michael For­ti for Cook Coun­ty Court cam­paign and as the web intern at
In These Times
.