Standing Rock Sioux Vow to Ignore Army Corps Eviction Order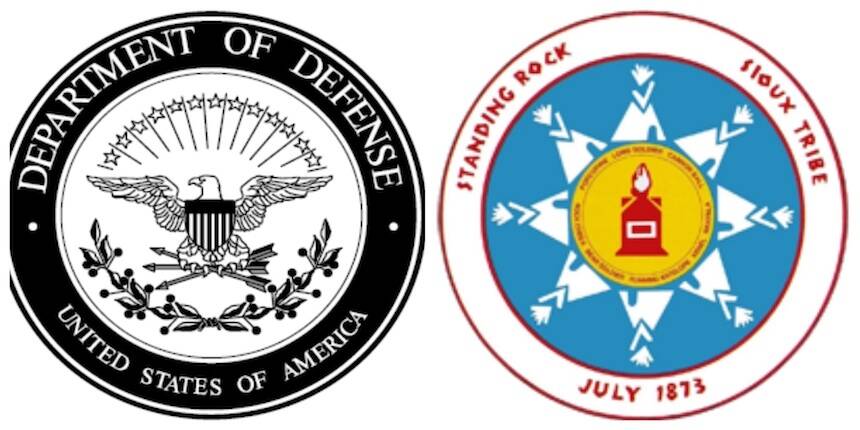 Reader donations, many as small as just $1, have kept In These Times publishing for 45 years. Once you've finished reading, please consider making a tax-deductible donation to support this work.
The U.S. Army Corps of Engineers has notified the Standing Rock Sioux that, effective December 5, public access to federally managed lands north of the Cannonball River in Morton County N.D., which includes the Oceti Sakowin camp — land on which thousands of people are currently camping in protest of the Dakota Access Pipeline — will be closed. This is one day after the anticipated arrival on December 4 of as many as 2,000 military service veterans who plan to stand in peaceful solidarity with the Sioux.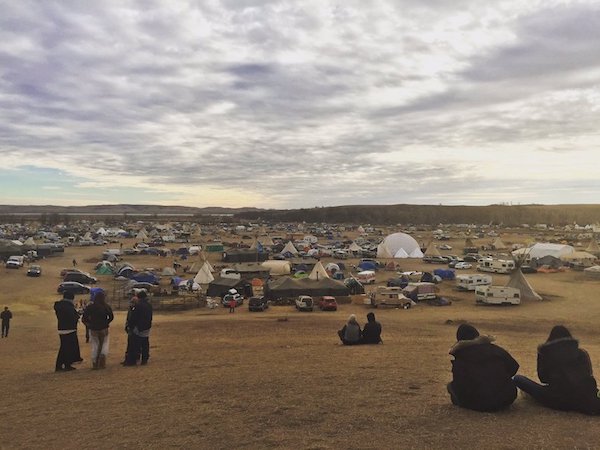 The Oceti Sakowin camp on the morning of November 15. (Dr. Adrienne Keene / Twitter)
In a letter that Army Corps District Commander Col. John W. Henderson sent to Standing Rock Sioux Tribal Chairman Dave Archambault II, Henderson wrote:
Any person found to be on the Corps' lands north of the Cannonball River after December 5, 2016, will be considered trespassing and may be subject to prosecution under federal, state and local laws. Furthermore, any person who chooses to stay on these Corps' lands north of the Cannonball River does so at their own risk, and assumes any and all corresponding liabilities for their unlawful presence and occupation of such lands.
In his letter, the first page of which is embedded below, Henderson says he made the decision in order ​"to protect the general public from the violent confrontations between protestors and law enforcement officials that have occurred in this area, and to prevent death, illness, or serious injury to inhabitants of encampments due to the harsh North Dakota winter conditions." His letter was accompanied by a map which marked the designated ​"Free Speech Area" where the First Amendment would be honored.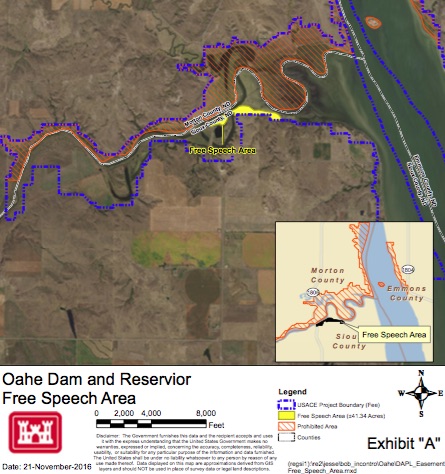 A recent confrontation with law enforcement on the Backwater Bridge injured hundreds of people, including one young woman who may have to have her arm amputated. Many others were sprayed with fire hoses in below freezing temperatures and treated for hypothermia.
On Friday afternoon, Archambault II responded with the following statement:
Today we were notified by the U.S. Army Corps of Engineers that on December 5th, they will close all lands north of the Cannonball River, which is where Oceti Sakowin camp is located. The letter states that the lands will be closed to public access for safety concerns, and that they will allow for a ​"free speech zone" south of the Cannonball River on Army Corps lands.

Our Tribe is deeply disappointed in this decision by the United States, but our resolve to protect our water is stronger than ever. We ask that all everyone who can appeal to President Obama and the Army Corps of Engineers to consider the future of our people and rescind all permits and deny the easement to cross the Missouri River just north of our Reservation and straight through our treaty lands. When Dakota Access Pipeline chose this route, they did not consider our strong opposition. Our concerns were clearly articulated directly to them in a meeting on Sept. 30, 2014. We have released that audio recording from our council meeting where DAPL and the ND Public Service Commission came to us with this route.

We ask that the United States stop the pipeline and move it outside our treaty lands.

It is both unfortunate and ironic that this announcement comes the day after this country celebrates Thanksgiving — a historic exchange of goodwill between Native Americans and the first immigrants from Europe. Although the news is saddening, it is not at all surprising given the last 500 years of the treatment of our people. We have suffered much, but we still have hope that the President will act on his commitment to close the chapter of broken promises to our people and especially our children.
At a press conference on Saturday, Archambault II and other tribal leaders announced that, despite being told to relocate by December 5, they will not be leaving the Oceti Sakowin camp and plan to continue their nonviolent protests of the Dakota Access Pipleline.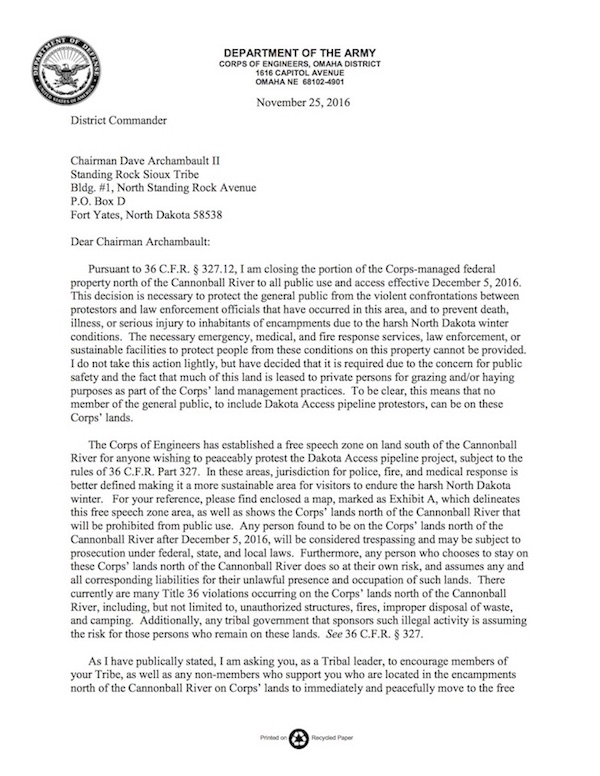 (To see that full document, which includes a map of the proposed ​

"

free speech zone", click here.)
"

Our resolve to protect our water is stronger than ever"

As Rural America In These Times has reported (see:

​

'

They Clearly Thought They'd Bought a Slam-Dunk Pipeline' — An Interivew with Winona LaDuke

), it's not uncommon for energy companies to massage the definition of ​

"

consultation" when dealing with small towns and tribal governments. In short, the bulk of the extractive industry is perpetually looking for the fastest way to ​

"

yes". In that spirit, on Sept.

30

,

2014

, representatives for the Dakota Access Pipeline met with the Standing Rock Sioux's Tribal Council to announce their intention to build a pipeline. They said:
"

As you're aware, the pipeline is going to cross over north of Cannonball within about

1

,

500

feet of tribal reservation land. So we're here today to answer questions that you might have — put out any fires or rumors that you may have heard — because this project has gotten some media coverage and I know that one of the representatives from Standing Rock has contacted the parent company, Energy Transfer Partners, who owns Dakota Access Pipeline, with some environmental questions already. We're here to detail the project and answer questions."
To which Archambault II responded, in part:
"

Before you get started I want you to know and understand that we recognize our treaty boundries — the Ft. Laramie treaty of

1851

and

1868

 — which encompasses North Dakota, Montana, Wyoming and South Dakota. Because of that, we oppose this pipeline."
Here is the full audio recording from that meeting. For those interested in the origins of this now-massive demonstration, it's a must listen:
[If you like what you've read, help us spread the word. ​

"

Like" Rural America In These Times on Facebook. Click on the ​

"

Like Page" button below the bear on the upper right of your screen. Also, follow RAITT on Twitter @RuralAmericaITT]
Your donation makes In These Times possible
This blog's mission is to provide the public service of helping make the issues that rural America is grappling with part of national discourse.