Ode on a Grecian Radical
Will Greece choose austerity, or Alexis Tsipras?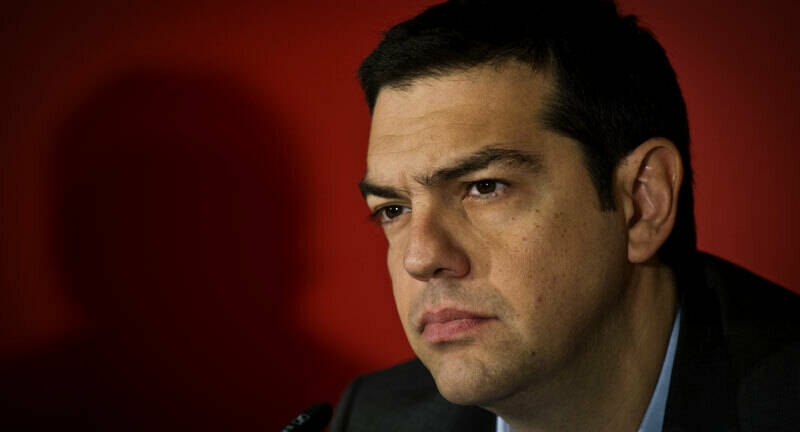 When I met Alex­is Tsipras in late Jan­u­ary at a small gath­er­ing in The Nation​'s New York offices, it was imme­di­ate­ly clear he was no ordi­nary politi­cian. The 38-year-old for­mer civ­il engi­neer and cur­rent leader of Syriza, the main oppo­si­tion par­ty in the Greek par­lia­ment, intro­duced him­self uncer­tain­ly to the room of jour­nal­ists before pour­ing some cof­fee into a plas­tic cup, which he held uncom­fort­ably for a few moments before some­one dashed to find him a bet­ter-insu­lat­ed paper cup. Not the smoothest of ini­tial impres­sions. Tsipras, who rides to par­lia­ment on a BMW motor­cy­cle, would be ill-suit­ed for the baby-kiss­ing pageantry of Amer­i­can politics.
Syriza is now the main party of opposition, threatening to overtake the center-right and forge its own governing coalition. Syriza calls for an end to austerity, renegotiation with the European Central Bank, and Keynesian measures to stimulate demand.
Nor would he be com­fort­able with the vague plat­i­tudes com­mon­place here. Tsipras came across as intel­li­gent and well-round­ed, impress­ing even the con­ser­v­a­tives in the room with his grasp of the eco­nom­ic sit­u­a­tion and the bal­ance of polit­i­cal forces in his coun­try. To the pleas­ant sur­prise of some, and the dis­ap­point­ment of oth­ers, Tsipras didn't present a rev­o­lu­tion­ary plat­form, but rather a new social demo­c­ra­t­ic com­mon sense — a Left alter­na­tive to aus­ter­i­ty that could serve as a guide­post for oth­er nations in Europe's periphery.
The move­ment wasn't exact­ly on the ascent in the late 1980s, but Tsipras joined the Com­mu­nist Youth of Greece when he was in high school any­way. At the time, the Greek Left was con­cen­trat­ed in Synaspismós, an elec­toral coali­tion between the hard­line pro-Sovi­et Com­mu­nist Par­ty of Greece and reform­ers in the Com­mu­nist Par­ty of Greece (inte­ri­or). The lat­ter was formed in the 1960s, by social­ists inspired by the exam­ple of the Ital­ian Com­mu­nist Par­ty, which advo­cat­ed more demo­c­ra­t­ic forms of social trans­for­ma­tion in West­ern Europe free of the ​"Sovi­et model."
Fol­low­ing the col­lapse of the East­ern Bloc, Synaspismós came to be dom­i­nat­ed by these reform­ers. When, in 2004, Synaspismós came togeth­er with oth­er small par­ties to form an alliance called the Coali­tion of the Rad­i­cal Left (Syriza), Tsipras was there with them. An unfail­ing­ly charis­mat­ic leader, he quick­ly rose through the ranks.
Today, he is poised to become the youngest prime min­is­ter in the Euro­pean Union.
The ter­rain was fer­tile. Greece has a rad­i­cal past, with even the unabashed­ly Stal­in­ist Com­mu­nist Par­ty of Greece (KKE) — which refus­es to work with oth­ers on the Left — main­tain­ing a mea­sure of mass sup­port. Syriza, how­ev­er, was the upstart. It sur­prised in the 2007 elec­tion, win­ning 5.6 per­cent of the vote, but was still a mar­gin­al force.
Then came the flood. The sto­ry of Greece's eco­nom­ic col­lapse is by now famil­iar. One of the first casu­al­ties was the country's once-dom­i­nant cen­ter- left. The Pan­hel­lenic Social­ist Move­ment (PASOK) was the polit­i­cal organ of the Greek work­ing class, but its aus­ter­i­ty agen­da, enact­ed in implic­it agree­ment with, and lat­er in coali­tion with, the cen­ter-right New Democ­ra­cy par­ty, led many to look for alternatives.
Syriza is now the main par­ty of oppo­si­tion, threat­en­ing to over­take the cen­ter-right and forge its own gov­ern­ing coali­tion. Should that hap­pen, Tsipras will become prime min­is­ter. Syriza calls for an end to aus­ter­i­ty, rene­go­ti­a­tion with the Euro­pean Cen­tral Bank, and Key­ne­sian mea­sures to stim­u­late demand. But anoth­er alter­na­tive for dis­grun­tled Greeks is the neo-Nazi Gold­en Dawn, a par­ty, in Tsipras' words, of ​"ex-night­club-secu­ri­ty guards." He's quick, how­ev­er, to point out the savvi­ness and intel­li­gence behind the rise of the group, which is now polling at 11.5 percent.
Oper­at­ing in true fas­cist tra­di­tion, the Gold­en Dawn roams the streets, at times phys­i­cal­ly attack­ing pro­gres­sive demon­stra­tions. But it also lifts whole pas­sages from the Left's cri­tique of Euro­pean aus­ter­i­ty, paint­ing itself as an anti-estab­lish­ment force. But where Tsipras points out that the bat­tle rag­ing in Greece is part of a glob­al one between cap­i­tal and labor, Gold­en Dawn traf­fics in more nation­al­ist rhetoric. Its vit­ri­ol is often direct­ed against Ger­man bankers, the same forces that brought Greece to ruin dur­ing World War II. They even want war repa­ra­tions, full cov­er­age of Greek debt and anoth­er $200 bil­lion in puni­tive pay­ment. The Oedi­pal irony of this mes­sage com­ing from a neo-Nazi par­ty is lost on many.
More in the spir­it of its Ger­man pre­de­ces­sor are Gold­en Dawn's attacks on immi­grants and migrant work­ers, con­stituen­cies that Tsipras says Syriza is try­ing to orga­nize on a mass basis, albeit with lit­tle suc­cess thus far.
The dif­fer­ences between the defend­ers of immi­grants and their oppres­sors should be easy to dis­cern. But the main­stream media — in Europe and in the Unit­ed States — has been quick to draw analo­gies between the two ​"extrem­isms" that Greek work­ers are drawn toward. CNN​.com con­trib­u­tor Roman Gerodi­mos even com­pared the sit­u­a­tion to the Weimar Repub­lic in the days before Hitler's rise — a peri­od where the decay of mod­er­ate forces led to a strug­gle to the death between the Stal­in­ist Left and the Nazi Right.
It is an attempt to rel­e­gate Syriza (which, accord­ing to opin­ion polls, is as pop­u­lar among Greeks as the gov­ern­ing con­ser­v­a­tive New Democ­ra­cy par­ty) to the polit­i­cal mar­gins and bestow legit­i­ma­cy on only the two aus­ter­i­ty par­ties of the cen­ter — par­ties that vot­ers have jus­ti­fi­ably lost all con­fi­dence in. Yet one ques­tion asked by main­stream com­men­ta­tors deserves atten­tion: What would Syriza do if in power?
Tsipras says that Greece lacks an indus­tri­al base, mak­ing an exit from the Euro dif­fi­cult, but he thinks Syriza would be more effec­tive at rene­go­ti­at­ing Greece's debt with Euro­pean offi­cials because of its hard­er line and out­sider sta­tus. Yet he is care­ful to impress observers with a tem­pered under­stand­ing of his country's options.
He is, after all, on a world tour to gain the legit­i­ma­cy with the inter­na­tion­al pow­er elite that he has already won with much of his own pub­lic. Ear­li­er in Jan­u­ary, he met with Ger­man Finance Min­is­ter Wolf­gang Schäuble. In Wash­ing­ton he met with the IMF and the Trea­sury Depart­ment. And in New York, he was inter­viewed by the New York Times edi­to­r­i­al board, to whom he said: ​"They say I am the most dan­ger­ous man in Europe. What I feel is dan­ger­ous is the pol­i­cy of aus­ter­i­ty in Europe."
Syriza may not be the first — or even sec­ond or third — choice of inter­na­tion­al cap­i­tal, so Tsipras' pitch went, but it would be able to admin­is­ter a state with­out implod­ing the entire Eurozone.
It seems pos­si­ble that Syriza is offer­ing both Greeks and Euro­peans an alter­na­tive, gov­ern­ing the state with­out admin­is­ter­ing more cuts: Euro­pean Social Democ­ra­cy 2.0 in the age of aus­ter­i­ty. And this pos­si­bil­i­ty would pro­vide a mod­el to those strug­gling in places like Por­tu­gal and Spain, strug­gles that Tsipras sees as being mere­ly ​"two years or so behind the sit­u­a­tion in Greece."
But many of those in Syriza have ambi­tions more rad­i­cal than social democ­ra­cy. Tsipras has plen­ty of answers as to how he would min­i­mize cap­i­tal flight and the sub­ver­sive actions of the Greek oli­garchy, but few about how the par­ty would respond to work occu­pa­tions and the spon­ta­neous mil­i­tan­cy of the extra-par­lia­men­tary Left once it is in pow­er. It will be a hard task to reas­sure inter­na­tion­al cap­i­tal that Syriza can man­age a state with­out turn­ing on the rad­i­cal forces that the par­ty owes its rise to.
In defense of Tsipras' prag­mat­ic approach, tiny Greece can­not move in a more social­ist direc­tion alone. What is need­ed is a rad­i­cal shift across Europe and the devel­oped world as a whole. And for many Greeks, an end to aus­ter­i­ty and an end to the suf­fer­ing seems like more than enough.
Bhaskar Sunkara
is the found­ing edi­tor of Jacobin mag­a­zine. Fol­low him on Twit­ter: @sunraysunray.