Official Bigotry
In Florida, both anti-gay political rhetoric and hate crimes are on the rise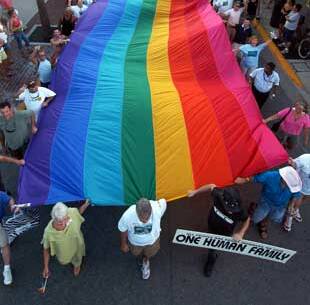 When Paul Day returned home to see ​"die fag" spray-paint­ed on the steps of his smol­der­ing mobile home, he was fright­ened, but not shocked. Day and his boyfriend had been harassed before, and their home­town of Lake­land in Florida's Polk Coun­ty also boasts the First Bap­tist Church at the Mall, whose head pas­tor is spear­head­ing the dri­ve for a con­sti­tu­tion­al amend­ment to ban same-sex mar­riage – despite the fact that it's already ille­gal in the state.
Bri­an Win­field, com­mu­ni­ca­tions direc­tor of Equal­i­ty Flori­da, says he's brac­ing for more events like the arson attack. He says that it stands to rea­son that if the anti-gay forces choose to make their home in Lake­land, it reflects ​"a com­mu­ni­ty where peo­ple feel com­fort­able with their big­otry, so much so that they are will­ing to act it out in vio­lent ways."
Vocal oppo­si­tion to gays has also become main­stream in neigh­bor­ing Hills­bor­ough Coun­ty, where Tam­pa is locat­ed. Its GLBT com­mu­ni­ty received a wake-up call in June, when Coun­ty Com­mis­sion­er Rhon­da Storms raised objec­tions to a shelf of books fea­tured in her local library in hon­or of gay pride month. Storms claims she spoke for her rur­al and sub­ur­ban con­stituents when she pro­posed that the coun­ty ban ​"acknowl­edg­ing, pro­mot­ing or par­tic­i­pat­ing" in gay pride events.
"I do not want to have to explain to my [6‑year-old] daugh­ter what it means to be ques­tion­ing one's sex­u­al­i­ty … or what a trans­gen­der per­son is, or what a bisex­u­al is or what a gay or les­bian is," said Storms. She added that the library shouldn't be ​"used as bul­ly pul­pit to intro­duce those con­cepts to a child out­side of their par­ents' purview." Only one coun­ty com­mis­sion­er vot­ed against the ban, which result­ed in the removal of the shelf of books, as well as a larg­er dis­play in the cen­tral library.
Patrick Jones, co-founder of Equal­i­ty Polk Coun­ty, was frus­trat­ed that it took the local media four days to even report the arson. He says the gay pride ban had put the com­mu­ni­ty on notice, and the fire­bomb­ing reaf­firmed their fears. ​"It makes you won­der what lev­el it's going to be stepped up to in this area," Jones said.
"It's not just a mes­sage to these two indi­vid­u­als," says Win­field of the arson attack, ​"but to any gay or les­bian cit­i­zen of Lake­land, or of Flori­da for that mat­ter, that you're not want­ed, that if we know that you're gay, and you're out of the clos­et, your life is at risk."
The most recent hate crimes report from the state attor­ney gen­er­al found that in the last four years on record (2000 – 03), Flori­da law enforce­ment agen­cies report­ed 194 hate crimes moti­vat­ed by sex­u­al ori­en­ta­tion – more than the com­bined total for the first eight years of hate crimes report­ing. In 2003, the 55 hate crimes against gays com­prised 20 per­cent of Florida's total, the high­est per­cent­age ever.
Win­field is call­ing on those in pow­er to stop preach­ing hatred. ​"We need to begin a process by which our polit­i­cal and reli­gious lead­ers step away from using this anti-gay rhetoric that's become so pop­u­lar in order to build one's base," he says, because his­to­ry shows that when such rhetoric increas­es, ​"so do hate crimes against gay people."
In response to the gay pride ban, more than 2,000 peo­ple marched through down­town Tam­pa. Some long-time res­i­dents are con­sid­er­ing mov­ing out of the state. Some out-of-town­ers are writ­ing let­ters to the edi­tor, vow­ing not to trav­el to the area on vaca­tion. But with con­ser­vatism grow­ing increas­ing­ly pop­u­lar in Flori­da, a polit­i­cal back­lash against homo­pho­bic pol­i­cy­mak­ers doesn't appear likely.
Instead, eco­nom­ics may be the tol­er­ant community's best tool. The co-own­er of a Mis­sis­sip­pi-based mini-stor­age busi­ness has tak­en Tam­pa off his list of poten­tial con­ven­tion sites; activists are hop­ing a boy­cott by oth­er con­tro­ver­sy-shy con­fer­ences and con­ven­tions may get the gay pride ban over­turned. There are also plans to ask the Nation­al Foot­ball League to pull the 2009 Super­bowl out of Tam­pa. NFL com­mis­sion­er Paul Tagli­abue has a gay son and is an active mem­ber of Par­ents, Friends, and Fam­i­ly of Les­bians and Gays (PFLAG). Gay rights sup­port­ers point to the exam­ple of a Cobb Coun­ty, Ga., res­o­lu­tion con­demn­ing the ​"gay lifestyle" as incom­pat­i­ble with the community's stan­dards, which result­ed in a detour of the Olympics around the coun­ty in 1996.
But the deci­sion by the Olympic com­mit­tee to snub Cobb Coun­ty didn't come until the lead-up to the games, three years after the anti-gay pol­i­cy was insti­tut­ed. For South­west Flori­da res­i­dents who are now look­ing over their shoul­ders, four years is a long time to wait.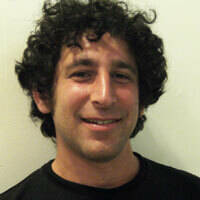 Andrew Stelz­er
, a free­lance jour­nal­ist in Oak­land, Calif., is a pro­duc­er at ​
"
Mak­ing Con­tact," a week­ly pub­lic affairs radio pro­gram. His reports have appeared on ​
"
The World," ​
"
Free Speech Radio News" and ​
"
Lati­no USA," among oth­ers. Stelz­er has been a con­trib­u­tor to
In These Times
since
2005
, and can be con­tact­ed at
www​.andrew​stelz​er​.com.