Oklahoma Is Imprisoning So Many People It Can't Hire Enough Guards To Keep Up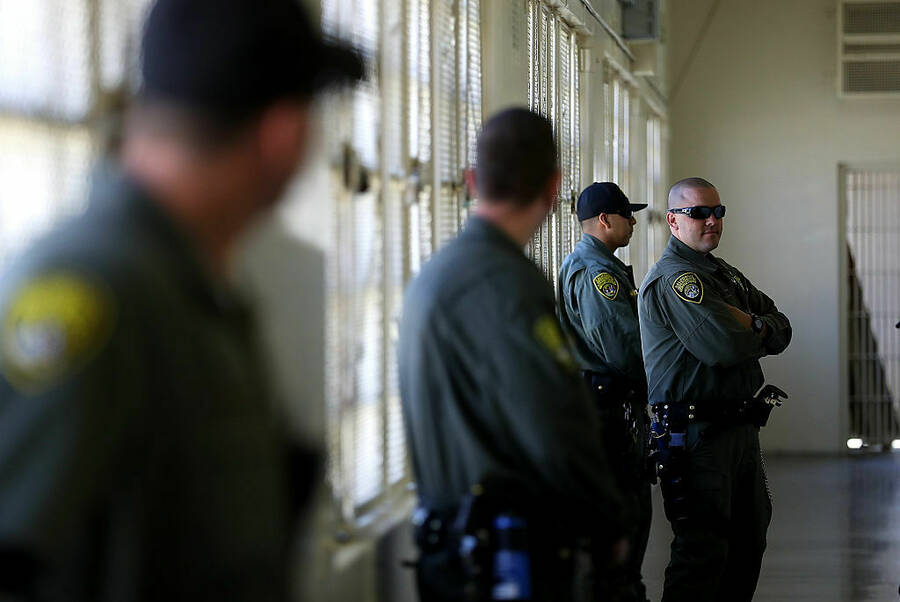 In July of this year, some 150 pris­on­ers at the Great Plains Cor­rec­tion­al Facil­i­ty in Tul­sa, Okla., riot­ed. The riot report­ed­ly devel­oped after a fight between pris­on­ers and last­ed for about eight hours. Two prison guards were tak­en hostage before the pris­on­ers were cor­ralled and returned to their cells.
The inci­dent imme­di­ate­ly led to calls for a guard increase. In Jan­u­ary, the Okla­homa Depart­ment of Cor­rec­tions announced it had a short­age of cor­rec­tion­al offi­cers rel­a­tive to the state's grow­ing prison pop­u­la­tion. Okla­homa has the sec­ond high­est per-capi­ta incar­cer­a­tion rate in the coun­try, and the high­est rates of incar­cer­a­tion for both women and black men.
Okla­homa isn't an iso­lat­ed case. Despite recent push­es for prison reforms and sen­tence reduc­tions, the ranks of the incar­cer­at­ed are grow­ing in many states. Mean­while, there's a wide­spread short­age of cor­rec­tions offi­cers par­tial­ly due to the profession's cul­tur­al stig­ma as a job with less pres­tige than that of a fire­fight­er or police offi­cer. In 2014, 34 states sub­mit­ted four-year prison pro­jec­tions to The Pew Char­i­ta­ble Trusts. Twen­ty-eight expect­ed their prison pop­u­la­tions to grow between 1 and 16 per­cent by 2018.
Okla­homa had a record 63,009 peo­ple in its sys­tem as of August. Over the last eight-and-a-half months, the state has added 2,000 pris­on­ers—four times the growth pro­ject­ed by a governor's task force in February.
There have been a num­ber of leg­isla­tive efforts to reform Oklahoma's crim­i­nal jus­tice poli­cies and poten­tial­ly lessen its num­ber of pris­on­ers, but these efforts have often been thwart­ed by the state's con­ser­v­a­tive gov­ern­ment. Jes­si­ca Brand, legal direc­tor of the Fair Pun­ish­ment Project, a nation­al orga­ni­za­tion that advo­cates for a fair and account­able jus­tice sys­tem, tells In These Times that the state's aggres­sive dis­trict attor­neys also deserve a large chunk of the blame.
"Crim­i­nal jus­tice reform is pos­si­ble in Okla­homa, but in the past these efforts have been met with strong resis­tance from elect­ed pros­e­cu­tors," Brand says. ​"The dis­trict attor­neys of the state's three most pop­u­lous coun­ties – Okla­homa, Tul­sa, and Cleve­land – opposed a ref­er­en­dum to lessen sen­tences for drug pos­ses­sion offens­es in 2016, and [Okla­homa Coun­ty Dis­trict Attor­ney] David Prater remains a strong defend­er of civ­il asset for­fei­ture at a time when the prac­tice is receiv­ing bipar­ti­san condemnation."
Calls for prison guard increas­es are, of course, calls for an expand­ed cor­rec­tions bud­get, and prison guard unions are usu­al­ly at the fore­front of these push­es. For instance, the Okla­homa Cor­rec­tions Pro­fes­sion­al asso­ci­a­tion is call­ing for more prison spend­ing. And even though the Tul­sa riot took place at a pri­vate prison, Okla­homa Cor­rec­tion­al Pro­fes­sion­als Exec­u­tive Direc­tor Jack­ie Switzer says it could hap­pen at any state-run facil­i­ty. Switzer also says many state prison guards don't feel safe because there sim­ply are not enough officers.
"Most of our state agen­cies see a rise in inci­dents," he said to local media short­ly after the riot occurred. ​"We can't keep putting Band-Aids on them. We have to have the funds to fix the problems."
While police unions have faced their share of crit­i­cism from pro­gres­sives, the role that cor­rec­tion­al offi­cer unions play in the expand­ing the prison-indus­tri­al com­plex is often over­looked in the recent scruti­ny of the jus­tice sys­tem sparked by the Move­ment for Black Lives.
"Prison guard unions often have a strong incen­tive to push back against reforms, because so much of what we spend on incar­cer­a­tion goes to cor­rec­tion­al offi­cers," says John Pfaff, a Ford­ham Law School pro­fes­sor and author of Locked In: The True Caus­es of Mass Incar­cer­a­tion — and How to Achieve Real Reform. This is why these unions have such a strong incen­tive keep cor­rec­tion­al spend­ing high, says Pfaff.
"In the­o­ry, the unions would like­ly be fine with prison pop­u­la­tion cuts as long as they didn't require prison clo­sures and lay­offs," he says.
In Cal­i­for­nia dur­ing the 1990s, the Cal­i­for­nia Cor­rec­tion­al Peace Offi­cers Asso­ci­a­tion (CCPOA) pushed for three-strikes leg­is­la­tion and fought attempts at parole reform. These actions helped dra­mat­i­cal­ly increase the union's mem­ber­ship, which went from 5,000 in 1982 to 31,000 in 2011.
One sim­ple solu­tion to prison over­pop­u­la­tion is to release more peo­ple on parole. Although Oklahoma's GOP gov­er­nor, Mary Fallin, has declared crim­i­nal jus­tice reforms to reduce incar­cer­a­tion as her top pri­or­i­ty, she's fought efforts to reform the state's parole sys­tem and inter­vened to block parole for hun­dreds of offend­ers.
This sum­mer a group of pris­on­ers sued Fallin, alleg­ing unsafe con­di­tions and unjust parole hear­ings. Okla­homa-based pris­on­er advo­ca­cy group All In One Project, whose mem­bers make up many of the plain­tiffs, says it has peti­tioned the Depart­ment of Jus­tice to intervene.
"Okla­homa pris­ons are so dan­ger­ous and over­crowd­ed that any term of impris­on­ment is a poten­tial death sen­tence," reads the com­plaint. The plain­tiffs mean this quite lit­er­al­ly: between 2001 and 2014 there were 13 killings per 100,000 pris­on­ers. For con­text, in that same peri­od there were 2 homi­cides per 100,000 pris­on­ers in New York and 5 homi­cides per 100,000 pris­on­ers in Louisiana, accord­ing to fig­ures from the U.S. Bureau of Jus­tice Statistics.
The law­suit also alleges that Okla­homa impris­ons a dis­pro­por­tion­ate num­ber of African-Amer­i­cans and poor peo­ple, as well as an unusu­al­ly high per­cent­age of women, while the state's pris­ons remain some of the most dan­ger­ous in the country.
In 2015 more than $451 mil­lion was spent on Oklahoma's pris­ons, accord­ing to an analy­sis by the Vera Insti­tute of Jus­tice. Accord­ing to a recent report by the Okla­homa Jus­tice Reform Task Force, if the prison pop­u­la­tion in Okla­homa con­tin­ues to rise, the state may have to spend anoth­er $1.9 bil­lion on the prison sys­tem over the next 10 years.
This price tag may be good news for only one group: prison guard unions.
"
Michael Arria
is the U.S. cor­re­spon­dent for Mon­doweiss. Fol­low him on Twit­ter: @michaelarria.