The Oklahoma Teachers' Strike Is a Mutiny Against Austerity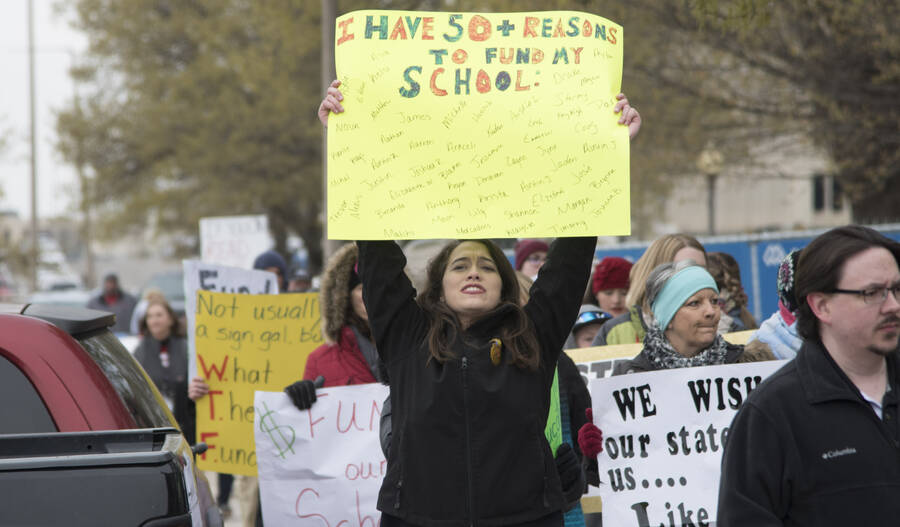 Okla­homa teach­ers proud­ly marked them­selves absent from school since Mon­day, and they had an excel­lent excuse: They made them­selves present in pol­i­tics instead, with a his­toric march on the Capi­tol in hopes of final­ly cap­tur­ing the legislature's undi­vid­ed attention
Law­mak­ers thought they could eke through anoth­er aus­ter­i­ty bud­get with the last-minute addi­tion of a $6,100 wage hike. But an esti­mat­ed 30,000 edu­ca­tors stopped work start­ing Mon­day to force some 200 schools to shut­ter, in order to send the mes­sage to elect­ed rep­re­sen­ta­tives that their ges­ture is insuf­fi­cient. The planned raise paled against teach­ers' demands for a ful­ly fund­ed school bud­get, as part of a $3.3 bil­lion pack­age to restore mas­sive cut­backs across state agen­cies, as well as the basic dig­ni­ty of a liv­ing wage for all state workers.
Fol­low­ing a decade of bruis­ing aus­ter­i­ty, the num­bers still don't add up for Okla­homa schools. They lead the nation in annu­al bud­get cuts, and rank 45th in fund­ing equi­ty lev­els and 46th in aca­d­e­m­ic per­for­mance, accord­ing to recent nation­al rank­ings. With pay scales for teach­ers statewide frozen since the reces­sion, salaries have declined in real terms to rank near dead last in the country.
Cathy Benge, a library media spe­cial­ist at Longfel­low Mid­dle School in Enid, cal­cu­lates the aver­age age of a book in her library's col­lec­tion is 40, while many text­books are 10 to 12 years old. This leaves her mid­dle school­ers with crum­bling text­books about as old as they are. ​"Our ser­vices are being cut to the core," she said.
As a 15-year vet­er­an edu­ca­tor and a par­ent of three her­self, Benge notes that, while teach­ers appre­ci­ate the short-term bonus, they'll accept noth­ing less than real long-term secu­ri­ty, includ­ing par­al­lel rais­es for school staff and cost-of-liv­ing adjust­ments for pen­sions. And fun­da­men­tal­ly, their rebel­lion isn't about wages, but respect for them­selves and the young peo­ple they edu­cate. ​"We are walk­ing to advo­cate for our stu­dents," she says. ​"Our stu­dents are being robbed of a prop­er­ly fund­ed education."
Even with the pro­posed pay hike, teach­ers' salaries are still dev­as­tat­ing­ly low, despite being years into the eco­nom­ic ​"recov­ery." With the 15 to 18 per­cent salary boost offered by state law­mak­ers, a typ­i­cal teacher's pay would reach the $40,000 tier only after eight years. That still trails the esti­mat­ed annu­al liv­ing-wage income for a fam­i­ly of four with one work­ing par­ent in Tul­sa Coun­ty, accord­ing to the MIT liv­ing-wage cal­cu­la­tor. By com­par­i­son, work­ers in the con­struc­tion and extrac­tive indus­tries often earn about the same amount. But while school bud­gets have bled near­ly $200 mil­lion since 2009, the fos­sil-fuel indus­try receives spe­cial pro­tec­tions and sub­si­dies, includ­ing rock-bot­tom tax rates.
The state's aus­ter­i­ty axe deliv­ers dai­ly pun­ish­ment to a strug­gling stu­dent pop­u­la­tion: The pro­por­tion of spe­cial needs and Eng­lish-lan­guage-learn­er chil­dren has soared in Okla­homa in recent years, accord­ing to the OEA, and the major­i­ty of kids are so impov­er­ished they need sub­si­dized lunches.
Not even edu­ca­tors like Rae Lovelace are spared. ​"If I did­n't have a sec­ond job, I'd be on food stamps" she told CBS at the Capi­tol. To cov­er her family's basic needs, the Eng­lish teacher splits her class time between third graders at her north­west Okla­homa school and the dis­tance-learn­ing stu­dents of an online char­ter school. The state's extra­or­di­nar­i­ly high teacher turnover rate shows that many are opt­ing to leave their job to for high­er-pay­ing sec­tors or teach­ing jobs in oth­er states.
Benge wit­ness­es this grim civics les­son play­ing out local­ly in her small city of Enid. Her library's bud­get, after shrink­ing for sev­er­al years, was just zeroed out. Under­staffing in para­pro­fes­sion­al sup­port staff across the pub­lic school sys­tem, she adds, leaves teach­ers over­whelmed with class­es often exceed­ing 30 stu­dents. And the stu­dents are com­ing from house­holds fac­ing par­al­lel deficits in wel­fare and health­care sup­ports, due to state's mas­sive divest­ment from fam­i­ly social ser­vices, on top of edu­ca­tion cuts.
No won­der many oth­er civ­il ser­vants ral­lied in sol­i­dar­i­ty with this over-stressed, most­ly woman pub­lic work­force. Schools are on the front lines of so many over­lap­ping unmet needs, Benge explained. ​"If [chil­dren] have trau­ma going on in their lives at home, and [Depart­ment of Human Ser­vices] does­n't have enough case work­ers or fos­ter care to help them out," she said, ​"then they're not in place where they're pre­pared to learn the next day."
Not­ing that her col­leagues have stretched their pay­checks to buy stu­dents the shoes or eye­glass­es they oth­er­wise could not afford, Benge says, ​"I can­not in good con­science sit and not do any­thing. Do I have to feed them? No, I don't, but I can't not."
Law­mak­ers should have seen the revolt com­ing. Weeks ago the OEA pub­lished online polling results show­ing that if the state failed to pro­vide liv­ing wages and full fund­ing ​"for edu­ca­tion and core gov­ern­ment ser­vices," orga­nized school clo­sures and mass walk­outs to the Capi­tol would be sup­port­ed by over­whelm­ing majori­ties of teach­ers, stu­dents and parents.
The Okla­homa rebel­lion caps a wave of mass mobi­liza­tions in the past few weeks, includ­ing sim­i­lar wild­cat actions in West Vir­ginia and, more recent­ly, Ken­tucky, with poten­tial strikes brew­ing in Ari­zona. The upris­ings evoke a decades-old tra­di­tion of teach­ers' labor mil­i­tan­cy. Yet the lat­est erup­tions sig­ni­fy a bold new anti-aus­ter­i­ty resis­tance, fueled by an under­cur­rent of sim­mer­ing left-wing back­lash in Trump Country.
Weak union pow­er and over­ar­ch­ing right-to-work poli­cies in Repub­li­can-dom­i­nat­ed Okla­homa mean any mass polit­i­cal action car­ries risks, espe­cial­ly giv­en the sen­si­tive nature of schools' role in the com­mu­ni­ty. Teach­ers' strikes are essen­tial­ly ​"wild­cat" in Red States like West Vir­ginia and Okla­homa, where edu­ca­tors are legal­ly restrict­ed from strik­ing and have ane­mic union pro­tec­tions. The polit­i­cal con­straints on work­ers' col­lec­tive actions — which may presage the gut­ting of pub­lic-sec­tor union pro­tec­tions in the upcom­ing Janus Supreme Court case — could have a rad­i­cal­iz­ing impact. When the rules can't con­tain them, teach­ers have no choice but to write their own, includ­ing grass­roots work stoppages.
Mean­while, some teach­ers are even school­ing polit­i­cal elites: A major pro­gres­sive surge in last September's spe­cial elec­tion launched Okla­homa edu­ca­tor Jacob Rose­crants from the class­room to the State House in a key swing seat.
"A lot of teach­ers and edu­ca­tors that I lis­tened to today feel like we are being paci­fied, or patron­ized, or pla­cat­ed — any of those won­der­ful ​'P' words," said Benge. ​"They're pat­ting us on the heads and say­ing, ​'Okay, here you go. Now be hap­py and go away."
But unlike many leg­is­la­tors who bud­get year-to-year with a cyn­i­cal eye toward vot­ing cycles, Benge takes the long view on edu­ca­tion­al invest­ment. ​"The stu­dents that have these gaps in their edu­ca­tion, it's going to take a long time to fill those gaps, if we're for­tu­nate enough to make it up," she says. ​"They haven't been in school ever in Okla­homa with a ful­ly fund­ed edu­ca­tion program."
In this year's bud­get bat­tle, Benge adds, ​"The pay raise is much appre­ci­at­ed, but it is one block of accom­plish­ment in a marathon of prob­lems." The ral­lies at the Capi­tol this week just mark one step in teach­ers' long march toward equity.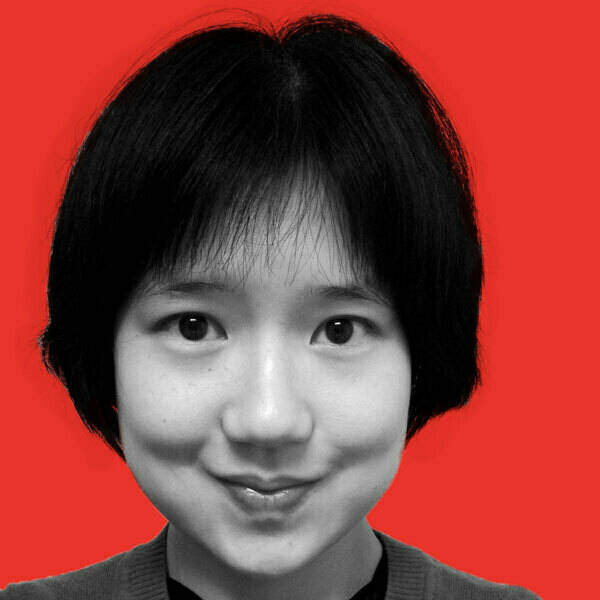 Michelle Chen is a con­tribut­ing writer at In These Times and The Nation, a con­tribut­ing edi­tor at Dis­sent and a co-pro­duc­er of the ​"Bela­bored" pod­cast. She stud­ies his­to­ry at the CUNY Grad­u­ate Cen­ter. She tweets at @meeshellchen.