As Goes West Virginia? Oklahoma's Rank-and-File Teachers Are Gearing up For a Strike.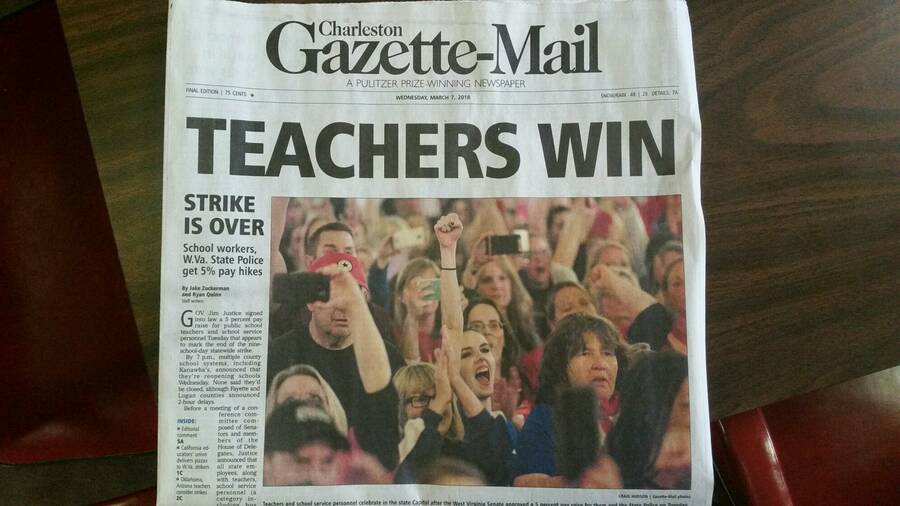 Draw­ing inspi­ra­tion from the vic­to­ry in West Vir­ginia, teach­ers in Okla­homa are fight­ing for a raise, and many are pre­pared to strike if nec­es­sary. Their union, the Okla­homa Edu­ca­tion Asso­ci­a­tion (OEA), announced yes­ter­day that, if mem­bers' demands aren't met, there will be a walk­out on April 2.
Accord­ing to Nation­al Edu­ca­tion Asso­ci­a­tion data, in 2016 the aver­age teacher's salary was low­er in Okla­homa than in West Vir­ginia. A Span­ish teacher named Lil­li Lyon recent­ly told the local out­let News 4 that she hasn't seen a pay increase since 2009, because any raise she's received has been off­set by her ris­ing insur­ance costs.
Lar­ry Cagle, who has been a pub­lic-school teacher in Tul­sa for five years, told In These Times that there are a num­ber of par­al­lels between teach­ers' con­di­tions in West Vir­ginia and Okla­homa. ​"You have teach­ers who are under-paid, a weak union," said Cagle. ​"Teach­ers are in a pre­car­i­ous posi­tion. We're under-fund­ed while watch­ing the econ­o­my grow, and we're being left behind."
Both West Vir­ginia and Okla­homa are ​"right to work" states where pub­lic employ­ees lack col­lec­tive bar­gain­ing rights. It is ille­gal for teach­ers to strike in Okla­homa, just like it was for teach­ers to strike in West Vir­ginia. Accord­ing to the Okla­homa State Depart­ment of Edu­ca­tion Law Book, ​"Any mem­ber of an orga­ni­za­tion engag­ing in a strike shall be denied the full amount of his wages dur­ing the peri­od of such vio­la­tion. If the orga­ni­za­tion or its mem­bers engage in a strike, then the orga­ni­za­tion shall cease to be rec­og­nized as rep­re­sen­ta­tive of the unit and the school dis­trict shall be relieved of the duty to nego­ti­ate with such orga­ni­za­tion or its representatives."
If Okla­homa teach­ers do strike, the action will serve as fur­ther con­fir­ma­tion that rank-and-file union mem­bers can effec­tive­ly lead labor fights — defy­ing expectations.
Main­stream media orig­i­nal­ly report­ed on Tues­day, Feb­ru­ary 27 that the West Vir­ginia strike was over. Short­ly after the pres­i­dents of West Virginia's two teach­ers' unions — the West Vir­ginia Amer­i­can Fed­er­a­tion of Teach­ers and the West Vir­ginia Edu­ca­tion Asso­ci­a­tion — announced that the deal was done at a ral­ly, they were met with loud boos. It turned out that the agree­ment did not fix the state's Pub­lic Employ­ee Insur­ance Agency, a core demand of the strik­ers. It also soon became clear that the pay raise the unions had nego­ti­at­ed had not been final­ized. While the lead­er­ship of the teach­ers' unions announced that class­es would resume on Thurs­day, the teach­ers held votes through­out the state. By the end of Wednes­day night, every coun­ty had decid­ed to stay on strike. An improved deal wasn't nego­ti­at­ed until the fol­low­ing Tuesday.
Accord­ing to Cagle, there's a sim­i­lar dynam­ic at work in Okla­homa. Cagle says he got togeth­er with anoth­er Okla­homa teacher and devel­oped a plan, bang­ing out the details at a cof­fee shop. He cre­at­ed an online protest group called Okla­homa Teach­ers Unit­ed to help dri­ve a strike. ​"We felt like we could muster the troops for a strike. We thought we had the crit­i­cal mass and the rest of the state would follow."
Addi­tion­al Face­book groups were devel­oped, and after the OEA was informed that a strike could go down, the union held an emer­gency meet­ing to dis­cuss how to pro­ceed. In a Face­book post, the OEA declared that April 23 was ​"the dead­line for law­mak­ers to fund pay rais­es and edu­ca­tion needs. After that, schools will shut down." After the post received a num­ber of crit­i­cal com­ments, OEA bumped the date up to April 2. ​"I'm pret­ty hap­py with that," Cagle told In These Times, ​"but we've moved into watch­dog mode to see what they'll do next."
Hours after Cagle spoke with In These Times, the OEA announced that it isn't only demand­ing a $10,000 raise for its teach­ers, but a $7,500 raise for all of the state's pub­lic employees.
Although Cagle acknowl­edged there is grow­ing anger towards law­mak­ers in the state, he cau­tioned against pun­dits fram­ing these fights as a mat­ter of ​"Democ­rats ver­sus Repub­li­cans." ​"The Dems should have nego­ti­at­ed with us a while ago, but they dou­bled down here," he told In These Times. ​"They've played Russ­ian roulette wait­ing for things to turn for them this way. This is a real­ly con­ser­v­a­tive state, and we're try­ing to push Repub­li­cans and Democ­rats because we're suf­fer­ing. I think we got them now."
"
Michael Arria
is the U.S. cor­re­spon­dent for Mon­doweiss. Fol­low him on Twit­ter: @michaelarria.