Oligarchy in the U.S.A.
The wealth defense industry protects the richest of the rich.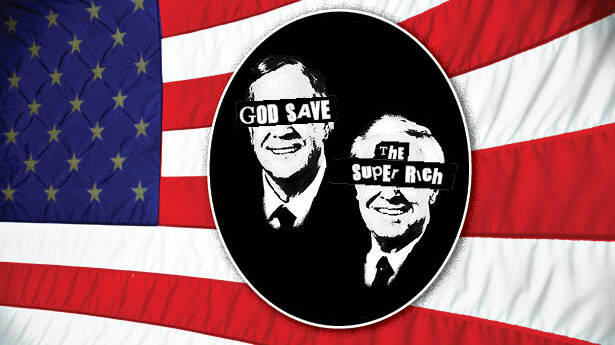 In 2005, Cit­i­group offered its high net-worth clients in the Unit­ed States a con­cise state­ment of the threats they and their mon­ey faced.
The report told them they were the lead­ers of a ​"plu­ton­o­my," an econ­o­my dri­ven by the spend­ing of its ultra-rich cit­i­zens. ​"At the heart of plu­ton­o­my is income inequal­i­ty," which is made pos­si­ble by ​"cap­i­tal­ist-friend­ly gov­ern­ments and tax regimes."
The dan­ger, accord­ing to Citigroup's ana­lysts, is that ​"per­son­al tax­a­tion rates could rise – div­i­dends, cap­i­tal gains, and inher­i­tance tax­es would hurt the plutonomy."
But the ultra-rich already knew that. In fact, even as America's income dis­tri­b­u­tion has skewed to favor the upper class­es, the very rich­est have suc­cess­ful­ly man­aged to reduce their over­all tax bur­den. Look no fur­ther than Repub­li­can pres­i­den­tial con­tender Mitt Rom­ney, who in 2010 paid 13.9 per­cent of his $21.6 mil­lion income in tax­es that year, the same tax rate as an indi­vid­ual who earned a mere $8,500 to $34,500.
How is that pos­si­ble? How can a coun­try make so much progress toward equal­i­ty on oth­er fronts – race, gen­der, sex­u­al ori­en­ta­tion and dis­abil­i­ty – but run the oppo­site way in its pol­i­cy on tax­ing the rich?
In 2004, the Amer­i­can Polit­i­cal Sci­ence Asso­ci­a­tion (APSA) tried to answer that very ques­tion. The expla­na­tion they came up with viewed the prob­lem as a clas­sic case of demo­c­ra­t­ic par­tic­i­pa­tion: While the poor have over­whelm­ing num­bers, the wealthy have high­er rates of polit­i­cal par­tic­i­pa­tion, more advanced skills and greater access to resources and infor­ma­tion. In short, APSA said, the wealthy use their social cap­i­tal to off­set their minor­i­ty sta­tus at the bal­lot box.
But this expla­na­tion has one major flaw. Regard­less of the Occu­py movement's rhetoric, most of the growth in the wealth gap has actu­al­ly gone to a tiny sliv­er of the 1% – one-tenth of it, or even one-one-hundredth.
Even more shock­ing­ly, that 1 per­cent of the 1% has shift­ed its tax bur­den not to the mid­dle class or poor, but to rich house­holds in the 85th to 99th per­centile range. In 2007, the effec­tive income tax rate for the rich­est 400 Amer­i­cans was below 17 per­cent, while the ​"mass afflu­ent" 1% paid near­ly 24 per­cent. Dis­par­i­ties in Social Secu­ri­ty tax­es were even greater, with the mere­ly rich pay­ing 12.4 per­cent of their income, while the super-rich paid only one-one-thou­sandth of a percent.
It's one thing for the poor to lose the demo­c­ra­t­ic par­tic­i­pa­tion game, but APSA has no expla­na­tion for why the major­i­ty of the upper class – which has no short­age of gov­ern­ment-influ­enc­ing social cap­i­tal – should fall so far behind the very top earn­ers. (Of course, rel­a­tive to mid­dle- and low­er-class earn­ers, they've done just fine.)
For a bet­ter expla­na­tion, we need to look more close­ly at the rela­tion­ship between wealth and polit­i­cal pow­er. I pro­pose an updat­ed the­o­ry of ​"oli­garchy," the same lens devel­oped by Pla­to and Aris­to­tle when they stud­ied the same prob­lem in their own times.
A quick review
First, let's review what we think we know about pow­er in America.
We begin with a the­o­ry of ​"demo­c­ra­t­ic plu­ral­ism," which posits that democ­ra­cy is basi­cal­ly a tug-of-war with dif­fer­ent inter­est groups try­ing to pull gov­ern­ment pol­i­cy toward an out­come. In this frame­work, the rich are just one group among many com­pet­ing ​"spe­cial interests."
Of course, it's hard not to notice that some groups can tug bet­ter than oth­ers. So in the 1950s, social sci­en­tists, like C. Wright Mills, author of The Pow­er Elite, devel­oped anoth­er the­o­ry of ​"elites" – those who wield more pull thanks to fac­tors like edu­ca­tion, social net­works and eth­nic­i­ty. In this view, wealth is just one of many fac­tors that might help some­one become the leader of a major busi­ness or gain a gov­ern­ment posi­tion, there­by join­ing the elite.
But nei­ther the­o­ry explains how the super-rich are turn­ing pub­lic pol­i­cy to their ben­e­fit even at the expense of the mod­er­ate­ly rich. The mass afflu­ent vast­ly out­num­ber the super-rich, and the super-rich aren't nec­es­sar­i­ly bet­ter-edu­cat­ed, more skilled or more able to par­tic­i­pate in pol­i­tics; nor do the super-rich dom­i­nate the top posts of Amer­i­can gov­ern­ment – our rep­re­sen­ta­tives tend to be among the slight­ly low­er rungs of the upper class who are los­ing the tax battle.
Also, nei­ther the­o­ry takes into account the unique pow­er that comes with enor­mous wealth – the kind found in that one-tenth of the 1%. Whether or not the super-rich hold any offi­cial posi­tion in busi­ness or gov­ern­ment, they remain powerful.
Only when we sep­a­rate wealth from all oth­er kinds of pow­er can we begin to under­stand why our tax sys­tem looks the way it does – and, by exten­sion, how the top one-tenth of 1% of the income dis­tri­b­u­tion has dis­tort­ed Amer­i­can democracy.
Enor­mous wealth is the heart of oligarchy.
So what's an oligarchy?
Across all polit­i­cal spec­trums, oli­garchs are peo­ple (nev­er cor­po­ra­tions or oth­er orga­ni­za­tions) who com­mand mas­sive con­cen­tra­tions of mate­r­i­al resources (that is, wealth) that can be deployed to defend or enhance their own prop­er­ty and inter­ests, even if they don't own those resources per­son­al­ly. With­out this mas­sive con­cen­tra­tion of wealth, there are no oligarchs.
In any soci­ety, of course, an extreme­ly unequal wealth dis­tri­b­u­tion pro­vokes con­flict. Oli­garchy is the pol­i­tics of the defense of this wealth, prop­a­gat­ed by the rich­est mem­bers of society.
Wealth defense can take many forms. In ancient Greece and Rome, the wealth­i­est cit­i­zens coop­er­at­ed to run insti­tu­tion­al­ized states that defend­ed their prop­er­ty rights. In Suharto's Indone­sia, a sin­gle oli­garch led a despot­ic régime that most­ly used state pow­er to sup­port oth­er oli­garchs. In medieval Europe, the rich built cas­tles and raised pri­vate armies to defend them­selves against each oth­er and deter peas­ants tempt­ed by their mas­ters' vaults. In all of these cas­es oli­garchs are direct­ly engaged in rule. They lit­er­al­ly embody the law and play an active role in coer­cion as part of their wealth defense strategy.
Con­tem­po­rary Amer­i­ca (along with oth­er cap­i­tal­ist states) instead hous­es a kind of ​"civ­il oli­garchy." The big dif­fer­ence is that prop­er­ty rights are now guar­an­teed by the imper­son­al laws of an armed state. Even oli­garchs, who can be dis­armed for the first time in his­to­ry and no longer need to rule direct­ly, must sub­mit to the rule of law for this mod­ern ​"civ­il" arrange­ment to work. When oli­garchs do enter gov­ern­ment, it is more for van­i­ty than to rule as or for oli­garchs. Good exam­ples are New York City May­or Michael Bloomberg, for­mer pres­i­den­tial can­di­date Ross Per­ot and for­mer Mass­a­chu­setts Gov­er­nor Mitt Romney.
Anoth­er fea­ture of Amer­i­can oli­garchy is that it allows oli­garchs to hire skilled pro­fes­sion­als, mid­dle- and upper-class work­er bees, to labor year-round as salaried, full-time polit­i­cal advo­cates and defend­ers of the oli­garchy. Unlike those back­ing ordi­nary politi­cians, the oli­garchs' pro­fes­sion­al forces require no ide­o­log­i­cal invig­o­ra­tion to keep going. In oth­er words, they func­tion as a very well-paid mer­ce­nary army.
What­ev­er views and inter­ests may divide the very rich, they are unit­ed in being mate­ri­al­ly focused and mate­ri­al­ly empow­ered. The social and polit­i­cal ten­sions asso­ci­at­ed with extreme wealth bond oli­garchs togeth­er even if they nev­er meet, and sets in motion the com­plex dynam­ics of wealth defense. Oli­garchs do over­lap with each oth­er in cer­tain social cir­cles that the­o­rists of the elite worked hard to map. But such net­works are not vital to their pow­er and effec­tive­ness. Oli­garchic the­o­ry requires no con­spir­a­cies or back­room deals. It is the min­ions oli­garchs hire who pro­vide struc­ture and con­ti­nu­ity to America's civ­il oligarchy.
Oligarchic theory requires no conspiracies or backroom deals. It is the minions oligarchs hire who provide structure to America's civil oligarchy.
The U.S. Wealth Defense Industry
The threats to wealth that oli­garchs face, and want to over­come, cre­ate the enor­mous prof­it-mak­ing oppor­tu­ni­ties that moti­vate the wealth defense indus­try, or WDI. In Amer­i­can oli­garchy, it con­sists of two components.
The first is the mer­ce­nary army of pro­fes­sion­als – lawyers, accoun­tants, wealth man­age­ment agen­cies – who use high­ly spe­cial­ized knowl­edge to nav­i­gate 72,000 pages of tax code and gen­er­ate a range of tax ​"prod­ucts" and advice, enabling oli­garchs to col­lec­tive­ly save scores of bil­lions of dol­lars, every year, that would oth­er­wise have to be sur­ren­dered to the state. While most of us are what I call ​"Tur­b­o­Tax­pay­ers," buy­ing cheap tax soft­ware to nav­i­gate our returns and make rou­tine deduc­tions, oli­garchs pur­chase com­plex ​"tax opin­ion let­ters" from pro­fes­sion­al firms. These let­ters are draft­ed to jus­ti­fy enor­mous non­pay­ments of tax­es if the IRS ever ques­tions how cer­tain trans­ac­tions pro­duce loss­es, or how oth­er account­ing gym­nas­tics make it appear that no gains or com­pen­sa­tion occurred. The let­ters can cost up to $3 mil­lion each, but can save an oli­garch tens or hun­dreds of mil­lions of dol­lars in a giv­en year.
Writ­ten by some of the most high-pow­ered attor­neys and firms in the indus­try, tax let­ters serve to intim­i­date the legal depart­ment of the IRS even before a pros­e­cu­tion is contemplated.
The Sen­ate is aware of these let­ters – not­ing in a 2003 report on the ​"tax shel­ter indus­try" that ​"respect­ed pro­fes­sion­al firms are spend­ing sub­stan­tial resources … to design, mar­ket, and imple­ment hun­dreds of com­plex tax shel­ters, some of which are ille­gal and improp­er­ly deny the U.S. Trea­sury of bil­lions of dol­lars in tax rev­enues" – but get­ting spe­cif­ic infor­ma­tion about them is extreme­ly dif­fi­cult, since the IRS rarely pros­e­cutes oli­garchs. When it does, most cas­es are sealed, and oli­garchs who work with tax attor­neys can invoke attor­ney-client priv­i­lege. But in 2003, there was a breach of this fortress of secre­cy when the Sen­ate pub­lished detailed reports about ille­gal tax shel­ters cre­at­ed by the account­ing firm KPMG.
Accord­ing to the Sen­ate, the KPMG tax shel­ters cre­at­ed ​"pho­ny paper loss­es for tax­pay­ers, using a series of com­plex, orches­trat­ed trans­ac­tions involv­ing shell cor­po­ra­tions, struc­tured finance, pur­port­ed mul­ti-mil­lion dol­lar loans, and delib­er­ate­ly obscure invest­ments" for 350 clients between 1997 and 2001. The fake loss­es totaled about $8.4 bil­lion, or $24 mil­lion per client; applied against their incomes, these loss­es reduced the tax­es of each oli­garch by an aver­age of $8.3 mil­lion, or $2.9 bil­lion for the group.
One of the rea­sons this case was exposed is that it was all rather down-mar­ket, using cheap cook­ie-cut­ter tax opin­ion let­ters priced at a mere $350,000 each.
Not only did all the firms and banks con­spir­ing on behalf of these 350 oli­garchs – and the oli­garchs them­selves – know that the invest­ments ​"had no rea­son­able poten­tial for prof­it," but KPMG cal­cu­lat­ed that even if it was fined for fail­ing to dis­close the shel­ters, it would still earn far more in fees than it would pay in fines. The firm was fined $456 mil­lion. Even more incred­i­bly, more than a dozen KPMG clients sued the firm for the tax­es and penal­ties incurred after being dis­cov­ered – the suits claim that KPMG bun­gled its job of cre­at­ing shel­ters for tax eva­sion with zero legal risks for oli­garchs. It's tan­ta­mount to suing your hit man for a slop­py murder.
The sec­ond com­po­nent of the WDI is the nit­ty-grit­ty leg­work that keeps the tax sys­tem suf­fi­cient­ly porous, com­plex and uncer­tain enough to be manip­u­lat­ed. Some oli­garchs do this work them­selves, speed dial­ing pub­lic offi­cials to direct­ly com­plain about laws and reg­u­la­tions, but most do not. Instead, WDI pro­fes­sion­als, moti­vat­ed to earn a share of annu­al oli­garchic gains, con­sti­tute a high­ly coher­ent and aggres­sive net­work for polit­i­cal pres­sure. These lob­by­ists fight to insert favor­able mate­r­i­al into the tax code, cut sec­tions that cause prob­lems, and block threats on the horizon.
Apol­o­gists for havens
Dis­cus­sions about mon­ey in pol­i­tics often begin with cam­paign finance reform. Advo­cates argue that a small frac­tion of wealthy Amer­i­cans con­sti­tute a pow­er­ful donor class that pro­vides the vast major­i­ty of can­di­dates' funds. Long before ordi­nary cit­i­zens get to vote, they say, their choic­es are reduced to politi­cians deemed accept­able by the rich­est Amer­i­cans via a ​"wealth pri­ma­ry," in which can­di­dates stray­ing from a nar­row eco­nom­ic agen­da are shut out of cam­paign funding.
"For all their influ­ence at the polls, guys like Joe the Plumber aren't typ­i­cal­ly cam­paign con­trib­u­tors," explains Sheila Krumholz, exec­u­tive direc­tor of the Cen­ter for Respon­sive Pol­i­tics. ​"You're more like­ly to see John the Bond Trad­er bankrolling these cam­paigns." And she's right: Of the rough­ly 1.4 mil­lion indi­vid­ual con­tri­bu­tions of $200 or more dur­ing the 2008 elec­tions, three-fourths of the mon­ey came from a mere one-fifth of the donors, who in turn com­prised one-tenth of 1 per­cent of Amer­i­can adults.
But while this frac­tion does coin­cide with our approx­i­ma­tion of the size of the Amer­i­can oli­garchy, cam­paign dona­tions are not oli­garchs' pri­ma­ry or even most effec­tive strat­e­gy for polit­i­cal influ­ence. Aca­d­e­mics Michael Graetz and Ian Shapiro explain this in their 2005 book, Death by a Thou­sand Cuts: The Fight over Tax­ing Inher­it­ed Wealth.
"Cam­paign con­tri­bu­tions, soft mon­ey, spend­ing lim­its for polit­i­cal can­di­dates and the like have become con­tro­ver­sial issues," they admit, ​"but they mat­tered lit­tle in the estate tax fight." The bat­tle was between small­er oli­garchs and the biggest play­ers at the top. Believ­ing it unlike­ly that the elim­i­na­tion of the estate tax could be extend­ed indef­i­nite­ly, a sig­nif­i­cant num­ber of wealthy Amer­i­cans with a net worth between $5 and $15 mil­lion want­ed the thresh­old moved up to exempt their estate tax. In exchange, they sup­port­ed a high­er estate tax rate on every­one above the thresh­old. Big oli­garchs took the oppo­site posi­tion. They want­ed no estate tax at all. But if Con­gress was going to bring it back, the ultra-rich sup­port­ed a low­er exemp­tion in exchange for a low­er over­all rate.
The big oli­garchs won again – but not because of cam­paign finance. ​"Mon­ey mat­tered more fun­da­men­tal­ly in shift­ing the tec­ton­ic plates under­ly­ing Amer­i­can tax debates," Graetz and Shapiro sug­gest. And this is pre­cise­ly where oli­garchs deploy their resources in the WDI.
Oli­garchs' ​"three decades of invest­ments in activist, con­ser­v­a­tive think tanks" has blazed an ide­o­log­i­cal path that drones in the WDI fol­low. Activists at insti­tu­tions like the Her­itage Foun­da­tion sup­ply ​"ide­o­log­i­cal ammu­ni­tion to the lob­by­ists and inter­est groups … who work relent­less­ly … to keep up the tax-cut­ting pres­sure on the Hill."
This pres­sure was hard at work in Pres­i­dent Obama's fee­ble attempt to cur­tail off­shore tax havens in 2009. In the mid­dle of mas­sive pub­lic bailouts to the finan­cial sys­tem and large bonus­es on Wall Street, the pres­i­dent pro­posed stronger mea­sures to fight against who he called ​"tax cheats," the indi­vid­u­als using off­shore tax havens to deny the gov­ern­ment near­ly $70 bil­lion a year – a lev­el equal to about sev­en cents on every dol­lar of tax­es paid honestly.
But Obama's pro­pos­als were less aggres­sive than his rhetoric. The pres­i­dent urged Con­gress to sup­port efforts to sanc­tion nations that main­tained secre­cy on bank accounts and cor­po­rate enti­ties, and sought to hire 800 addi­tion­al IRS agents ​"to detect and pur­sue Amer­i­can tax evaders abroad"; these mea­sures were pro­ject­ed to save a mere $8.7 bil­lion over 10 years – about one per­cent of the loss­es from off­shore accounts. Despite the timid­i­ty, the pro­pos­als received only a luke­warm response from Democ­rats and out­right hos­til­i­ty from Repub­li­cans, who argued that they would crip­ple Amer­i­can cor­po­ra­tions' abil­i­ty to com­pete globally.
Dan Mitchell, a senior fel­low (i.e. mer­ce­nary) at the Cato Insti­tute (a think tank financed by Amer­i­can oli­garchs), defend­ed tax havens as ​"out­posts of free­dom." If Amer­i­cans are con­cerned that ​"indi­vid­u­als are mov­ing their mon­ey to coun­tries with bet­ter tax law, that should be a les­son to us that we should fix our tax law."
In oth­er words: Let's decrease tax­es on the super-rich.
The WDI, aris­ing nat­u­ral­ly from the oppor­tu­ni­ties and risks cre­at­ed by enor­mous wealth, has spawned its own pile of these opin­ion-mak­ers, free to spread their ideas through a com­pli­ant cor­po­rate media while oli­garchs them­selves are free to look on.
Oli­garchy, or Democracy?
To argue that the Unit­ed States is a thriv­ing oli­garchy does not imply that our democ­ra­cy is a sham: There are many poli­cies about which oli­garchs have no shared inter­ests. Their influ­ence in these areas is either small or mutu­al­ly canceling.
Though it may strike at the heart of elit­ism, greater demo­c­ra­t­ic par­tic­i­pa­tion is not an anti­dote to oli­garchic pow­er. It is mere­ly a poten­tial threat. Only when par­tic­i­pa­tion chal­lenges mate­r­i­al inequal­i­ty – when extreme wealth is redis­trib­uted – do oli­garchy and democ­ra­cy final­ly clash.
The answer to the ques­tion of inequal­i­ty, then, is trou­bling. Wars and rev­o­lu­tions have destroyed oli­garchies by forcibly dis­pers­ing their wealth, but a democ­ra­cy nev­er has.
Democ­ra­cy and the rule of law can, how­ev­er, tame oligarchs.
A cam­paign to tame oli­garchs is a strug­gle unlike­ly to fire the spir­its of those out­raged by the pro­found injus­tices between rich and poor. How­ev­er, to those endur­ing the eco­nom­ic and polit­i­cal bur­dens of liv­ing among wild oli­garchs, it is an achieve­ment that can improve the absolute wel­fare of aver­age cit­i­zens, even if the rel­a­tive gap between them and oli­garchs widens rather than narrows.
A grad­u­ate stu­dent in one of my sem­i­nars – resist­ing my ter­mi­nol­o­gy – once declared that the ​"U.S. has rich peo­ple, not oli­garchs." More than any­thing else, that state­ment claims that some­how Amer­i­can democ­ra­cy has man­aged to do some­thing no oth­er polit­i­cal sys­tem in his­to­ry ever has: strip the hold­ers of extreme wealth of their inher­ent pow­er resources and the polit­i­cal inter­ests linked to pro­tect­ing those fortunes.
Of course, this hasn't happened.
But it is end­less­ly fas­ci­nat­ing that we're now in a moment when Amer­i­cans are once again ask­ing fun­da­men­tal ques­tions about how the oli­garchic pow­er of wealth dis­torts and out­flanks the demo­c­ra­t­ic pow­er of participation.
Jef­frey A. Win­ters
is an asso­ciate pro­fes­sor of polit­i­cal sci­ence at North­west­ern Uni­ver­si­ty. For a more exten­sive expla­na­tion of his the­o­ry of oli­garchy, read
Oli­garchy
(Cam­bridge Uni­ver­si­ty Press,
2011
).