The Only Explanation for Why the NRA Has Chosen Oliver North as its New President
The selection of North, a known war criminal, shows that the NRA is fully embracing its role as an extremist right-wing organization.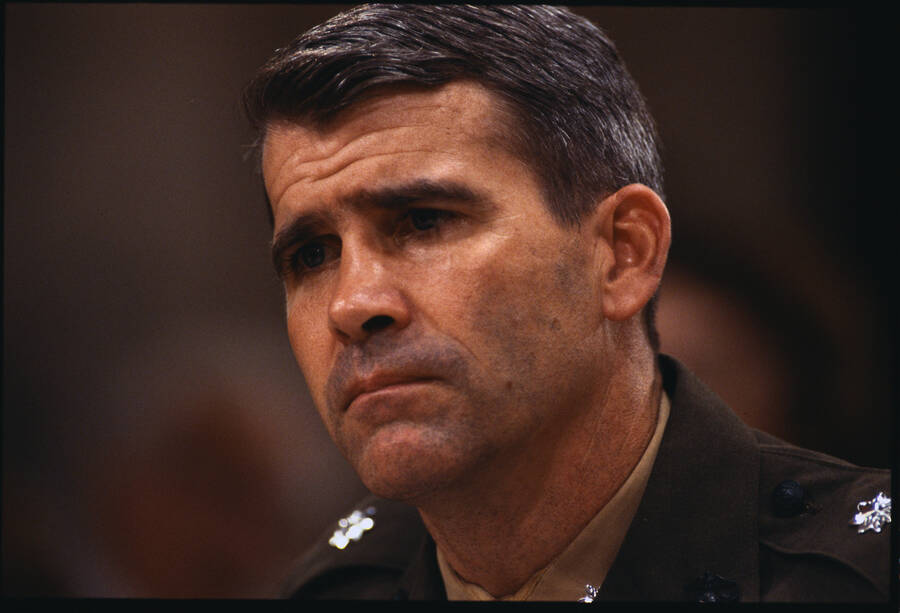 It hasn't exact­ly been a ban­ner year for the Nation­al Rifle Asso­ci­a­tion (NRA). Rat­tled by the out­pour­ing of stu­dent activism that fol­lowed the Feb­ru­ary Park­land school shoot­ing, the orga­ni­za­tion has floun­dered for a response to grass­roots anger, and has seen its pop­u­lar­i­ty plum­met to the low­est point in decades. It's hard to see how it could sink any lower.
North's appointment doesn't make much sense from a public relations standpoint. But it does make sense as an expression of politics.
Or at least it was until last week, when the NRA announced that Oliv­er North of Iran-Con­tra fame would join the orga­ni­za­tion as its new president.
Although hav­ing worked as a radio host and tele­vi­sion news con­trib­u­tor for the past twen­ty years, North is and like­ly for­ev­er will be most asso­ci­at­ed with the three-decade-old polit­i­cal scan­dal that shot him to infamy.
But far from the PR gaffe it seems at first sight, the deci­sion to place him at the helm of the NRA may por­tend some­thing else entire­ly: that the NRA is jet­ti­son­ing main­stream accept­abil­i­ty entire­ly to instead serve as the new van­guard of the con­ser­v­a­tive movement.
A known criminal
The NRA must have known its choice of North was going to ruf­fle some feath­ers. North was serv­ing on Ronald Reagan's Nation­al Secu­ri­ty Coun­cil in 1986 when he was cat­a­pult­ed to noto­ri­ety over his involve­ment in the Iran-Con­tra scheme. In short, North was the point man for the Rea­gan administration's con­vo­lut­ed plan to bypass the Demo­c­rat-con­trolled Con­gress' ban on finan­cial aid to the Nicaraguan Con­tras, a para­mil­i­tary force that killed, raped, kid­napped and tor­tured all in the name of anti-communism.
North arranged and over­saw a clan­des­tine effort to smug­gle arms and mon­ey to the Con­tras, which involved secret­ly pro­vid­ing weapons to Iran, part­ly in return for the (unsuc­cess­ful) release of Amer­i­can hostages in Beirut, and part­ly for mon­ey. That mon­ey in turn was then squir­relled away into the Swiss bank accounts of indi­vid­u­als involved in the plot and used to ille­gal­ly buy weapons for the Con­tras. North bought 158 tons of assault rifles and ammu­ni­tion from one drug and arms traf­fick­er alone: Monz­er al-Kas­sar, a Syr­i­an who would lat­er be sen­tenced to 30 years in prison for try­ing to sell weapons to the FARC in Colom­bia that would be explic­it­ly used against Americans.
This wasn't all North did, how­ev­er. He also received $98,000 in traveler's checks from the leader of the Con­tras, which he pro­ceed­ed to cash at restau­rants, hotels, gas sta­tions, clean­ers, a hosiery retail­er and oth­er stores around the DC area. He even gave $1,000 in traveler's checks to his ​"couri­er" in the scheme as a wed­ding present. Mean­while, North was gift­ed a $13,800 home secu­ri­ty sys­tem from Richard Sec­ord, a retired Air Force Major-Gen­er­al whose firm served as the con­duit for the arms. North in turn urged the CIA to pay Sec­ord $1.2 mil­lion for the use of a ship he had bought for a quar­ter of that price.
When the whole thing began to unrav­el, North began shred­ding evi­dence — in one case, a few feet away from inves­ti­ga­tors from the attor­ney general's office who were por­ing over doc­u­ments in his office — and alter­ing mem­os to obscure the role of his supe­ri­ors. All the while, near­ly $8 mil­lion from the Iran­ian arms sales remained in the Swiss bank accounts of Sec­ord and his busi­ness part­ner, with only $4 mil­lion hav­ing been spent on the Contras.
When called before Con­gress, North relent­less­ly lied and obfus­cat­ed, refus­ing to impli­cate any of his high­er-ups in the scheme, win­ning him much kudos from his supe­ri­ors. Lat­er, he shift­ed to deploy­ing the Nurem­berg defense that he was sim­ply fol­low­ing orders, and hap­pi­ly began nam­ing names, includ­ing ex-CIA Direc­tor William Casey, for­mer Sec­re­tary of State George Shultz, and for­mer Vice Pres­i­dent George H. W. Bush, who by that point had been elect­ed pres­i­dent. Unsur­pris­ing­ly, when North went on tri­al, the new­ly elect­ed Bush had tried unsuc­cess­ful­ly to have the whole thing scrapped.
North was final­ly con­vict­ed of three felonies, all of which were relat­ed to periph­er­al crimes like his obstruc­tion of jus­tice, and none of which con­cerned the chief crime at hand. He received a lenient sen­tence with no prison time, and ulti­mate­ly had his con­vic­tions over­turned over a tech­ni­cal­i­ty: his Con­gres­sion­al tes­ti­mo­ny years ear­li­er was deemed to have con­t­a­m­i­nat­ed the jury.
The NRA isn't going to be win­ning any PR bat­tles by choos­ing as pres­i­dent a man who not only vio­lat­ed U.S. law and tried to cov­er it up, but also per­son­al­ly enriched him­self and his asso­ciates through the scheme while work­ing with peo­ple des­ig­nat­ed by the U.S. gov­ern­ment as ter­ror­ists. This is espe­cial­ly the case giv­en that North's crime — smug­gling weapons in order to con­tin­ue a cam­paign of mass mur­der — is an image one would think the NRA des­per­ate­ly wants not to be asso­ci­at­ed with.
But there's anoth­er part of North's sto­ry that is equal­ly impor­tant — that of North as a con­ser­v­a­tive move­ment hero.
North star
North has long been a huge­ly pop­u­lar icon to move­ment con­ser­vatism. While the lib­er­al-left viewed him as an unre­pen­tant crim­i­nal, for con­ser­v­a­tives, he was a valiant, per­se­cut­ed war­rior who held loy­al­ty to a high­er power.
Far from tar­nish­ing his rep­u­ta­tion, North's con­gres­sion­al tes­ti­mo­ny — in which he crit­i­cized Con­gress and unapolo­get­i­cal­ly defend­ed both his crime and cov­er-up — turned him into a nation­al sen­sa­tion. The hear­ings were a rat­ings bonan­za and North received thou­sands of mes­sages of sup­port and greet­ed ador­ing crowds. His home­town held an ​"Oliv­er North Day," in which 2,000 peo­ple marched. Even his bar­ber became a minor celebri­ty.
An entire cot­tage indus­try of Oliv­er North prod­ucts popped up, every­thing from t‑shirts and videos to but­tons and dolls. While not all who sym­pa­thized with him viewed him as a hero, doubt­less many agreed with Reagan's White House com­mu­ni­ca­tions direc­tor when he com­pared North to mem­bers of the Under­ground Rail­road, who broke the law in ser­vice of a high­er eth­i­cal call­ing. The Wall Street Jour­nal asked a hand­ful of CEOs if they would hire him. ​"North's the kind of guy that exec­u­tives look for, the employ­ee of their dreams," was one response.
This explo­sion in pop­u­lar­i­ty was short-lived — par­tic­u­lar­ly once it was revealed how he used the scheme to per­son­al­ly prof­it — but North remained white hot among conservatives.
He par­layed this pop­u­lar­i­ty into a lucra­tive career as one of the most sought-after speak­ers in the Unit­ed States, criss-cross­ing the coun­try to speak to con­ser­v­a­tive audi­ences for up to $25,000 a pop. Local Repub­li­cans, police chiefs, lawyers and reli­gious lead­ers paid hun­dreds of dol­lars each to see him speak and shake his hand. One GOP can­di­date for lieu­tenant gov­er­nor of Geor­gia paid him $20,000 to par­tic­i­pate in a fundrais­er. In the course of one year, 1998, North was report­ed to have made more than he had dur­ing all his years in the military.
North also began cam­paign­ing for con­ser­v­a­tive can­di­dates, such as Indi­ana con­gress­man Dan Bur­ton, and deliv­er­ing boil­er­plate right-wing pat­ter about free enter­prise and fam­i­ly val­ues. Not that it was for show — North was a dyed-in-the-wool con­ser­v­a­tive who lat­er cam­paigned against homo­sex­u­als in the mil­i­tary, railed against gun con­trol, got in trou­ble for racist remarks at a Vir­ginia Repub­li­can ban­quet and com­plained about an ​"arro­gant army of ultra­fem­i­nists" dom­i­nat­ing U.S. pol­i­tics in the Clin­ton years.
North's embrace by evan­gel­i­cals and move­ment con­ser­v­a­tives con­tin­ued even after his crim­i­nal con­vic­tions. In 1991, the South­ern Bap­tist Con­ven­tion invit­ed him to speak in Atlanta, where he told a rap­tur­ous crowd that pol­i­tics need­ed more Chris­t­ian involve­ment and called for prayer in schools. He start­ed Free­dom Alliance, a 100,000-member group lob­by­ing for things like school prayer, as well as Guardian Tech­nolo­gies, a firm found­ed with fel­low Iran-Con­tra fig­ure Joseph Fer­nan­dez that sold bul­let­proof vests. His radio show, ​"Free­dom Report," was broad­cast by 280 sta­tions by 1991.
Through his var­i­ous ven­tures, North paid off his mil­lions of dol­lars of legal bills and became a best­selling author. He also became fab­u­lous­ly wealthy, mak­ing an esti­mat­ed $1.7 mil­lion a year off speak­ing alone. He nev­er entire­ly lost main­stream accept­abil­i­ty either. In 1992, he cameoed on the NBC sit­com Wings, in which he explic­it­ly plugged his book. This came on the heels of a 1989 TV movie about North in which the direc­tor, try­ing to make the film more crit­i­cal of North, tus­sled with the actor play­ing him, who con­sid­ered him­self ​"a North Amer­i­can" and regard­ed the for­mer gen­er­al as a per­son­al hero.
This on-set polar­iza­tion mir­rored the nation­wide split in opin­ion on North, who in 1994 became some­thing like the Roy Moore — or Don­ald Trump — of his time. North decid­ed to run for a seat in Con­gress — the insti­tu­tion he reg­u­lar­ly assailed on the speak­ing cir­cuit, appar­ent­ly decid­ing he liked the sound of the ​"ver­i­ta­ble Sodom and Gomor­rah on the banks of the Potomac" that he spent years rail­ing against. North ran as a Repub­li­can for the Vir­ginia Sen­ate seat occu­pied by Charles Robb, son in law of the late for­mer Pres­i­dent Lyn­don John­son, who admit­ted to vague charges of infi­deli­ty short­ly before the cam­paign, and who had ear­li­er been in trou­ble for attend­ing par­ties where cocaine was in free flow (not that he ever saw or used it, of course).
Over the course of five years, North built up a total of $20 mil­lion through a direct-mail cam­paign that reached around 65,000 peo­ple across the coun­try each month, as well as gen­er­at­ed good­will among the GOP estab­lish­ment through V‑PAC, a polit­i­cal action com­mit­tee that doled out $540,000 to Repub­li­can can­di­dates in Virginia.
As much as Trump and Moore would cre­ate a rift among the Repub­li­can par­ty while inspir­ing zeal­ous loy­al­ty from evan­gel­i­cals, North's Sen­ate cam­paign roiled the GOP estab­lish­ment at the time. He received the enthu­si­as­tic back­ing of the Chris­t­ian Right and move­ment con­ser­v­a­tives like Richard Viguerie, who put his direct mail empire behind North.
At the same time, he was pil­lo­ried by a parade of for­mer Rea­gan offi­cials and estab­lish­ment Repub­li­cans, includ­ing Ronald Rea­gan him­self. This was no doubt moti­vat­ed by the fact that North had thrown them all under the bus in the course of defend­ing him­self, but it reflect­ed a real unease among estab­lish­ment Repub­li­cans, some of whom refused to sup­port North at the nom­i­nat­ing con­ven­tion. ​"There's a major rift with­in the par­ty," polit­i­cal sci­en­tist Mark Rozell said at the time. ​"It is in the par­ty's inter­est to be open, diverse, inclu­sive. But with North as the par­ty's can­di­date, it will appear to be behold­en to an ide­o­log­i­cal fac­tion, unable to broad­en its base."
North ulti­mate­ly won the nom­i­na­tion, a sign of broad­er polit­i­cal devel­op­ments. As the Lon­don Observ­er not­ed at the time, the GOP was ​"being tak­en over by a cru­sad­ing right-wing arc made up of purist eco­nom­ic lib­er­tar­i­ans and evan­gel­i­cal Chris­tians like Pat Robert­son, backed by the gun lob­by and oth­er inter­est groups." Estab­lish­ment Repub­li­cans wor­ried that North was ​"divi­sive," while Vir­ginia Sen­a­tor John Warn­er threat­ened to quit the party.
But just as they would lat­er do with Trump, the GOP estab­lish­ment soon fell into line. For­mer Rea­gan offi­cials like James Bak­er and promi­nent Repub­li­cans like Bob Dole and Dan Quayle all cam­paigned for North, believ­ing he could unseat the scan­dal-rid­den Robb. And thanks to the $20 mil­lion he spent on the cam­paign, North came close, ulti­mate­ly falling just short thanks to vot­ers moti­vat­ed not by enthu­si­asm for his oppo­nent, but con­cern over North.
The Right's man
North's 1994 Sen­ate cam­paign was the high water­mark of his post Iran-Con­tra career, but he's remained vis­i­ble in con­ser­v­a­tive cir­cles ever since. In 1997, a who's who of con­ser­v­a­tives num­ber­ing 450, includ­ing numer­ous mem­bers of Con­gress like Orrin Hatch, cel­e­brat­ed the ten-year anniver­sary of North's tes­ti­mo­ny at a ban­quet in his hat­ed D.C., pay­ing $150 per plate. His radio show remained pop­u­lar, and North was giv­en his own place on TV, first with MSNBC, then Fox, where he quite lit­er­al­ly cheered on the Iraq War. He's remained a talk­ing head on the chan­nel since.
North's appoint­ment doesn't make much sense from a pub­lic rela­tions stand­point. But it does make sense as an expres­sion of politics.
The NRA was long ago trans­formed from a bipar­ti­san orga­ni­za­tion focused on hunt­ing to a par­ti­san arm of the con­ser­v­a­tive move­ment, only becom­ing more ide­o­log­i­cal­ly extreme over time. Last year, it released a recruit­ment video explic­it­ly tai­lored to the Right, pre­sent­ing NRA mem­ber­ship as a bul­wark against the encroach­ing pow­er of the Left and lib­er­als, draw­ing out­rage for its appar­ent encour­age­ment of polit­i­cal violence.
The choice of North — a polar­iz­ing fig­ure beloved by the Right, dis­liked by the cen­ter and loathed by the Left, who pre­saged the Repub­li­can fis­sures of the Trump era — is yet anoth­er over­ture to the NRA's true con­stituen­cy: not gun own­ers, but specif­i­cal­ly right-wing gun own­ers and move­ment con­ser­v­a­tives more gen­er­al­ly. As polit­i­cal sci­en­tist Robert Spitzer recent­ly explained: ​"He won't do any­thing to help broad­en the NRA's appeal, but rather to try and bring in peo­ple already sym­pa­thet­ic who may be sus­cep­ti­ble to an appeal."
The polls all sug­gest the NRA is los­ing the main­stream. But for the orga­ni­za­tion, that ​'s appar­ent­ly fine — the NRA has decid­ed it can live with­out it.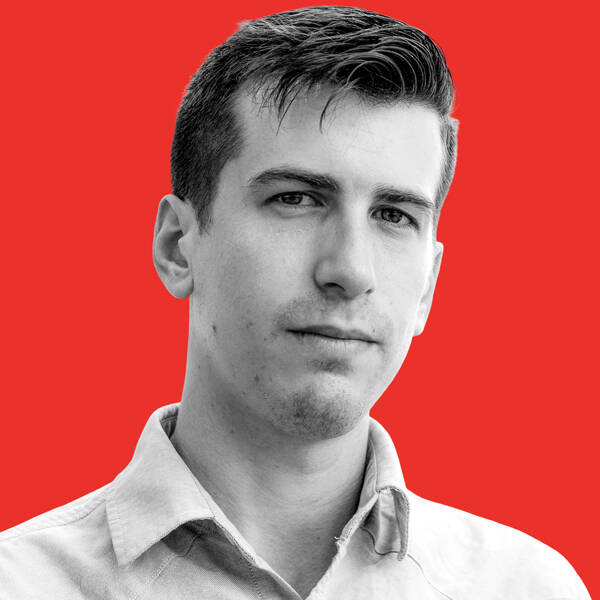 Branko Marcetic
is a staff writer at Jacobin mag­a­zine and a
2019
 – 
2020
Leonard C. Good­man Insti­tute for Inves­tiga­tive Report­ing fel­low. He is work­ing on a forth­com­ing book about Joe Biden.